Spaghetti pie is the perfect dish to add to your weeknight dinner rotation. This delicious and easy-to-make casserole is sure to be a hit with your entire family. Made with all their favorites, pasta, cheese, and hearty meat sauce in one easy-to-serve dish.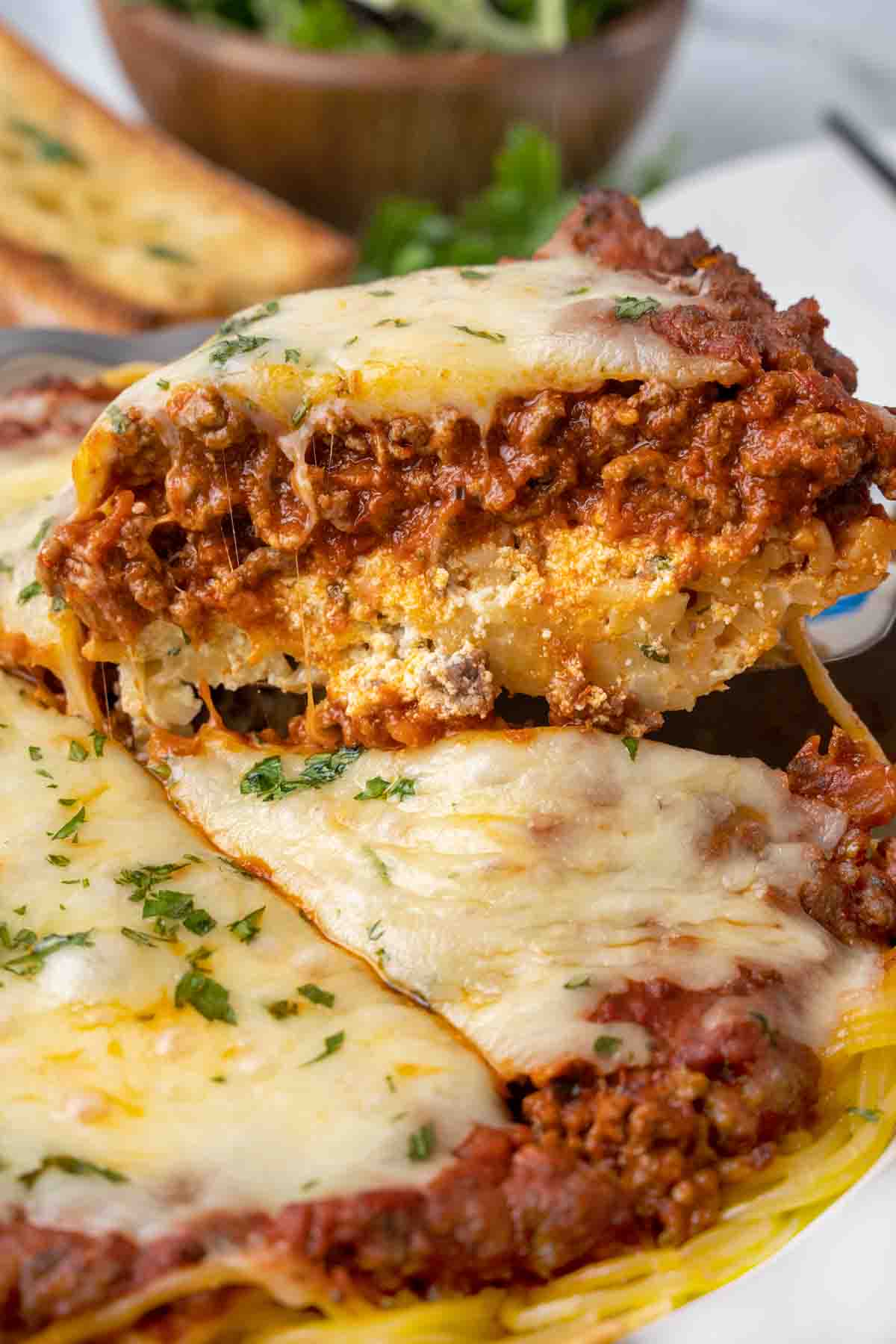 This is a great recipe for a family dinner, brunch, or weeknight dinner. It's easy to make and can be made ahead of time, so all you have to do is pop it in the oven.
You can freeze spaghetti pie cooked or uncooked. Wrap it in a double layer of plastic wrap and a layer of aluminum foil. It can stay frozen for up to 3 months. Defrost in the refrigerator overnight before baking or reheating.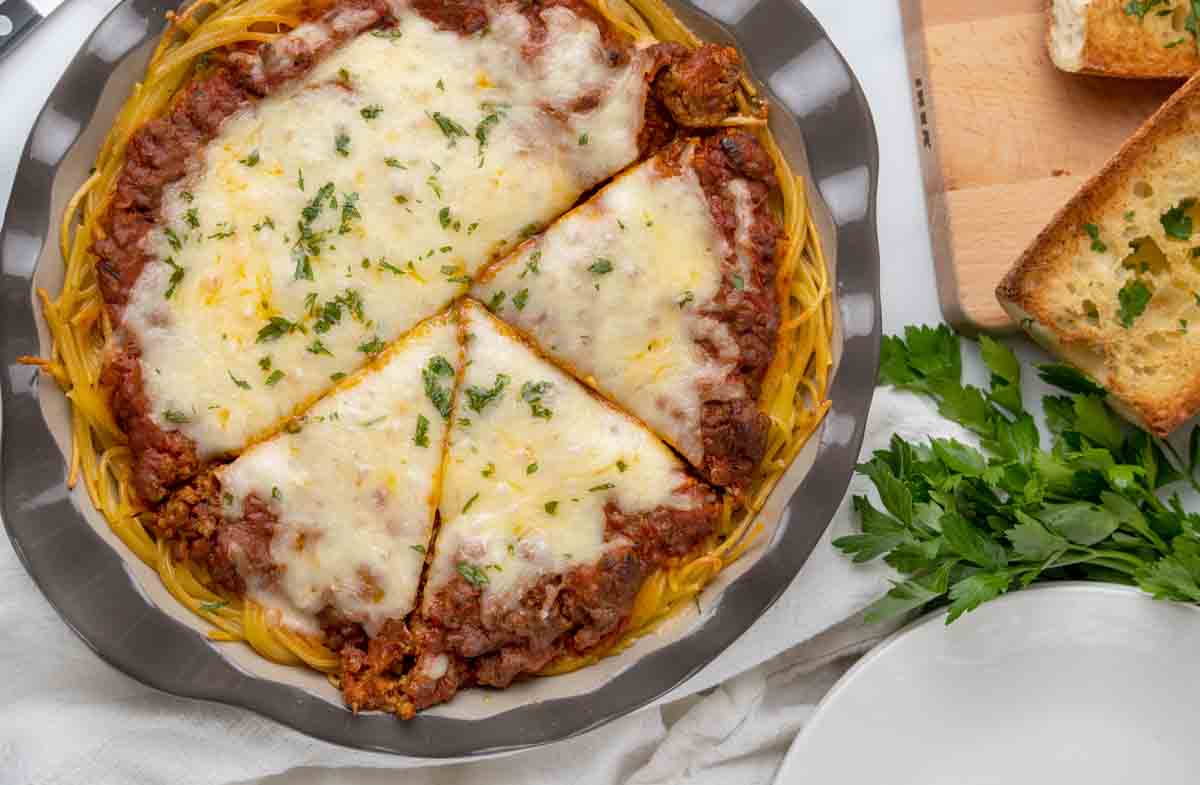 This spaghetti pie recipe is easy to customize to your tastes. If you prefer a vegetarian version, simply leave out the ground beef or substitute it with a meat alternative. You can also add your favorite vegetables to the recipe, such as mushrooms, bell peppers, or spinach.
Spaghetti pie is also a great dish to make ahead of time. Assemble the casserole as directed, then cover it with aluminum foil, and refrigerate for up to 24 hours until you're ready to bake. Weeknight dinners just got easier!
Ingredients to make spaghetti pie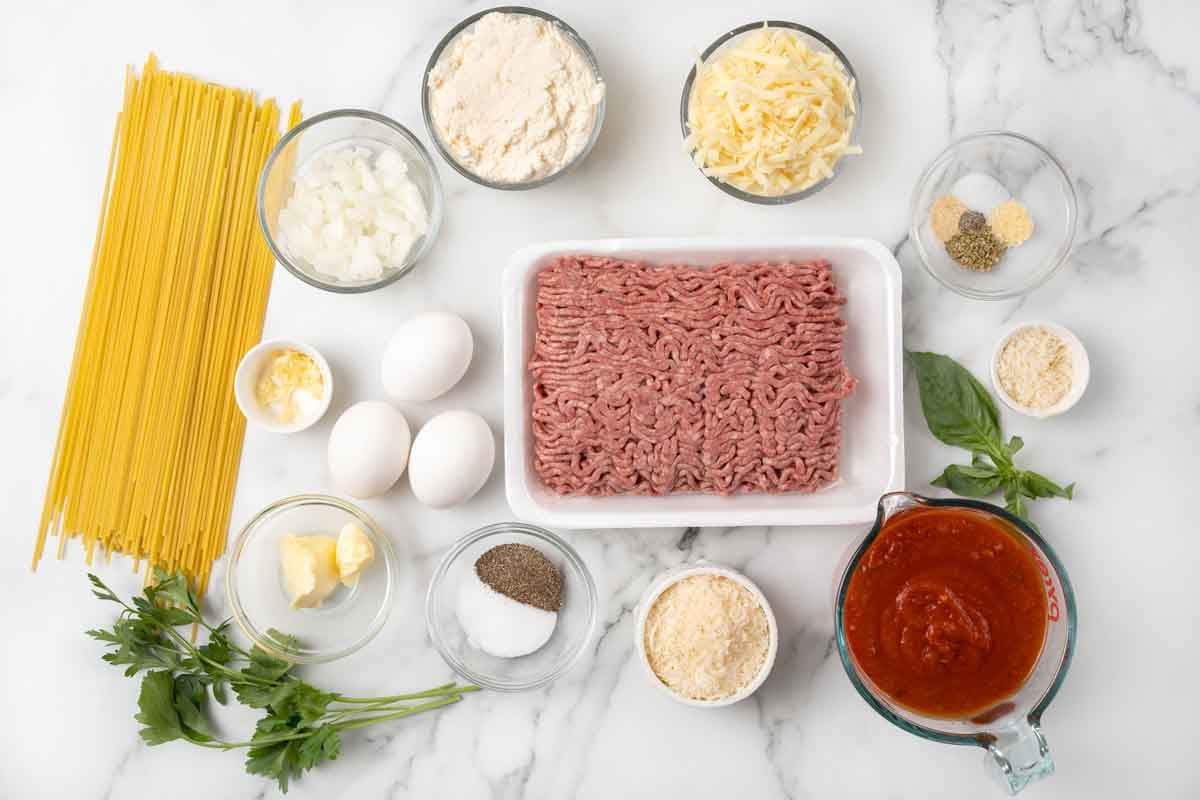 Let's start by gathering the ingredients we need to make Spaghetti Pie. In Chef Speak, this is called the "Mise en Place," which translates to "Everything in its Place."
Not only does setting up your ingredients ahead of time speed up the cooking process, it also helps ensure you have everything you need to make the dish.
Made with simple ingredients
spaghetti
ground beef (or Italian sausage, ground chicken, or ground turkey)
olive oil
onions
garlic
Romano or Parmesan cheese
ricotta cheese
mozzarella cheese
eggs
tomato sauce
unsalted butter
salt and black pepper
fresh basil
Italian parsley
Italian seasonings
How to make meat sauce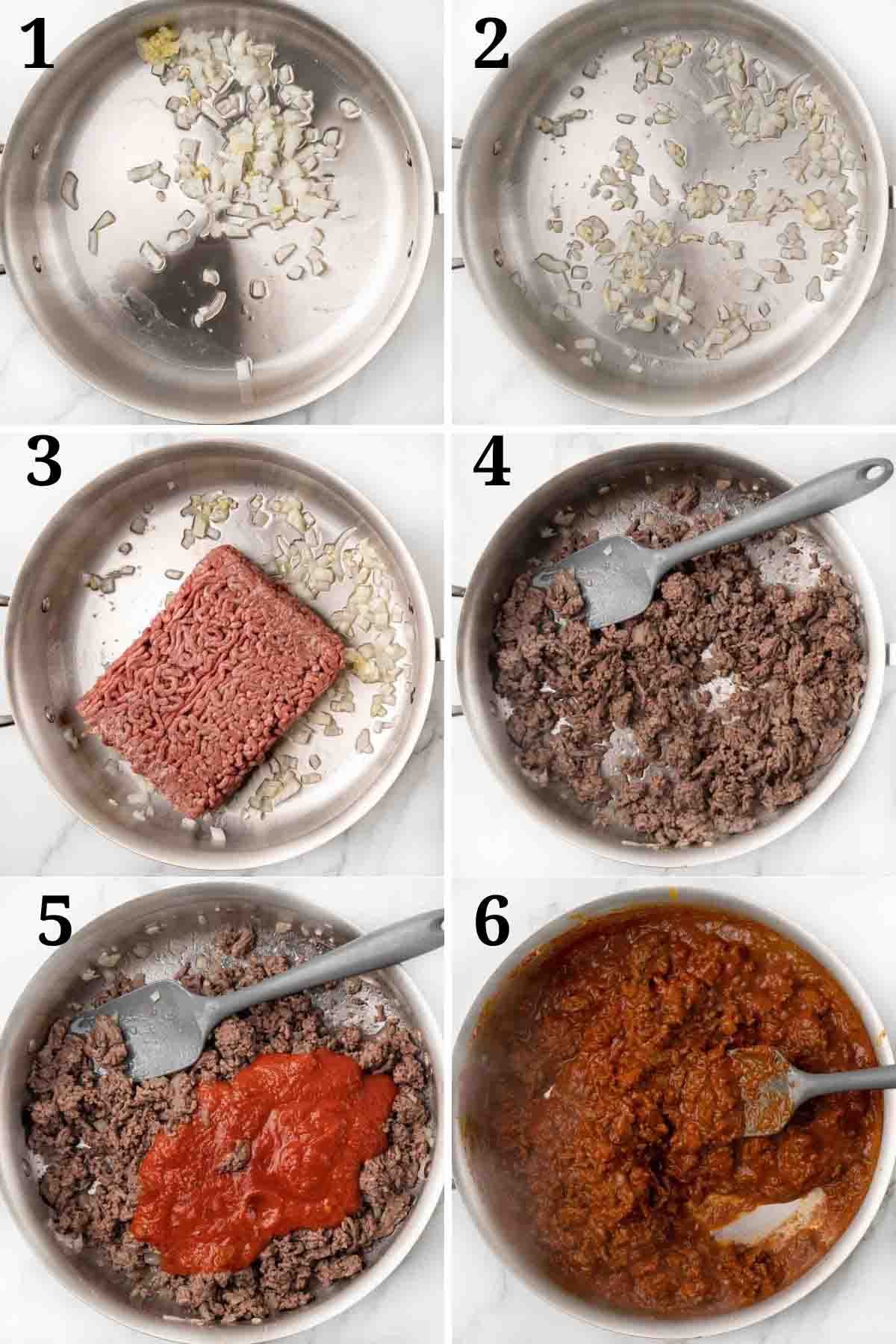 Add a teaspoon of olive oil, chopped onion, and minced garlic to a large skillet.
Cook over medium-high heat for one minute.
Add the ground beef to the skillet.
Cook until all the beef is well browned. Drain any excess grease from the pan.
Add the pasta sauce to the meat mixture.
Mix the sauce into the beef and let it simmer for 10 minutes to reduce the amount of liquid in the sauce. It should be fairly thick before adding it to the pie.
*I have seen recipes that add bell pepper to the sauce. Feel free to add it to the pan when you're sauteing the garlic and onion.
How to prepare pasta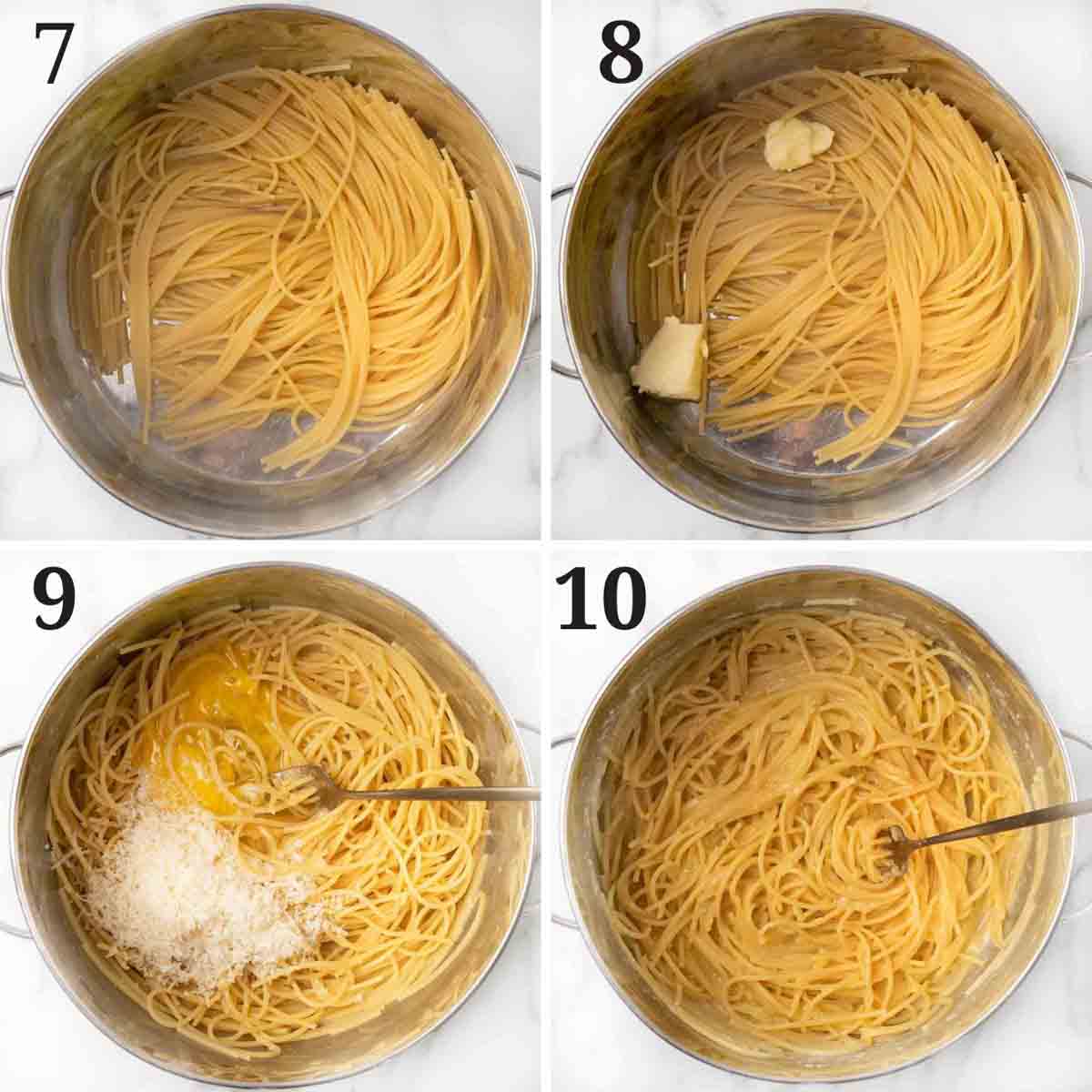 Cook spaghetti per instructions on the box for aldente, then drain well in a colander.
Place the cooked spaghetti in a large bowl and toss with the butter until melted.
Add the beaten eggs and grated Romano cheese to the pasta.
Toss to combine until well blended.
*This recipe is a great way to use up leftover spaghetti.
How to prepare cheese filling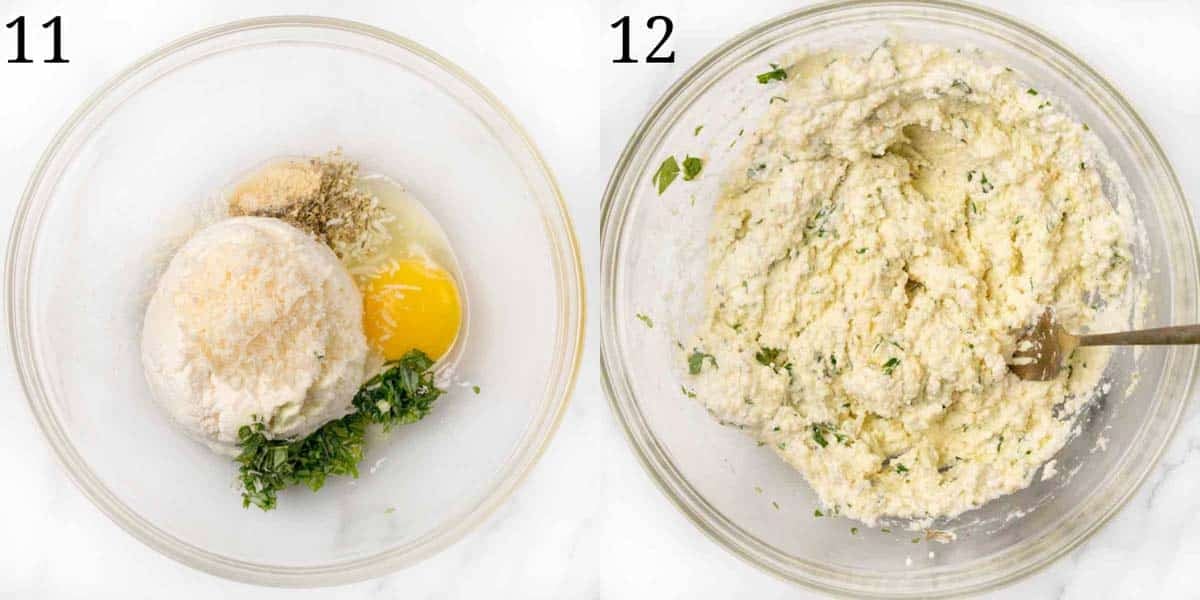 Add the ricotta cheese, egg, Romano cheese, fresh herbs, oregano, garlic powder, onion powder, salt, and black pepper to a large bowl.
Mix together until well combined.
*I have a friend that uses cottage cheese instead of ricotta. I have never tried it, but she says no one can tell the difference.
How to make Spaghetti Pie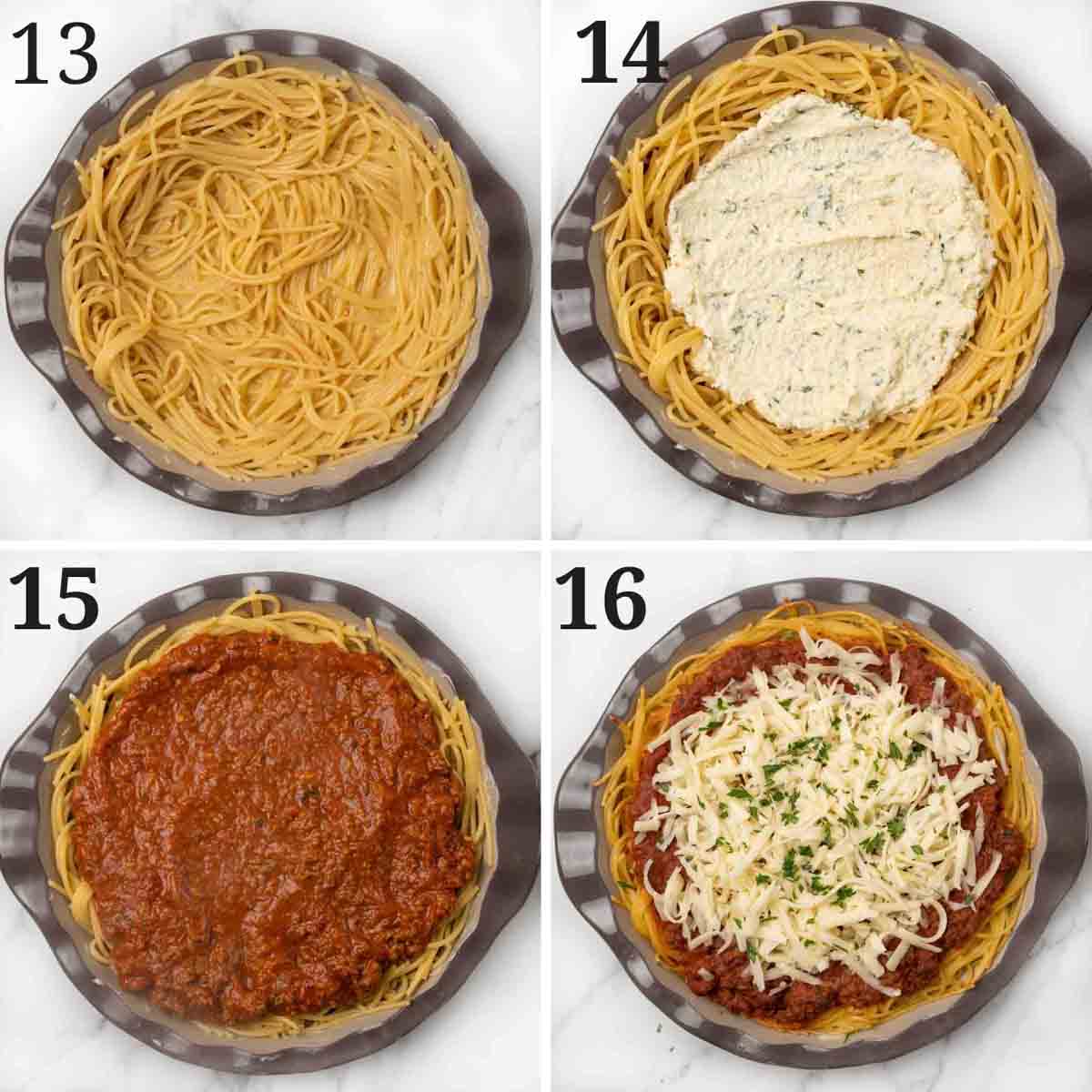 Place the spaghetti in a buttered 9-inch deep-dish pie plate or an 8-inch springform pan. Press to form the spaghetti crust in the pie dish.
Spread the cheese mixture over the spaghetti.
Spread the meat sauce over top of the cheese layer.
Place the prepared pie on the center rack of the preheated oven and bake for 20-25 minutes (place a rimmed baking sheet under the pie dish).
Carefully remove the spaghetti pie from the oven. Top it with the shredded mozzarella, and sprinkle the chopped parsley over the cheese.
Place the pie back in the oven and bake for an additional 6-8 minutes or until the cheese has melted.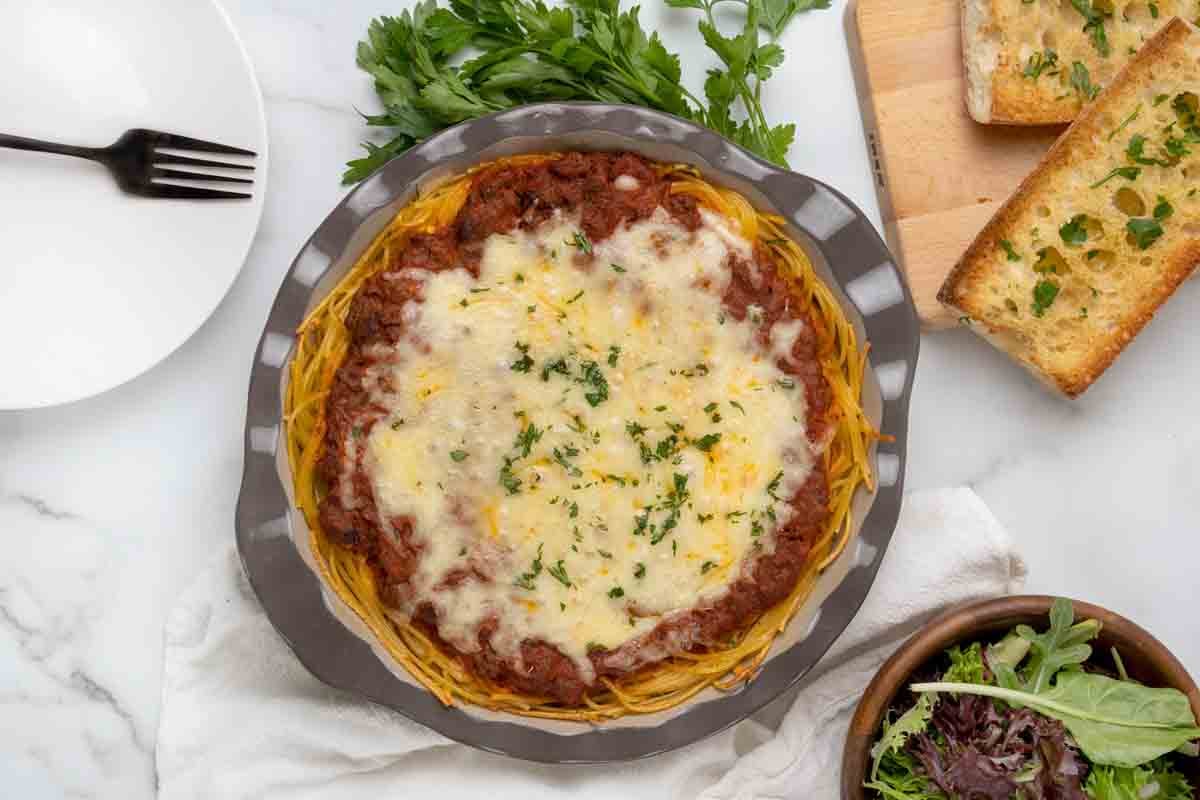 Remove the pie from the oven and let it cool for 10 minutes before serving. The cooling time will help it set up.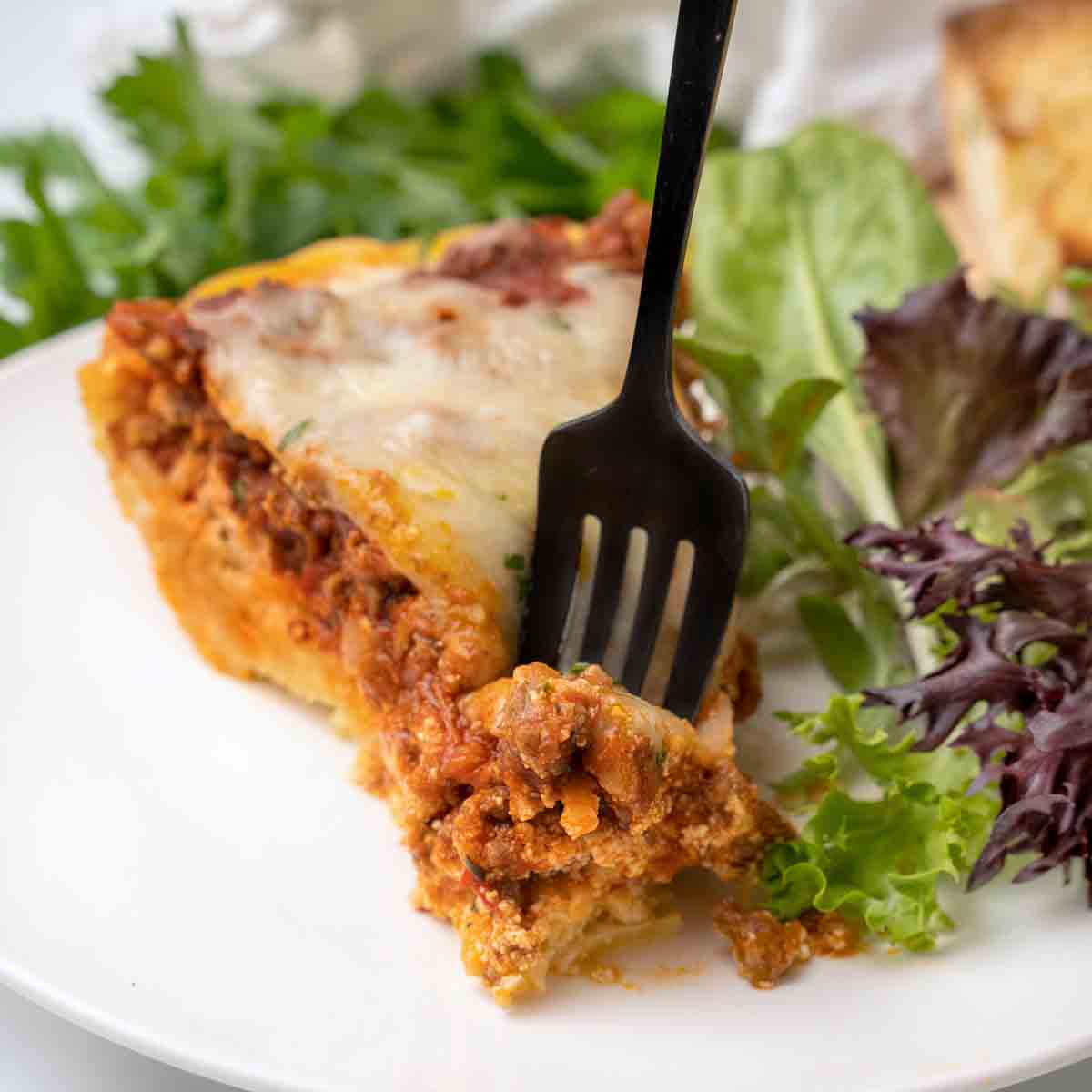 Wouldn't you love to taste this delicious spaghetti pie? I like to think of it as comfort food, and since you can make it up ahead of time, it's perfect for busy weeknights or a special dish for the weekend.
Recipe FAQ's
Can you freeze spaghetti pie?
Yes, you can. Spaghetti pie can be frozen either before or after baking. To freeze before baking, assemble the pie as usual, cover tightly with plastic wrap and aluminum foil, and freeze for up to 3 months. To freeze after baking, allow the pie to cool completely, then wrap tightly with plastic wrap and aluminum foil and freeze for up to 3 months.
Defrost either version overnight n the refrigerator before baking.
Can you make spaghetti pie without meat?
Absolutely, Yes, spaghetti pie can be made without meat by using a meat substitute. You can also use mushrooms, zucchini, bell peppers, or eggplant in place of the meat or simply leave out the meat altogether.
How do I make spaghetti pie healthier?
To make spaghetti pie healthier, use whole wheat or gluten-free pasta. Look for a low-sugar tomato sauce, or make your own. Use ground turkey or chicken instead of beef, and add vegetables to the sauce.
More Recipes You'll Love!