It doesn't take much work to make a delicious, meaty, incredibly flavorful Bolognese sauce, but it takes time. The secret of any tomato sauce is allowing it to simmer and build the flavor profile of the sauce. But I know you'll agree that it's time well spent after one bite of this dish to declare it is the Very Best Bolognese Pappardelle Recipe you've ever tasted.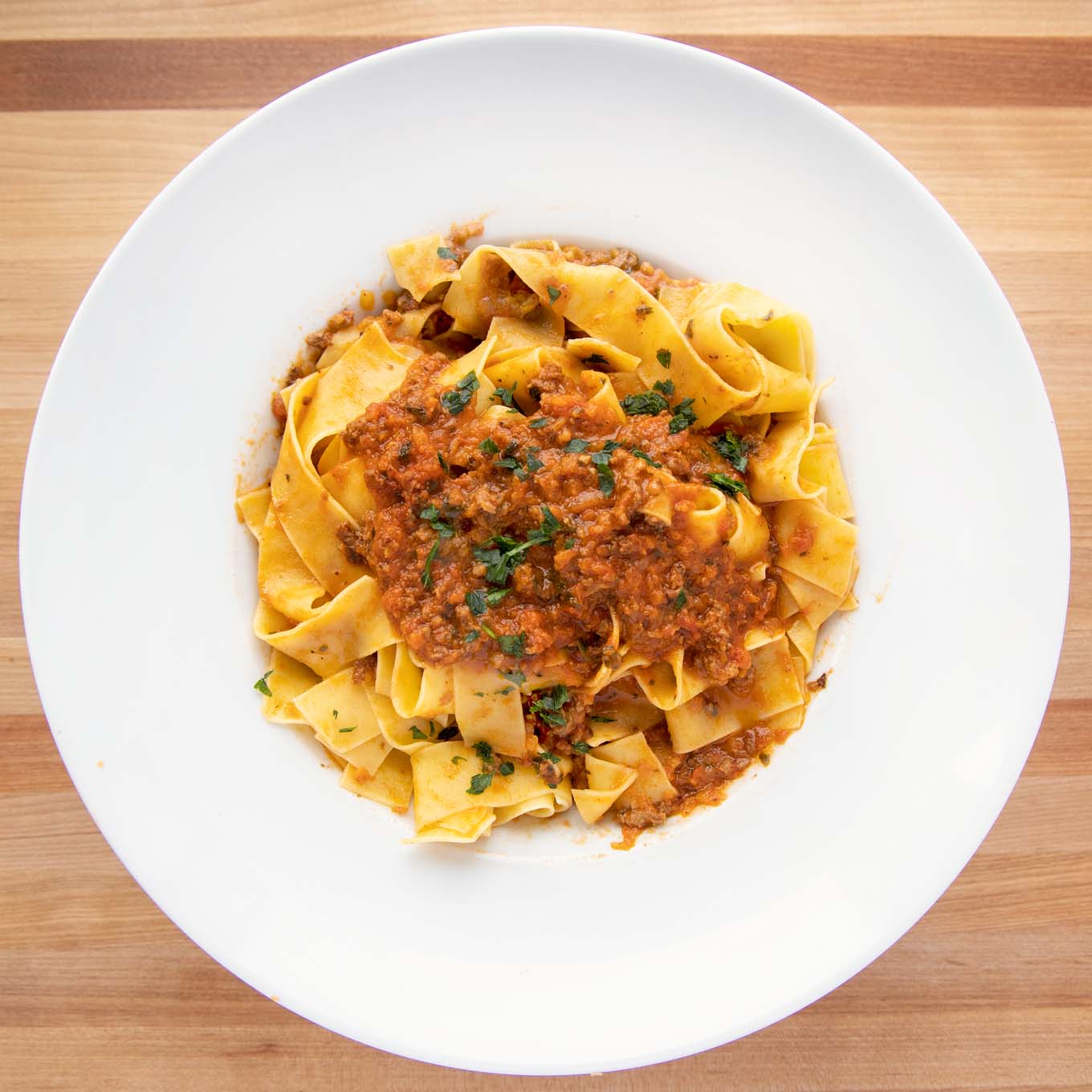 When it comes to pasta with meat sauce, nothing compares to a traditional Italian Bolognese sauce.
Bolognese sauce is known in Italy as Ragù alla Bolognese or simply Ragù. The meat-based sauce has its humble origins in Bologna, Italy.
As with most Italian dishes there are as many ways to make them as there are Italian grandmothers. My Classical Bolognese sauce embraces the traditions of the recipe with just a few variations, creating the flavor profiles I find more appealing.
While the basic recipe starting with a soffritto (onion, celery and carrots) remains fairly constant, the amount of meat, types of ground meat, amount of tomatoes, and types of herbs used in the sauce. You'll find this varies from region to region.
But one thing remains constant, it's delicious! And during my restaurant days, Bolognese Pappardelle was as popular as Veal Parm and Fettucine Alfredo.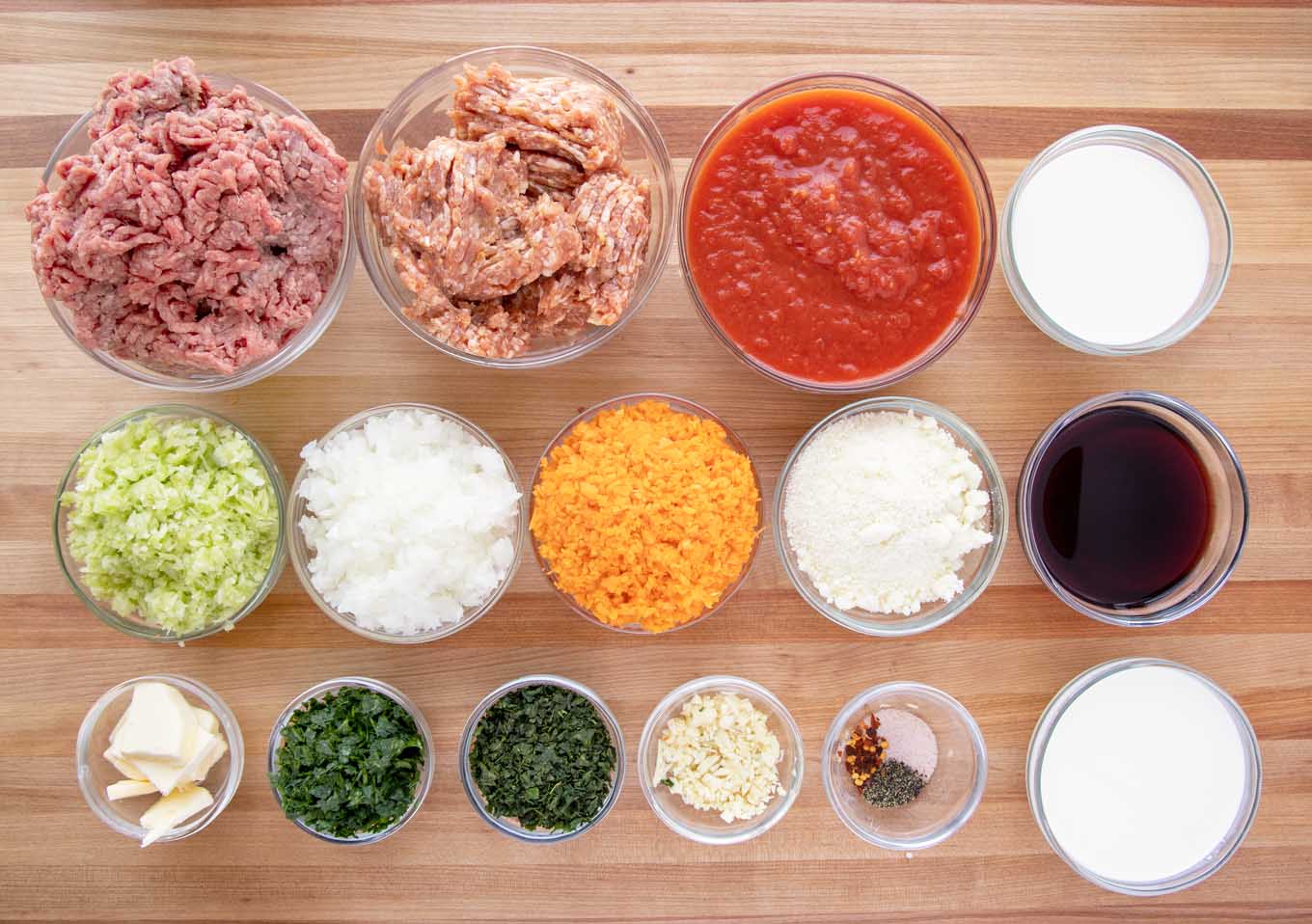 Let's start by gathering the ingredients we need to make Bolognese Sauce. In Chef Speak this is called the Mise en Place which translates into Everything in its Place.
Not only does setting your ingredients up ahead of time speed the cooking process, but it also helps ensure you have everything you need to make the dish.
I use a combination of ground beef and Italian sausage in my bolognese recipe.
What type of tomatoes should I use for Bolognese Sauce?
I use San Marzano tomatoes in my recipes and they are packed as whole tomatoes in juice, which is the only way they're allowed to be packed for the DOP designation. If you ever see crushed San Marazano tomatoes they may not be true San Marazano tomatoes.
That specific variety of tomatoes is grown in other regions of Italy and even in the US. So buyer beware! It's the soil, how they're grown and harvested that makes these tomatoes prized among chefs and home cooks. You can find true San Marzano tomatoes at the grocery store and online.
I don't use tomato paste in my sauce, because I let it cook for 4-6 hours which thickens the sauce sufficiently and makes a rich amazingly delicious sauce.
If you need to make a quick bolognese sauce, you can use tomato puree or tomato sauce, but you'll also need tomato paste. The paste will help thicken the sauce and add tomato flavor.
Do I have to use carrots, onions and celery in my Bolognese sauce?
No you don't. But I urge you to try it with all the ingredients I've used before you make any changes. If you use a food processor to finely chop the vegetables you won't even know they're in the sauce.
My wife who is a cooked carrot hater, looked at me when she saw the carrots and wasn't happy. This was the first time I'd made the sauce for her and she couldn't believe how ah-mazingly delicious it was (with no visible sign of carrots).
But as I've stated in the past, recipes are guidelines and if you cook with ingredients you enjoy eating, you're going to enjoy cooking and spend more time creating delicious dishes for your friends and family.
How to quickly cut vegetables for bolognese sauce
This post includes affiliate links. As an Amazon Associate, I earn from qualifying purchases.
Use a food processor to finely chop the carrots, onions and celery. This will make your sauce smoother and look less like a stew.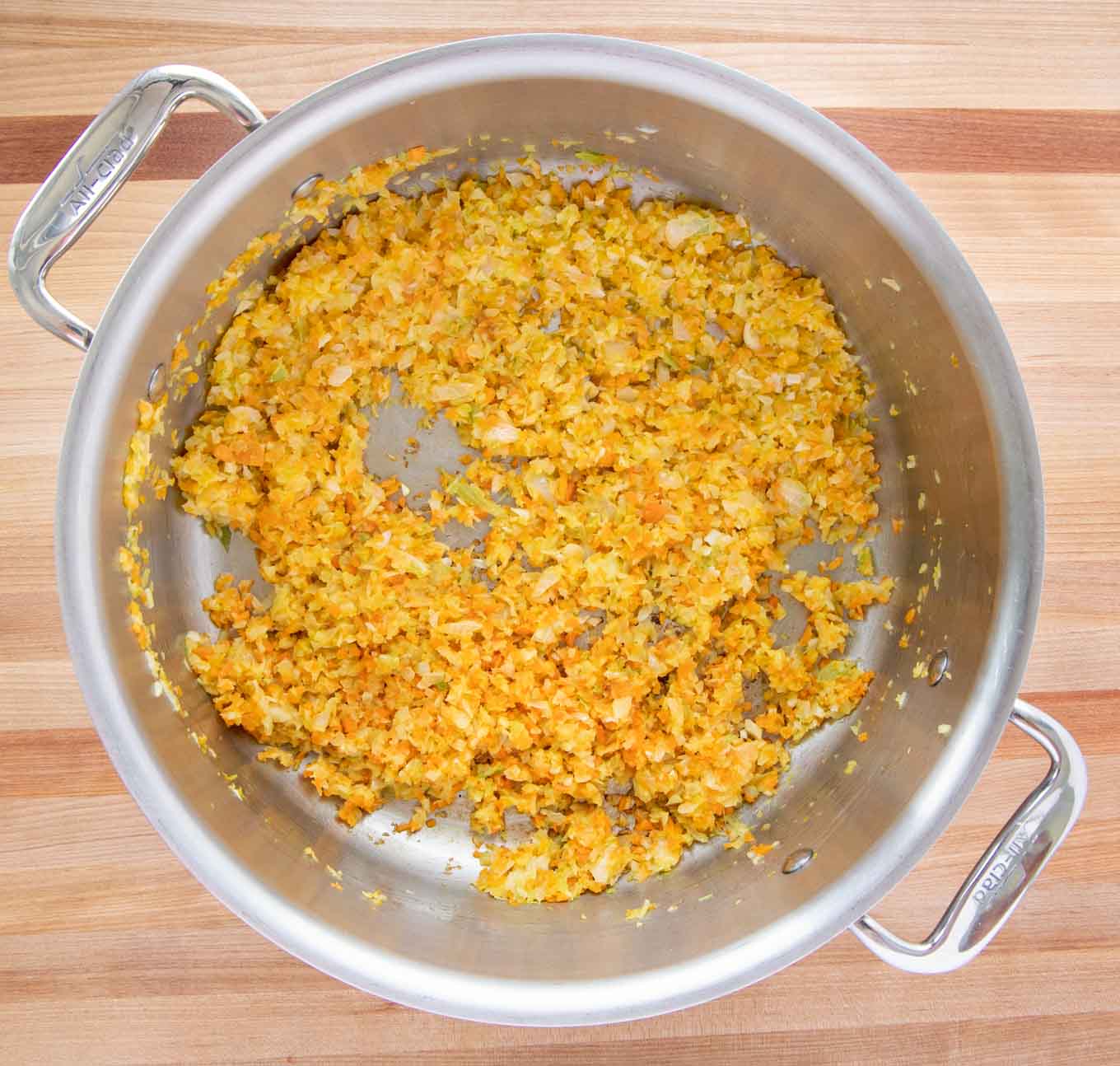 The first step in creating this classic Italian meat sauce is creating the soffritto. This mixture of celery, onions and carrots is cooked in butter over medium heat for about 10 minutes. This allows the veggies to slowly cook and caramelize.
At the end of the cooking process of the soffritto, add the minced garlic and continue to cook for an additional 2 minutes.
I use my 6 qt. Copper Core 5-ply All-Clad pot to make the bolognese. It's classified as a roaster but works for soups, sauces and so much more. It's the most used pot in my kitchen!
*You could also use a dutch oven to make the sauce.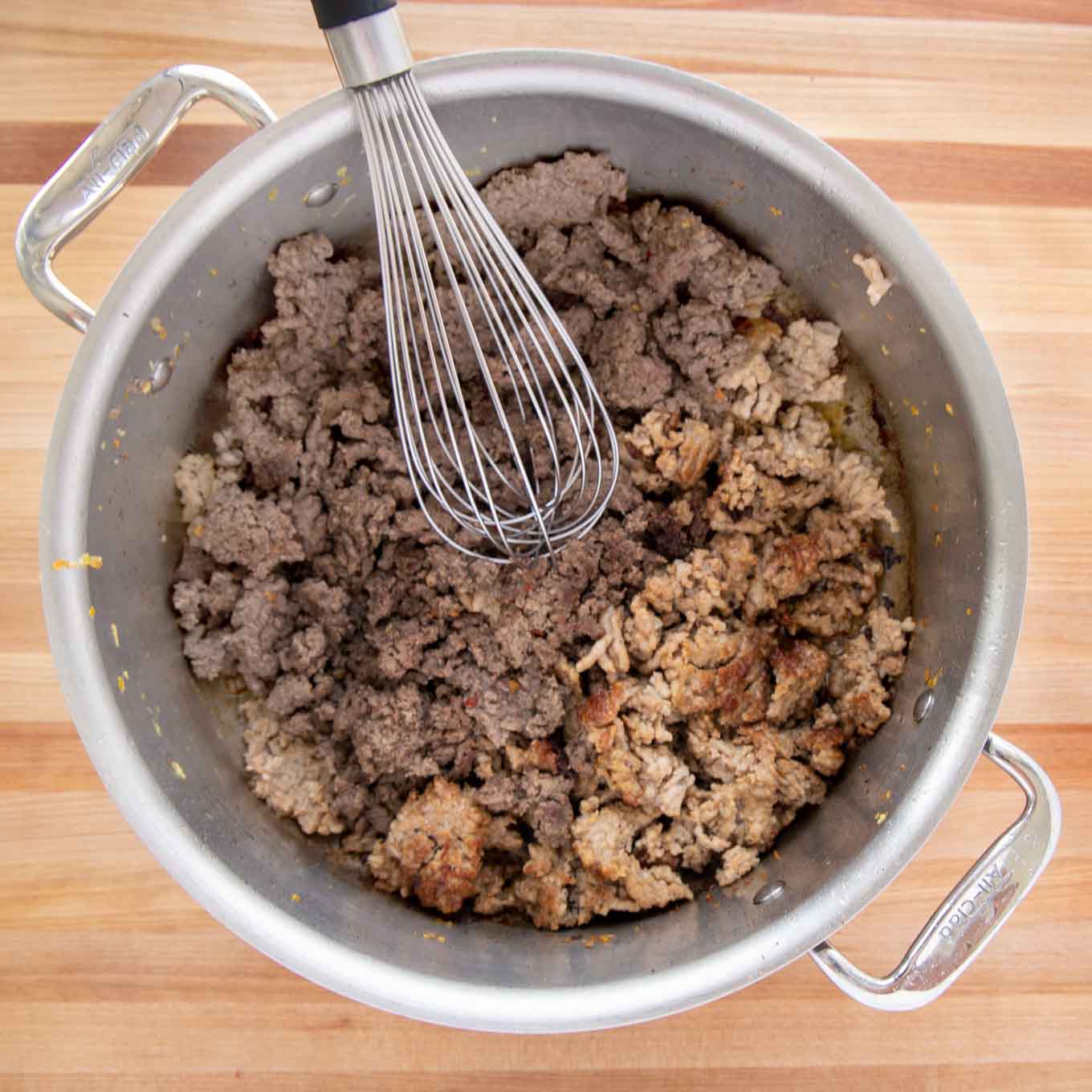 The next step is cooking ground beef, sausage meat, and seasonings. Each type of meat should be cooked separately so the meat has room to brown with as much of it touching the pan as possible.
Don't disturb the meat. Let it cook without turning it over until the very end.
This allows the meat to caramelize adding another layer of flavor to the sauce. When the cooking is complete deglaze the pan with red wine. This will release all the flavorful bits that get stuck to the pan during the cooking process.
*Use a wire whip to break up the chunks of meat. It's the quickest and easiest way to make the pieces smaller and more palatable.
Do I have to use sausage in Bolognese Sauce?
No, you don't. As I mentioned earlier depending upon the region of Italy you're in, the type of meats could be different. You can use any of these meats in your sauce, combining various types of meat or one single type.
ground chuck
sausage (pork, chicken or turkey)
chicken livers (the secret ingredient in many versions)
ground pork
ground veal
ground chicken or turkey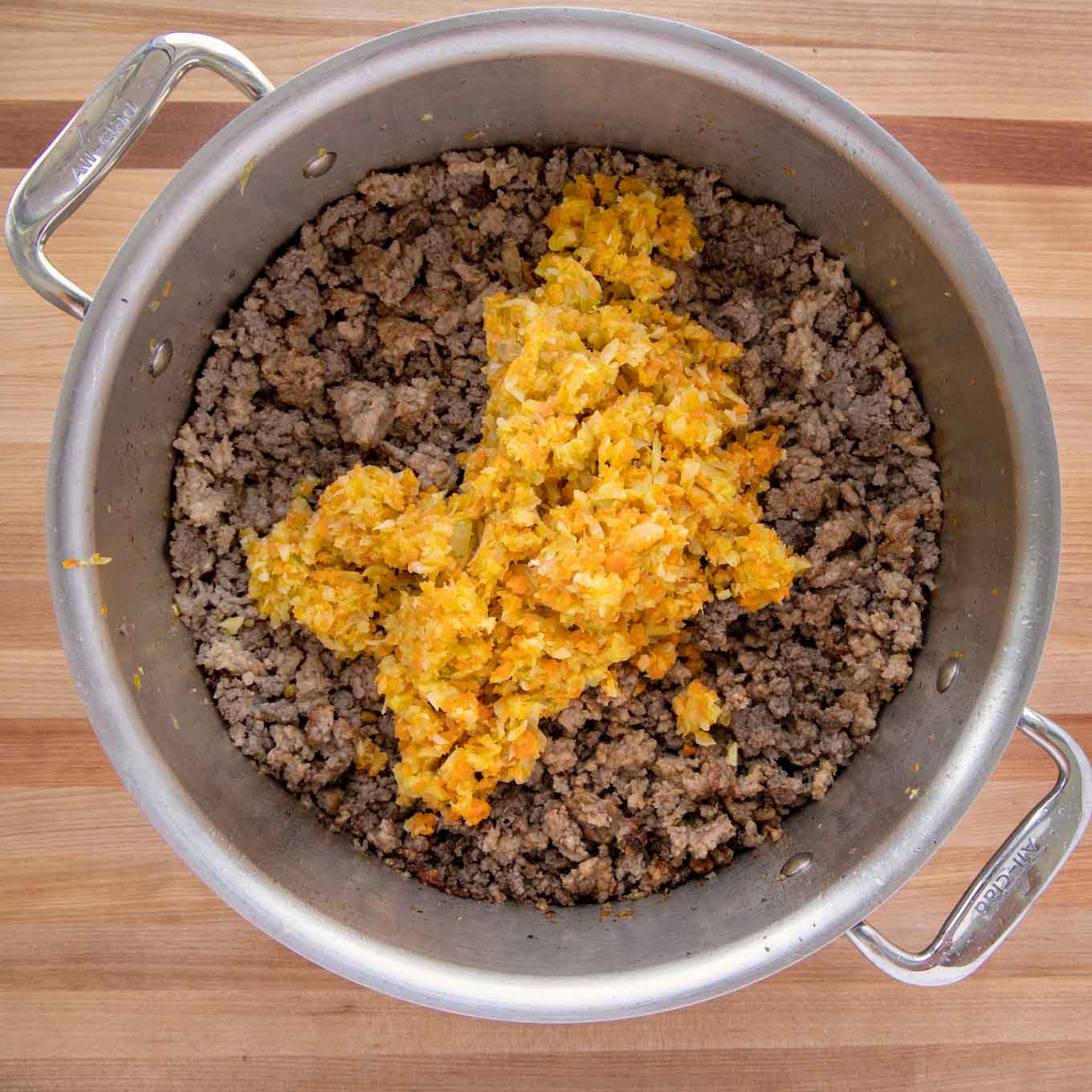 The next step is combining the cooked meats with the soffrito. Mix the ingredients together thoroughly. Add the tomatoes and milk to the pan and bring to a boil.
Reduce the heat to a simmer and allow to cook for 3-4 hours.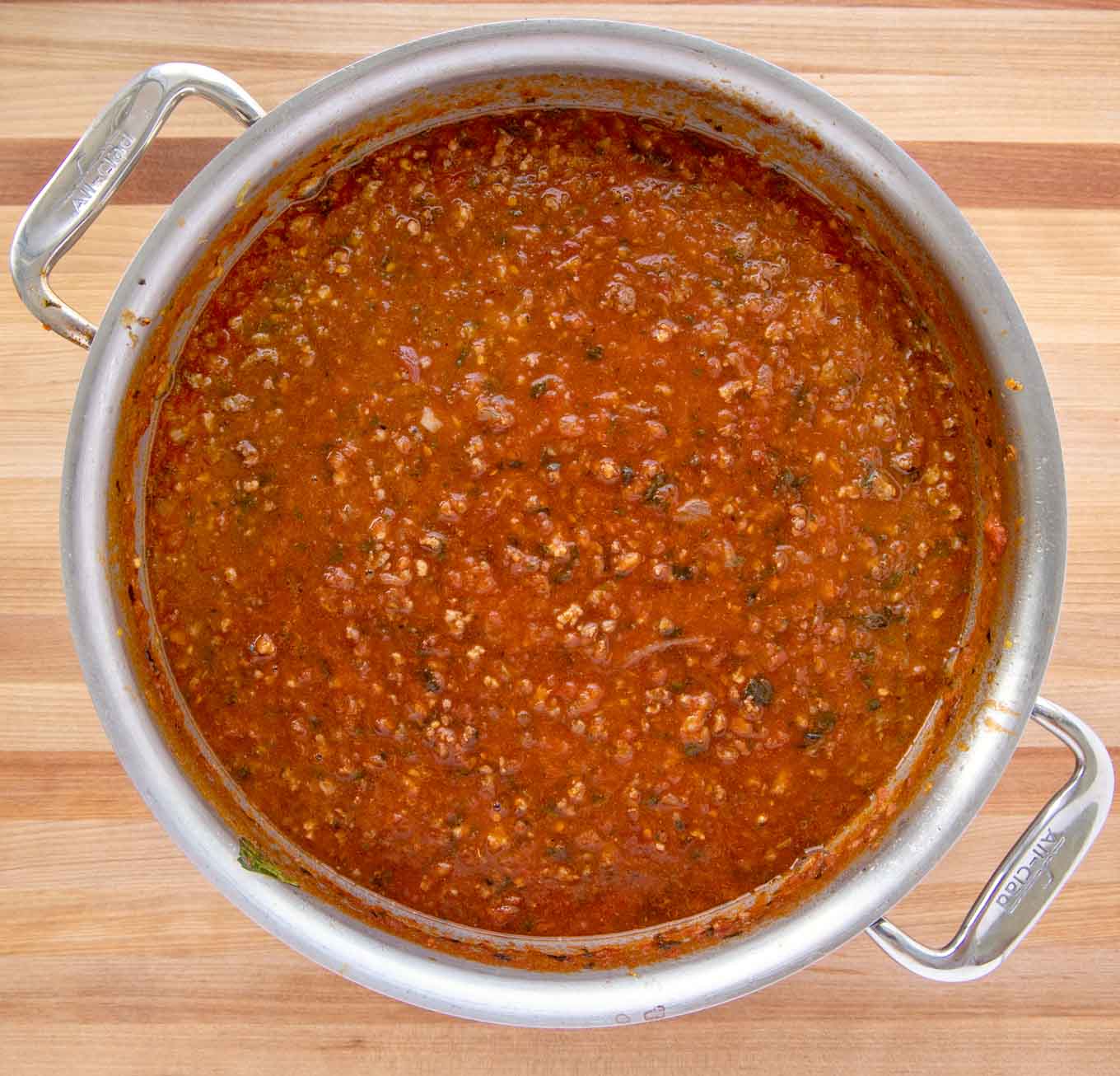 After the bolognese sauce has simmered for at least 3 hours, you'll find that it has thickened.
If the sauce is too thick you can add a little water to the sauce.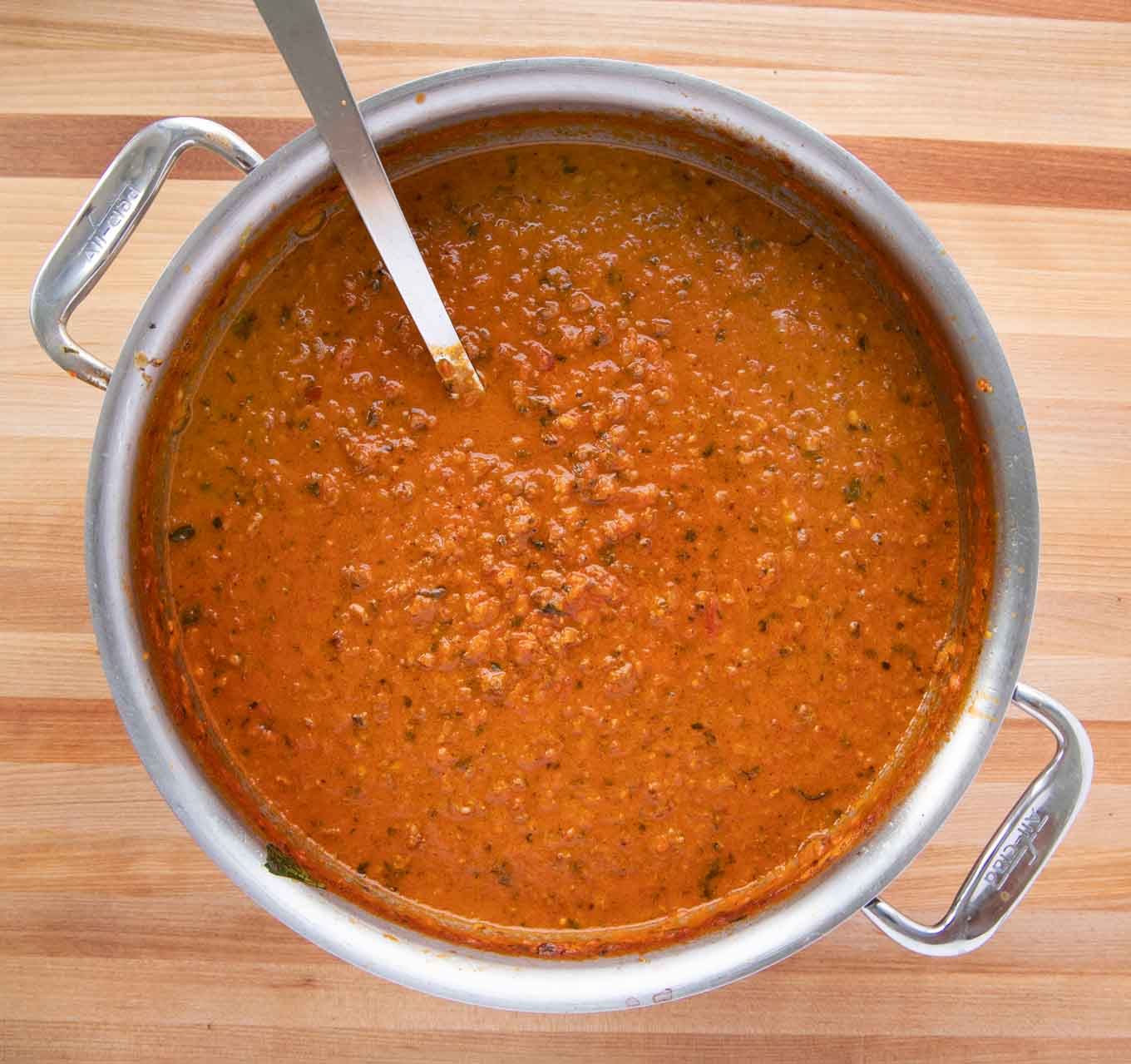 The final step in creating this rich and delicious meat sauce is the addition of heavy cream and grated Romano cheese or parmesan cheese.
In the old days, Italian grandmothers would only use a wooden spoon to stir their sauce. Feel free to keep the tradition alive.
As a chef, I always love to check out recipes from other chefs. One of my favorite Bolognese Recipes is the Gordon Ramsay Spaghetti Bolognese Recipe that TheFoodXP Shared.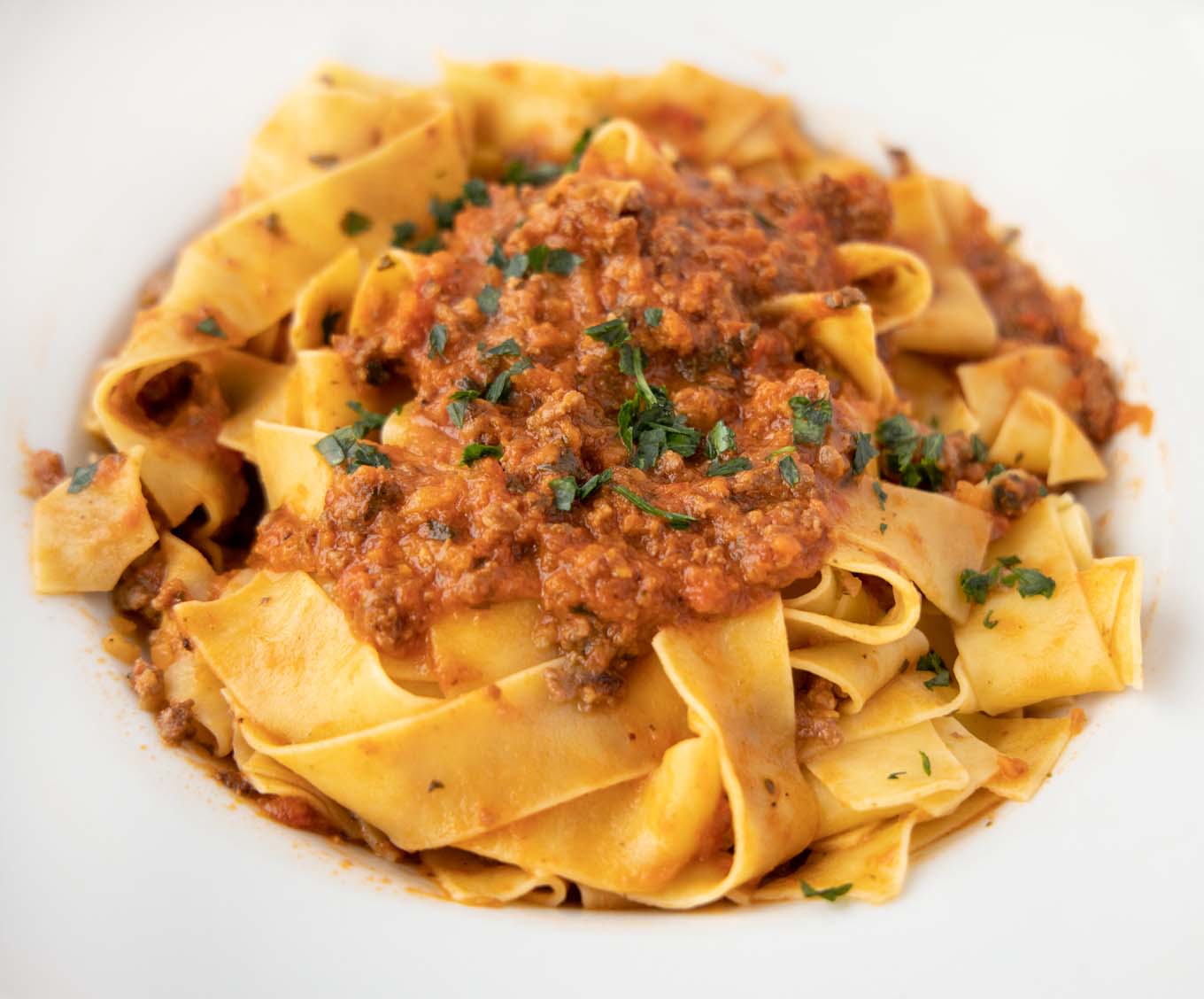 This bowlful of deliciousness will definitely bring smiles to your dinner tables. My recipe is also big enough so you can freeze some to be used another day.
*Bolognese sauce freezes well and can be kept up to 6 months in your freezer.
What type of pasta should I use with Bolognese Sauce?
The short answer is to use whatever type of pasta you like to eat. Traditionally Italians enjoy using a wider noodle for the heavier meat sauce, my favorites are:
Pappardelle
Tagliatelle
Fettucine
Rigatoni
**Bolognese is also used when making classical lasagne.
Can I use a slow cooker or instant pot to make bolognese sauce?
Yes, you can, but to do justice to this sauce, you need to saute the vegetables first and let the meats cook and caramelize prior to putting everything into the slow cooker.
After cooking the vegetables and meats as described in steps 1 and 2 of the recipe, add all the ingredients to your slow cooker and allow to slow cook for 4-6 hours.
Recipe FAQ's
What's the difference between meat sauce and true Bolognese?
Bolognese is a ragù that originated from Bologna, Italy. It's quite different from an Italian-American meat sauce in preparation and seasonings.
Bolognese is a much thicker, richer, meat sauce combining beef and pork along with milk and cream. The tomato isn't the star of the sauce as much as the meats.
Why add carrots to a Bolognese sauce?
Carrots along with celery and onion are part of the soffrito that helps season the sauce. The natural sweetness of the carrots helps build the complex flavor profile associated with a bolognese sauce.
How long should I simmer bolognese sauce?
Most Italian grandmothers will let their sauces simmer all day long. That being said 3-4 hours on simmer after incorporating all the ingredients is the minimum amount of time needed to make a bolognese sauce. Of course it can be rushed, but it won't reach its potential.
What is Bolognese meat sauce made of?
Bolognese sauce comes from the Bologna region of Italy and is made with ground beef and ground pork, although other ground meats can be used. Bolognese is slow-cooked with tomatoes a soffrito (made of onions, carrots, and celery), and milk. Finished with heavy cream and grated romano cheese to give it a creamy texture.
More Pasta Recipes You'll Love!