What could be more Italian than Spaghetti and Meatballs? It's a true Italian Classic and will easily become one of your family's favorite meals.
One of the great joys of life is eating what we want when we want it. And worrying about the consequences shouldn't be in the decision-making process.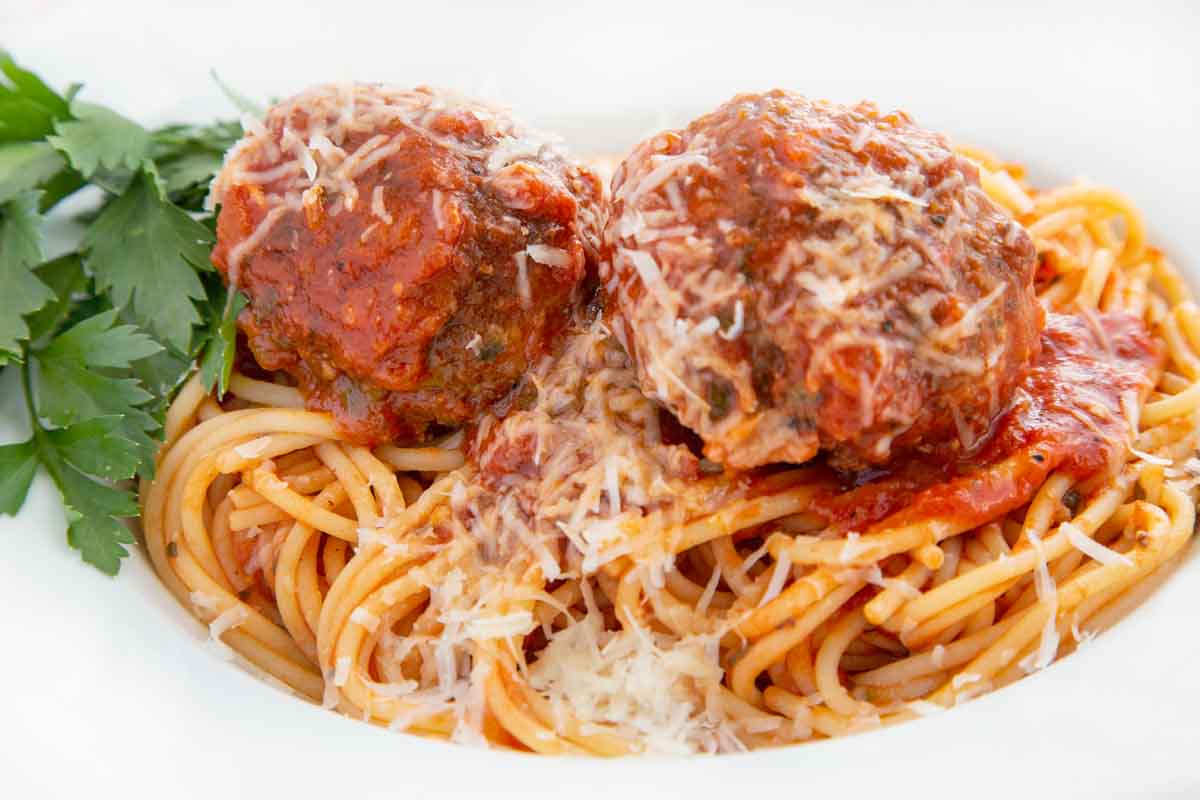 One dish that should be in everyone's repertoire is spaghetti and meatballs. And even if you don't like meatballs (gasp) you can still learn to make homemade spaghetti sauce using my easy-to-make recipe.
Tomato Sauce Ingredients: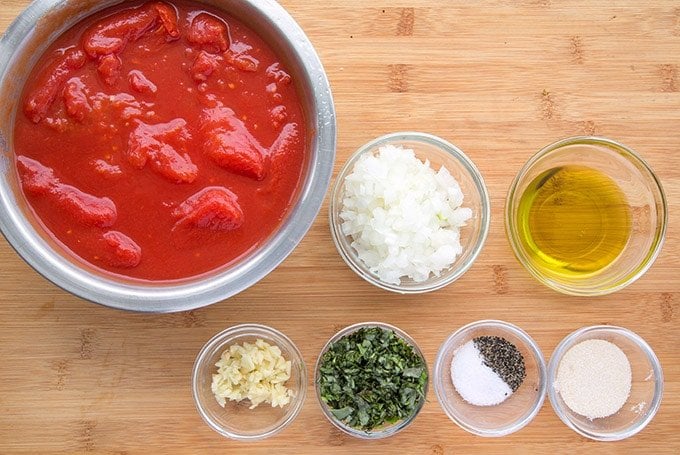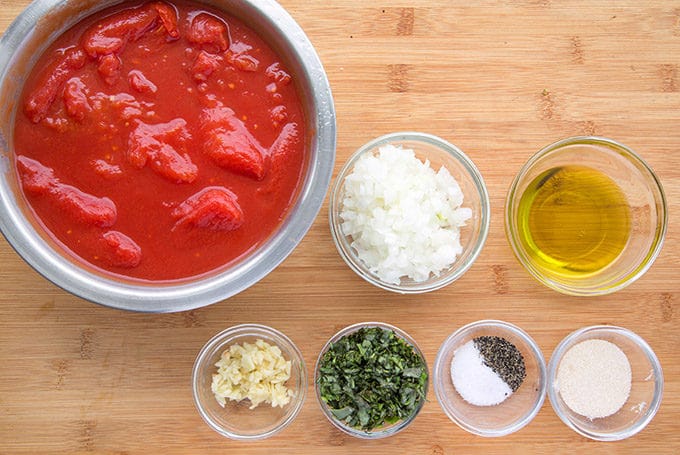 Let's start by gathering the ingredients to make a classic Italian tomato sauce. There are just a few ingredients and whether you want to make a quick marinara or a rich simmered tomato sauce the ingredients stay the same.
*I don't use tomato paste in my recipe, because I let it simmer long enough to naturally thicken the sauce. If you don't have time to let it simmer for hours, you can add one small can of tomato paste to the sauce.
*The only tomatoes I use in my sauces are from the San Marzano region of Italy, they are less acidic and don't cause the number of stomach problems (heartburn) that other tomatoes do. And they have excellent flavor.
*Chef Dennis Cooking Tip*
Buy a basil plant at your local grocery store. That way you can pick the leaves as you need and they won't wilt in your refrigerator waiting to be used or thrown out.
How to Make a Classic Italian Tomato Sauce:
This family recipe has been passed down for generations and it was how I was taught to make Authentic Italian Tomato Sauce more than 50 years ago.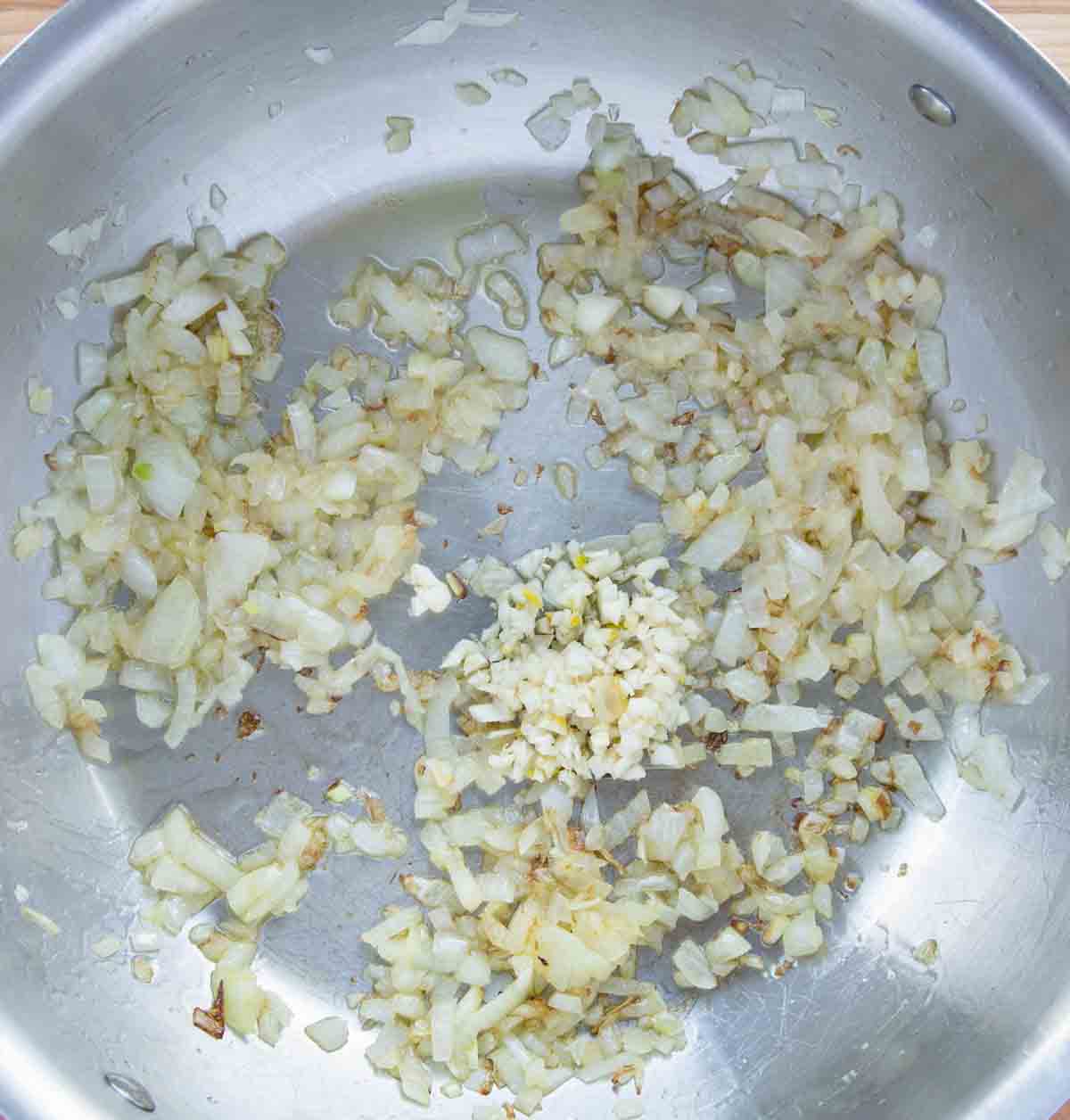 In a large skillet or small saucepot, sauté the diced onions for 3-5 minutes in olive oil, then add the finely chopped garlic and continue cooking for another 1-2 minutes.
Don't let them burn!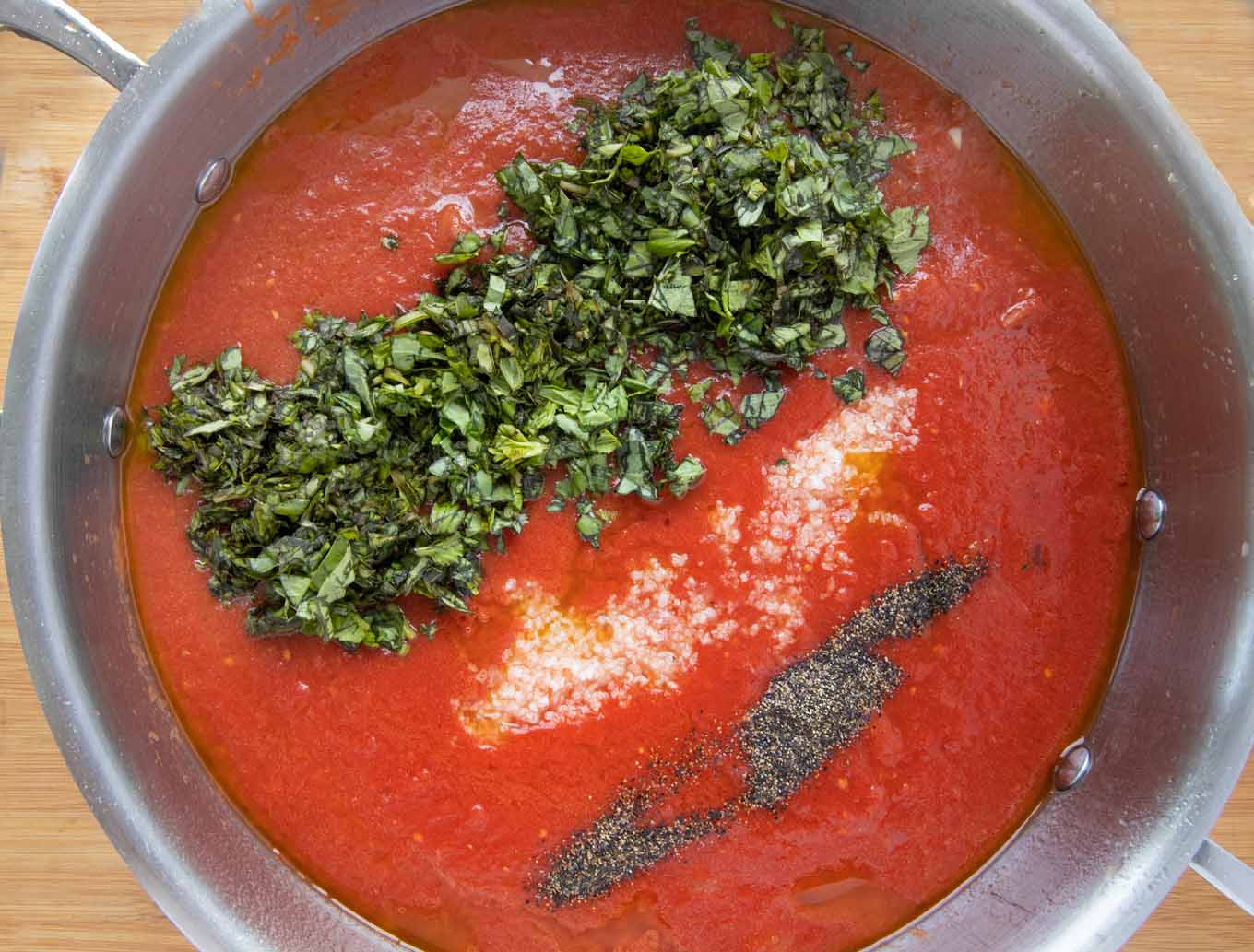 Add the crushed tomatoes to the pot. Rinse the cans with a little water and add to the sauce (if crushed tomatoes are not available use whole tomatoes and crush by hand or with an immersion blender).
Add the chopped basil, sugar, sea salt and black pepper to taste (don't over season you can always add more later). Mix the ingredients together.
Bring the tomato sauce to a boil, and reduce the heat to a low simmer for 15-20 minutes for homemade Marinara Sauce. For a rich, hearty and totally amazing spaghetti sauce allow it to simmer for 3-5 hours. You'll thank me for it later!
*Gently add the browned meatballs to the sauce about one hour before you're done cooking the tomato sauce. Don't be tempted to leave the meatballs in the sauce for the entire process, they will get dry and tough.
Italian Meatball Ingredients: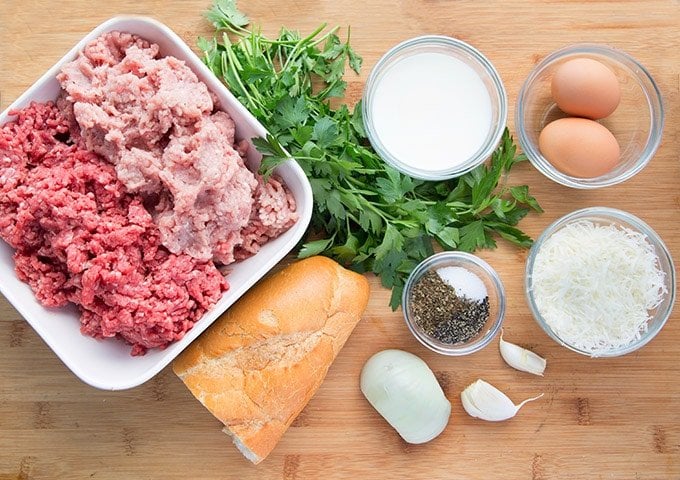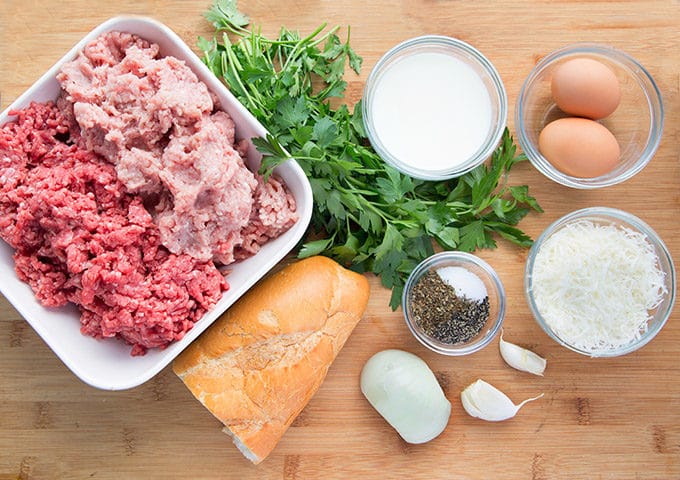 The ingredients needed to make my Italian meatballs recipe are pretty basic. I used an equal combination of ground pork and ground beef, but you can always substitute ground turkey or ground chicken if you like. I also suggest using bread instead of breadcrumbs to make your homemade meatballs.
How to Make Homemade Italian Meatballs: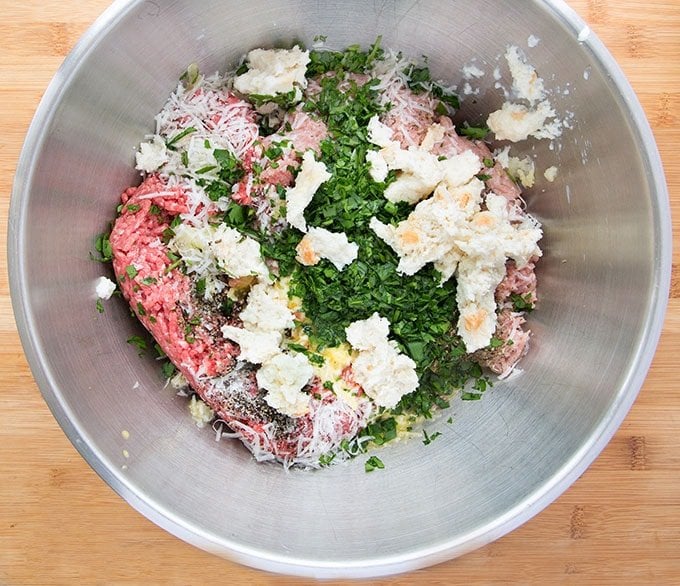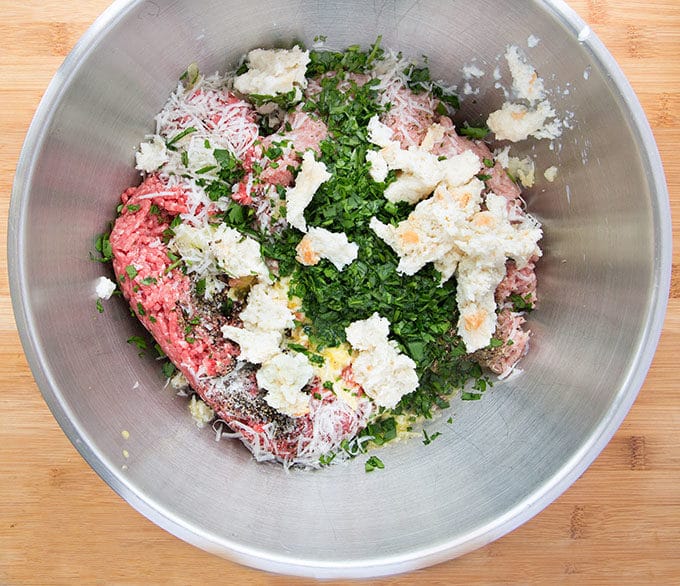 Place all the meatball ingredients into a large bowl.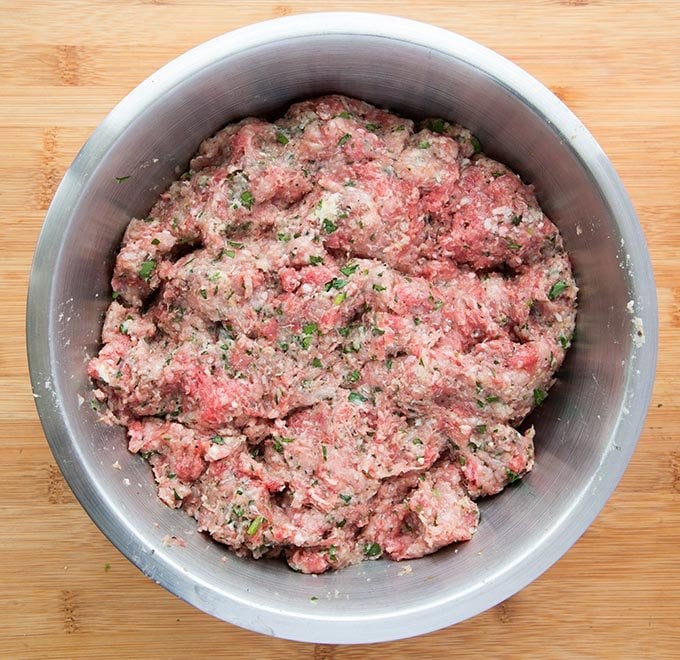 After combining all the ingredients, cover the bowl with plastic and place in the refrigerator for one hour.
*Chef Dennis Cooking Tip*
Do not over mix the meatball mixture. If you do your meatballs will be tough.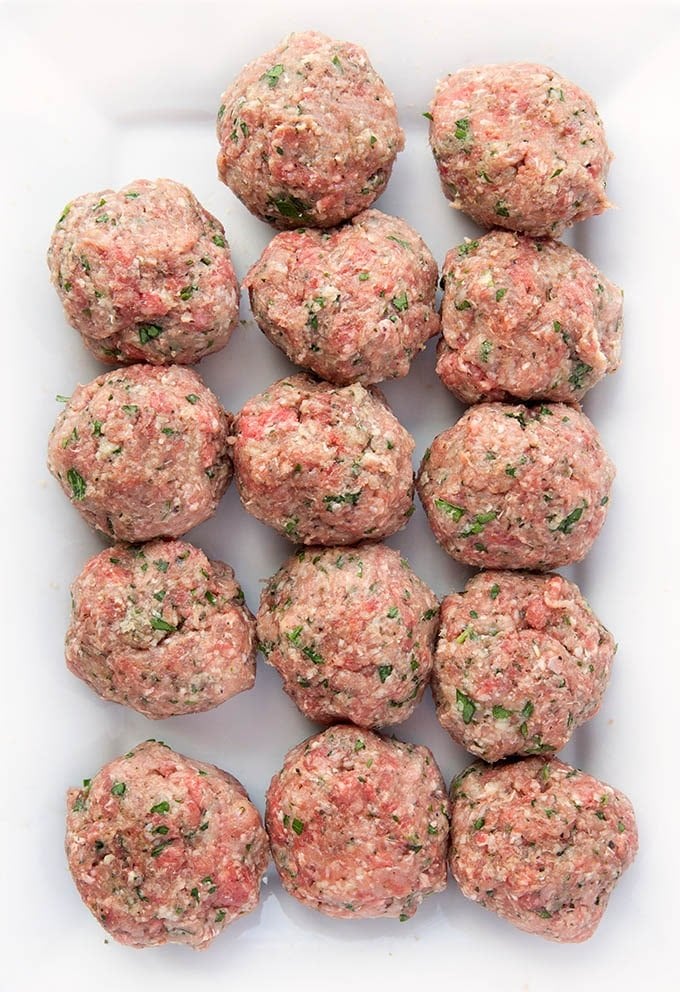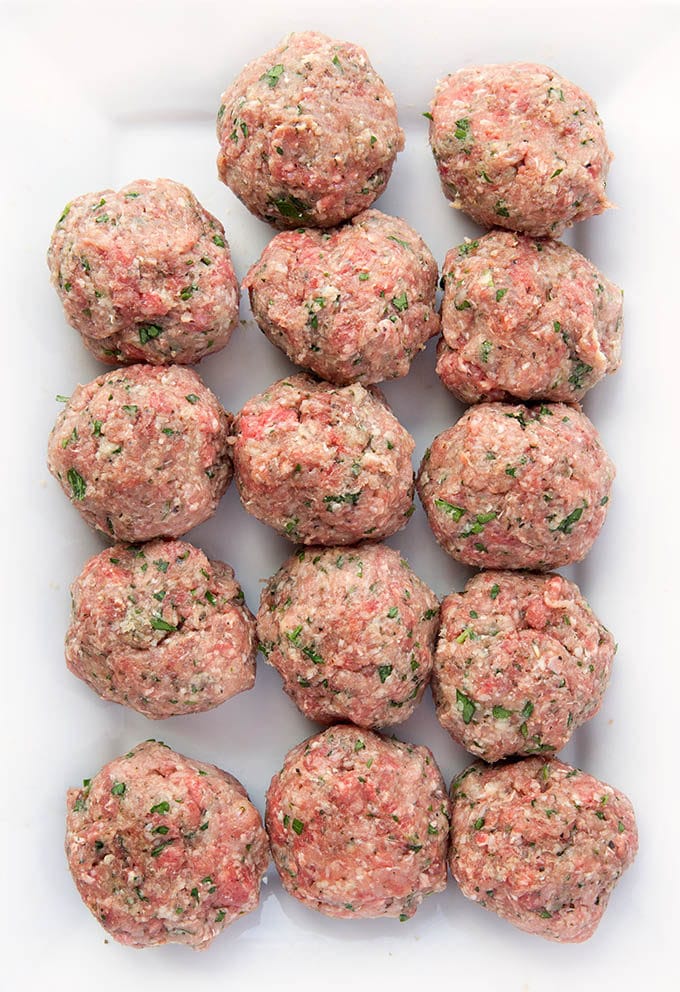 Roll your meatballs out, closing up the gaps making the outside of the meatball as smooth as possible.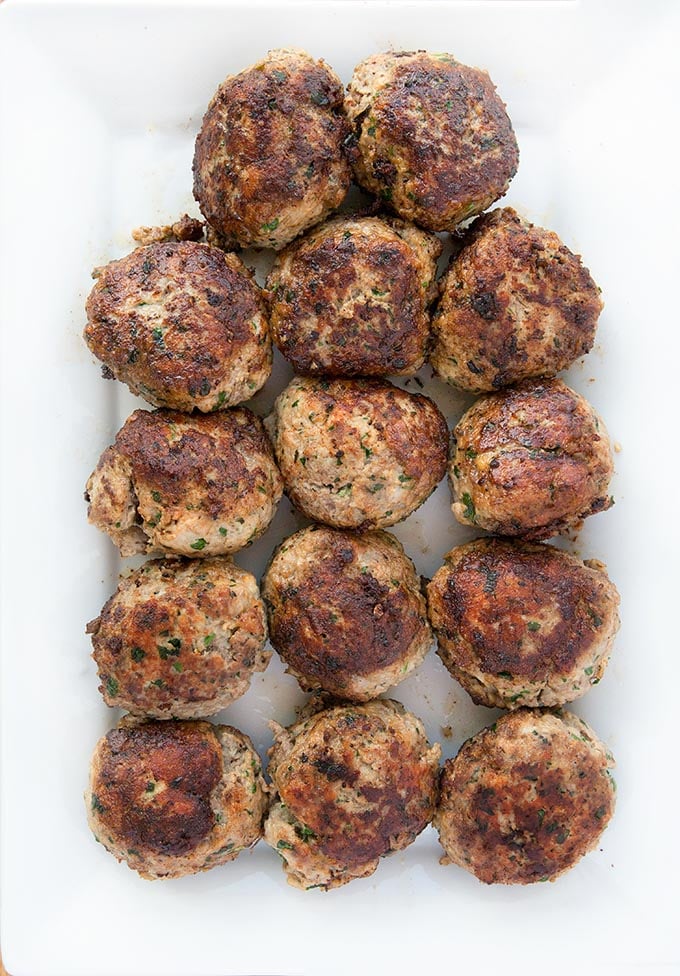 Getting a crust on the outside of the meatball is your goal. This means leaving it alone for 1-2 minutes, letting it get nicely browned. This is how you make authentic Italian meatballs.
Once they're browned, set them aside until you're ready to add them to the tomato sauce. Again, only leave them in the sauce for an hour, no longer.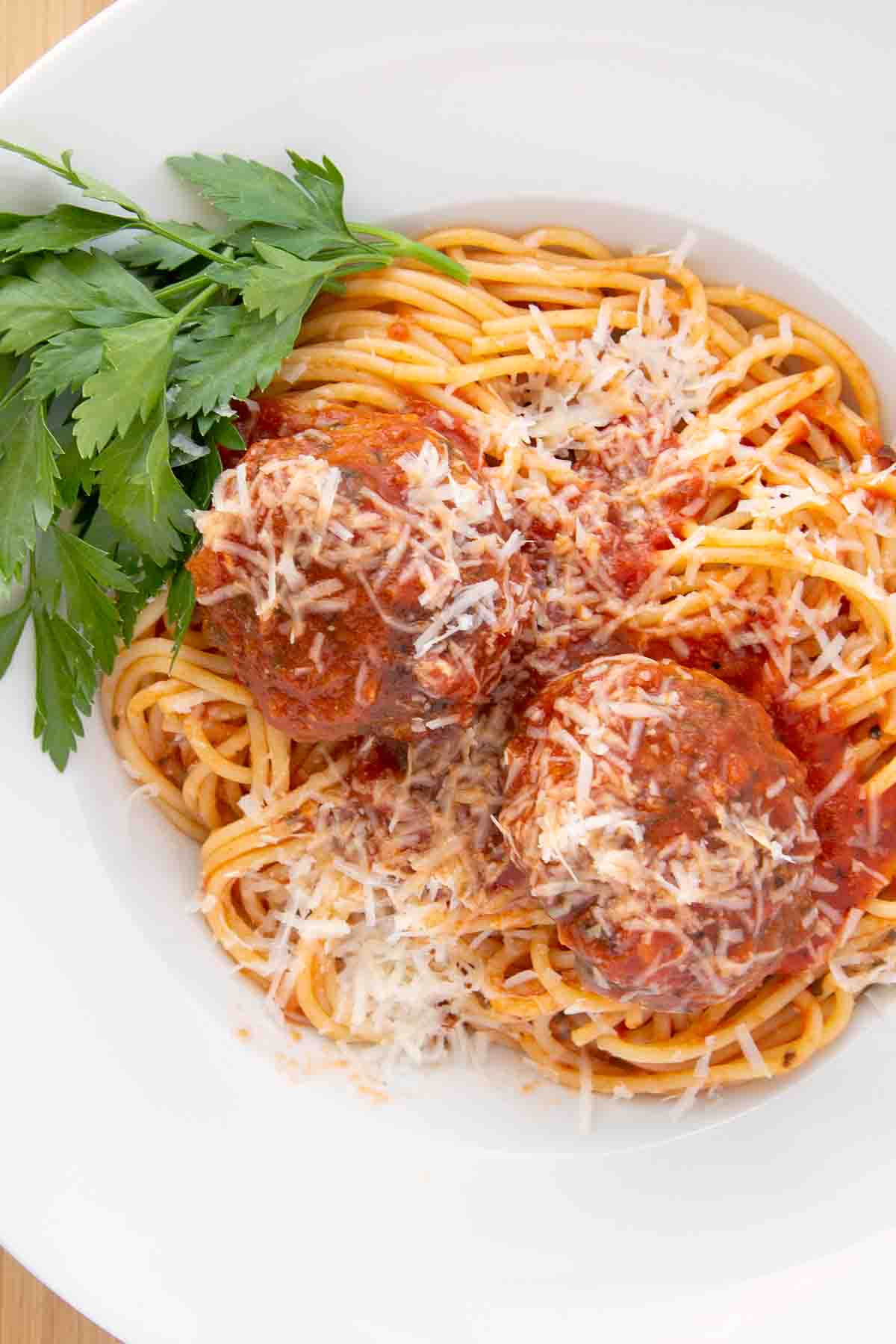 Then all that's left to do is cook your pasta and serve up this delicious classic Italian dish. Garnish the pasta with grated romano cheese or parmesan cheese and chopped Italian parsley(for color) and get ready for the rave reviews!
If you like a little heat don't forget the crushed red pepper flakes. I don't add it to the sauce because not everyone's a fan of heat.
The meatballs also make delicious meatball sandwiches, so make to make enough!
More Recipes You'll Love!