How to make Red Snapper en Papillote (aka parchment paper)
I had a request from one of my friends to make Poisson en papillote aka fish cooked in a parchment paper. It's been ages since I've cooked fish using this method and I've never made this type of dish for Lisa so I thought it would be fun to revive this healthy and delicious style of cooking in our home. Looking at the fish I had on hand I decided on Caribbean Red Snapper.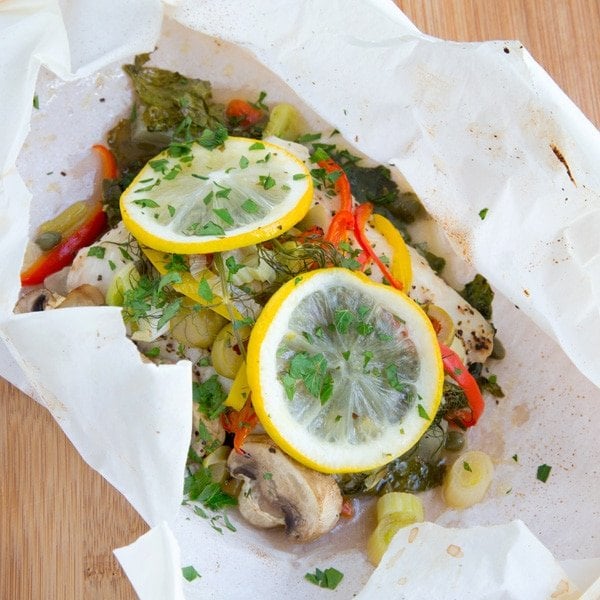 You can use other types of firm, fleshy light fish for this dish such as mahi-mahi, grouper and salmon. Flounder and tilapia would work but they're so fragile I would recommend lightly stuffing the fillets and rolling them to cook using this method. You can also cook a whole fish using this method.
What do I need to make Red Snapper en Papillote?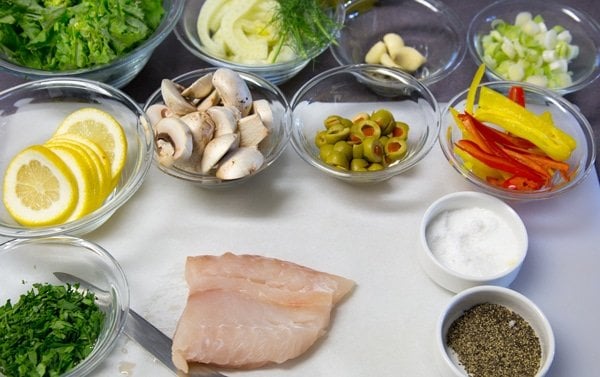 Let's start by gathering the ingredients we need to make Red Snapper en Papillote. In Chef Speak this is called the Mise en Place which translates into Everything in its Place.
Not only does setting your ingredients up ahead of time speed the cooking process, but it also helps ensure you have everything you need to make the dish.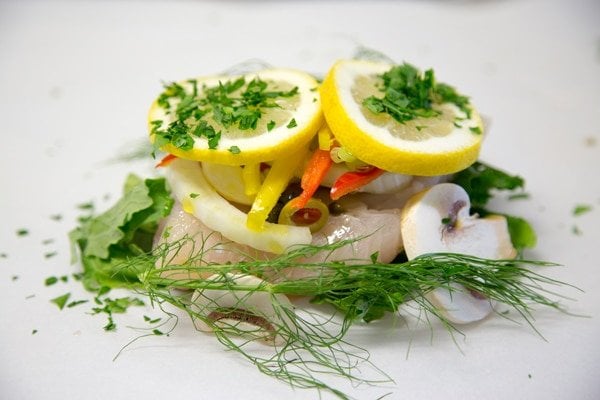 Think of your parchment paper as a blank canvas when building your Poisson en Papillote. There are so many different ingredients and fresh herbs you can use to make each dish unique every time you serve it. Of course, you'll have your favorite flavors and that's what I used for my Red Snapper en Papillote.
How do I make Red Snapper en Papillote?
I suggest following a few simple guidelines when painting your canvas (parchment) with flavors by layering the ingredients.
The first layer should be something stack-able. This will provide height and a little space for the steam to circulate throughout the dish.
Try using napa cabbage, bok choy, bitter greens, lemongrass, mushrooms, fennel or other similar ingredients. You could also use rice, your favorite grain or couscous, just remember to have them almost completely cooked not raw.
The second layer is the fish. I like to season the fish well at this point starting with a little olive oil then a good amount of sea salt and black pepper. You could add any flavor of spice at this time as well.
The third layer should be aromatic ingredients and something for color.
aromatics could include- garlic, olives, capers, ginger, scallions, shallots, fresh herbs or any ingredients you like that will hit you with a delightful fragrance when you crack open the parchment. They also add great flavors to the dish.
something for color can be as easy as grape tomatoes, peppers, colored cauliflower, asparagus, and even fresh corn kernels.
My final layer is citrus slices.
Lemon, lime, orange or grapefruit wedges instead of slices would work well as a topping
You can also place the citrus under the fish and use another topping for the grand presentation of your dish.
Chef Dennis Tip:
*Just a quick note do not use aluminum foil, wax paper or brown paper they are not the best materials for this type of dish. You can find parchment paper in the same area in your supermarket that has the foil and plastic wrap.
Then it's time to fold your parchment closed.
What I learned:
It's better to place the fennel and sliced mushrooms on top of the broccoli rabe and under the snapper.
Don't add the fresh chopped parsley to the dish inside the packet, it will turn an ugly shade of green. Add to the experience and allow your guest to add it on top of the lemon after the open the packet.
the Snapper needed a good amount of salt and pepper to be seasoned properly
All in all, this was a delicious dish and very healthy. Remember to think of this as a blank canvas and have fun with different ingredients.
If you like my Red Snapper recipe you might also like these delicious fish dishes.