Poaching Mahi-Mahi is a delicious and easy way to serve this fish and often the technique used at your favorite restaurant to cook Mahi.
It's often been said that Mahi-Mahi is a powerhouse of healthy protein and no it's not a dolphin. Although it can be referred to as "dorado or dolphinfish" it's not a mammal, and dolphin by name only. There's no need to worry about flipper ending up on your dinner table!
What you will get with Mahi-Mahi is a very lean fish that is chock full of essential amino acids and enzymes. Including Omega-3 fatty acids. And Mahi-Mahi (the fish so nice they named twice) can be cooked a numbers of ways allowing you to have fun creating delicious restaurant-style dishes in your own kitchen.
What Ingredients do I need to Make Poached Mahi-Mahi?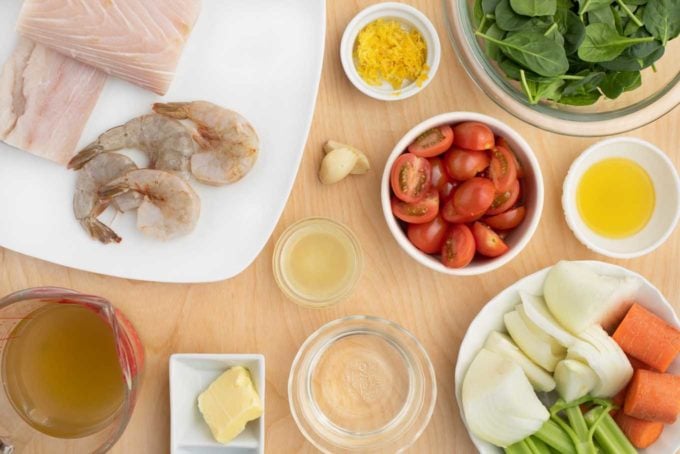 Let's start by gathering the ingredients we need to make my restaurant style Poached Mahi-Mahi. In Chef Speak this is called the "Mise en Place" which translates to "Everything in its Place".
Not only does setting your ingredients up ahead of time speed the up cooking process, but it also helps ensure you have everything you need to make the dish.
What other Fish Can I poach?
These are some of my other favorite fish to cook with the poaching method.
Tuna
Swordfish
Halibut
Barramundi
Arctic char
Dover sole
Salmon
How do I poach Mahi-Mahi?
Poaching fish is easier than you think and a wonderful way to not only cook fish quickly but also helping to keep it moist and flavorful while keeping down the calories.
And the best part is you can cook dinner in one pan! Traditionally a Court-Bouillon is used to poach fish, but don't get worried it sounds fancier than it really is.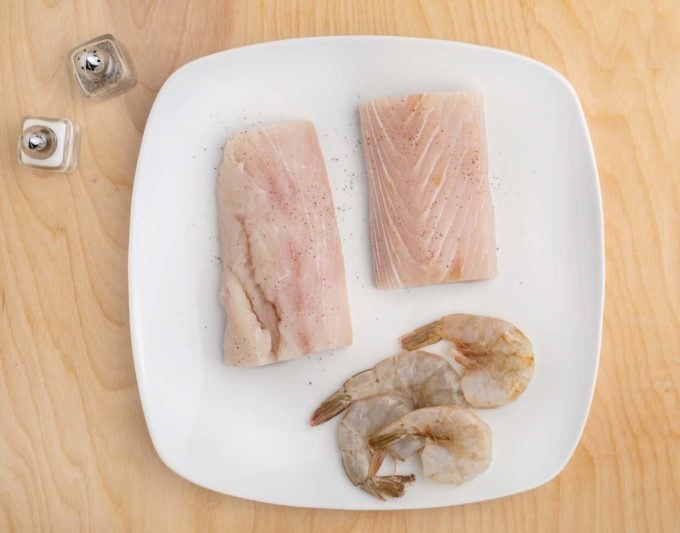 The first step is to rinse and pat dry the mahi-mahi with paper towels. The salt and pepper the fish.
Add a little olive oil to a large heated skillet over medium-high heat. Then add the Mahi-Mahi fillets, garlic and veggies to the pan.
After 1 minute in the hot skillet, gently turn the fillets over and continue cooking for another minute.
How do I make a Court Bouillon?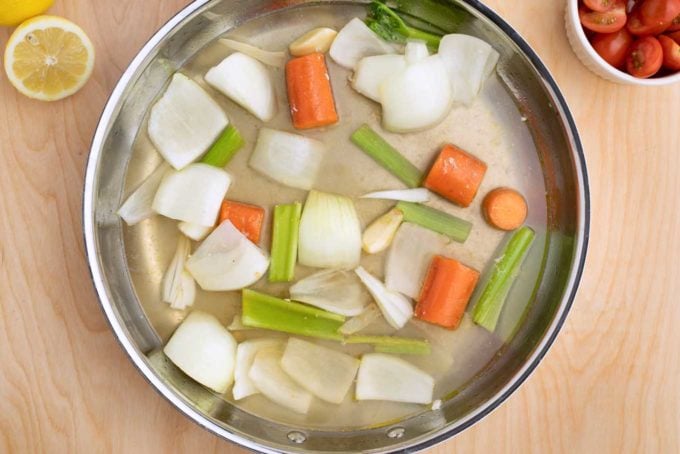 Remove the Mahi from the skillet and set aside until needed.
Add the white wine, stock and lemon juice to the skillet. Bring the mixture to a boil and allow the stock to reduce by half.
When the court bouillon has reduced by half, strain the mixture removing all of the vegetables.
*Discard the vegetables or season and continue cooking them in a little olive oil to serve with the fish.
If you want a richer broth, you can, of course, let it simmer for a few hours (which would require adding more water to the pan as it cooks away) my dish came out pretty well for using this shortcut method. You can also add some of your favorite fresh herbs to this broth, enhancing the flavors to create your own signature dish.
To make a court-bouillon you need just a few items; celery, carrots, onions, and an acidic ingredient along with other liquids. You can use citrus (lime or lemon), wine, or vinegar. Or a combination of any of the ingredients, I used lemon and white wine. I also added a few garlic cloves, and used vegetable stock instead of just plain water, kicking up the flavor profile even more.
As the court-bouillon reduces, you can enhance the flavors by adding cream, butter or other fresh herbs….. It's your kitchen, have fun experimenting!
It's really that easy, and when you think of it the court-bouillon is basically just a mirepoix (cut up celery, onions and carrots, used in many dishes as well as soups). See now you've learned more French terms to make bantering around the kitchen even more fun….you're almost ready for the tall white hat.
Reduce the heat to medium and return the Mahi to the pan along with shrimp, spinach and tomatoes. Sprinkle half the lemon zest on top of the Mahi.
Allow Mahi and other ingredients to continue cooking for 3-4 minutes.
If you'd like to test the fish to see if it's done insert a very sharp knife into the thickest part of the Mahi to see if it's done to your liking.
*This fish can be served a little undone. This will keep it from being dry.
Remove the Mahi and shrimp from the pan and plate over prepared rice or your favorite grain.
Dredge a piece of butter into flour and add it to the pan and mix well until blended in. This is called a Beurre Manie and will help thicken the sauce.
Spoon the spinach mixture over the Mahi and rice and enjoy!
**You can peel the shrimp if you like before serving or simply have your guests peel them with the dinner.
More Seafood Recipes You'll Love!