My Blackened Salmon with a Gorgonzola Cream Sauce is a Restaurant Style Dish with a symphony of flavors that can be made in your home kitchen in under 30 minutes.
How to make Restaurant Style Blackened Salmon just like a chef in your very own kitchen.
Northwest Coho Salmon has made a salmon lover out of me and that's saying a lot!
I hate to admit that I never really enjoyed the taste of salmon until I tried Coho. And my lightly blackened salmon recipe with a gorgonzola cream sauce is the first of many salmon recipes to come.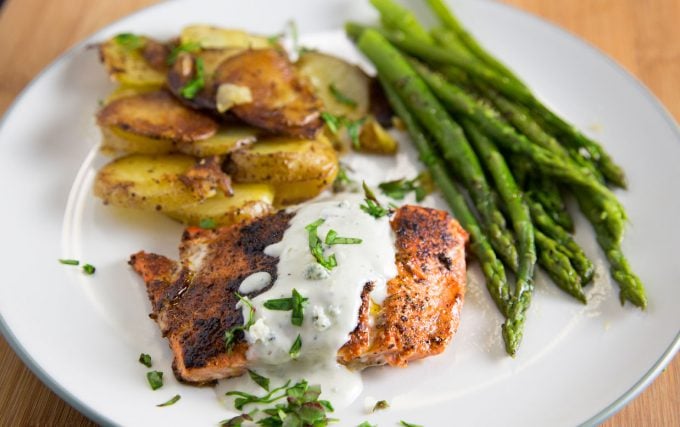 Who knew I would end up loving salmon after all these years of avoiding it! In fact, my Mediterranean Salmon and Salmon stuffed with crabmeat are two other delicious ways to serve this tasty fish in your home for dinner.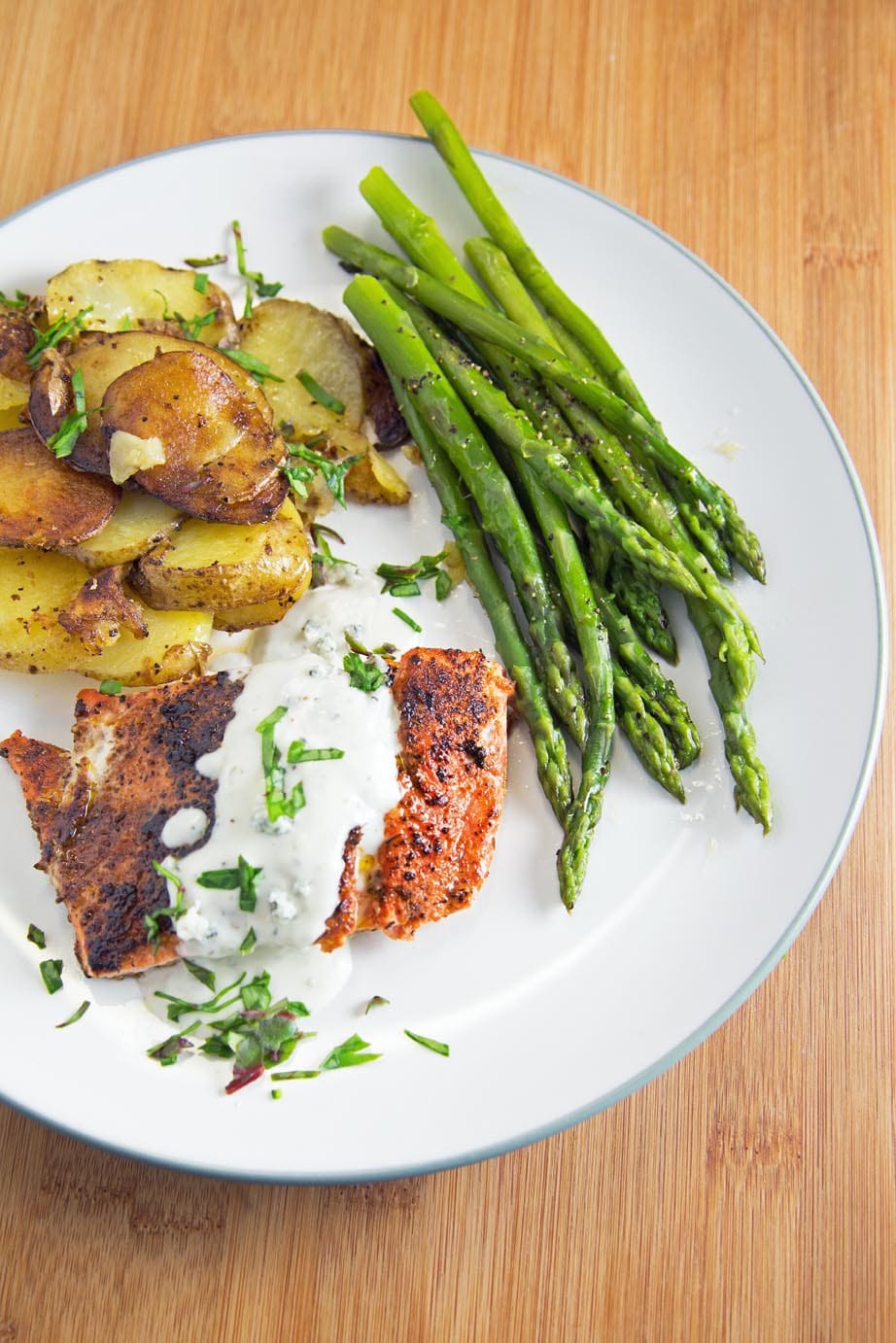 One of my missions has been to share my Restaurant Style of cooking with my friends and help turn any night into a special occasion with one of my Restaurant Style dishes. And I promise it will be our little secret just how easy it is to cook like a chef in your own home.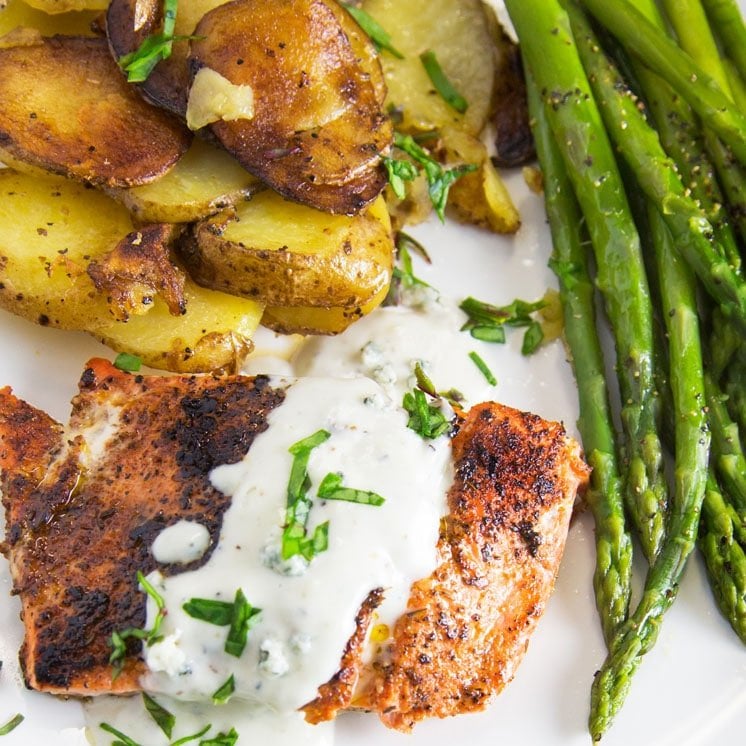 Next time you think of entertaining my lightly blackened salmon would be the perfect dish to serve your guests. You can easily prep and precook it hours before anyone arrives and finish it off in the oven minutes before you're ready to serve dinner.
Whether it's dinner for the family or a dinner party for 20, easy and Delicious is always a winning combination.
LIME CRUSTED CHILEAN SEA BASS WITH FLORIDA PINK SHRIMP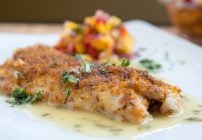 Perfect for your next date night or when you're entertaining, my Lime Crusted Chilean Sea Bass will bring smiles to your table. This restaurant-style dish is easy to make and oh so delicious!
How many of you have heard of Chilean Sea Bass? Its actual name is Patagonian Toothfish and it can be found in the southern oceans closest to the Antarctic. It's a pretty ugly fish but when filleted, it produces a solid piece of flesh, which is sweet in flavor and OMG delicious.
One valuable characteristic of the toothfish flesh is that it contains a high level of Omega-3 fatty acids that are released when cooked. Omega-3 fatty acids have become recognized for their health benefits. It's delicious and healthy and that's a win-win in my book. And that my friends, is why I decided to share this easy and delicious restaurant style recipe with you.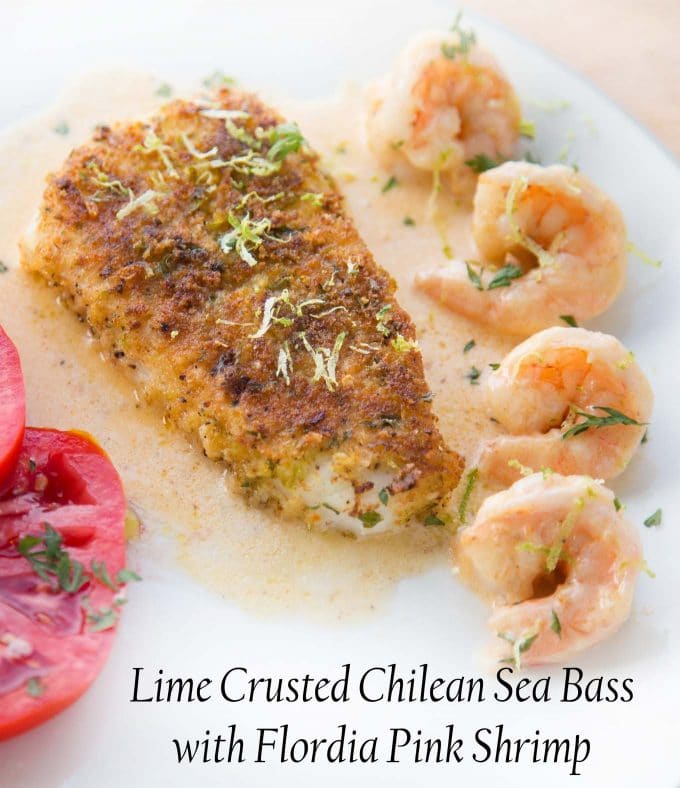 While on a Costco run this week (for wild caught seafood) I was very happy to find Wild Caught Chilean Sea Bass. If you've ever wondered how this fish got such an elegant name, wonder no more. Patagonian Toothfish are named for the sharp teeth on their upper jaw, but that wasn't a customer friendly name, so in 1977 a fish wholesaler, looking for a name that would be attractive to the American market renamed the toothfish "Chilean Sea Bass".
Over the years the toothfish was seriously overfished by poachers in the Antarctic giving it a bad reputation as a non-sustainable fish. The good news is new fishing regulations have helped. And in Australia, Chilean Sea Bass is now certified sustainable, because of the changes that have been made over the last two decades. The Best Choice for sustainable toothfish being Heard Island, McDonald Islands Fishery and Macquarie Island Fishery, which are all Australian Companies.
Sea Bass is not an economical fish and that's another reason you won't see it in too many stores, but it's definitely worth the price. Chilean sea bass is a buttery, flaky, melt-in-your-mouth fish and paired with a good sauce can be heavenly.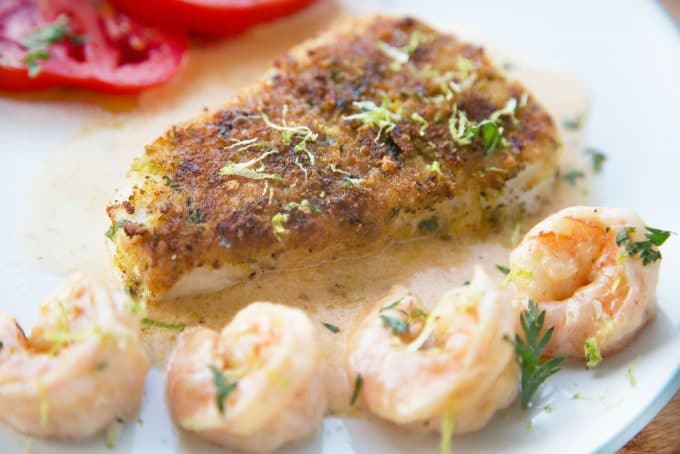 I made a fairly simple cream sauce for my sea bass, using shells from shrimp I'd been saving ( I save the shells in my freezer over the months to have enough to make a shrimp stock, and only needed a handful for the sauce).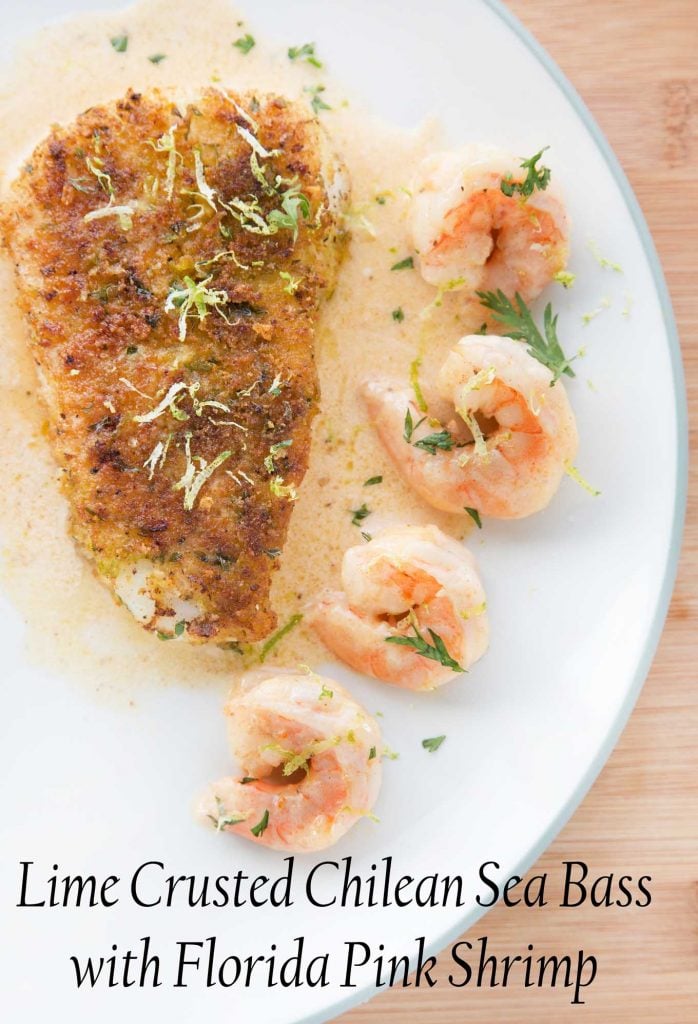 While the recipe may seem a little complicated, it really isn't. It's simply a matter of timing and would make a great date night dinner that you and your significant other could make together.
If you enjoyed this recipe you might also like these delicious fish dishes:
Blackened Salmon with a Gorgonzola Cream Sauce
My Blackened Salmon with a Gorgonzola Cream Sauce is a Restaurant Style Dish with a symphony of flavors that can be made in your home kitchen in under 30 minutes.
Nutrition Facts
Blackened Salmon with a Gorgonzola Cream Sauce
Amount Per Serving
Calories 500
Calories from Fat 333
% Daily Value*
Total Fat 37g 57%
Cholesterol 162mg 54%
Sodium 1354mg 56%
Potassium 901mg 26%
Total Carbohydrates 1g 0%
Protein 37g 74%
* Percent Daily Values are based on a 2000 calorie diet.
Ingredients
2

6 ounce

coho salmon fillets

or your favorite salmon or other fish

2

tablespoons

blackening seasoning

I used cajun magic

1

tablespoon

olive oil

3

ounces

heavy cream

1

ounce

gorgonzola crumbles ( you may use more crumbles if you like a more intense flavor

or sub bleu cheese crumbles)

1

teaspoon

chopped Italian parsley for garnish

or other leafy green

gorgonzola crumbles to garnish

optional
Instructions
remove skin from salmon fillets

pat dry salmon and liberally sprinkle blackening seasonings on top of each fillet. Press down gently on seasonings so they don't fall off

heat skillet

when skillet is hot carefully add olive oil and salmon, seasoning side down. Do not touch the salmon for 2 minutes (make sure to have the fan on)

after two minutes check the salmon by gently turning it over to see if you have enough color on the fish

saute the other side for 2 minutes then place salmon in a shallow baking dish with a little water in the bottom of the dish.

bake salmon for 12-15 minutes at 350 degrees
Gorgonzola Cream
place cream in a small sauce pan and heat to a light boil, reduce heat to simmer

add gorgonzola crumbles to sauce allowing them to melt into the cream

if sauce appears to thick add a few drops of water or additional cream

When Salmon is done spoon sauce over the middle of the fish and garnish with parsley and gorgonzola crumbles

Serve immediately and enjoy!