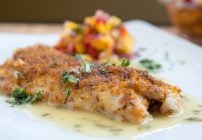 When you're talking about fresh fish in Florida there are two that always come to mind, Grouper and Snapper.  Today I was lucky enough to pick up a beautiful  Yellowtail Snapper at Whole Foods, so I thought I would cook up a Cajun Style Florida Snapper with a fruit salsa and a lime margarita sauce.
There are many ways to prepare and enjoy Snapper, but I was in the mood for one of my favorite restaurant dishes and decided to prepare it Cajun Style!
One of my favorite accompaniments for Cajun or grilled fish is a fresh fruit salsa.  Add my Lime Margarita Sauce and you've just turned out one delicious Restaurant Style Meal at a fraction of the cost of dining out.
And besides saving money, you also get to control what you're eating, making sure only the freshest, purest ingredients go into what you're making.  That's a win-win in my book!
I hope you enjoy this dish as much as Lisa and I did!
Cajun Style Florida Snapper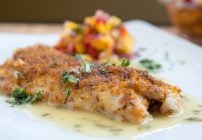 Ingredients
Cajun Style Red Snapper
2

Tablespoons

of Your Favorite Cajun Style Seasoning

1

teaspoon

brown sugar

1

tablespoon

unseasoned cracker meal

2 - 8

ounce

snapper fillets

1

tablespoons

olive oil
Lime Margarita Sauce
2

tablespoon

butter

1

tablespoon

brown sugar

juice from one lime

1

ounce

tequila
Fruit Salsa
2

ounces

diced mango

peaches or cantaloupe can be substituted

2

ounces

diced Pineapple

2

ounces

diced Strawberries

2

ounces

diced red onions

1

tablespoon

of cilantro finely chopped

pinch of sea salt
Instructions
Snapper
Trim snapper fillets and rinse in cold water, pat dry with paper towels

Mix Cajun seasoning with cracker meal and brown sugar

Press one side of snapper fillets into seasoning mixture coating evenly

Get saute pan very hot and add just enough olive oil to keep fish from sticking.

Add prepared snapper fillets, seasoned side down in pan

Allow them to cook undisturbed until the coating has browned, then turn to sear the other side of the fish.

Remove fillets from the pan, and place in baking dish seasoned side up, and add a little water to the pan

Place baking dish in preheated 350 degree oven for 15 minutes
Fruit Salsa
mix diced fruit, onions, cilantro, lime juice and salt together. (strawberries will soften and bleed, so if you make this ahead of time, don't add the strawberries until serving time)
Lime Margarita Sauce
In a small saute pan, add 1 tbsp of butter and after it melts, add in brown sugar and blend well.

Add in lime juice and tequila, allow the alcohol in the tequila to burn off. Add in the last tbsp of butter and allow the mixture to thicken.

**Do not overheat the sauce will break, wait until you are ready to serve the snapper before the final heating of the margarita sauce