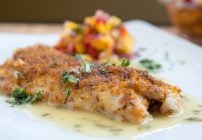 When you want to spice it up a bit at the dinner table, try my Cajun Style Florida Snapper with a lime margarita sauce.
This post includes affiliate links. As an Amazon Associate I earn from qualifying purchases.
How to make Cajun Style Florida Snapper
When you're talking about fresh fish in Florida there are two that always come to mind, Grouper and Snapper. Today I was lucky enough to pick up a beautiful Yellowtail Snapper at Whole Foods, so I thought I would cook up a Cajun Style Florida Snapper with fruit salsa and a lime margarita sauce.
There are many ways to prepare and enjoy Snapper, but I was in the mood for one of my favorite restaurant dishes and decided to prepare it Cajun Style!
One of my favorite accompaniments for Cajun or grilled fish is fresh fruit salsa. Add my Lime Margarita Sauce and you've just turned out one delicious Restaurant Style Meal at a fraction of the cost of dining out.
And besides saving money, you also get to control what you're eating, making sure only the freshest, purest ingredients go into what you're making. That's a win-win in my book!
If you enjoyed my Cajun Style Snapper Recipe you might also like these delicious fish dishes: