This post includes affiliate links. As an Amazon Associate I earn from qualifying purchases.
When it comes to Red Snapper there is no better way to prepare than my restaurant-style Pecan Encrusted Red Snapper. You'll love the flavor combination and that OMG delicious margarita sauce. What's for dinner at your house tonight?
Living in Florida, surrounded by water we have a delicious supply of fresh seafood. That being said fresh is not always the most economical way to purchase our favorites like Red Snapper, and that's when I turn to sustainable wild-caught seafood.
Now you may think that's all you need to look for, but you'd be wrong. Wild Caught has become the new buzzword for seafood and it's not just about being wild-caught, its where the seafood came from, or who has processed the seafood.
Make sure to turn over the package to see if your wild-caught Alaskan fish was processed in the US or another part of the world, like China. Check to see if that beautiful wild-caught flounder came from the eastern seaboard of the US or Vietnam.
I bet you thought didn't have to worry about the source, did you? That you could trust your favorite grocery store or big box store.
Just make sure to find a good source for seafood, that it's not farmed (unless it's U.S. farmed) and it comes from reputable waters, where there are strict controls.
What do I need to make Pecan Encrusted Red Snapper with a Lime Margarita Sauce?
Let's start by gathering the ingredients we need to make Pecan Encrusted Red Snapper. In Chef Speak this is called the Mise en Place which translates into Everything in its Place.
Not only does setting your ingredients up ahead of time speed the cooking process, but it also helps ensure you have everything you need to make the dish.
Do I have to add shrimp to the Pecan Encrusted Red Snapper?
No, you don't. The shrimp are optional. You could also add lobster or jumbo lump crabmeat instead of the shrimp.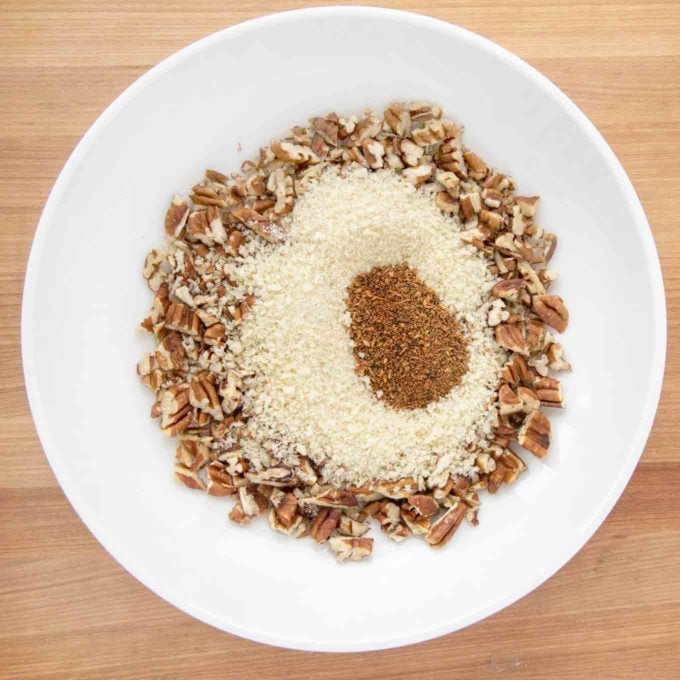 The first step is preparing the pecan topping for the snapper. Place the prepared ingredients into a bowl and mix well.
Do I have to use Pecans in the topping?
No, you don't. If you have nut allergies feel free to leave the pecans out. If you don't have pecans, walnuts, pistachio's or hazelnuts will work with this topping.
The only tricky part in preparing the dish is getting the pecan mixture to stick to the fish. I found that adding the honey directly from the bottle (a little on each) and spreading it with your fingers is the best way to get the honey on the snapper. This helps you get a nice coating of the pecan crust.
The next step is pressing the honey side of the snapper into the pecan mixture. Try and use up as much of the pecan mixture as you can, adding it to spots that might be missing the topping.
**This step can be done ahead of time. After coating the snapper it can be placed into the refrigerator until you're ready to cook.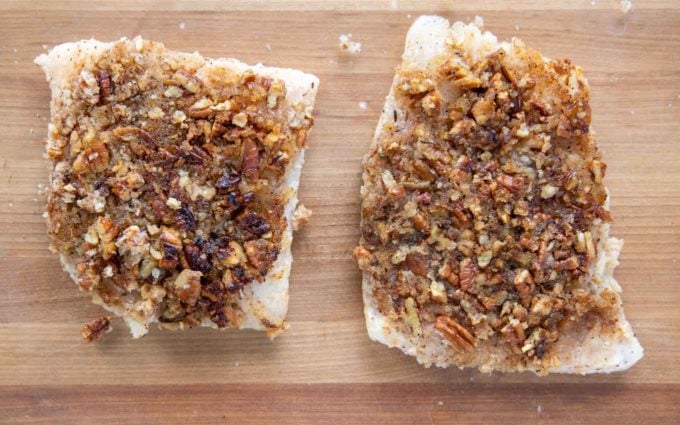 Then it's pecan side down into a hot pan (with a little olive oil) for about 1 minute or just long enough to get some color. Sear the other side briefly, then onto a baking dish with a little water added to keep the Pecan Encrusted Red Snapper moist while it bakes for 15 minutes at 350 degrees F.
Chef Dennis Tip:
You can saute the snapper ahead of time and refrigerate until you're ready for dinner. Allow an extra 5 minutes in the oven if you premake the snapper.
The Pecan topping fell off my snapper fillets.
That's okay, it happens. Gather any of the pecan topping that fell off while sauteing and place it back on top of the snapper fillet.
If you have a complete failure with the topping. Make the topping again and saute it by itself in a little butter then add it to the top of the snapper fillets. It will be our little secret.
While the snapper is in the oven, make the margarita sauce.
Should I flambe the Margarita Sauce?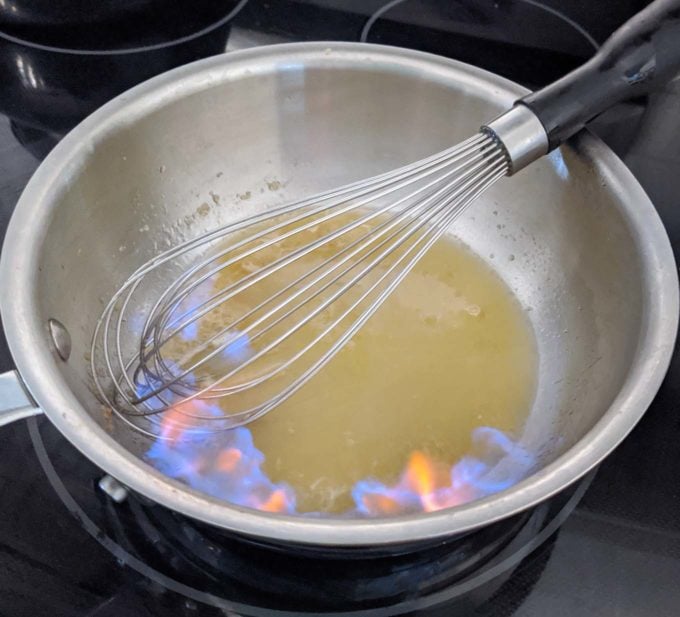 The sauce is pretty easy to make, just make sure to stand clear if you decide to light up the tequila ( I use a long reach butane lighter), it does burn pretty hot. Of course, you can just let it burn off without flaming, which is a lot safer.
Do I have to use Tequila in the Lime Margarita Sauce?
No, you don't. Just omit the tequila if you don't use alcohol. A little extra of each ingredient will help make enough sauce without the tequila.
If you don't have tequila or just don't like the taste you can use other spirits. My suggestions would be:
If you want to kick the dish up a bit, add a few gulf shrimp into the pan before you make your sauce, removing them after they are almost cooked. Once the shrimp are cooked you can make your sauce in the same pan, adding them back before serving the snapper.
You'll love serving this delicious restaurant-style dish in your own home and it's a great dish for a dinner party. The red snapper can be prepared ahead of time (up to the point of baking) and refrigerated until you're ready to serve your guests. Then it's about 20 minutes in a 325-degree oven and you're ready to serve dinner.
You might also like these fish recipes: