You're going to love my buttery Ginger Garlic Swordfish! It's amazingly delicious and so very easy to make. My restaurant-quality recipe produces a tender, moist flavor-packed swordfish that tastes better than your favorite seafood restaurant.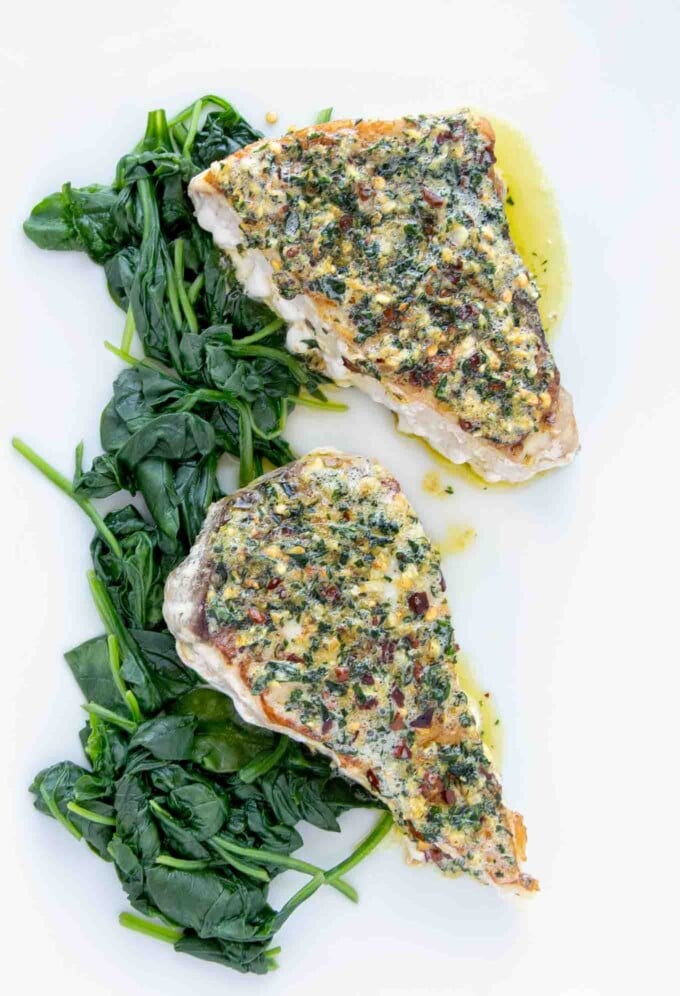 Cooking swordfish can turn into a disaster when it's overcooked. The mild flavors of the swordfish is a blank canvas for flavor. Have fun adding your'e favorite seasonings and fresh herbs to make my easy swordfish recipe to your taste preference.
Making a simple marinade is a great option, but my compound butter is easier and turns fresh swordfish into a culinary masterpiece.
What Ingredients do I need to make Pan Roasted Swordfish?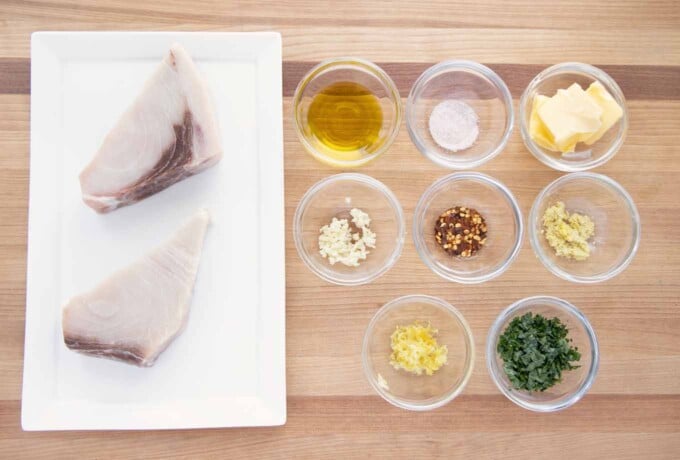 Let's start by gathering the ingredients we need to make Ginger Garlic Swordfish Steaks. In Chef Speak, this is called the "Mise en Place," which translates to "Everything in its Place."
Not only does setting up your ingredients ahead of time speed up the cooking process, it also helps ensure you have everything you need to make the dish.
Simple Ingredients
swordfish steaks
butter
fresh Italian parsley
garlic cloves
ginger
lemon zest (or chopped lemon peel)
red pepper flakes (or black pepper)
extra virgin olive oil
sea salt
How do I make Compound Butter?
Before you start cooking the swordfish, prepare the compound butter you'll be using at the end of the preparation.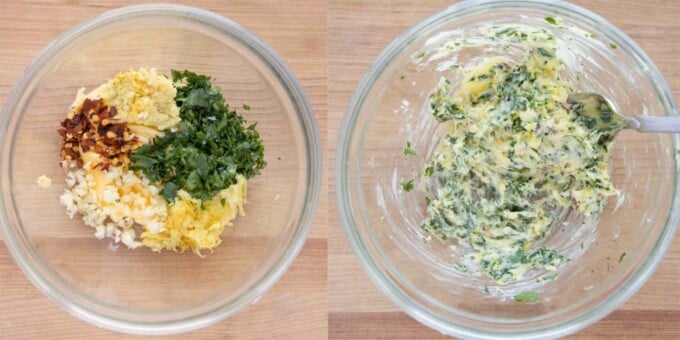 Compound butter is made by mixing additional elements, such as herbs, spices or aromatic liquids, into softened butter. For my compound butter, I used minced garlic cloves, red pepper flakes, chopped Italian parsley, grated lemon peel, and freshly grated ginger.
You can easily swap out ingredients to change up the compound butter, make it your own, and have fun experimenting with the flavors.
Can I save compound butter for later use?
Yes, you can. One of the ways to save compound butter to use in other recipes is by reforming the butter into logs using plastic wrap or parchment paper. That way you can store it until needed. You can also place it into serving crocks for table use.
Remember recipes are guidelines. Add your favorite flavors to make your signature compound butter. Have fun and experiment with the flavors.
**Compound butter can be kept in the refrigerator for up 5 days. Compound butter can be stored in the freezer for up to 6 months.
What are Compound Butters good for?
Using compound butter is a great way to spice things up with your cooking. You can use compound butter on fish, chicken, pork, or beef, adding another layer of flavor to your dish.
Compound butter is also a wonderful addition to vegetables, rice, and noodles, and compound butter elevates any bread or rolls you serve with dinner.
How do I make Ginger Garlic Swordfish?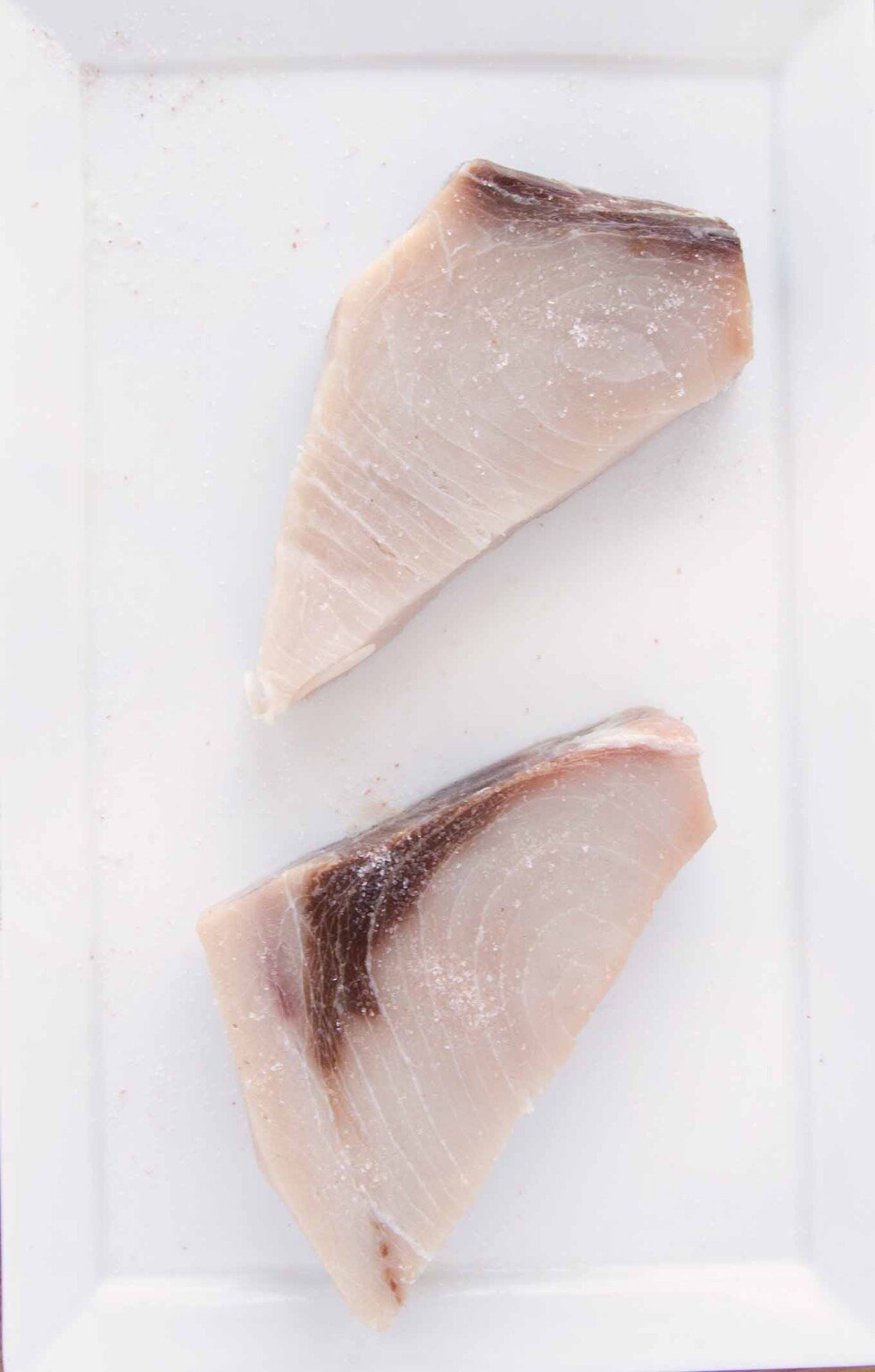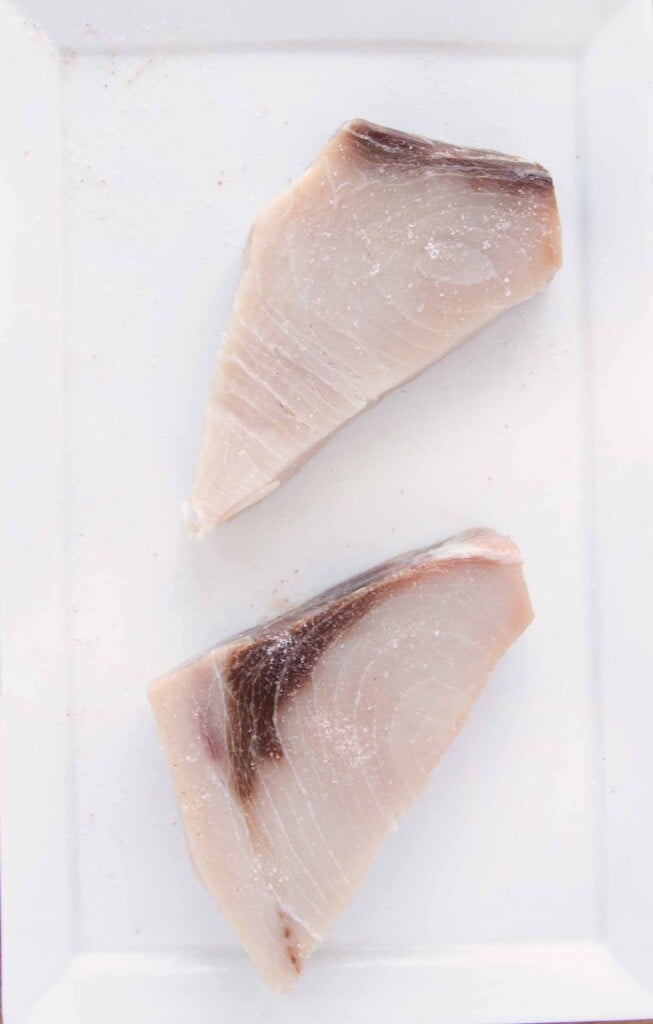 Rinse the swordfish steaks with cold water, then pat dry with paper towels. Salt the swordfish generously using your favorite sea salt (kosher salt can also be used).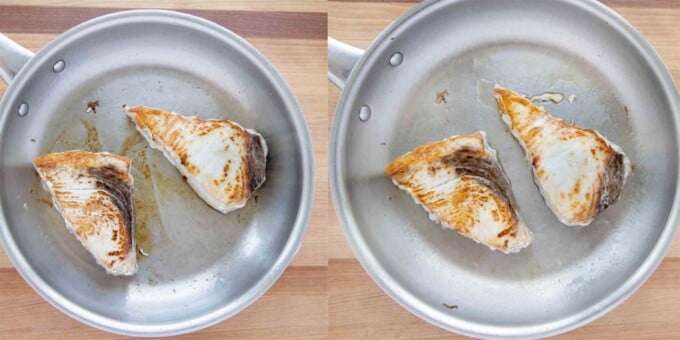 Place an ovenproof frying pan (or grill pan) over medium-high heat and when hot add one tablespoon of olive oil and the swordfish, salted side down. Sear the swordfish for 1-2 minutes or until the seared swordfish has a nice color.
Turn the swordfish over, and drain out any excess oil from the pan. Carefully add a few tablespoons of water to the pan and place the pan in a preheated 400-degree oven.
*Roast the swordfish until just cooked through, about 6-8 minutes or until the desired doneness.
How do I know if the swordfish is thoroughly cooked?
Swordfish is a meaty fish and the easiest way to tell if the swordfish is done is by using an instant-read or meat thermometer. The temperature should read 130°F for medium, 135°F for medium-well, or 140 to 145°F for well-done.
Another way to tell if your swordfish is thoroughly cooked is by inserting the tines of a fork into the thickest portion of the swordfish at a 45° angle. Gently twist the fork and pull up some of the fish. If it flakes easily, without resistance, the fish is done.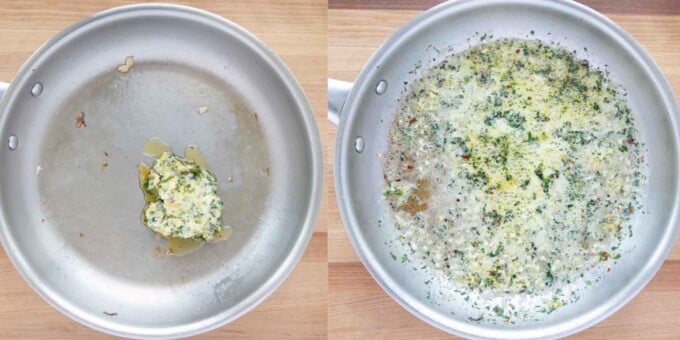 Transfer the seared swordfish to a serving dish. I like serving my swordfish with wilted spinach, but feel free to use your vegetable or grain.
Add seasoned butter mixture to the same skillet. Allow it to cook slightly over medium-high heat until melted and bubbling (1-2 minutes).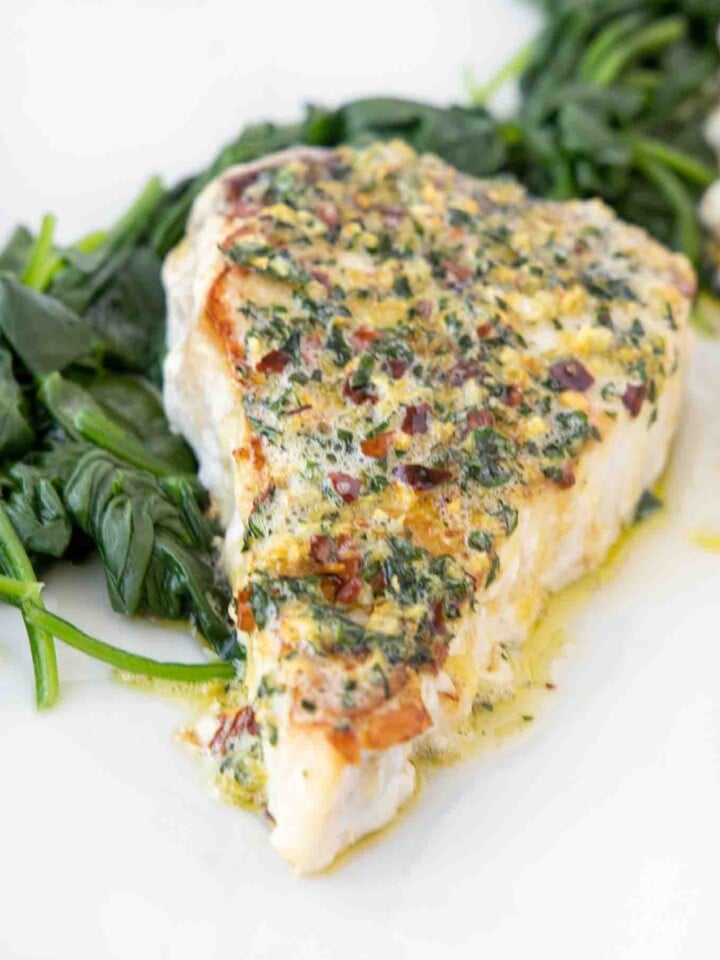 Spoon the seasoned butter over the top of the cooked swordfish and serve with your favorite side dishes. My Pan-roasted swordfish is seared in a pan and finished in the oven just like we did in the restaurant!
*You can do this fish in the oven for the entire cooking process, but I do like to sear the swordfish before finishing in the oven. You can also add the butter directly to the swordfish before it goes in the oven instead of cooking the compound butter in a pan.
*This swordfish can also be prepared on the gas grill or air fryer. But you still need to use a frying pan to cook the topping.
What other fish can I use instead of Swordfish?
Compound butter is a wonderful way to enhance any fresh fish that may be on the drier side. Tuna, shark, mahi-mahi, red snapper, or your favorite white fish will also work well with my recipe.
Compound butters also work well with grilled chicken, steaks and pork chops.
After one bite, I know you'll agree that this is The Best Swordfish Recipe!
Swordfish is a delicious and nutritious fish and the bold flavors of ginger and garlic with the meaty texture of swordfish, creates a satisfying and delicious meal that is perfect for your next date night, dinner party or any occasion.
Recipe FAQ's
How well done should I cook swordfish?
Overcooking any fish is an easy way to ruin it. Swordfish is not as forgiving as salmon, so it's important to cook swordfish to medium well, cooked to the point where it is just cooked through but still remains juicy.
Is Swordfish healthy?
Swordfish is an excellent source of selenium, a micronutrient that offers cancer-fighting and heart health benefits. It's protein-rich and loaded with niacin, vitamin B12, zinc, and Omega-3. It's also low in fat and calories, which makes swordfish a guilt-free choice, when it comes to seafood.
Should I rinse the swordfish steak?
My thoughts are a quick rinse for any fish under cold running water is always a good thing to do. Pat the rinse fillet dry with paper towels before seasoning and cooking.
More Recipes You'll Love!