Restaurant Style Ginger Garlic Swordfish –
I always have friends ask me, what's the best way to cook fish?  While my favorite way is the simplicity of Olive Oil, Sea Salt and Pepper, there are times that I add additional flavors to spice things up a bit!  After all Variety is the Spice of Life.
One of my latest requests was what to do with swordfish?  Swordfish can be a disaster if overcooked and is really a fairly bland fish (if its fresh), so you can have fun adding in very flavorful ingredients.  Marinating is always an option, but quite frankly I forget to do it, so I always end up looking for other ways to add in additional flavors.
Using compound butters that are full of flavors is a great way to spice things up, whether you use it on fish, chicken or beef they can add another layer of flavors to your dish.  If you're not a fan of butter, try out some of my other delicious fish recipes like my Red Snapper en Papillote or my Mediterranean Style Salmon.  Both are loaded with flavor and butter free.
This is my variation of a compound butter that would work wonderfully for you, and don't be afraid to crank up the flavors you like most by adding a bit more into your butter.  That's how I came up with my ginger garlic pan-roasted swordfish.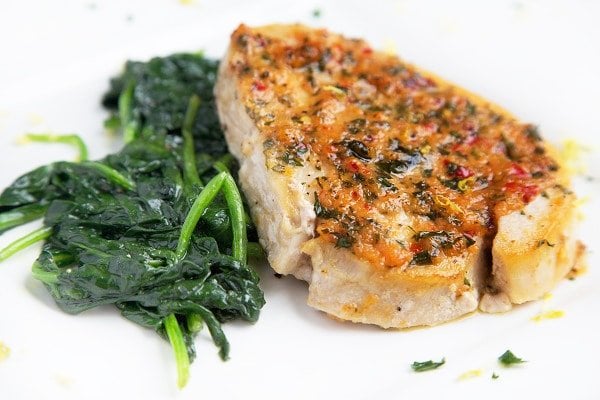 You can do this fish in the oven for the entire cooking process, but I do like the Pan Roasting Method for some foods, and it worked well with the swordfish.   Just make sure you have a good ventilation system!
Don't forget to add a little color to your plates with your favorite side dishes.
Ginger-Garlic Pan Roasted Swordfish
Nutrition Facts
Ginger-Garlic Pan Roasted Swordfish
Amount Per Serving
Calories 167
Calories from Fat 153
% Daily Value*
Total Fat 17g 26%
Cholesterol 32mg 11%
Sodium 109mg 5%
Total Carbohydrates 2g 1%
Protein 1g 2%
* Percent Daily Values are based on a 2000 calorie diet.
Ingredients
2

tablespoons

butter

room temperature

2

teaspoons

chopped fresh parsley

1

clove

garlic - minced

1/2

teaspoon

grated ginger

1/8

teaspoon

crushed red pepper

1/2

teaspoon

grated lemon peel

1

tablespoon

olive oil

2

1 inch thick

swordfish fillets

6-7 ounces each
Instructions
Preheat oven to 400°F.

In a small bowl blend together the butter, parsley, garlic, ginger, red pepper and lemon peel.

Season the swordfish to taste with sea salt.

In an ovenproof skillet heat oil over medium-high heat.

place the swordfish in the skillet and cook until browned, 2- 3 minutes.

Turn the swordfish over and transfer the pan to the oven. Roast until just cooked through, about 8-10 minutes or until desired doneness.

Add seasoned butter mixture to the same skillet. Allow it to cook slightly over medium-high heat until melted and bubbling.

Transfer swordfish to a serving dish

Pour butter sauce over swordfish and serve with your favorite side dishes