When you want to up your grilling game, try my Grilled Dry Rub Chicken Wings. Crispy perfection with charred bits on the outside, tender and juicy on the inside. Seasoned with the best dry rub you'll ever taste.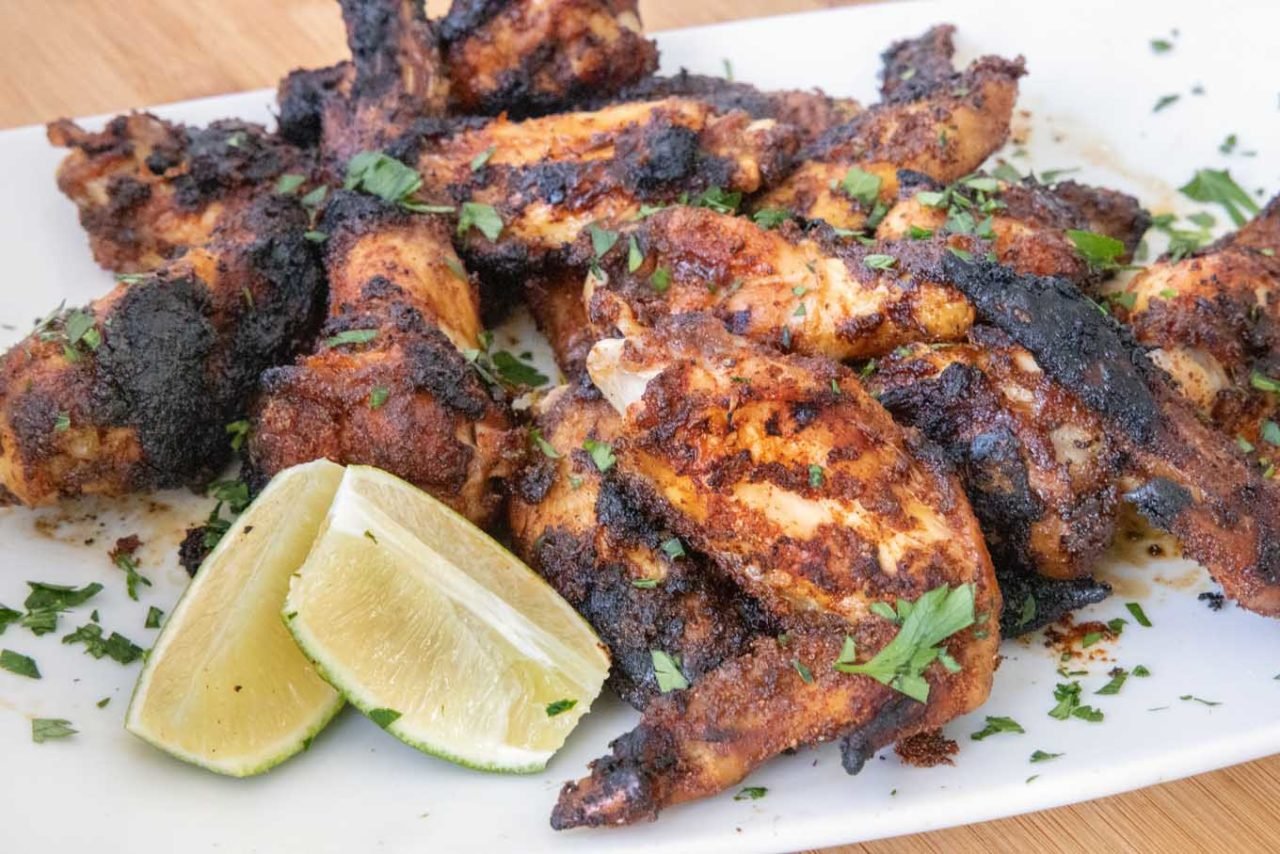 Perfectly seasoned with a simple blend of seasoning, my grilled dry rub wings are perfect for game day or anytime your friends gather to enjoy life and all the deliciousness it has to offer.
I know you'll agree that this is the best chicken wing recipe you've grilled in a long time! With just a few minutes of prep, it's an easy meal for a busy weeknight.
Ingredients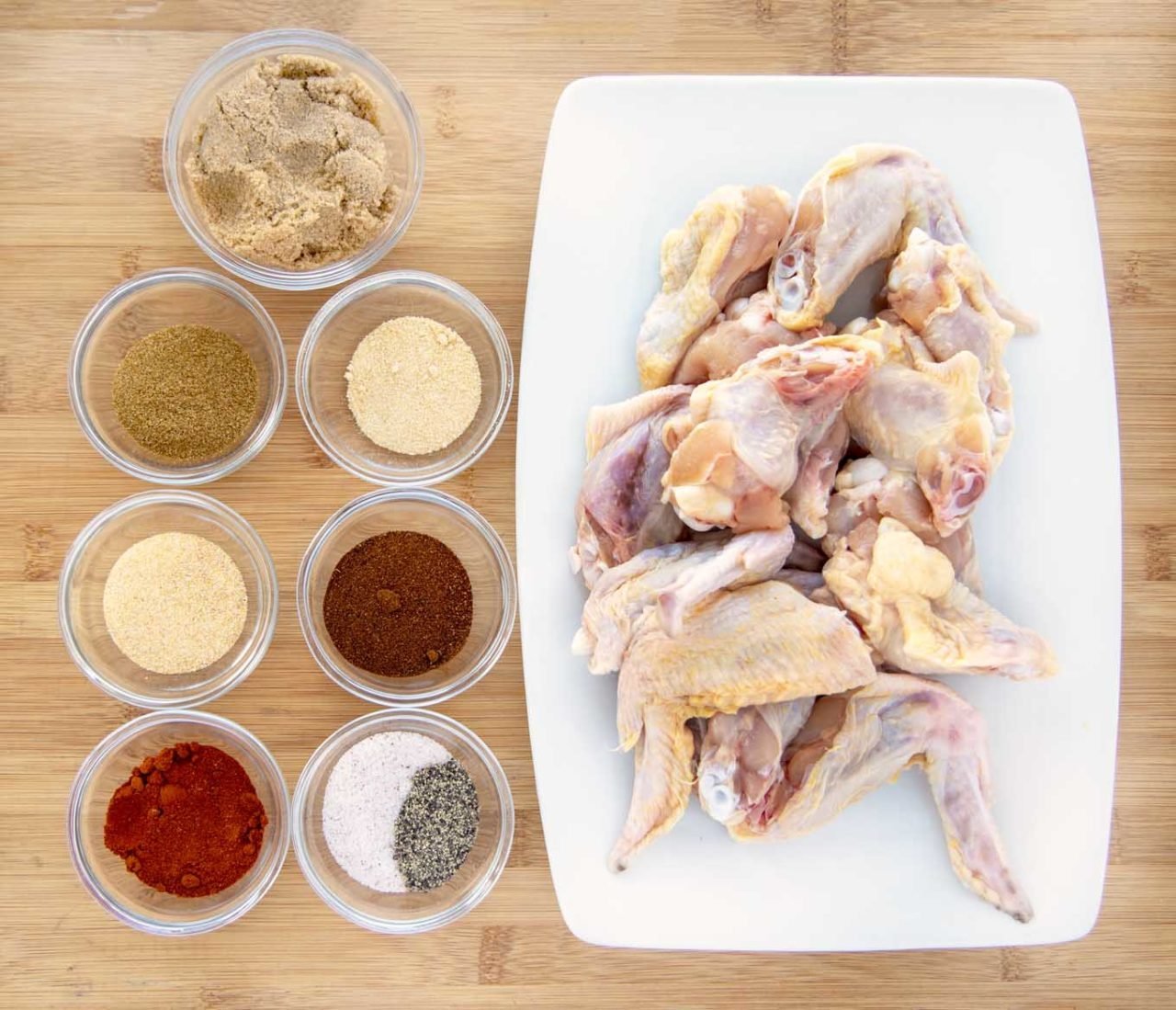 Let's start by gathering the ingredients we need to make grilled dry-rub chicken wings. In Chef Speak, this is called the "Mise en Place," which translates to "Everything in its Place."
Not only does setting up your ingredients ahead of time speed up the cooking process, it also helps ensure you have everything you need to make the dish.
Made with simple ingredients
chicken wings
brown sugar
salt
onion powder
garlic powder
chili powder
smoked paprika
ground cumin
black pepper
If you like heat, add a little cayenne pepper to the seasonings. And if you're not a fan of a particular flavor, leave that spice out of the mix. Cooking is all about making changes. It's important to cook with ingredients that you and your family enjoy eating.
How do I split Chicken Wings?
Let's talk about safety first.
Always use a cutting board to cut meats, seafood, or vegetables. That being said, always make sure your cutting board has been properly cleaned and sanitized between uses. Use your favorite household cleaner, and always wash the board twice.
*You can also place the once-cleaned cutting board into your dishwasher for a really good cleaning. This is super important when cutting any meat or seafood.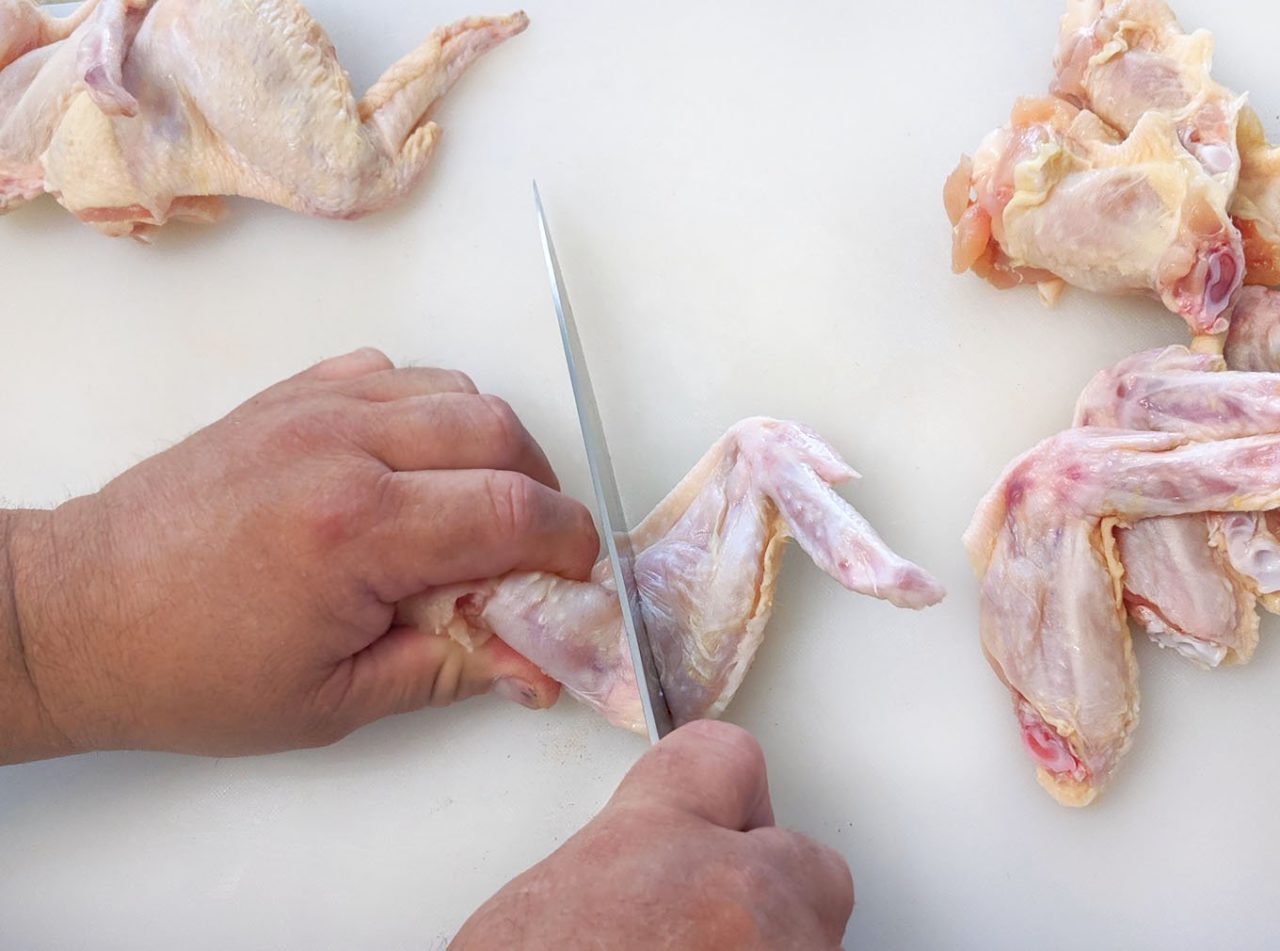 Cutting whole chicken wings is really simple. All you need to do is locate the joint and cut through it.
Hold one end firmly and securely while cutting through the joint carefully. I leave the wing tips on for some of the wing dishes I create but feel free to chop off the wing tip if you prefer. (If you do remove the wing tips, save them in a ziplock bag in the freezer for the next time you make chicken soup)
Chef Dennis Tip: If you keep the knife down low (directly on the joint) you'll have less chance of cutting yourself.
What spices should I use for my Dry Rub?
A lot of what I do is my take on foods I've seen or eaten on my travels. These wings were recreated from a dishful of deliciousness I enjoyed on a recent adventure. I simply pulled out a few spices from my cabinet and started blending until I got the flavor profile just right.
Cooking is rocket science, and lots of times, it comes down to using ingredients that you like rather than exactly what the recipe calls for. I went through a few variations of spice combinations to come up with the one I eventually used for my dry rub, and hope you enjoy them as much as I did.
How to make Dry Rub Chicken Wings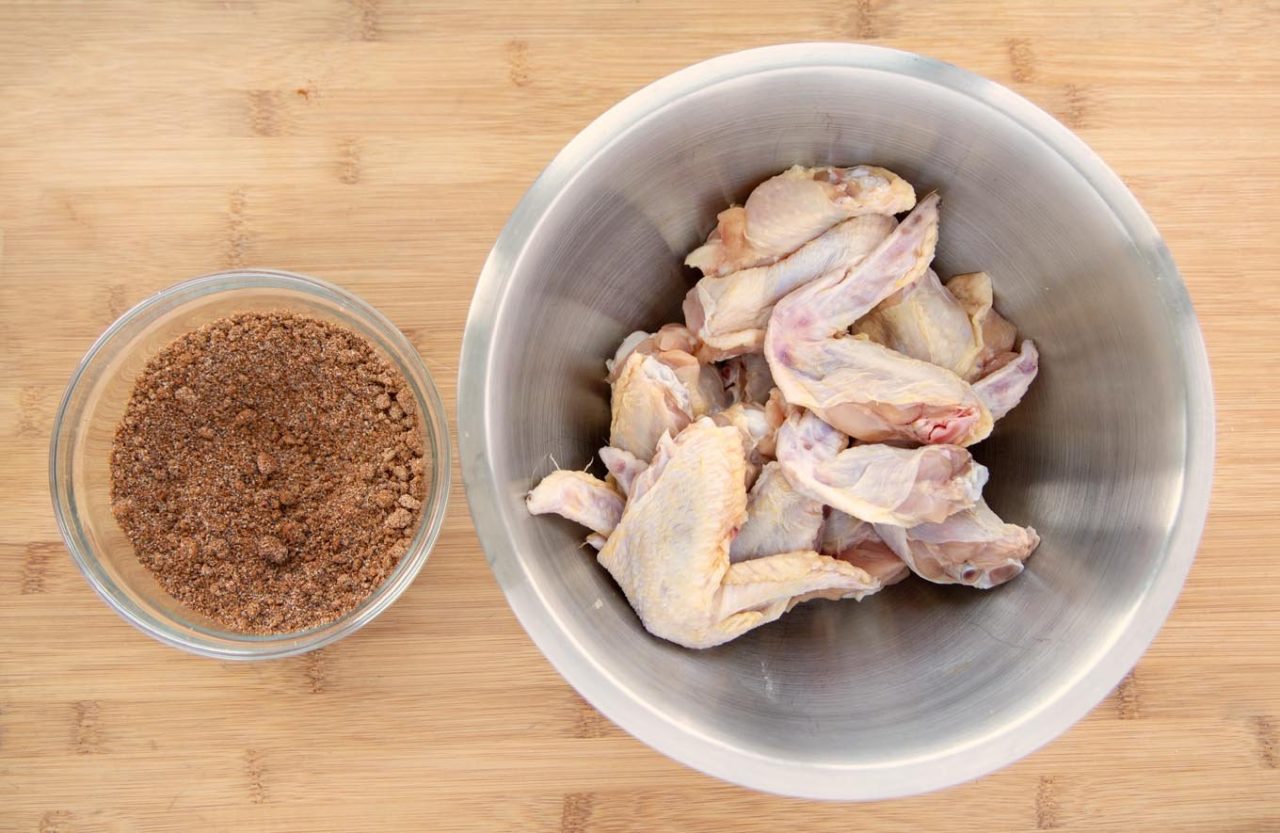 Mixing the seasonings together in a small bowl.
Rinse the wings in cold water. Split them if necessary, then pat them dry with paper towels.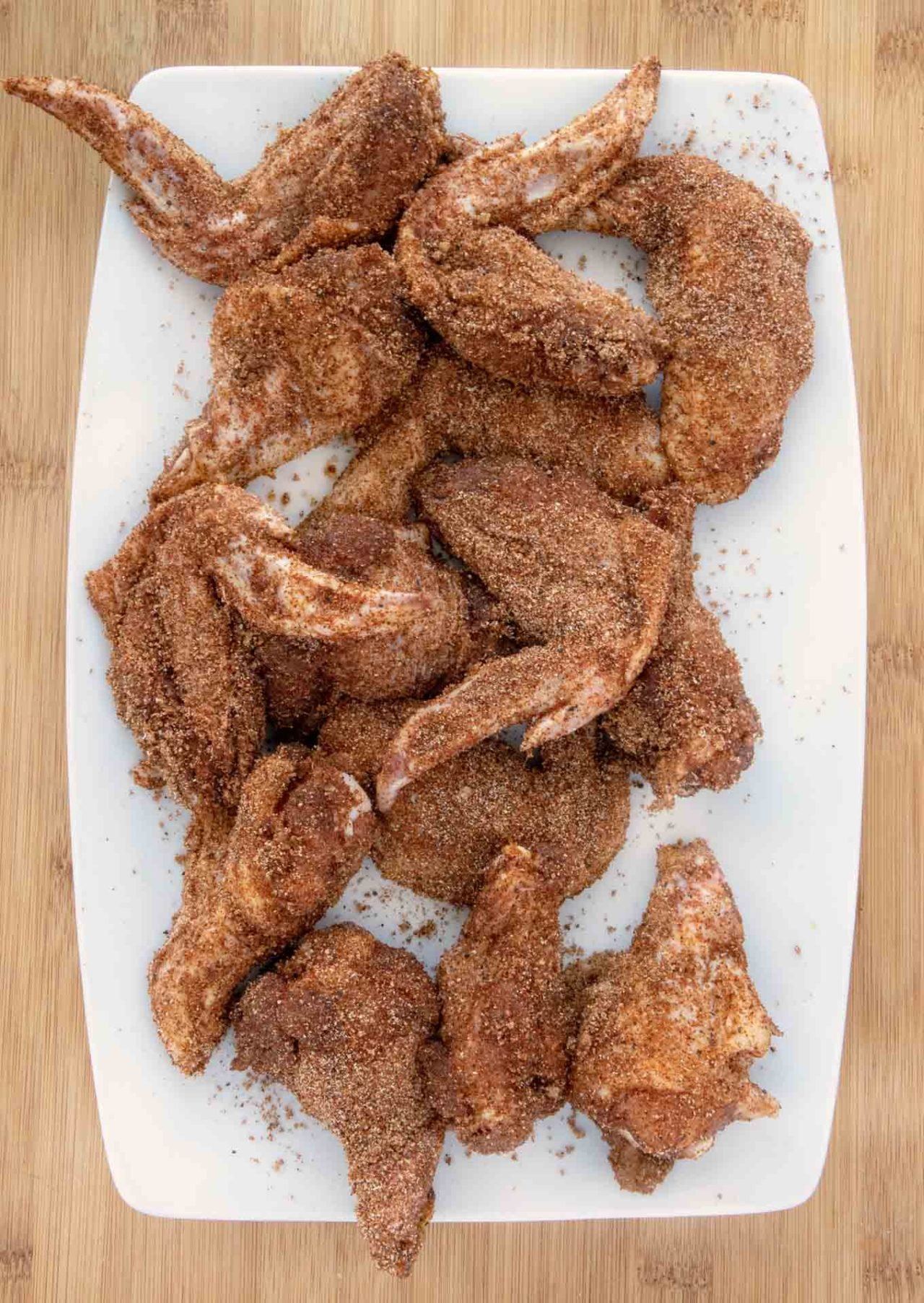 Rub the chicken wings on all sides with a generous amount of my spice rub. Feel free to use less seasoning, I like my dry-rubbed chicken wings bursting with spicy flavors!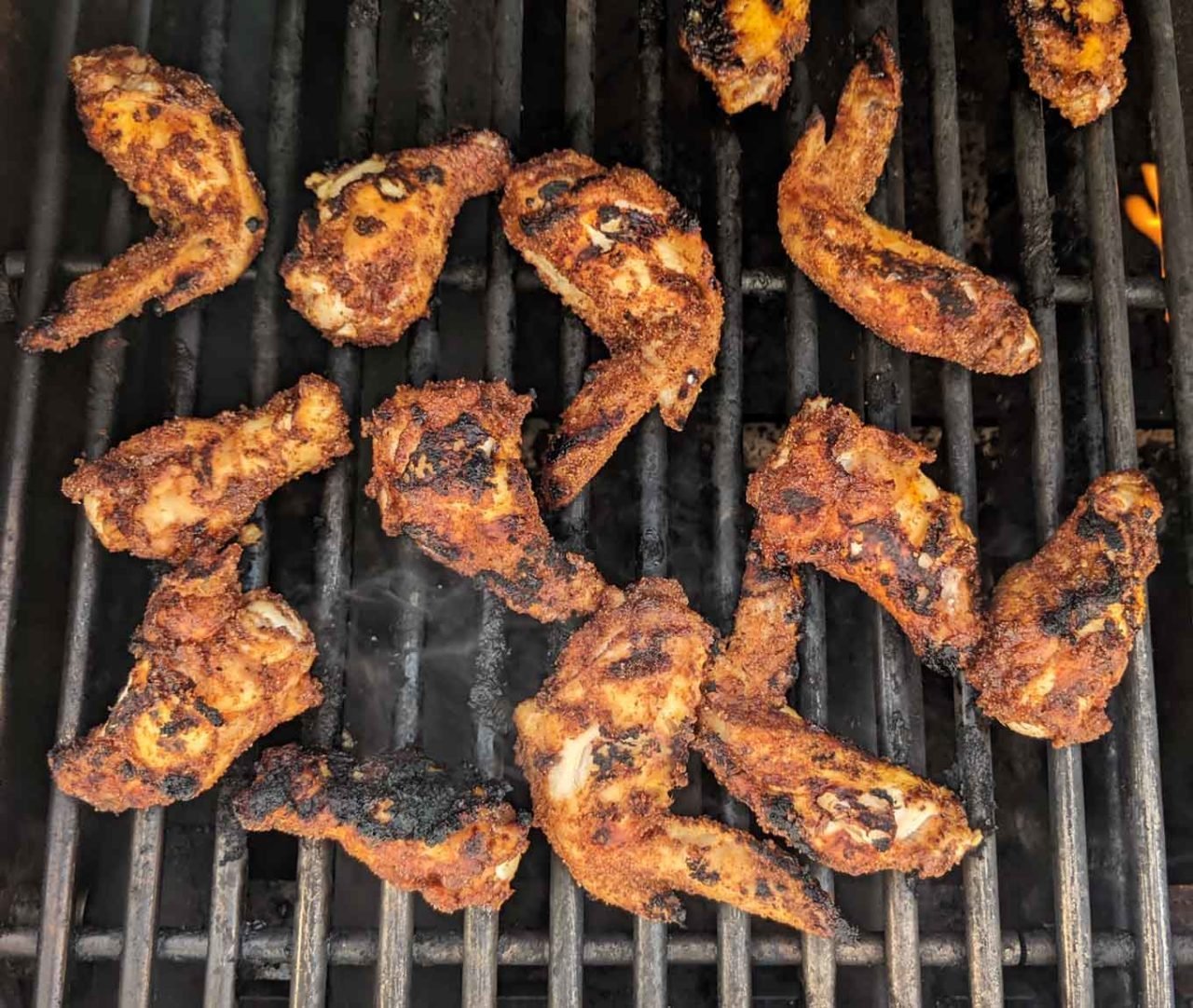 Place dry-rubbed wings on the grill allowing them to cook for 6-8 minutes. Turn wings occasionally to crisp them all over. They can cook longer if you like really crispy skin on the chicken wings. *Be careful not to burn in the wings, the sugar in the dry rub can cause the wings to burn.
Move the chicken wings to indirect heat and continue to cook with the lid closed for another 8-10 minutes. Or until an instant-read thermometer reads an internal temperature of 165 degrees F.
I love the charred parts, as you'll find most men do. Just serve green vegetables or a big salad along with them to add as a detox for the charring. Here's a good article to read about foods that help detoxify the body.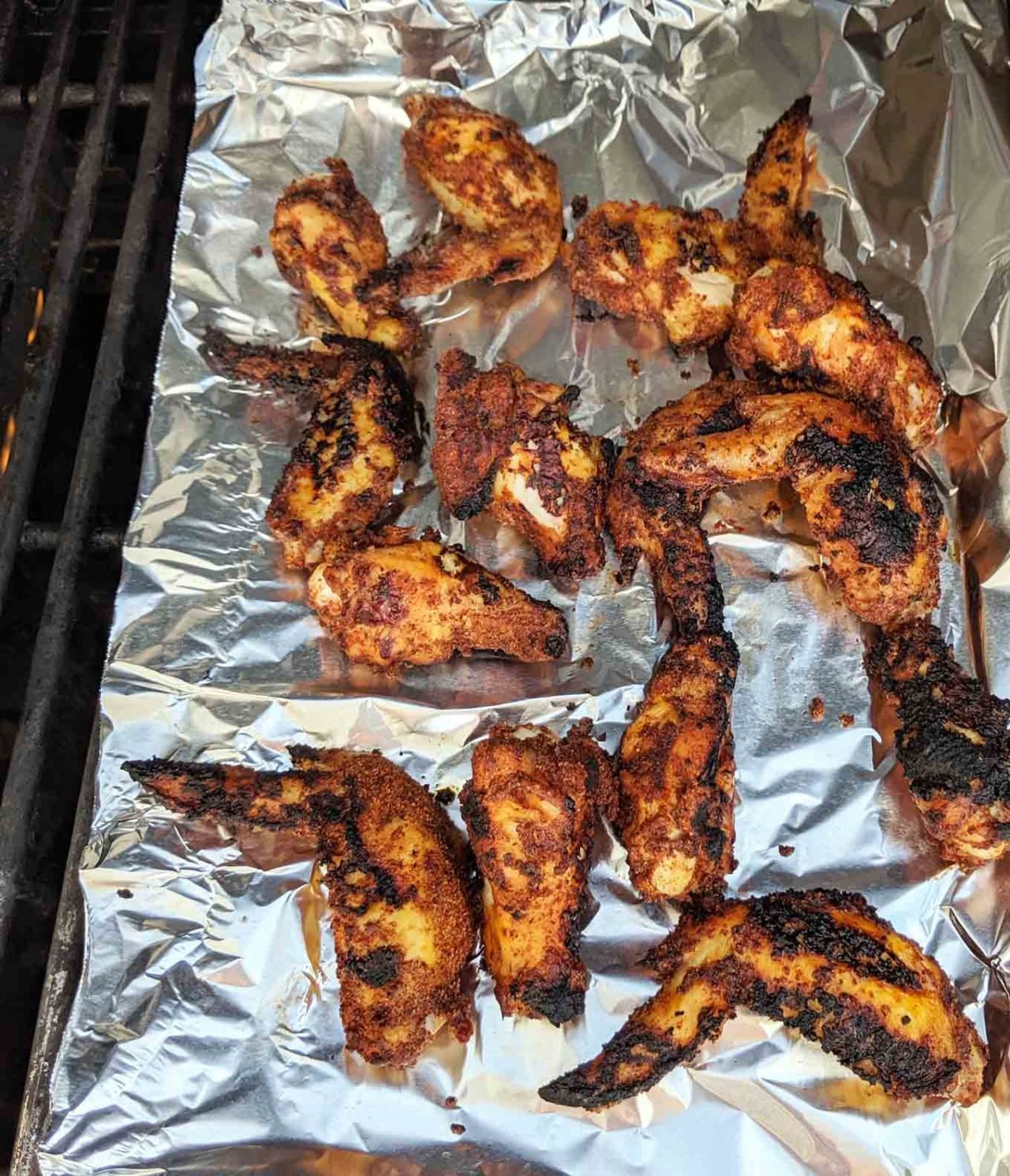 You can reduce charing by placing a double sheet of aluminum foil on the grill. This can be used as early in the process as you like, but I would recommend getting a little color on them before placing them on the foil.
*You will still need to turn the wings often, even on the foil.
Can I cook dry rub chicken wings in the oven?
You certainly can. Preheat your oven to 400 degrees F and place the prepared wings in a single layer on a baking sheet. Place the baking sheet on an oven rack placed in the top third of the oven. After 7-10 minutes, turn the wings over and return to the oven.
Turn the oven down to 350 and cook for another 10-12 minutes or until the wings have good color and the internal temperature of the chicken is at least 165 degrees Fahrenheit.
If you love oven-baked chicken, try my Crispy Chicken Legs Recipe.
Can I cook dry rub chicken wings in an air fryer?
It's easy to make crispy air fryer chicken wings. Just place the dry rub wings in a non-preheated air fryer at 375°F and let them cook for about 20 minutes. The dry rub wings should be crispy on the outside and fully cooked through in the center.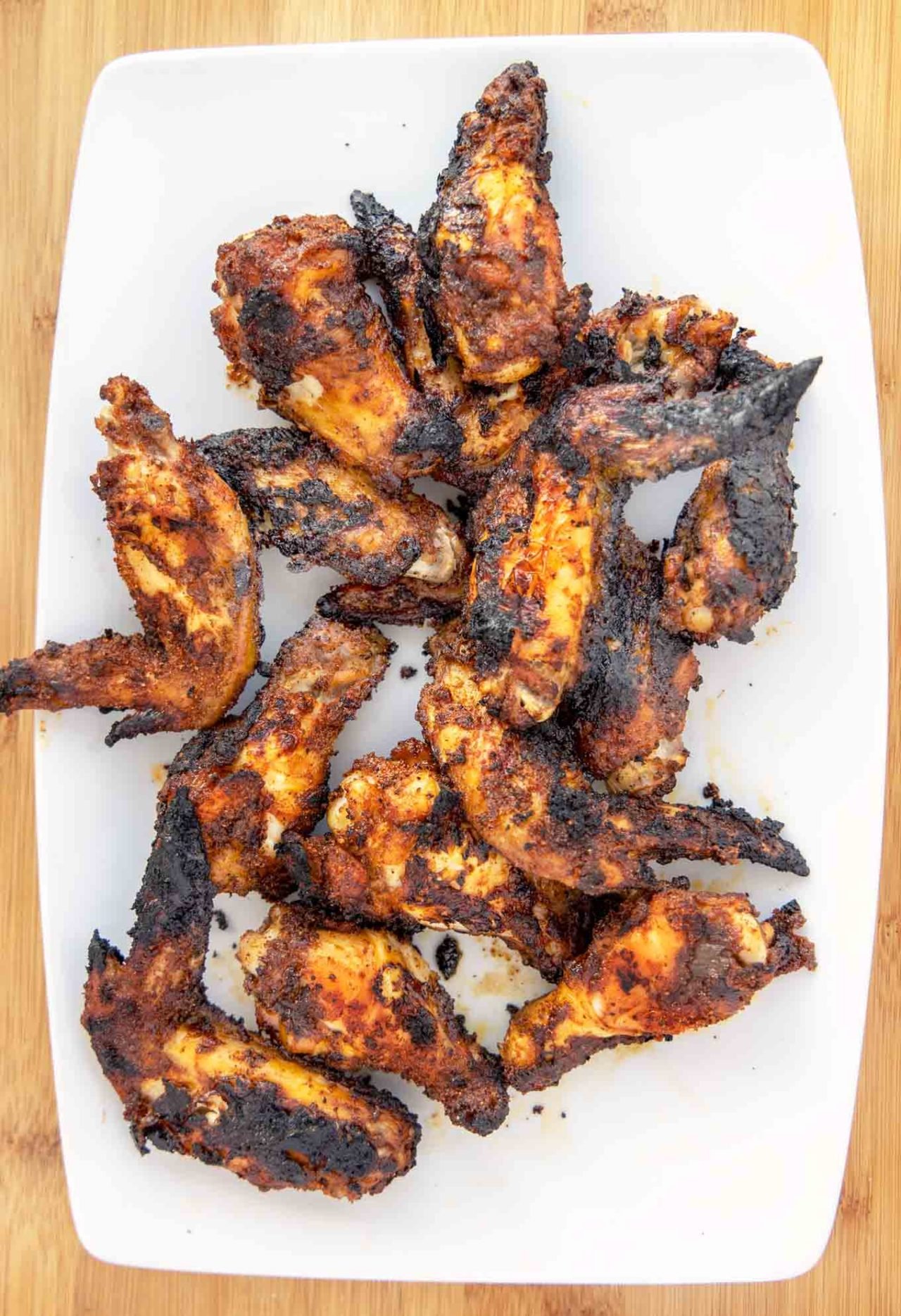 Wouldn't you love to sit down to this delicious plate of grilled dry rub chicken wings? After one bite I know you'll agree these are the best dry-rub wings!
Serve these delicious crispy wings with celery sticks, bleu cheese dressing, ranch dressing or your favorite dipping sauce.
Recipe FAQ's
Do you put the dry rub on before or after cooking?
Definitely before is the preferred method of using this wing seasoning. But you can always add a little more using a shaker to apply the seasoning after cooking if you like.
How do I get the dry rub to stick to the chicken wings?
The natural moisture in the wings will attract the seasoning, allowing you to get a good coating on the wings.
You can dry the wings with paper towels and add a light coating of oil to the wings before the seasoning, but this step isn't really necessary.
How long should I let the dry rub marinate the wings before cooking?
You can let the rub marinate on the wings for up to 8 hours, but 30 minutes should be more than enough time to let the seasonings penetrate the wings.
More Chicken Wing Recipes You'll Love!