When you're looking a delicious dinner or hearty breakfast my Cowboy Fried Rice with Pulled Pork & Chili Beans topped with fried eggs is guaranteed to bring smiles to your table!
This post includes affiliate links. As an Amazon Associate I earn from qualifying purchases.
I love spicy foods and my Tex-Mex heritage has provided lots of inspiration helping me create dishes like Cowboy Fried Rice.
This post was sponsored by Mirum. The thoughts and opinions expressed are my own.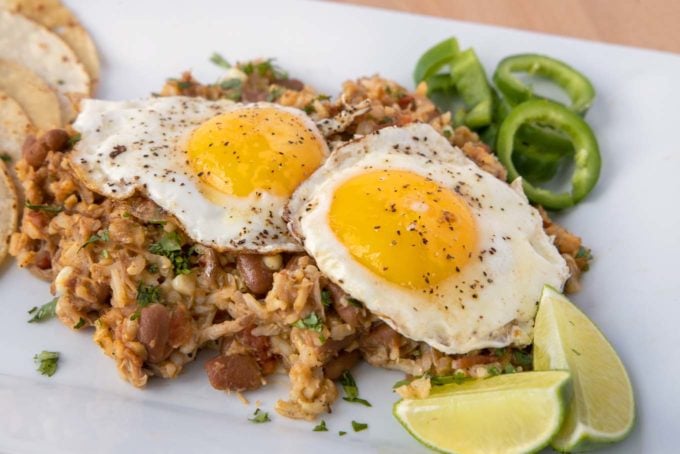 I love food, and in fact, you could say I eat for a living! Being a chef and food blogger has it's advantages, but it's not always a happy ending….sigh
I spent many years suffering from frequent heartburn and let me tell you nothing is worse than that burning sensation caused by many of the foods I enjoy eating. And then I'd start worrying about my heartburn, and eventually I stop eating the foods I loved and sharing them with my family and friends.
For me, spicy didn't necessarily mean heat, sometimes it was just the ingredients that would trigger my heartburn. Sometimes it was the combination of ingredients.
And if you've never experienced heartburn, trust me when I tell you it can be debilitating. But Thanks to Omeprazole Orally Disintegrating Tablets I can eat what I want and enjoy sharing meals with my friends and family.
Omeprazole ODT melts in your mouth, no water needed. I wish I had these when I worked at my restaurants, it would have made life so much easier (and enjoyable).
Made for frequent heartburn sufferers who experience symptoms 2 or more days per week, Omeprazole Orally Disintegrating Tablets provide long-lasting 24-hour protection! Bonus: you don't even need a glass of water, as the strawberry-flavored tablet dissolves right on your tongue.
Take one dose daily for 14 days according to package directions. Don't take Omeprazole Orally Disintegrating Tablets for more than 14 days unless directed by your doctor. Omeprazole ODT may take 1-4 days for full effect and is not intended for immediate relief.
What are the ingredients needed to make Cowboy Fried Rice?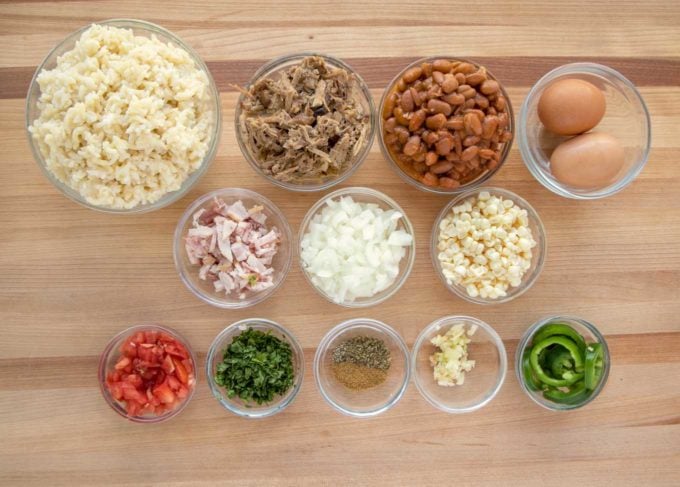 Let's start by gathering the ingredients we need to make Cowboy Fried Rice. In Chef Speak this is called the Mise en Place which translates into Everything in its Place.
Not only does setting up your ingredients ahead of time speed the cooking process, but it also helps ensure you have everything you need to make the dish.
Do I have to use Brown Rice in this dish?
No you don't. You can use your favorite type of rice, farro, or grain.
How do I make cowboy fried rice?
After gathering your ingredients the first step is to sauté the bacon and onions with olive oil in a large sauté pan or skillet over medium-heat.
Next add in the garlic and let it cook for a minute before adding in the tomatoes and corn. Season with sea salt and black pepper and continue sautéing for 2-3 minutes.
Now it's time to add the cooked brown rice and pulled pork. Turn the heat down to medium and continue cooking the mixture.
**Add additional olive oil or a little water if the ingredients start to stick.
Do I have to cook a pork roast to make this dish?
No you don't. You can get pulled pork from your favorite barbecue restaurant (most sell it to go) or try your local grocer, many of them are now cooking their own pulled pork.
You can always buy a sauced variety and if you don't mind the flavor of the barbecue sauce you can use it as is. If not, give it a quick rinse to get most of the sauce off the pork.
I've got an easy pulled pork recipe if you're going to cook your own pork.
Do I have to use pork in my Cowboy Fried rice?
No you don't, some of my other choices would be:
Chicken
Beef Brisket
Shrimp
Salmon (blackened would be nice)
Or leave the meat out altogether and serve it as a side dish. This is your dinner, have fun and make it fit your tastes or use what you have on hand.
The final step to making my Cowboy Fried Rice is adding the chili beans and seasonings. Mix well and continue to heat the mixture for 3-5 minutes.
**If the mixture starts to stick, add in a little water, chicken stock or vegetable stock.
Do I have to use Beans in the Cowboy Fried Rice?
No you don't. Are you seeing a pattern here? If you're not a fan of beans, add some of your favorite veggies instead.
Roasted Cauliflower
Broccoli Rabe
Mushrooms
Roasted Sweet Potatoes or Regular Potatoes
There are so many different ways you can create this dish!
Serve up the Cowboy Fried Rice with over easy or sunny-side up eggs and heated corn or flour tortillas. Add in some jalapeño slices, lime wedges, your favorite hot sauce and you're living!
Do I have to use Fried Eggs?
No you don't. You can leave out the eggs, or add scrambled eggs right into the fried rice. It's your choice.
More Recipes you'll love!