This post includes affiliate links. As an Amazon Associate I earn from qualifying purchases.
Everyone loves chicken and my Ultimate Grilled Chicken Sandwich is perfect for your next get-together or family barbecue.
This post is sponsored by Cabot Creamery. The opinions, recipe, and images are 100% my own.
When it comes to grilling chicken don't be that guy that just throws the pieces on the grill and slathers on barbecue sauce.
There is so much more you can do to enhance the flavor of the foods you grill and chicken is actually the easiest and most flavor friendly food you'll be grilling for your friends and family.
And when it comes to grilling up deliciousness for sandwiches you can count on Cabot Cheese, making an appearance.
I love cheese! And when it comes to melty cheesy deliciousness on my sandwiches I reach for sharp cheddar.
No matter what variety of Cabot Cheese or Dairy products you choose you can be sure that Cabot's 800 farm families throughout New York & New England will be serving you the very best!
What do I need to make the Ultimate Grilled Chicken Sandwich?
The first step in creating this delicious sandwich is marinating the chicken breasts for the sandwich. And I always start by gathering the ingredients together before I start.
In chef speak this is called the Mise en Place and it not only makes the cooking process easier it also ensures you have everything you need before you start cooking.
Start by making the Honey Balsamic Sauce. This is the first step in creating the marinade for the chicken.
Once the sauce is complete we can add it along with the other ingredients and the chicken breasts into a zippered storage bag and refrigerate for 1-2 hours.
How long do I really have to marinate the chicken breasts?
In truth, 30 minutes is enough to get some of the flavors into the chicken. Ideally, I would give it 4 hours if I had the time, but I usually end up with 90 minutes at best.
There is some flexibility with the marinade (with chicken) and you can leave it for up to 8 hours. I would not advise any longer, because the acidity of this marinade can actually make the chicken tougher if it goes too long.
Does this Marinade work on other chicken parts?
Yes it does. You can use thighs for your sandwiches, and also do some seperate pieces of chicken (legs, wings, quarters) for your picky eaters.
Can I change up the ingredients in the Honey Balsamic Sauce?
Yes you can. The whole idea with cooking is to use ingredients to create flavor profiles that you and your family will enjoy eating. Some of the changes you can make are:
Use ketchup or your favorite barbecue sauce instead of tomato paste
Add bourbon for a boost of flavor
Use brown sugar or agave instead of honey
Use soy sauce instead of balsamic vinegar
Use ginger and scallions instead of onions
Use your favorite seasonings. Add Chili powder or Siracha if you like heat
Use the recipe as a guideline and create the deliciousness you'll love with your changes.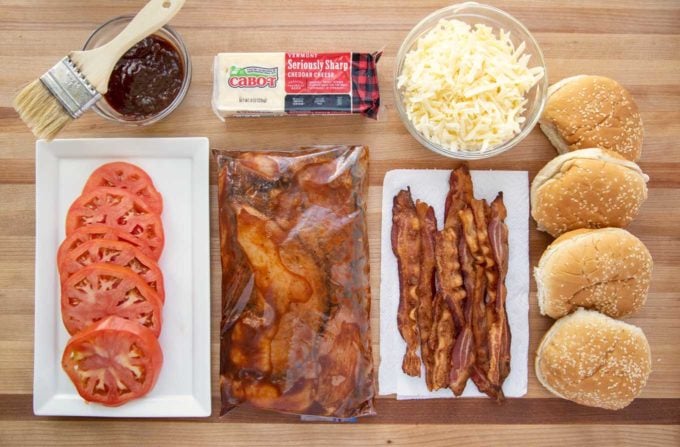 These are the ingredients to make our Ultimate Grilled Chicken Sandwich. Once the chicken is ready its time to fire up the grill and precook the bacon.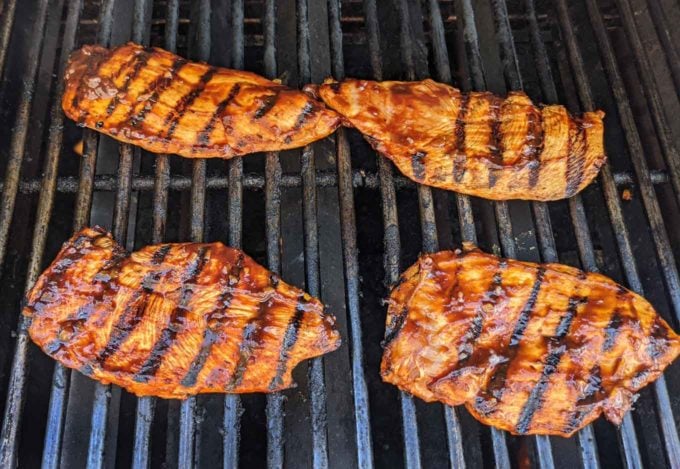 The key to good grill marks is getting the grill good and hot. I like to let the grill get up to 350 – 450 degree F.
Brush the chicken breast on both sides with the honey balsamic sauce. Repeat as you turn the breasts until you've used up all the sauce.
Once the chicken is done you can let it rest for a few minutes while you get the sandwiches ready.
Place the chicken breasts on a tray and top with the sliced tomato, bacon and Cabot cheddar cheese. Place the tray back on the grill and close the lid.
**You can use indirect heat to melt the cheddar, it doesn't have to be placed right on the grill.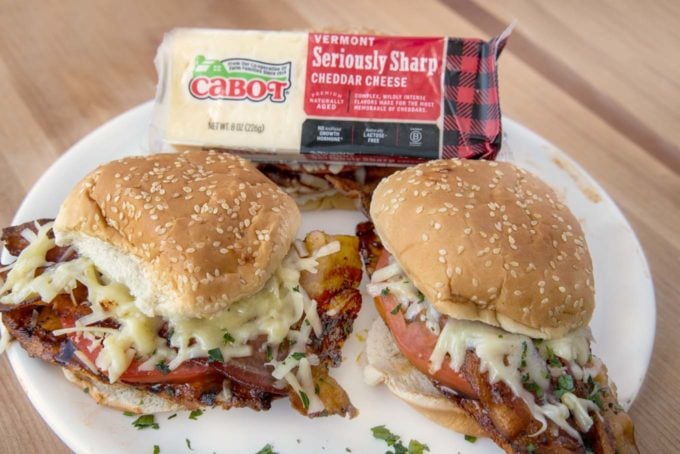 The only thing left to do is put the finished product on a bun and enjoy!
If you've got someone watching their carbs, serve up this deliciousness on a bed of spinach or romaine.
Where Does Chef Dennis Shop for Meats?
I have been buying my meats online for quite some time now and have tried many different suppliers. I have found that Crowd Cow has the best prices and selection for chicken and Farm Foods has Heritage Pork and other meats that I regularly use. They both offer much better meats than you can buy at the supermarket, and both offer free delivery to the US. Crowd Cow also includes free bacon with each order!
Click on my affiliate links and get started today.
More Sandwich Recipes You'll Love!