Break the monotony of boring weeknight dinners and serve up my Peppered Pork Tenderloin with a Sweet Chili Pecan Fruit sauce. Your family will be glad you did!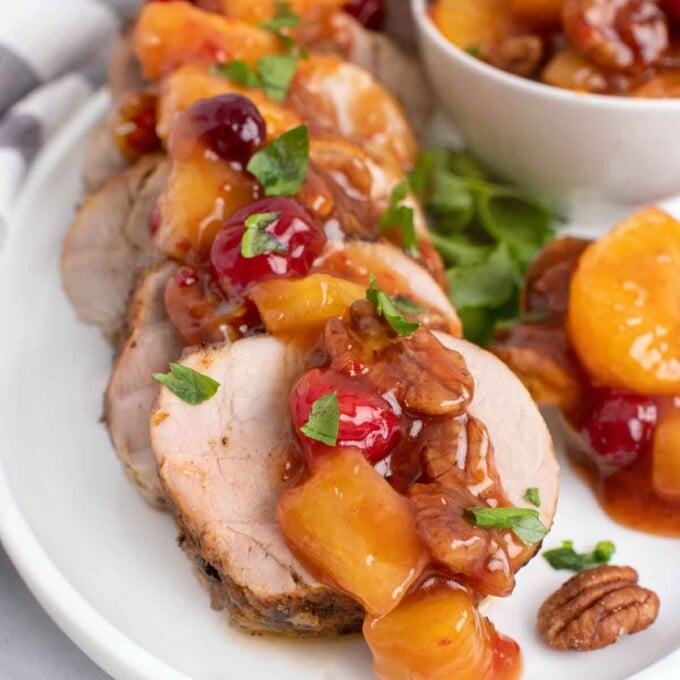 Dinner shouldn't take you all night to make and shouldn't cause you added stress. It's a time to relax and celebrate the day by sharing a meal with your family and friends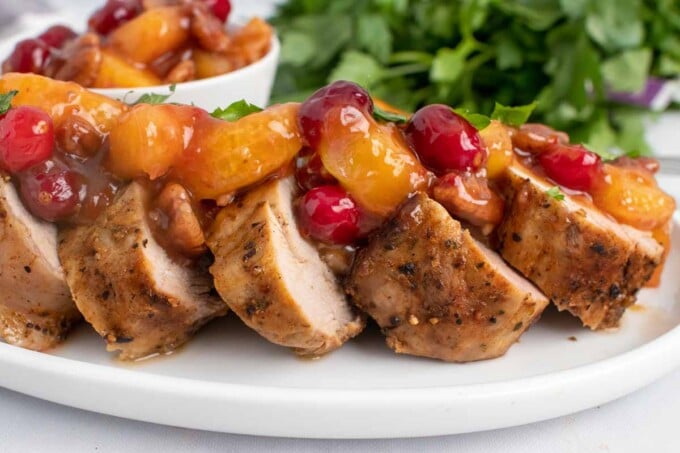 Not only is my Peppered Pork Tenderloin delicious, but it's also easy to make and can be on your table in about 30 minutes. And my Sweet Chili-Pecan Fruit Sauce just adds another layer of deliciousness to this perfect pork loin recipe.
What ingredients do I need to make Peppered Pork Tenderloin?
Let's start by gathering the ingredients we need to make my Peppered Pork Tenderloin with a Sweet Chili Pecan Fruit Sauce. In Chef Speak this is called the "Mise en Place" which translates to "Everything in its Place".
Not only does setting your ingredients up ahead of time speed up the cooking process, it also helps ensure you have everything you need to make the dish.
How do I make a sweet chili pecan fruit sauce?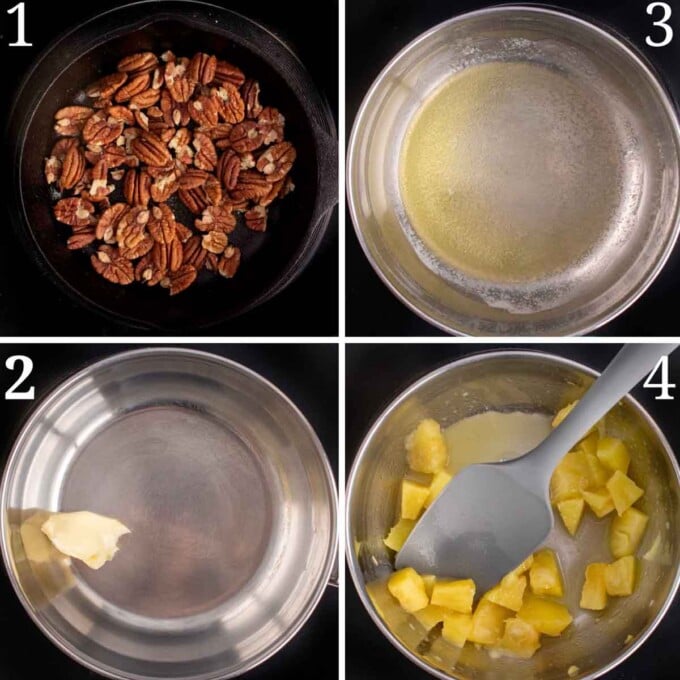 Toast pecans in a hot saute pan and set aside. (don't let them burn). You can also do this in a 350 degree oven for 5-7 minutes.
In a small saucepan over medium heat add butter and allow to melt.
Add pineapple and cook for 1 -2 minutes.
Add the cranberries, tangerine segments, zest and sweet chili sauce to the pan with the pineapple. Bring the mixture to a quick boil and remove from heat.
Add in the pecans and mix well. Set aside until needed. (can be served at room temperature)
How do I prepare the Peppered Pork Tenderloin?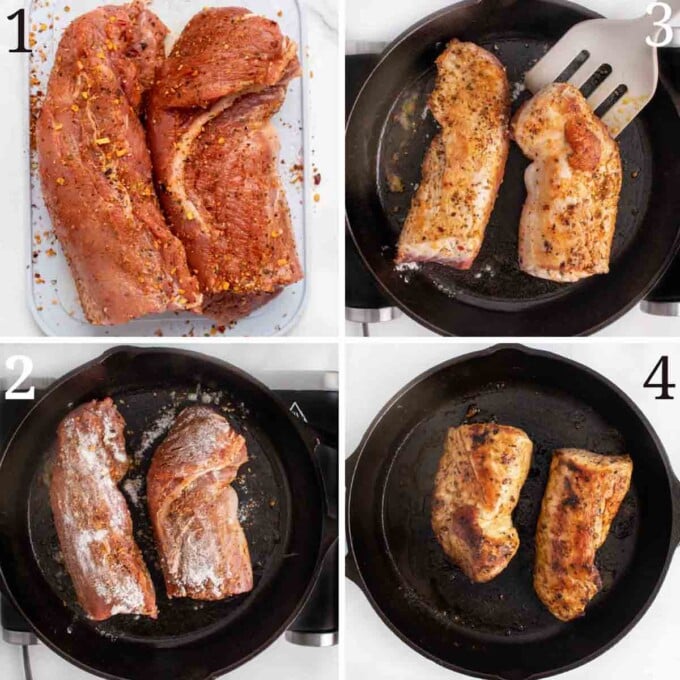 Cut the pork tenderloin in half and season liberally with sea salt, black pepper and cajun seasoning and allow to sit for 5-10 minutes. (while you make the fruit sauce)
Lightly coat pork with flour
Heat a large saute pan over medium heat, add olive oil as needed and place both pieces of pork into pan. Do not disturb them for 4-5 minutes
turn the pork over and allow other side to cook for about 4-5 minutes. Sear any ends that may not have gotten cooked.
Continue cooking the pork tenderloin in saute pan over medium-low heat (adding a little more oil as needed) or in a preheated oven at 350 degrees for about 10 minutes.
*The internal temperature of the pork should be 165 degrees for well-done pork. If you prefer medium to medium-well pork, the internal temp should be 155 -160 degrees.
Let the fully cooked pork tenderloins rest for 7-10 minutes before slicing to allow the juice to flow back into the meat.
Slice the Peppered Pork Tenderloin and serve with the Sweet Chili Pecan Fruit Sauce.
What is Fusion Style Cooking?
Fusion-Style cooking borrows different components from ethnic cuisines and blends them together. This dish takes a typical American dish and adds in an Island/Asian component with sweet chili sauce and fruit.
You have that tender, moist, flavorful pork tenderloin, well seasoned and seared, definitely American. Then add pineapple, tangerines and sweet chili sauce for the Island/Asian influence. Finishing with two All-American ingredients cranberries and pecans.
The end result of this fusion is an incredibly flavorful dish that takes about 30 minutes to prepare. I promise it will definitely impress your family and friends.
More Pork Recipes You'll Love!