How to Grill a Stuffed Pork Tenderloin-
This post is sponsored by Everywhere Agency on behalf of Char-Broil; however, all thoughts and opinions expressed are my own.
Everyone loves hosting parties during the spring and summer months, but all too often we get stuck in the kitchen while everyone else is having a good time enjoying the beautiful weather outside….sigh.
Let's get this party started by gathering the ingredients for the stuffed pork tenderloin. In chef speak we call this the "mise en place".
Splitting the pork tenderloin and pounding them out a little with a meat hammer makes stuffing them easy. I rub the inside of the pork loin with brown mustard and any seasoning you like before adding the stuffing.
It's easy to roll up the pork tenderloins after stuffing them and I used small wooden skewers to keep the roll together. You can also use butchers twine to tie them up. (soak the twine in water first so it doesn't burn on the grill)
Season well with sea salt and black pepper, or your favorite rubs and seasonings.
As a chef (and I'm sure most hosts and hostesses would agree) the meal is often the most important part of the party.
Luckily, Char-Broil is here to simplify and enhance your grilling and party-hosting experience. Their range of products and state of the art technology will allow you to take your entertaining up a notch without creating more work.
What I loved most about my Char-Broil Grill was the absence of flare-ups and the even distribution of heat which keeps your foods up to 50% juicier.
You can see the beautiful grill marks and no burned areas on the meat. That's thanks to Tru-Infrared grilling system that Char-Broil has developed. It really cooks everything evenly.
I love grilling vegetables and my four burner grill gives me all the room I need to cook up a whole lot of deliciousness for my friends and family. Char-Broil takes the work and worries out of your grilling experience, letting you the process and become a grilling superstar!
Think about all the cooking you can do outside this year and with Memorial day just around the corner, it's the perfect time to pick up your very own Char-Broil grill and start having fun entertaining your friends and family. Just get ready for all the compliments!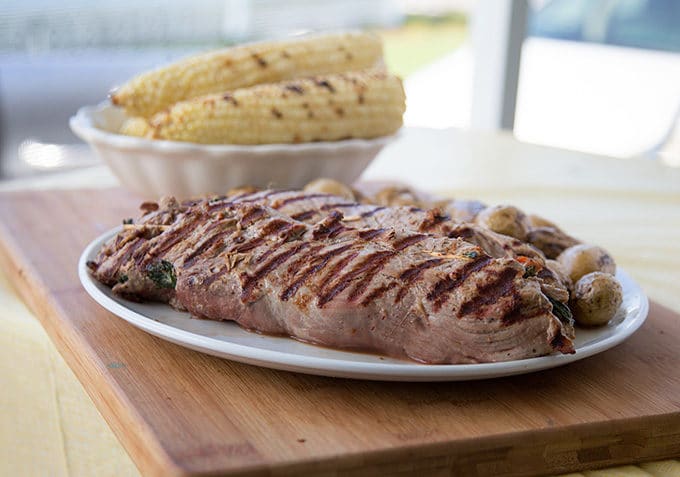 If you enjoyed this recipe you might also like these: