This pork roast is so easy to make it almost cooks itself. But you can take all the credit when your guests start to moan after tasting this deliciously seasoned Rack of Pork!
Total Time:
2
hours
10
minutes
How to make a restaurant style bone in oven roasted rack of pork 
This Easter I made plans for a special dinner to celebrate the day. And although my rack of pork is not traditionally seen as Easter fare, our meal was over the top delicious.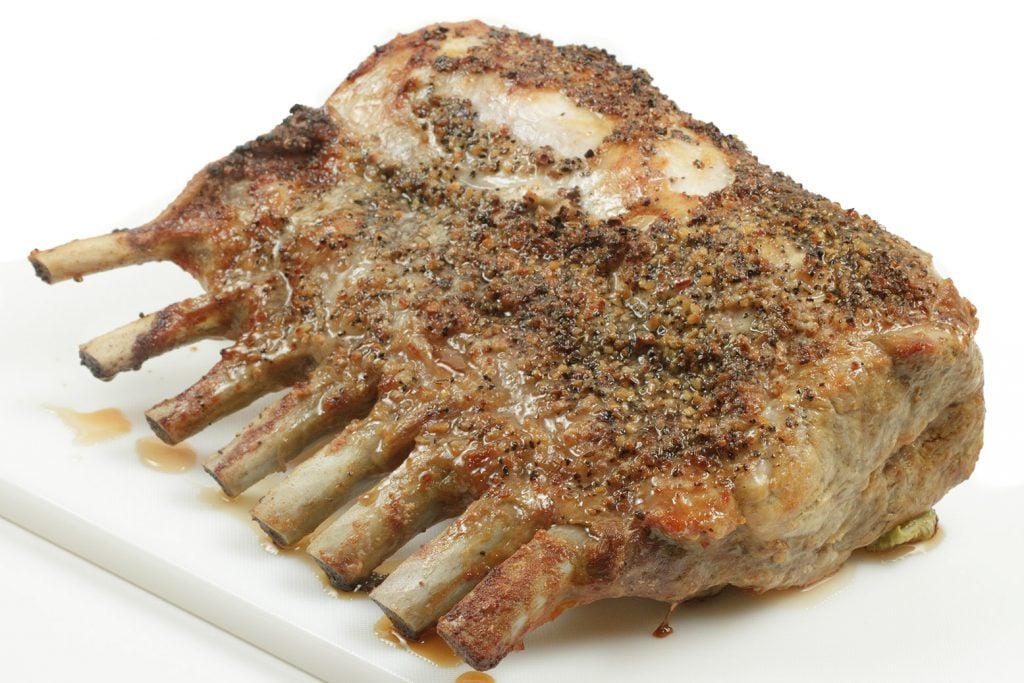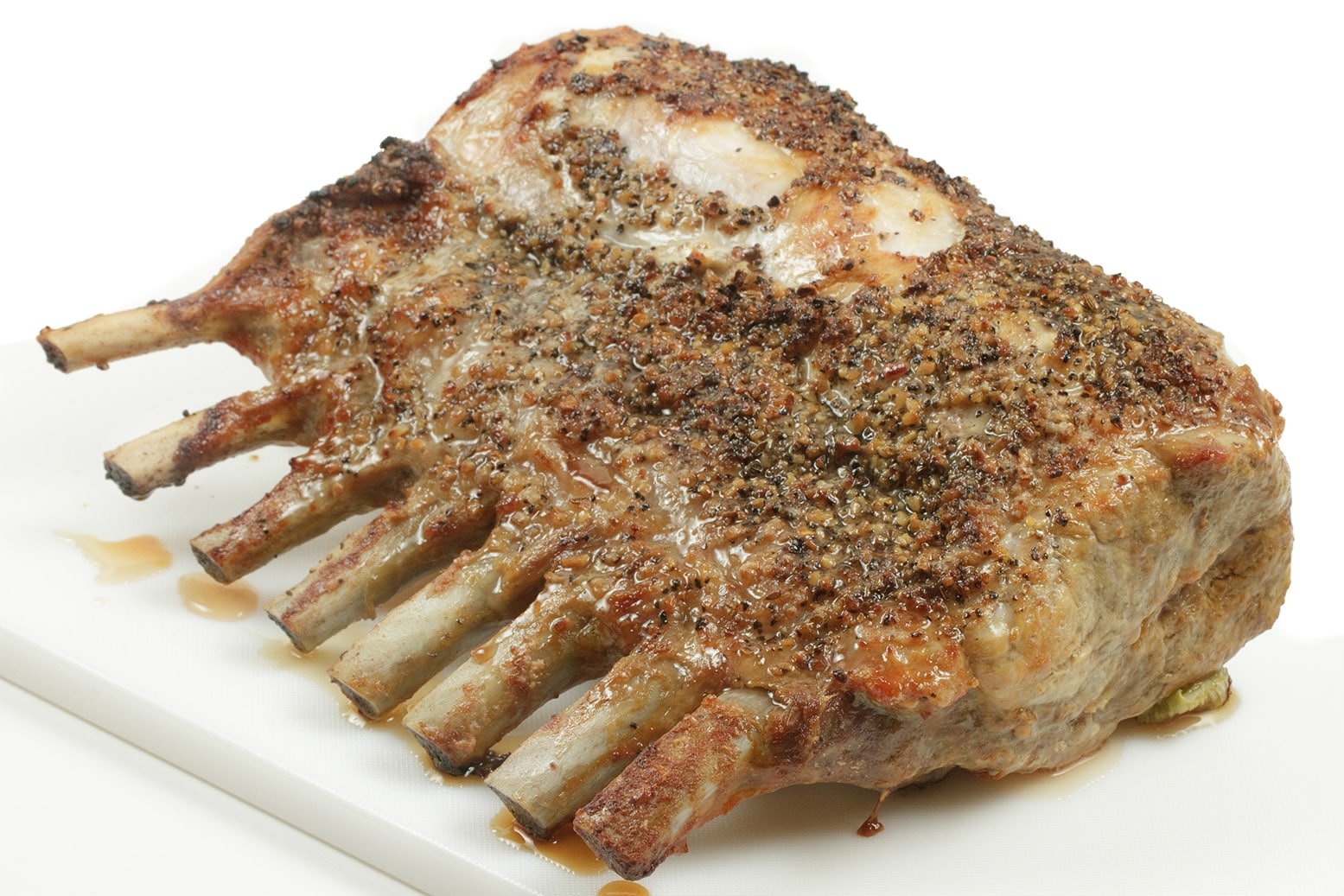 The great thing is my roasted rack of pork is so easy to make that it almost cooks itself. I tend to treat meats that I roast or grill pretty much the same way.
I season them with olive oil, sea salt and black pepper, but with this OMG delicious pork roast, I added a hearty sprinkling of Montreal Beef seasoning. What this seasoning does to meat is simply ah-mazing, and if you've never tried it before, please do. You'll be very happy with the results.
I was in the mood for garlic mashed potatoes, and although Lisa does like garlic, it has to be worked into the dish and not overpowering.
I thought that roasting the garlic would be the best choice to add flavor while still keeping it from getting too strong, or overpowering the mashed potatoes.
The garlic worked perfectly with its creamy butter-like pieces blending into the mashed potatoes perfectly. And to add even more flavor to this dish, we needed gravy. Okay, no one really needs gravy but it makes things so much more delicious.
And what goes better with mashed potatoes than a mushroom marsala sauce. Perfection on a plate….sigh
Important Tips for Roasting:
Years ago I use to serve 2 bone racks of pork in my restaurant, I would cook the larger full rack then cut them to order later in the evening after they were cooled. You have to think of these delicious pieces of roasted pork more along the lines of Prime Rib of Pork,  and when you serve them they don't have to be steaming hot. You want them to be fairly hot, but then serve them with the almost boiling pan gravy to give it that little bump. The pork will be tender and juicier than you have ever had before.
The other important factor in having this pork come out so tender and juicy is in the roasting.
A very high temperature for a short time will sear and seal the meat, keeping the juices inside. You just want to make sure to reduce the heat of the oven to finish the slow roasting process, which not only ensures a juicy cut of meat but also helps reduce shrinkage of the product.
You also want to remember to always cook the meat with the fat side up, so the fat runs through the meat as it roasts, rather than just into the pan. Don't worry about trimming any extra fat away before roasting, you can always remove it before serving. The fat does add flavor!
This was the most flavorful, tender piece of pork I think I have ever had, it even surprised me. I hope you do try this if you can find a good rack of pork, believe it or not, I found this rack at Costco for under $25.oo, who knew? I can't wait to cook this again, but I will definitely invite some friends over to enjoy this magnificent piece of pork!
If you've tried my Pork Roast recipe or any other recipe on askchefdennis.com please don't forget to rate the recipe and let me know where you found it in the comments below, I love hearing from you! You can also FOLLOW ME  on Instagram @chefdenniseats and @chefdennistravels,  Twitter and Facebook.
Oven Roasted Rack of Pork
This pork roast is so easy to make it almost cooks itself. But you can take all the credit when your guests start to moan after tasting this deliciously seasoned Rack of Pork!
Nutrition Facts
Oven Roasted Rack of Pork
Amount Per Serving (120 g)
Calories 593
Calories from Fat 306
% Daily Value*
Total Fat 34g 52%
Cholesterol 173mg 58%
Sodium 1069mg 45%
Potassium 1181mg 34%
Total Carbohydrates 7g 2%
Protein 62g 124%
* Percent Daily Values are based on a 2000 calorie diet.
Total Time:
2
hrs
10
mins
Ingredients
1

7-8 bone

center cut rack of pork

the weight on this roast will vary. Using a meat thermometer will ensure its cooked properly.

1

olive oil

sea salt & black pepper or my fav- Montreal Steak Seasoning

2

carrots -rough cut

1

small onion-rough cut and include skins

2

stalks of celery- rough cut

6

cloves

garlic peeled
Copycat Montreal Seasoning
2

teaspoons

mustard seeds

2

teaspoons

coriander seeds

1

tablespoon

dill seeds

1

tablespoon

granulated onion

1

tablespoon

red pepper flakes

1

tablespoon

granulated garlic

1

tablespoon

coarse sea salt

1

tablespoon

paprika

2

tablespoons

black peppercorns
Instructions
preheat oven to 450 degrees

In a roasting pan add your rough cut vegetables and garlic

rinse the rack of pork well and pat dry

place rack fat side up, on top of cut veggies

apply liberal amount of olive oil, rubbing it into the meat

sprinkle entire rack with sea salt, pepper, garlic, and onion or just use my personal favorite Montreal Steak Seasoning instead of the other seasonings.

place pan in preheat oven at 450 degrees for 15 minutes.

after 15 minutes reduce heat to 325 and continue to roast for 1.5 - 2 hours or until internal temperature has reached 160*

This will ensure the outside of the pork is well done while the center cuts are not cooked quite as much. *

Remove the Rack from the oven placing on a cutting board and allow to rest for 10 minutes before slicing the meat. This will allow all the juices to remain in the rack, rather than have them run all over the plate, making the meat dry.

While the rack is resting, place 2 cups of water in the roasting pan and place on the oven and with a spoon loosen all the baked in meat scraps from the pan, making your pan gravy.

Strain out all of the vegetable pieces and any residue

Cut the rack along the bones, making even portions of the pork, serve with your pan gravy and your favorite sides!
Recipe Notes
*when you remove a larger cut of meat from the oven it will continue to cook and the temperature of the meat will rise 10 more degrees.
*Pork can be eaten at lower temperatures than 165 degrees, but if your entire party would like the meat very well done, you can continue to roast the rack until the center cuts are 155 degrees/