When you want to cook up deliciousness in your kitchen for the holidays or a special Sunday Dinner, my Oven Roasted Rack of Pork will definitely be a crowd-pleaser. It's easy to make and can be in your oven roasting to perfection in less than 10 minutes. It will actually take longer to preheat your oven than it will to prep this lovely pork rib roast.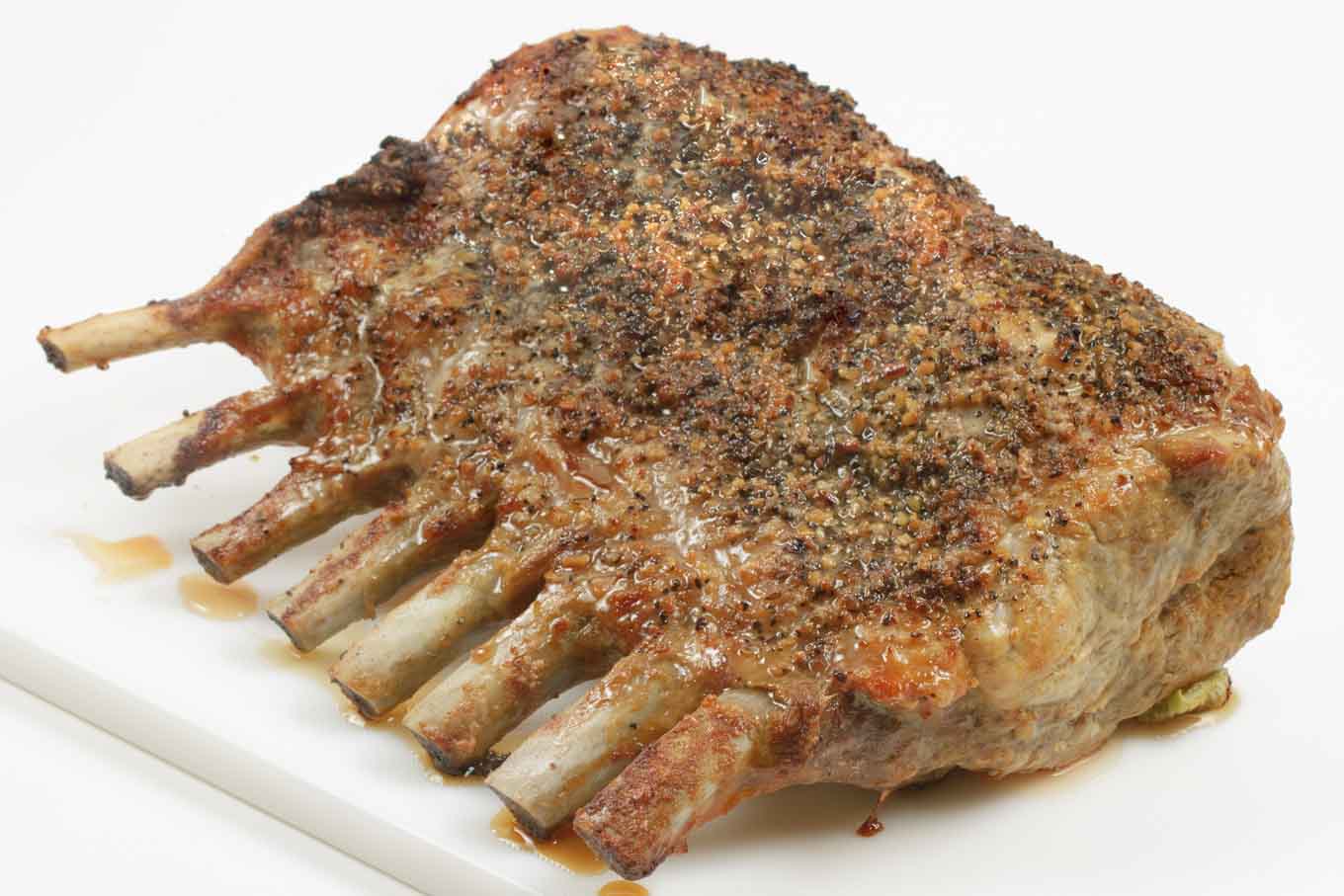 Cooking pork is really pretty easy, and since the days of overcooking pork to make sure it's safe to eat are behind us, you can now cook your pork a little less, serving it pink, juicy and delicious.
Of course, my recipe keeps your well-done pork roast just as tasty.
Ingredients for Roasted Rack of Pork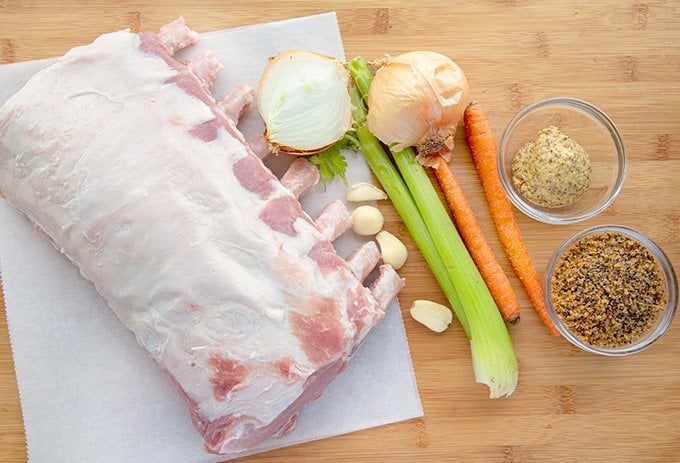 Other than the pork rib roast, the ingredient list is short. Here we have the ingredients (mise en place) for the roasted rack of pork which includes the vegetables for the bottom of the pan and my favorite seasoning for meats, Montreal Beef Seasoning.
I prefer to use mustard with my rack of pork and for this roast, I'm using stone ground mustard; Dijon mustard or olive oil can be used instead.
How do I season a Pork Rib Roast?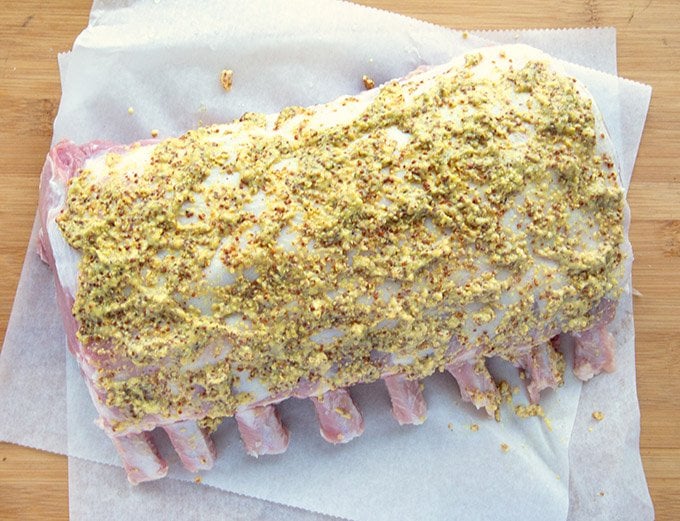 Rub meat down with extra virgin olive oil and crushed garlic. Sprinkle liberally with Sea Salt and Cracked Black Pepper (or use Montreal Beef Seasoning)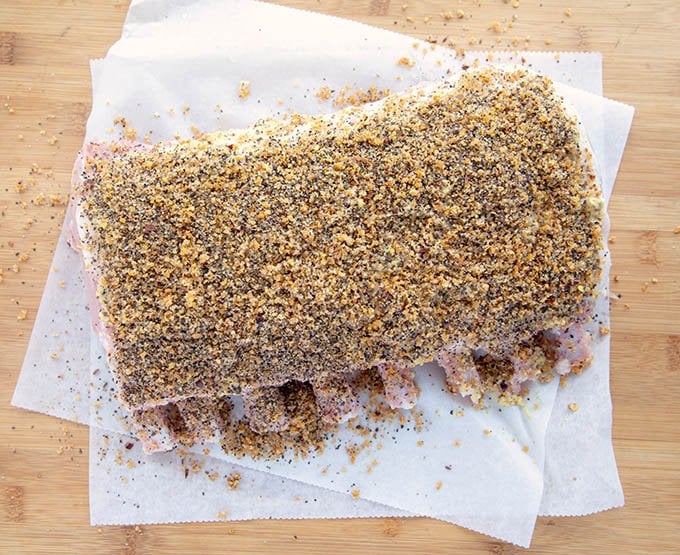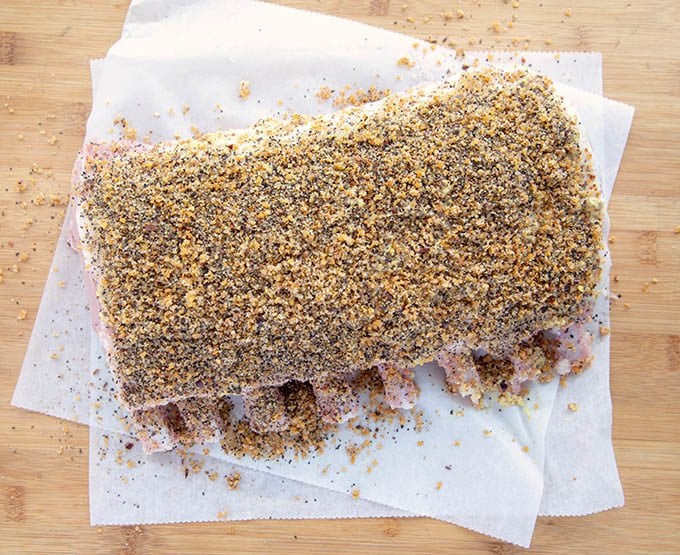 Coat the top of the roast with Dijon or Stone Ground Mustard. Sprinkle liberally with Montreal Beef Seasoning.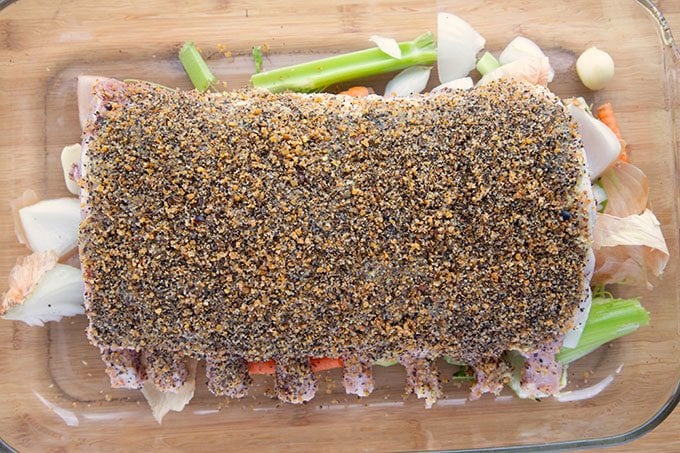 Place rough-cut onion, celery and carrots (including skins and leaves) in the bottom of your roasting pan.
Add a cup of water to the bottom of the pan before roasting. You can use stock or a combination of stock, wine or water.
Add roast to a baking pan (the rough-cut vegetables underneath the pork will keep the roast off the bottom of the dish to allow air to circulate more freely around the roast).
The veggies add flavor to the pan drippings.
How do you cook a pork rib roast?
There are a few simple rules for roasting meats.
Let the roast come to room temperature for about 30 minutes.
Roast at a high temp 450 degrees Fahrenheit for 15 minutes (30 minutes for roasts larger than 10 pounds)
Reduce oven temp to 325 degrees Fahrenheit and cook approximately 15 minutes per pound till the desired doneness.
Cook meat uncovered in your roasting pan
Always roast fat side up
Use a meat thermometer to make sure the roast is at the temperature you desire. Remember your roast will increase in temperature by approximately 10 degrees after removing from the oven.
Medium Rare 145 degrees F; Well Done 160 degrees F.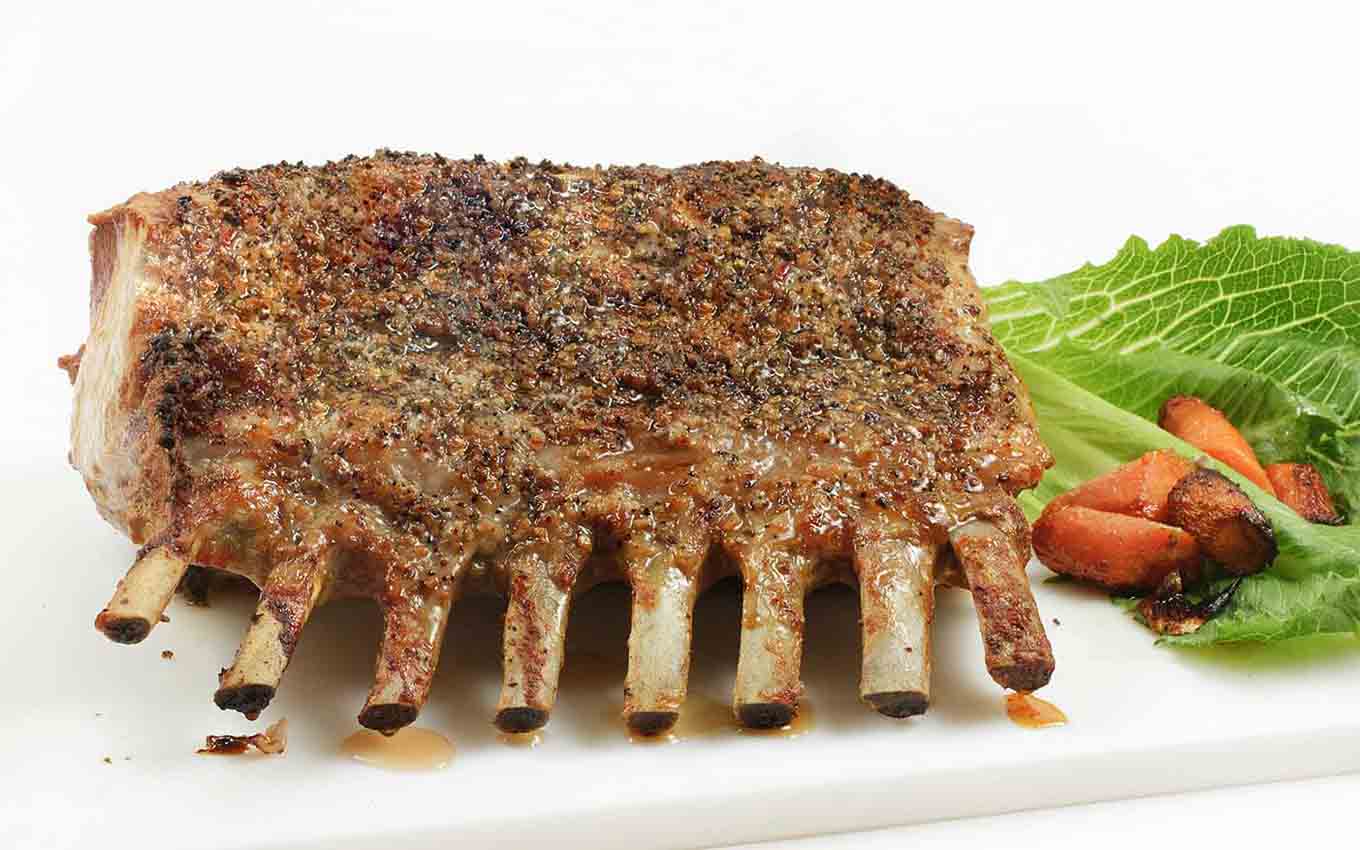 Should I cover my roast when cooking?
The answer is no. And the reason is the coating of seasonings will help keep the roast moist. If you feel better covering the roast do it only for the first 45 minutes of cooking, uncovering for the rest of the cooking process.
What Should I serve with a Pork Rib Roast?
I was in the mood for garlic mashed potatoes, and although Lisa does like garlic, it has to be worked into the dish and not overpowering.
I thought that roasting the garlic would be the best choice to add flavor while still keeping it from getting too strong or overpowering the mashed potatoes.
The garlic worked perfectly, with its creamy butter-like pieces blending into the mashed potatoes perfectly. And to add even more flavor to this dish, we needed gravy. Okay, no one really needs gravy, but it makes things so much more delicious.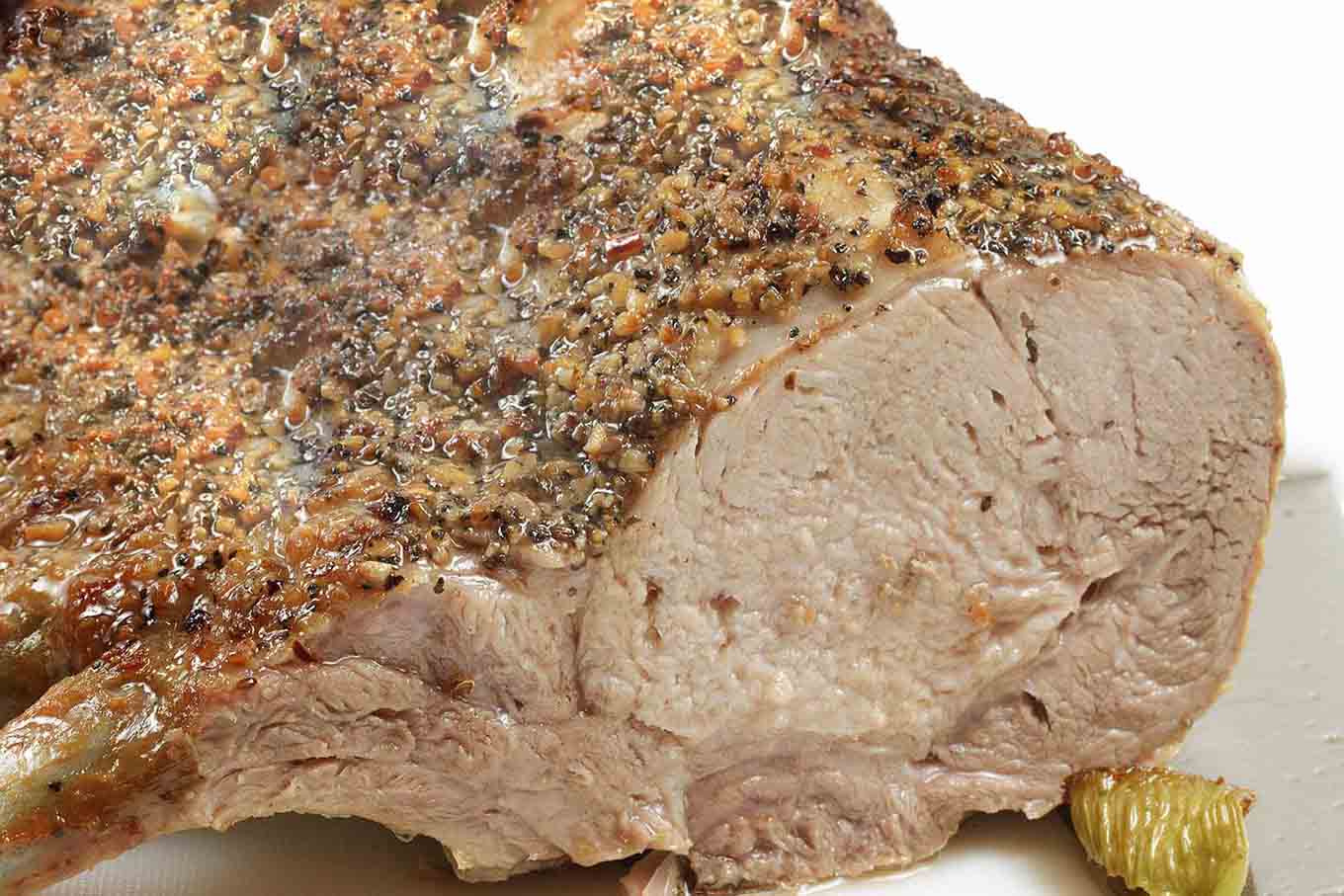 Serve your favorite vegetable and don't forget the applesauce for those friends that can't eat pork without it.
Important Tips for Roasting:
Years ago, I use to serve 2 bone racks of pork in my restaurant. I would cook the larger full rack and then cut them to order later in the evening after they were cooled. You have to think of these delicious pieces of roasted pork more along the lines of Prime Rib of Pork, and when you serve them, they don't have to be steaming hot. You want them to be fairly hot, but then serve them with the almost boiling pan gravy to give it that little bump. The pork will be tender and juicier than you have ever had before.
The other important factor in having this pork come out so tender and juicy is in the roasting.
Using very high temperatures for a short time will sear and seal the meat, keeping the juices inside. You just want to make sure to reduce the heat of the oven to finish the slow roasting process, which not only ensures a juicy cut of meat but also helps reduce the shrinkage of the product.
You also want to remember to cook the meat with the fat side up so the fat runs through the meat as it roasts rather than just into the pan. Don't worry about trimming any extra fat away before roasting. You can always remove it before serving. The fat does add flavor!
This was the most flavorful, tender piece of pork I think I have ever had. It even surprised me. I hope you do try this if you can find a good rack of pork. Believe it or not, I found this rack at Costco and Sams Club for under $25.00. Who knew? I can't wait to cook this again, but I will definitely invite some friends over to enjoy this magnificent piece of pork!
This post includes affiliate links. As an Amazon Associate, I earn from qualifying purchases.
I absolutely love my Meater Plus | Smart Meat Thermometer It takes all the guesswork out of cooking meats in the oven, on the grill, or in a smoker.
Recipe FAQ's
What cut of pork is the rack of pork?
Rack of Pork is also referred to as a pork rib roast (it may also be labeled center-cut pork loin). This cut comes from the rib area of the loin, so it contains a little more fat which helps make it more flavorful.
What temperature should I cook the rack of pork to?
The safe internal pork cooking temperature for fresh cuts is 145° F. To check doneness properly, use a digital cooking thermometer.
Can the pork be a little pink?
Pork can be a little pink. The U.S. Department of Agriculture lowered the recommended cooking temperature of pork to 145 degrees Fahrenheit. That may leave some pork looking pink, but the meat is still safe to eat
More Pork Recipes You'll Love!