Pan-Seared Rockfish with a buttery lemon caper is an easy and delicious fish recipe that can be on your dinner table in less than thirty minutes. My rockfish recipe is one I used for years in the different restaurants I worked at. You can also use this method to cook other white fish fillets.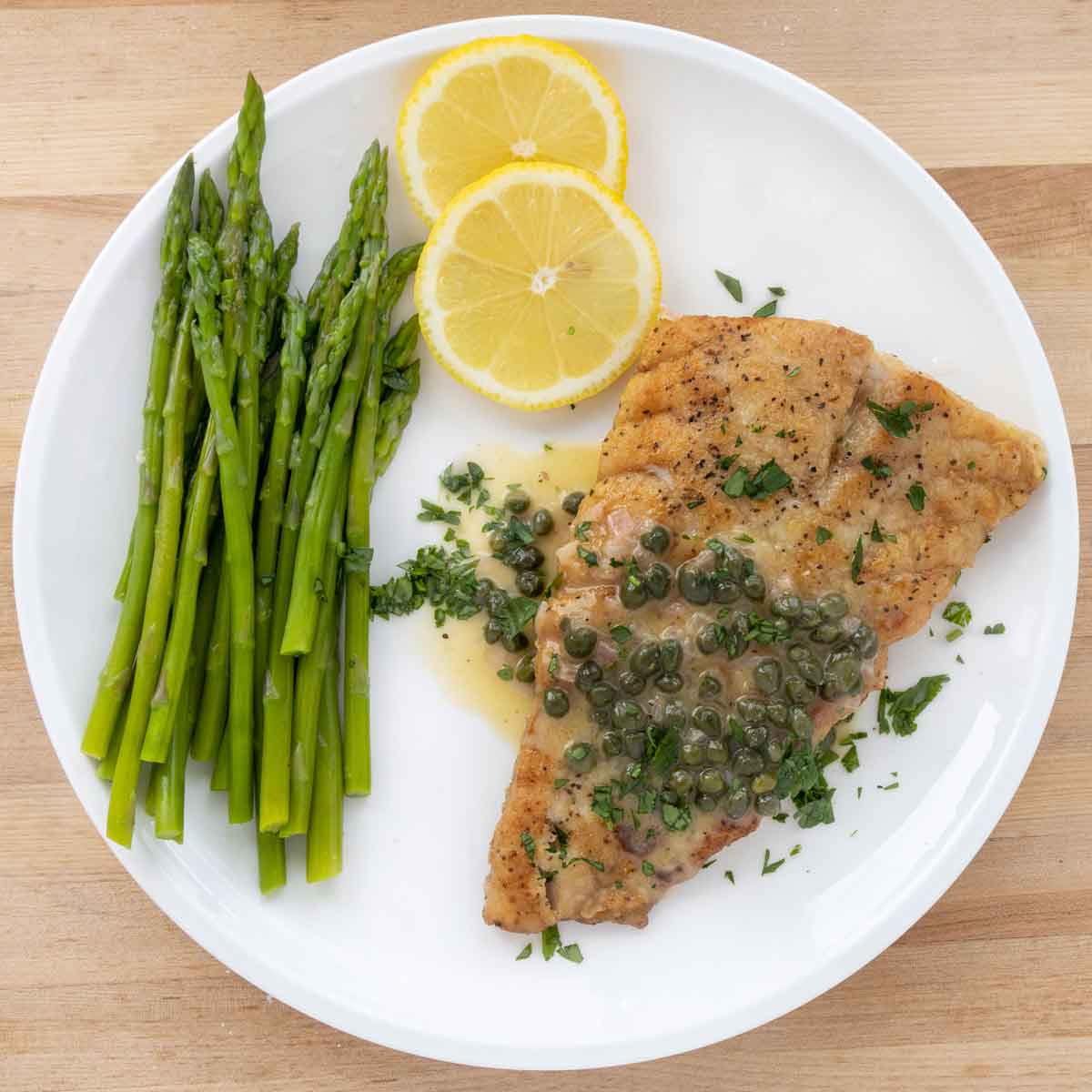 Tender Rockfish fillets, lightly dredged in seasoned flour, then seared in a butter olive oil mixture until golden brown. The cooking method and light sauce let the delicate flavors of that mild white fish shine through. Making it the perfect date night meal or when guests come over to dinner.
It's one of my favorite ways to prepare this delicious fish.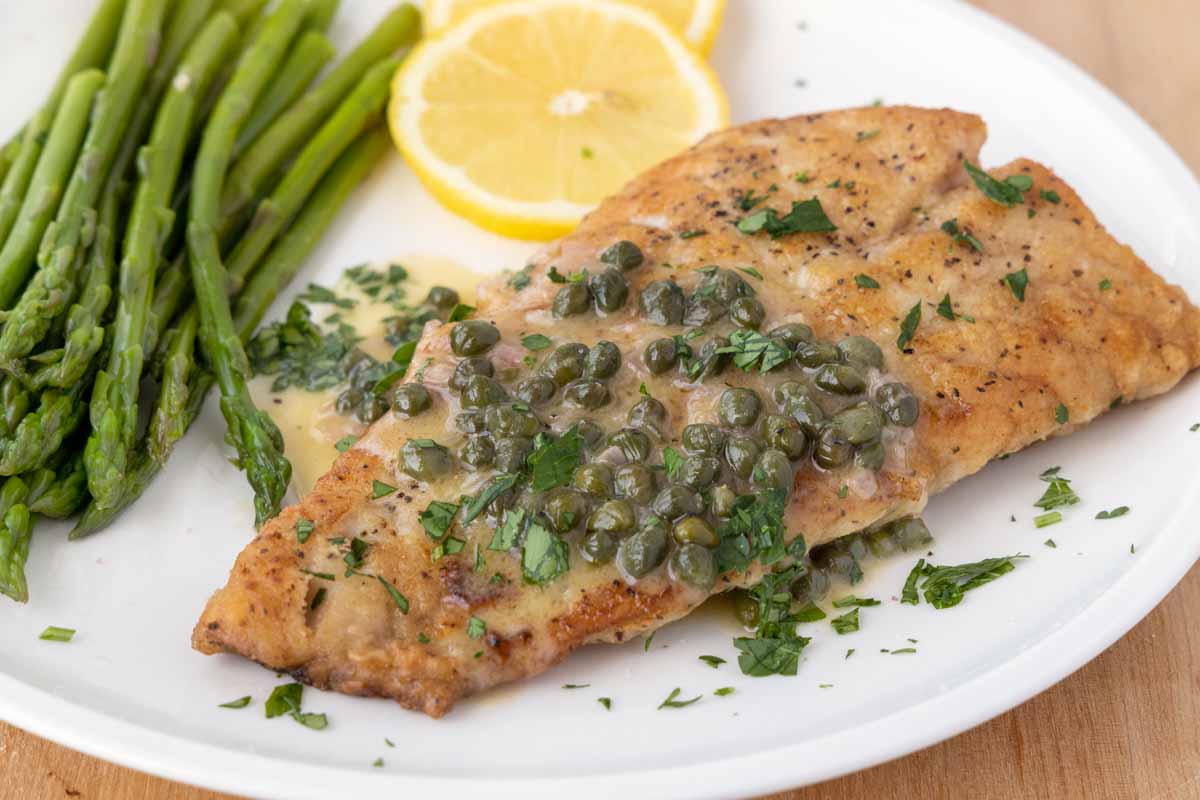 I love cooking with Alaskan rockfish, it has a flaky texture and mild flavor, and it can be fried, broiled, grilled, pan-sauteed, and even cooked in an air fryer. It has a flavor somewhere between Cod and Halibut.
And if you're wondering what else you can use rockfish for, It also makes delicious rockfish tacos!
Ingredients to make Pan-Seared Rockfish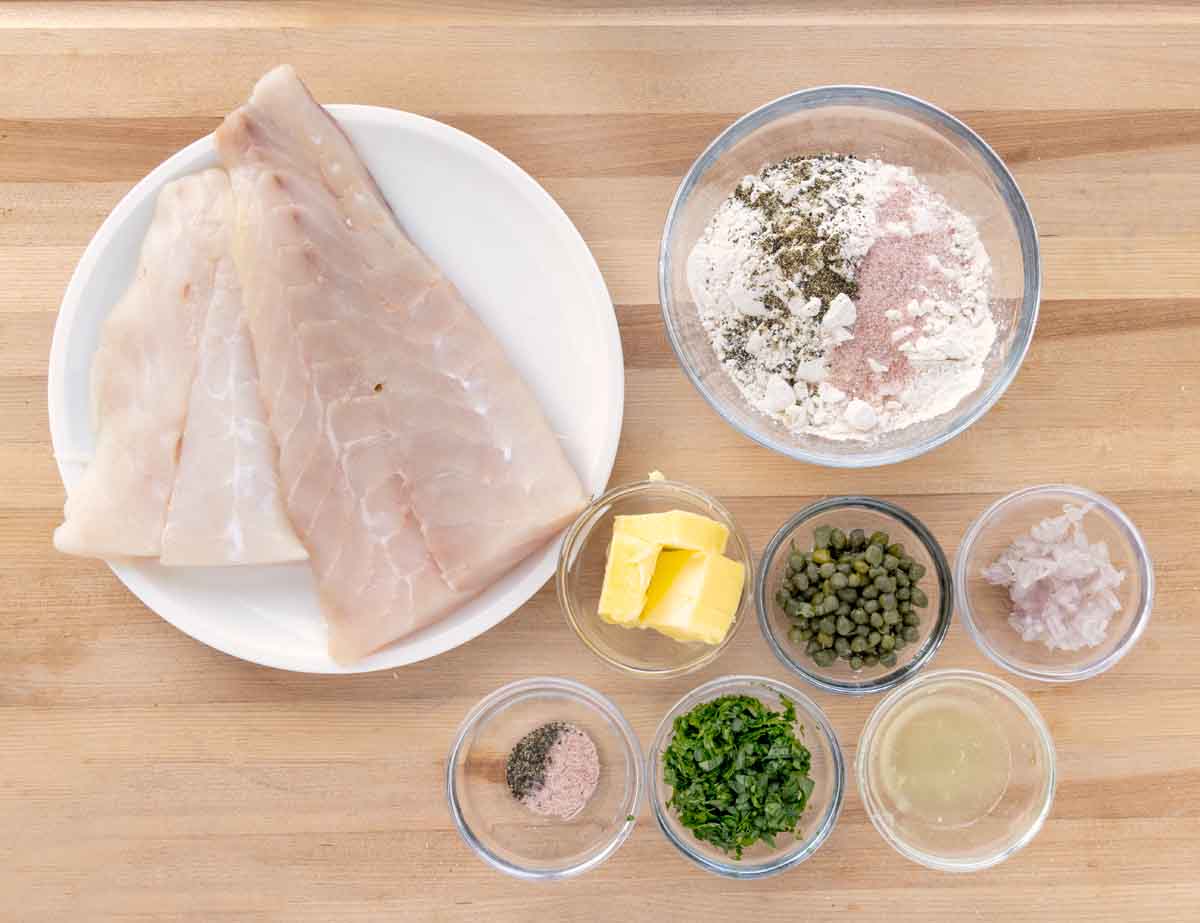 Let's start by gathering the ingredients we need to make Pan Seared Rockfish with a lemon caper sauce. In Chef Speak, this is called the "Mise en Place," which translates to "Everything in its Place."
Not only does setting your ingredients up ahead of time speed up the cooking process, it also helps ensure you have everything you need to make the dish.
Made with simple ingredients
rockfish fillets
unsalted butter
fresh lemon juice
all-purpose flour (or gluten-free flour)
salt
black pepper
shallots
capers
Italian parsley
What is Rockfish?
Pacific Rockfish is a white-fleshed, mild-flavored fish with a delicate texture and a sweet and nutty taste. It's also known as Alaskan rockfish, rock cod, red snapper, or Pacific red snapper and is a plentiful near-shore fish found on the west coast of North America. There are more than 70 types of rockfish, and they are part of the much larger fish genus of Sebass.
How to make Pan Seared Rockfish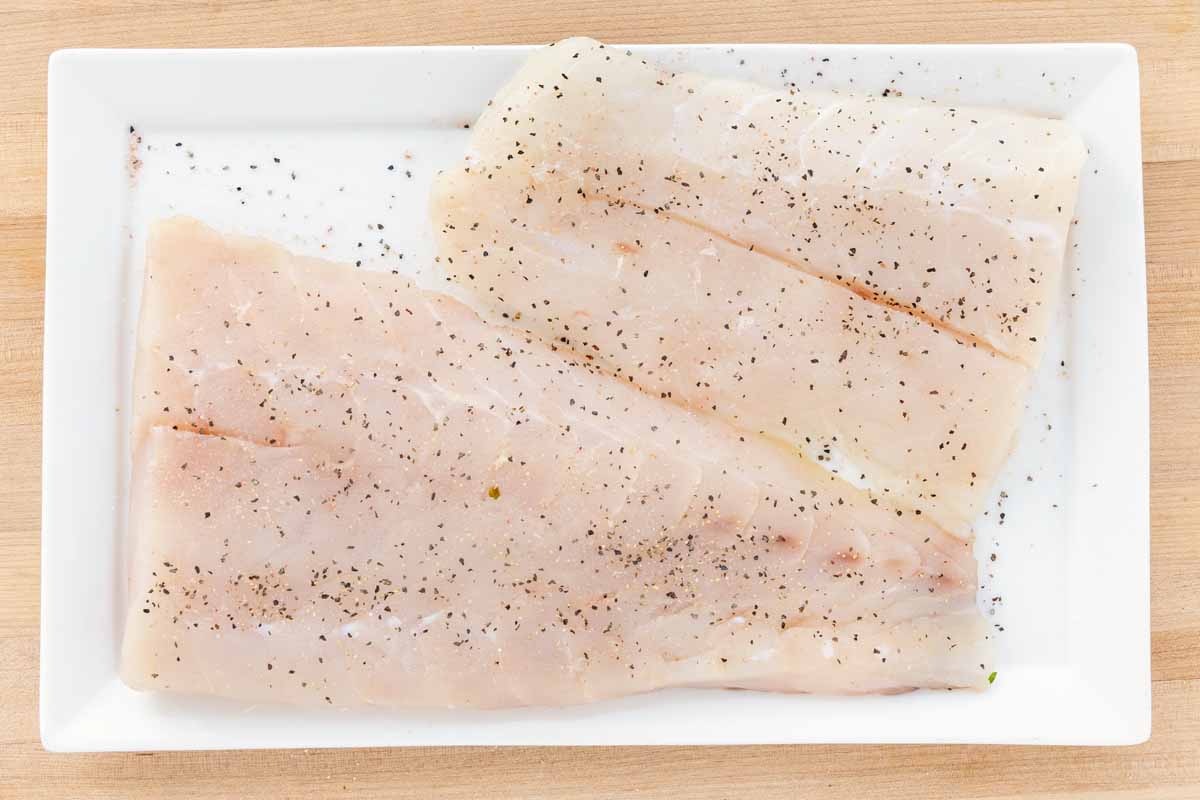 The first step is to pat dry the rockfish with paper towels, then liberally season the fillets with sea salt and black pepper to taste.
*You can also season the rockfish filets with lemon pepper, cajun seasoning, or your favorite spices.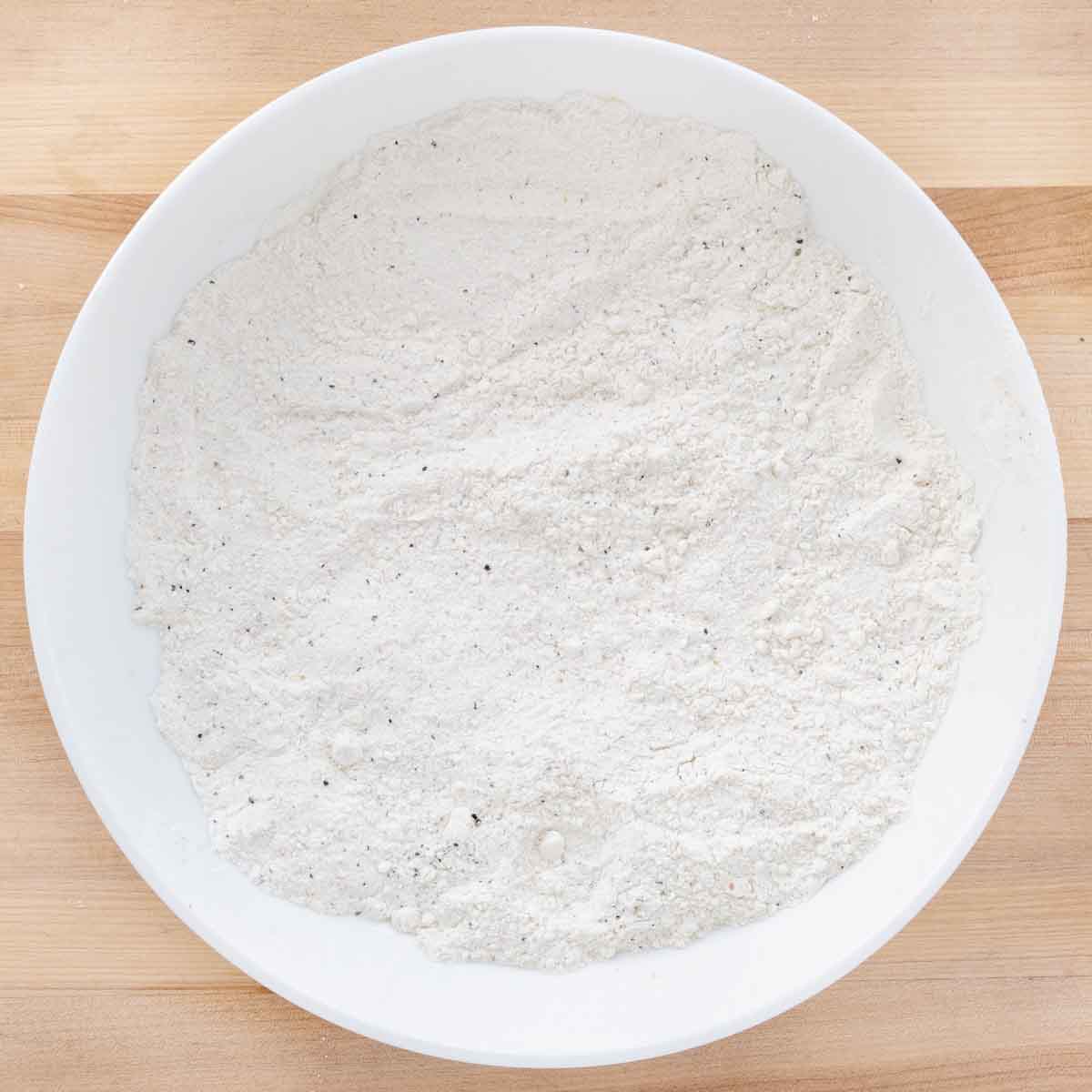 Next, prepare the seasoned flour by adding ½ teaspoon of salt and ¼ teaspoon of black pepper to all-purpose flour (or gluten-free flour) to a shallow bowl.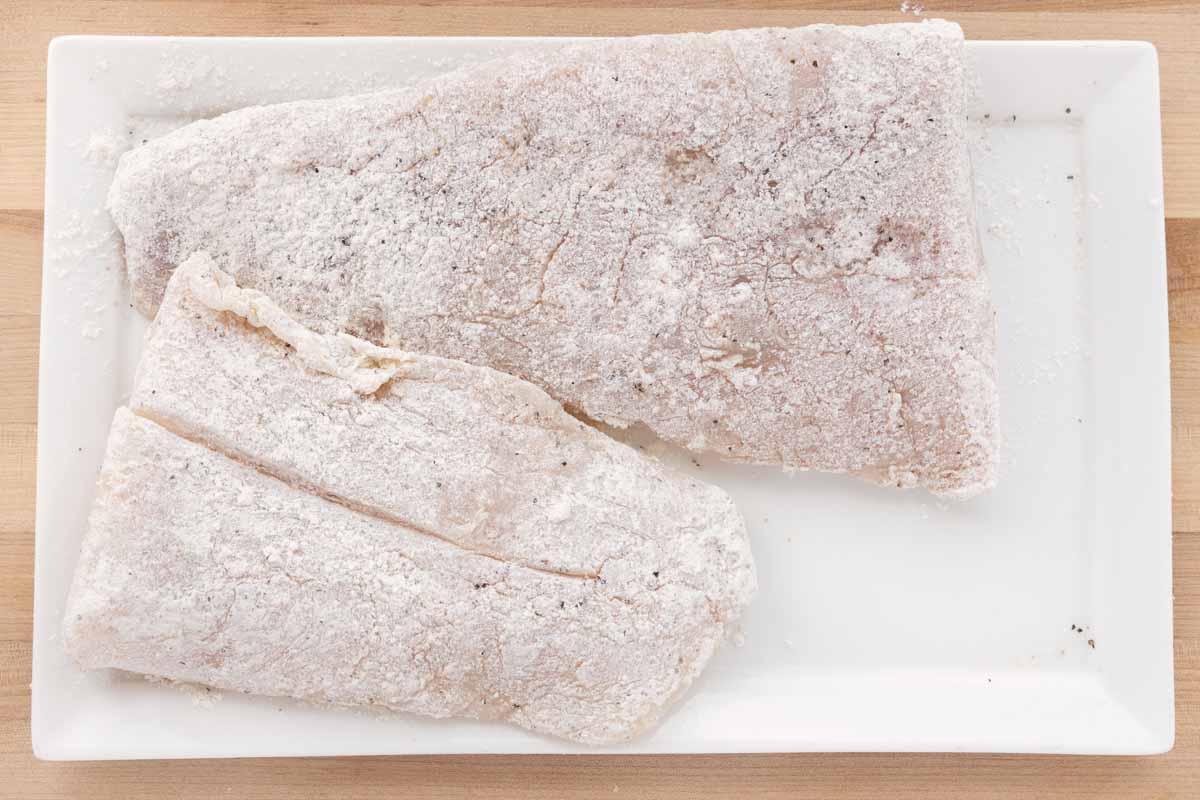 Dredge the rockfish in the seasoned flour, coating both sides of the fillets.
How to cook the rockfish fillets
*Preheat the oven to 250 degrees F. to use as a holding oven.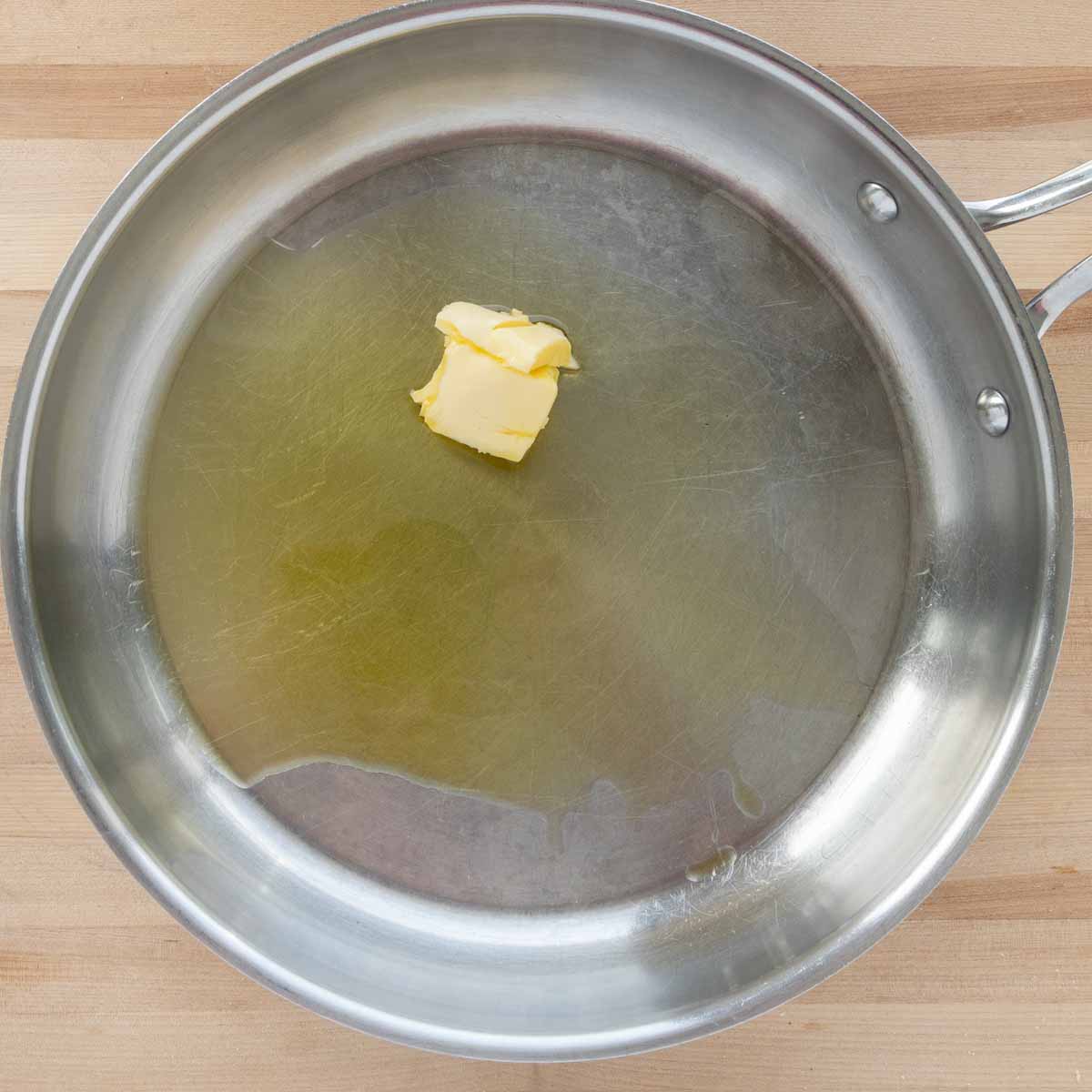 Prepare the large skillet (or a large nonstick skillet) by placing it over medium-high heat with one tablespoon of butter and one tablespoon of olive oil (or your favorite cooking oil).
Once the butter has melted, turn the temperature down to medium heat. Make sure not to let the butter/oil mixture get brown before adding fish to the hot pan.
*If you have a cast iron skillet, you use that to pan-sear the fish, it will add amazing color to the rockfish.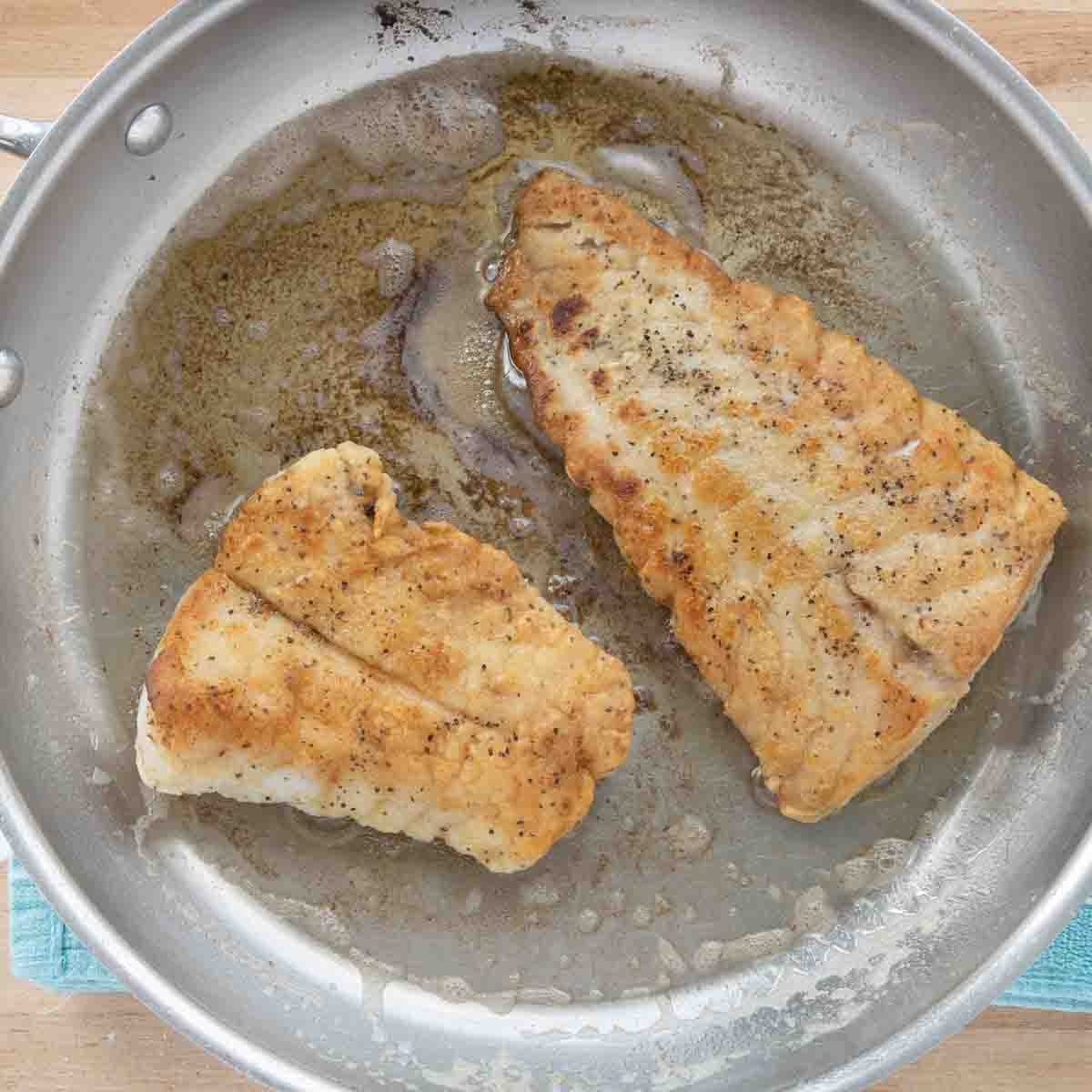 Place the floured rockfish fillets in the hot skillet, cooking on the first side for 3-4 minutes. Don't be tempted to turn it over too soon; you want that delicious crunch and golden brown color that comes from not moving the fillets around.
Turn the rockfish over and continue to saute for another 3-4 minutes. When the pan-seared rockfish is fully cooked, place it on a baking sheet and into the preheated 250-degree oven while you make the lemon caper sauce.
Pan searing is one of my favorite ways to prepare fish. It really brings out the natural flavor and can be done in minutes.
How do I make Lemon Caper Sauce?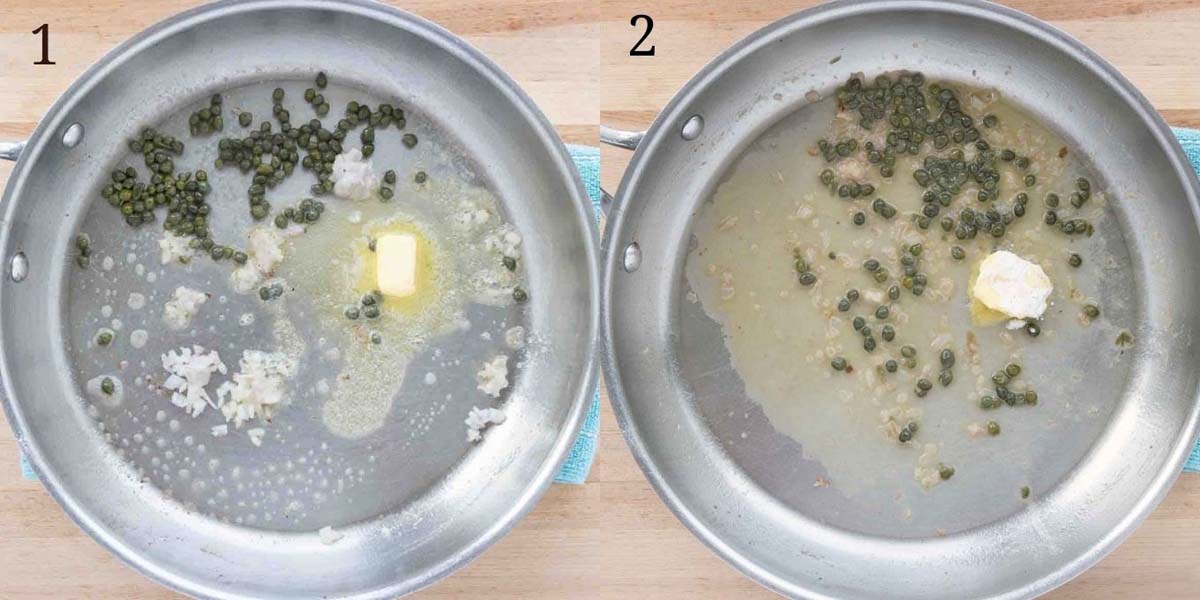 Add the butter, shallots, and capers to another saute pan or medium saucepan over moderate heat. Saute for 1-2 minutes. Don't let the butter burn!
Add the lemon juice and either an ounce of white wine or chicken stock to the pan.
When the liquids are hot, add one tablespoon of butter rolled in flour (beurre manie) to the pan. This will thicken the sauce.
*If the sauce gets too thick, add a little water, chicken broth, or if you want to take the sauce to the next level, a little heavy cream. You can even add your favorite fresh herbs to the sauce for extra flavor.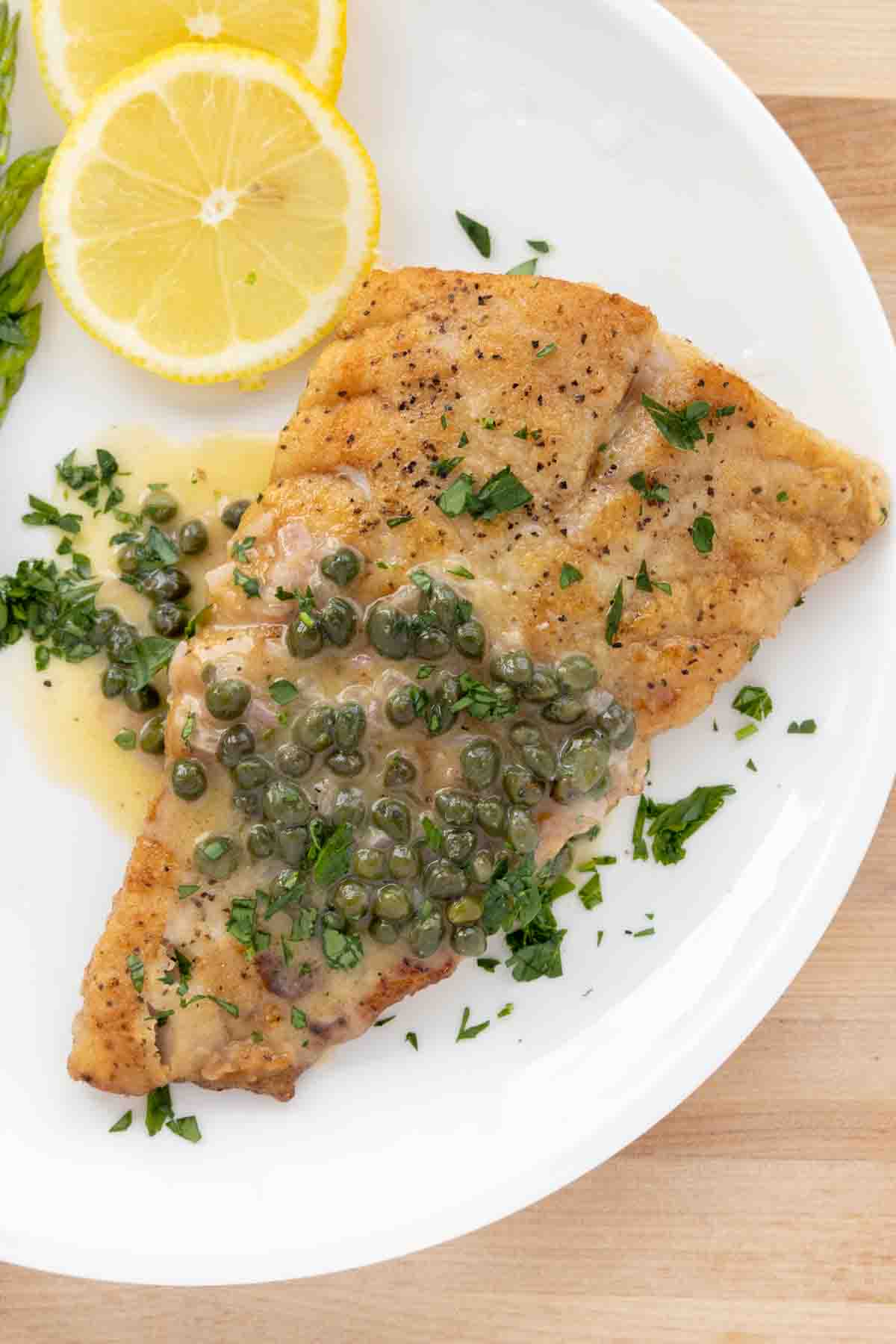 Serve the lemon caper pan sauce over this delicious pan-seared rockfish and garnish it with chopped parsley. You're going to love the flaky texture of the rockfish, and I know you'll agree that this is the best pan-seared rock fish recipe you've ever tried.
Serve the rockfish with wild rice, or your favorite grain along with your favorite green vegetable for a delicious healthy dinner the whole family will love.
Recipe FAQ's
How do you pan-sear fish without it sticking to the pan?
Make sure the pan is hot before you add the fish to the pan will ensure that the fish will not stick and will give you a perfect flavorful crust. Heat your pan on medium-high heat, then add a small amount of oil and butter. When the oil and butter start to shimmer, add the fish to the pan.
Can I pan-sear fish without using flour?
Yes, you can.
While flour is generally the first choice for pan-searing fish, you can use finely ground cornmeal instead. To create that crunchy exterior we love, dip the fish in milk or beaten eggs before dredging the fillets in cornmeal.
What does rockfish taste like?
Rockfish is a mild whitefish that is somewhere between Cod and Halibut. Like most whitefish, rockfish has a flaky texture and mild flavor. It's perfect fried, broiled, grilled or pan-sauteed. It also makes delicious rockfish tacos!
More Recipes You'll Love!