Alaska has been on my bucket list for years and I hope I do get to visit soon. I had never heard of Alaskan Rockfish before, but when I saw it in the market I thought I'd give it a try.
After reading up on the Rockfish, I decided marinating and grilling the fish would make a delicious entree.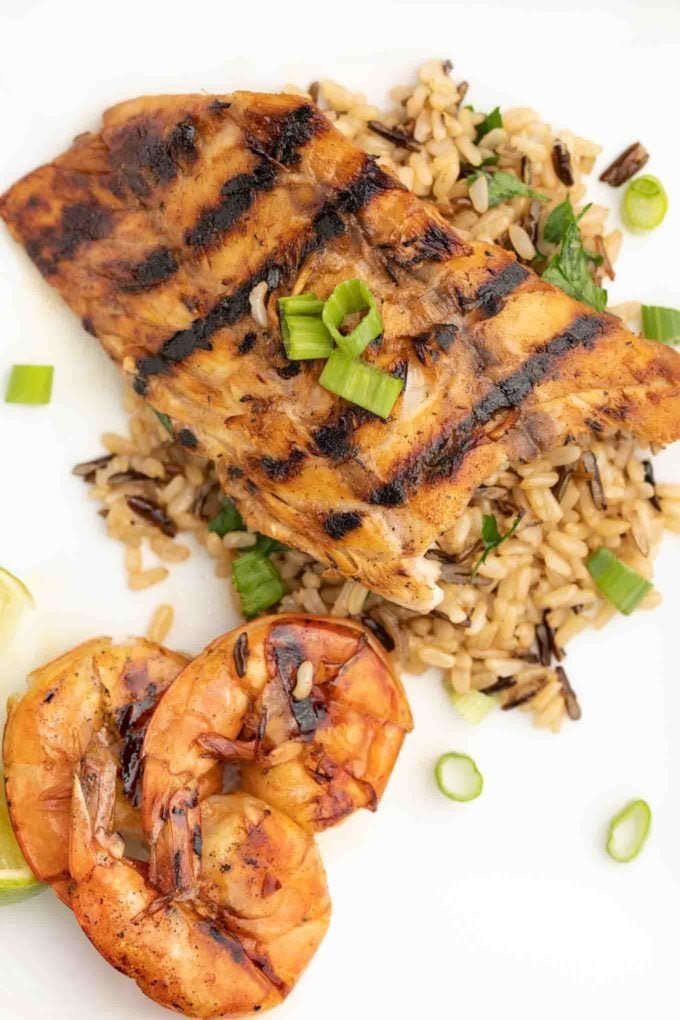 It has a firm, white and meaty flesh, with a higher oil content that makes it perfect for marinades, wood smoking or the addition of other flavors.
That being said the Rockfish is a blank canvas that you can take in any flavor direction you choose. There's so much you can do with this beautiful fish, you'll never have to serve it the same way twice.
I decided on a marinade with an Asian twist for this dish, using what I had on hand to make the marinade. I used a base of tamari sauce and pomegranate molasses for my marinade but you could use a variety of different ingredients.
What ingredients do I need to make Marinated Grilled Alaskan Rockfish and Shrimp?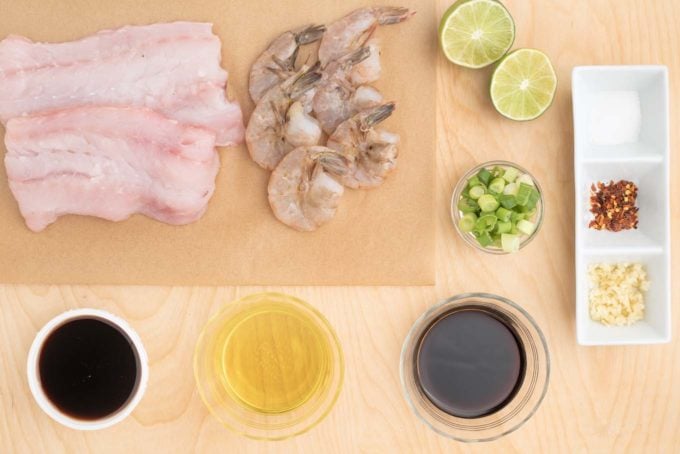 Let's start by gathering the ingredients we need to make Marinated Grilled Alaskan Rockfish and Shrimp. In Chef Speak this is called the "Mise en Place" which translates to "Everything in its Place".
Not only does setting your ingredients up ahead of time speed the up cooking process, but it also helps ensure you have everything you need to make the dish.
What fish can I use instead of Rockfish?
Any thick firm white fish will work well with this recipe. If you can't find rockfish you can substitute these fish.
Halibut
Mahi-Mahi
Grouper
Snapper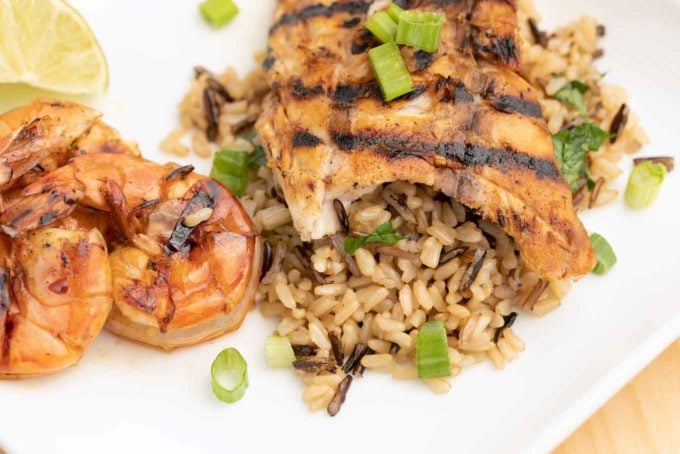 While the texture of the Rockfish is amazing, it is a little on the bland side so don't be afraid to give it a good soaking in a tasty marinade, add your favorite flavors to the marinade and whether you grill it, pan sear it or oven roast it, I promise it will be a hit with your family.
If you love Rockfish, make sure to try my Pan Seared Rockfish recipe.
How do I make Grilled Alaskan Rockfish?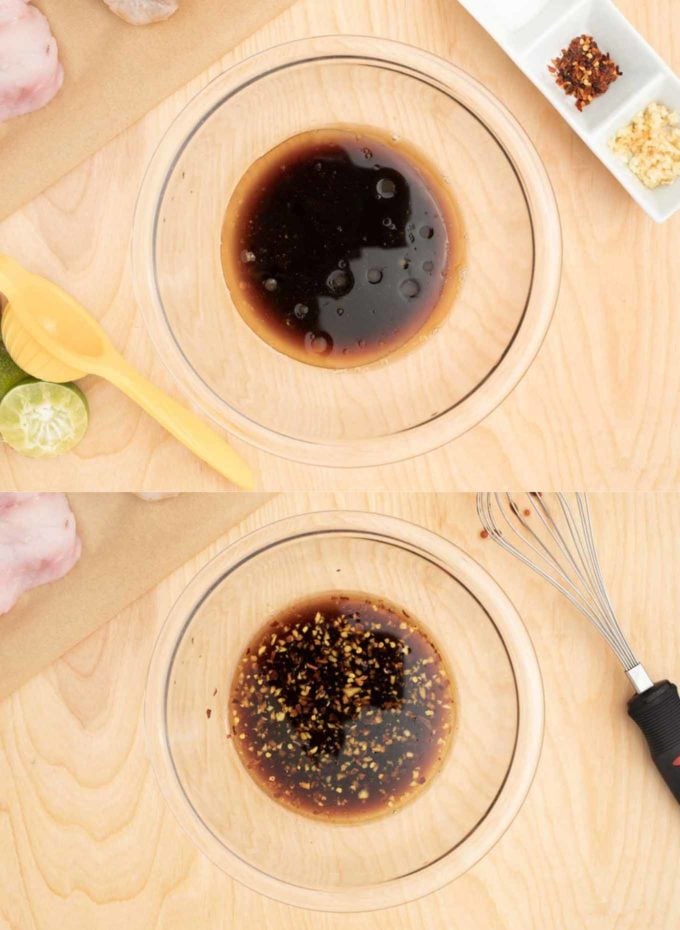 The first step is making the marinade for the Rockfish and Shrimp.
Mix the tamari sauce, pomegranate molasses, olive oil, lime juice, sugar, garlic, and crushed red pepper until well blended and place it in a small pan or ziplock bag to marinate the rockfish.
Do I have to use tamari sauce to make the marinade?
No, you don't. A good substitute is soy sauce, low-sodium or regular.
If you can't have soy sauce, coconut aminos is a good substitution for tamari or soy sauce.
What can I use instead of Pomegranate Molasses to make the marinade?
A good substitute for the pomegranate molasses, is cranberry juice or orange juice.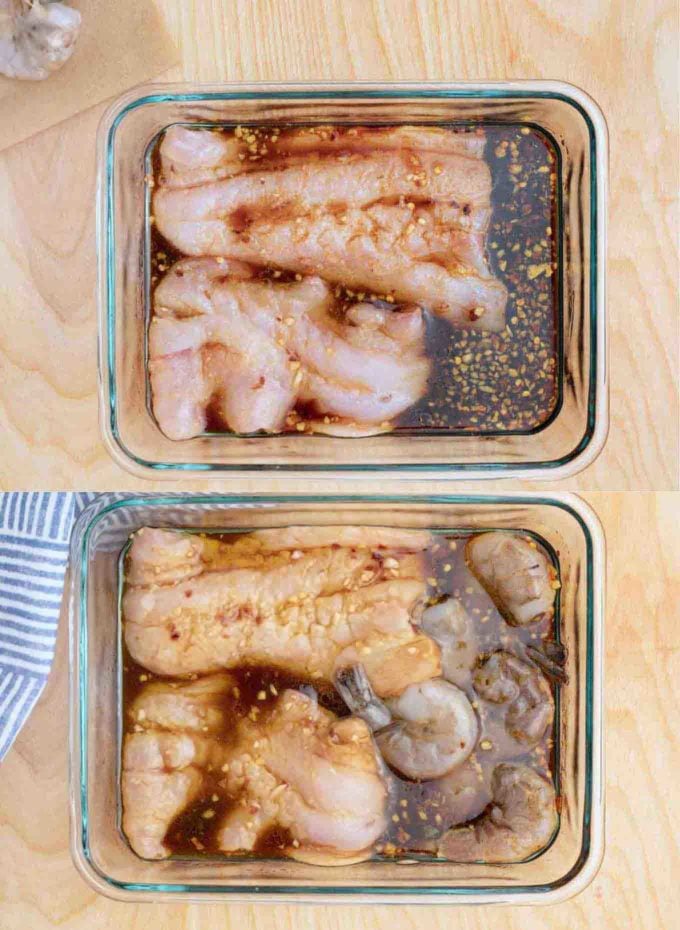 Add the rockfish to the marinade and let it marinate for at least one hour. Add shrimp into the marinade and let that marinate for 10 minutes.
The Alaskan Rockfish can be left in the marinade for up to two hours, but no longer than that unless you're making ceviche. As for the Shrimp, they should not be left in the marinade for longer than 20 minutes.
Marinated seafood should be cooked immediately after being removed from the marinade.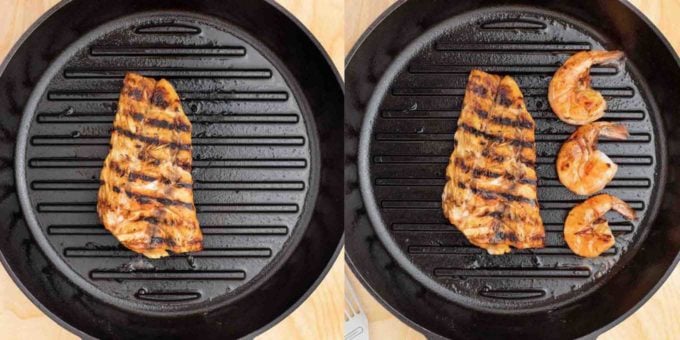 Most times I use a gas grill for my seafood. But on days that I don't feel like going outside to grill, I use a grill pan. Both methods provide great results.
Place Rockfish on a very hot grill (or grill pan) and allow to sear on one side until the Rockfish gets nice grill marks and good color.
Turn over Rockfish and cook for 5-7 minutes, placing the shrimp on the grill at this time. Turn the shrimp at about the 3 minute mark. The shrimp will only take about 5 minutes to fully cook.
This is the grill pan I use -> Le Creuset Grill Pan. If you'd rather not deal with cast iron, this is a good option at about half the price -> Non-Stick Grill Pan.
Serve the marinated grilled rockfish on a bed of wild rice or the grain of your choice with some lime wedges. Garnish with chopped scallions or parsley to add a little more color to the dish. Serve and enjoy!
If you love rockfish try my pan-seared rockfish, it's OMG delicious!
More Recipes You'll Love!