When it comes to cuisine Japan has a world of flavor to offer. My miso glazed cod with stir-fried vegetables goes so well with the delicate Somen Noodles. The best part is it takes minutes to make!
This post includes affiliate links. As an Amazon Associate I earn from qualifying purchases.
With the world at our doorstep thanks to the internet, why not cook the flavors of the world? Try my Miso Glazed Cod for a Japanese inspired dinner.
This is a sponsored post for HemisFares™ brand that is available exclusively at Kroger family of stores. All opinions are honest and 100% my own.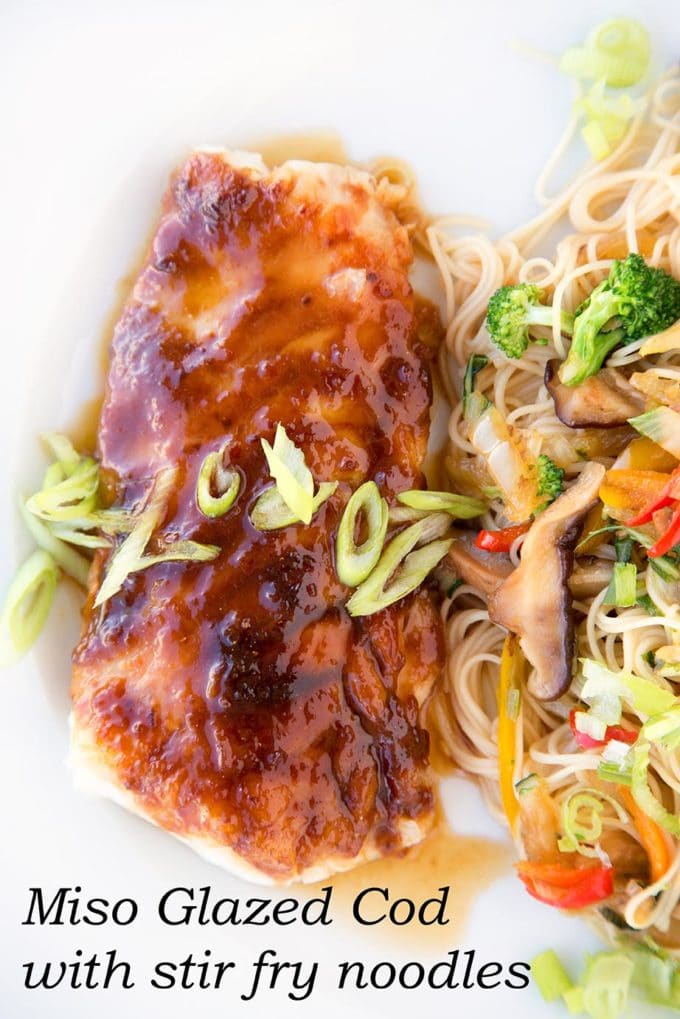 Since the invention of the internet and bloggers around the world, the world's cuisine has been brought into your kitchen. No longer is cooking the mystery it used to be. You no longer need to be a chef to unravel the recipes of the world and then try to source the ingredients. Many of the ingredients can be found in local ethnic markets and some are even making their way into our local grocers.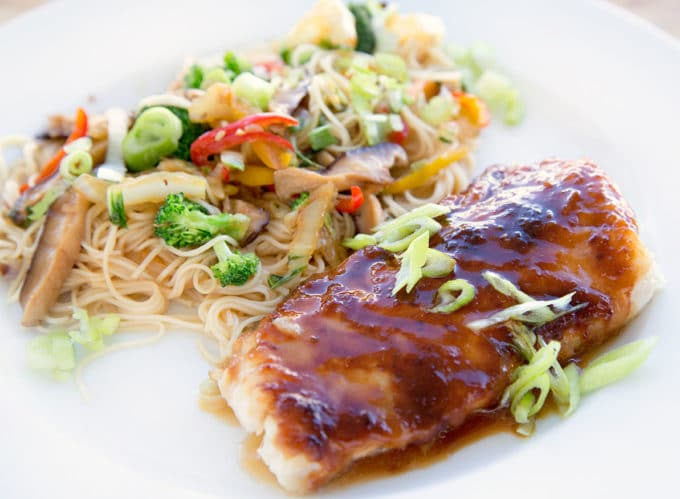 I was sent three of Krogers Hemisfares brand products and asked to come up with a dish using one or more of the products. I decided to use all three to create a Japanese inspired Miso Glazed Cod with a side dish of Somen noodles and stir-fried veggies.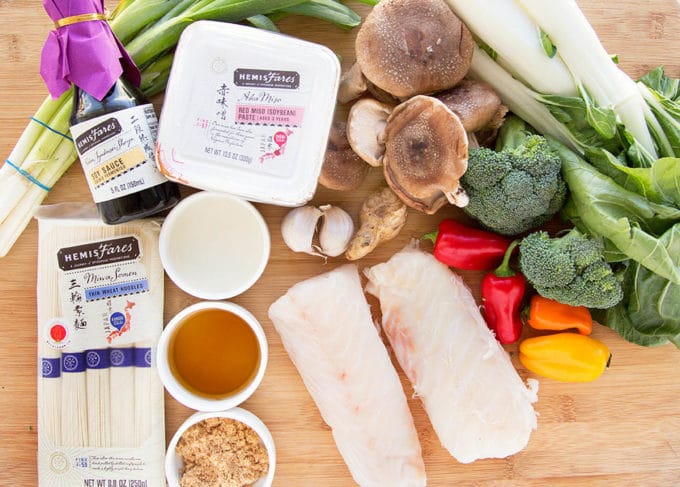 First, let's gather our ingredients for our dish aka mise en place. This is the best practice for beginning any meal with more than three ingredients.
Lay out the ingredients to make sure you have everything necessary to make the dish and if you don't you can make substitutions before the panic sets in. For this recipe, I'm using cod but you could easily swap it out with salmon, tuna or just about any meaty fish you enjoy eating.
The vegetables I used are veggies that we like, so if you don't like broccoli leave it out. Snap peas, sprouts, carrots, cauliflower or any of your favorites will work in the stirfry.
My sauce is very simple using basic ingredients. Red miso (white miso can be subbed), sake and mirin both are Japanese wines, but a little of your favorite white would do in a pinch. I do like the flavor that sesame oil imparts and I would have that in your pantry along with the soy sauce. Of course, oyster sauce is a nice addition too and can be added to the veggies.
See how easy it is to cook? Most ingredients aren't etched in stone. It's all about what you like and what you have on hand.
The first step after blending the miso glaze is to brush the glaze on the cod. It should sit and marinate for at least 30 minutes and can go as long as 60 minutes. You really don't want to marinate it any longer.
After marinating the fish it goes under the broiler for 3-4 minutes. Remove it from the oven and brush a little more of the marinade on. Turn the oven down to 350 degrees and let it cook for another 5-6 minutes. Fish can really be tricky. You want it to be as done as possible without overcooking it. Dry fish is a terrible thing.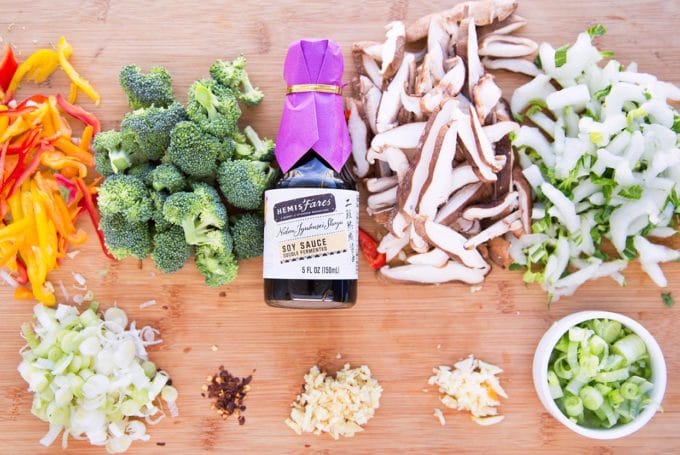 Now comes the time management. Cooking the noodles can be done while the fish is marinating. Just make sure to rinse them in cold water and keep them away from the heat.
All you need to do is run a little water over them before you're ready to use them to loosen the noodles up a bit. After the noodles are cooked and cooled it's time to start prepping your veggies. Of course, you can do this earlier in the day if you have time.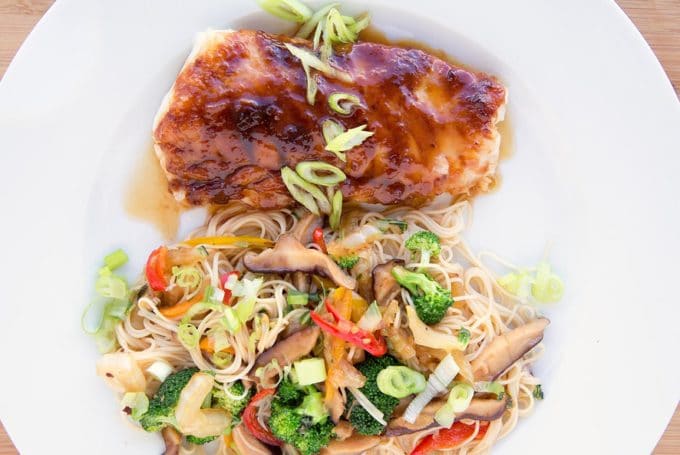 This really is a great Date Night or even a weeknight meal. It takes less than 30 minutes to fully prepare and if you do it with your significant other is a great way to wind down from the day's activities.
If you enjoyed this recipe you may like these:
Print Recipe
Miso Glazed Cod with Somen Noodle Stir Fry
When it comes to cuisine Japan has a world of flavor to offer. My miso glazed cod with stir-fried vegetables goes so well with the delicate Somen Noodles. The best part is it takes minutes to make!
Ingredients
Miso Glazed Cod
12

ounce

cod fillets

2 - 6 ounce portions

1

tbsp

miso paste

red or white

1

tbsp

mirin

Japanese cooking wine

1.5

tbsp

sake

1

tsp

sesame oil

1

tsp

brown sugar

more if you like it sweeter

1

pinch

red pepper flakes

optional
Stir Fry Noodles
4

ounces

Hemisfares Somen noodles

1

tbsp

sesame oil

1

tsp

vegetable oil

more if needed

1

bunch

scallions

chopped through most of green. Reserve some for garnish.

1

tbsp

garlic

finely chopped

1

tbsp

ginger

finely chopped

1

pinch

red pepper flakes

optional

1/4

cup

sweet bell peppers

sliced into long strips. I used minis in a variety of colors

1

cup

shiitake mushrooms

sliced

1

cup

broccoli florets

small pieces with no stem

2

cups

bok choy

sliced - white part mostly.

1-2

tbsp

Hemisfares soy sauce

use as needed or to desired flavor
Instructions
Miso Glazed Cod
Rinse fish fillets and pat dry with paper towels.

Mix the miso, mirin, sake, sesame oil, red pepper flakes and brown sugar together.

Brush about 1 tablespoon miso glaze on each fish fillet. Allow to marinate for at least 30 minutes but no longer than 1 hour.

Place fish under broiler for 3 to 4 minutes, or until top until the glaze has caramelized.

Remove fish from oven and brush with remaining glaze. Lower oven to 350 degrees.

Cook an additional 5 to 6 minutes until fish is fully cooked. Fish should be flaky but not dry
Stir Fry Noodles
cook Hemisfares Somen noodles for 2 minutes. Drain and rinse in cold water till cool. Set aside until needed.

When it comes time to mix the noodles into the stirfry vegetables, run cool water over the noodles to loosen.

in a hot saute pan or wok over medium-high heat add 1 tablespoon sesame oil and 1 teaspoon vegetable oil.

add chopped garlic, ginger and red pepper flakes allow to saute 1 minute

add in all vegetables and continue to stir-fry for 2-3 minutes or until vegetables are cooked to desired doneness.

add noodles and soy sauce and toss till mixed together. Add additional soy sauce if desired.

Place cod on a plate with a side of the noodles and vegetables. Try to arrange veggies on top of the noodles for appearance. Garnish cod with reserved scallions and serve.
Nutrition
Calories:
573
kcal
|
Carbohydrates:
67
g
|
Protein:
46
g
|
Fat:
14
g
|
Saturated Fat:
3
g
|
Cholesterol:
73
mg
|
Sodium:
1057
mg
|
Potassium:
1597
mg
|
Fiber:
5
g
|
Sugar:
9
g
|
Vitamin A:
4180
IU
|
Vitamin C:
101.1
mg
|
Calcium:
161
mg
|
Iron:
4.7
mg