Enjoy my restaurant style dish, Grilled Mahi-Mahi with Caponata.
Although I readily admit that fish is not one of my favorite dishes, I do try to get it on my home menu a few times a month depending upon what looks good in the market.  I consider myself very lucky to have good reliable sources for fresh seafood, which does make choosing the right fish much easier.
Lisa is willing to try just about any type of seafood I bring home and I can usually tell if she's just being polite or whether she really enjoyed the meal.  With my Grilled Mahi, there was no question, although I think she liked the caponata better than the Mahi-Mahi.
I do enjoy grilling fish, but if it gets too cold or just can't grill, you can easily roast this fish instead.  Just a little olive oil sea salt and black pepper and you're in business.  Twenty minutes in the oven at 350 degrees should do it nicely, just don't forget to add a little water to your pan to keep the Mahi-Mahi from drying out.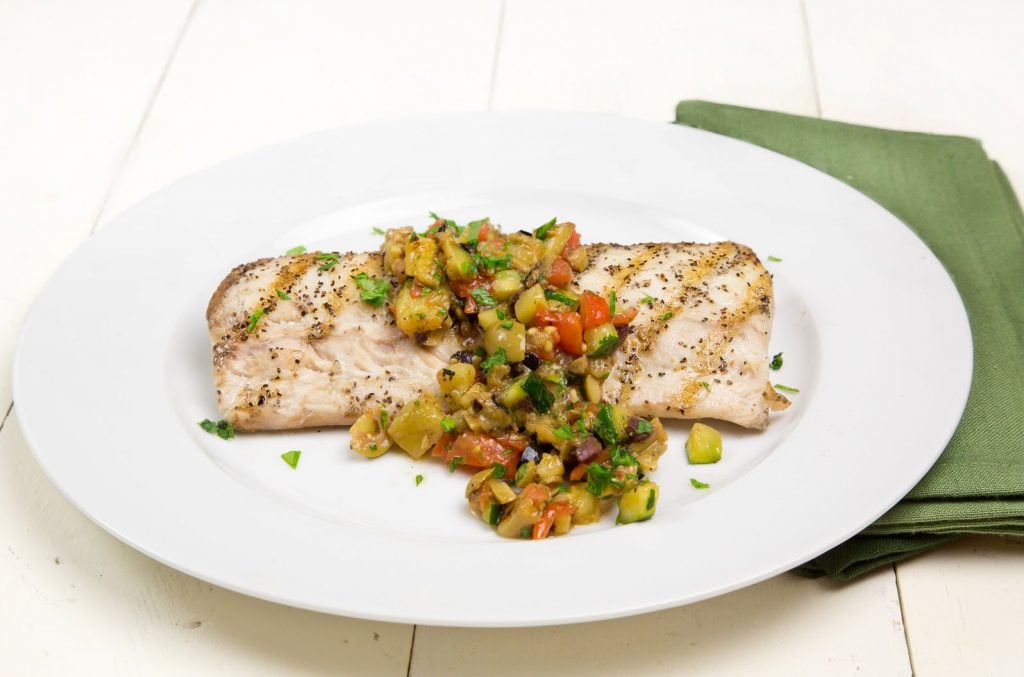 Serve this up with your favorite side dish, and enjoy a delicious restaurant style meal in the comfort of your own home, for a fraction of the cost.
Grilled Mahi-Mahi with Caponata
Ingredients
12-14

ounces

Mahi-Mahi skin removed

1

medium eggplant peeled

grilled, small dice

1

small zucchini sliced longway

grilled , small dice

1/2

cup

of assorted pitted olives

small dice

1

medium tomato

small dice

1

tablespoon

chopped basil

1/4

cup

vinegar

1

tbsp

sugar

1/8

tsp

crushed red pepper flakes

1/2

tsp

sea salt

1

tablespoon

extra virgin olive oil
Instructions
Caponata
coat eggplant and zucchini in olive oil season with sea salt and pepper and grill or roast until barely cooked.

dice eggplant, zucchini, tomatoes and olives (cut in a small dice)

mix in a bowl with chopped basil, olive oil, vinegar, sugar, red pepper flakes, and sea salt to taste
Mahi-Mahi
Lightly coat mahi-mahi with olive oil, and season with sea salt and black pepper.

Grill mahi-mahi over high heat 7-10 minutes on each side (if roasting, place mahi-mahi in a baking dish with a little water in the pan and roast at 350 degrees for 18-20 minutes.
Recipe Notes
*Eggplant, and zucchini can be roasted if grilling is not an option
Nutrition Facts
Grilled Mahi-Mahi with Caponata
Amount Per Serving
Calories 0
* Percent Daily Values are based on a 2000 calorie diet.
Thanks for stopping by today, stay warm and stay full!