Caponata is a delicious topping for grilled mahi-mahi or any of your favorite grilled fish. It's easy to make and will add a lot of flavor to the fish
This post includes affiliate links. As an Amazon Associate I earn from qualifying purchases.
How to make Grilled Mahi-Mahi with Caponata – A Restaurant Style Dish
Mahi-Mahi was always a staple fish during my restaurant days. It's mild-flavored fish that holds up well to just about any type of preparation and added flavors. Like my Blackened Mahi with a pineapple lobster sauce or my Poached Mahi-Mahi served with a lobster sauce.
Although I readily admit that fish is not one of my favorite dishes, I do try to get it on my home menu at least once a week and being creative with toppings has helped me learn to enjoy more types of fish. I consider myself very lucky to have good reliable sources for fresh seafood, which does make choosing the right fish much easier.
Lisa is willing to try just about any type of seafood I bring home and I can usually tell if she's just being polite or whether she really enjoyed the meal. With my Grilled Mahi, there was no question, that she enjoyed the dish (although I think she liked the caponata better than the Mahi-Mahi).
Can I cook Mahi-Mahi in the oven?
I do enjoy grilling fish, but if it gets too cold or just can't grill, you can easily roast this fish instead. Just a little olive oil sea salt and black pepper and you're in business.
Twenty minutes in the oven at 350 degrees should do it nicely, just don't forget to add a little water to your pan to keep the Mahi-Mahi from drying out.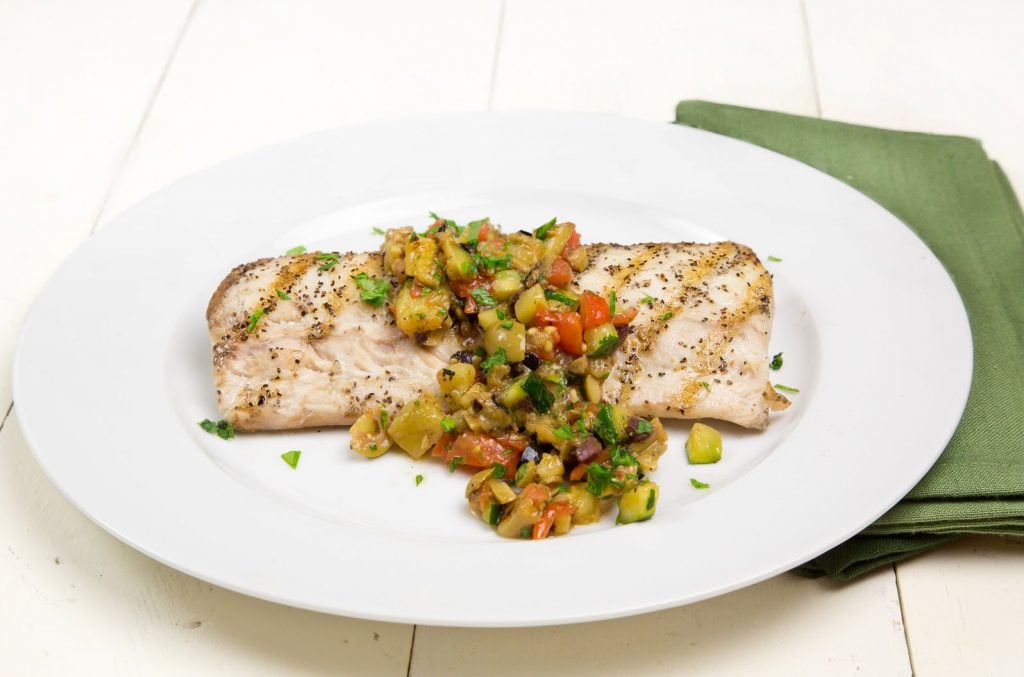 What should I serve with Mahi-Mahi?
I like to serve garden fresh vegetables with fish whenever I can. My choices are sauteed spinach, asparagus and sweet corn when it's in season. And don't forget the starch. Rice is always a good choice and I use either Brown Rice or Jasmine Rice.
But whatever side dishes you choose, you're going to enjoy a delicious restaurant-style meal in the comfort of your own home, for a fraction of the cost.
If you enjoyed this recipe you might also like these recipes for your grill!