If you're a fan of bold flavors my easy spicy chili garlic noodles are just what you're looking for. This delicious Asian-style noodle dish takes less than 20 minutes to make and is perfect for busy weeknights, yet fancy enough for date nights or dinner parties.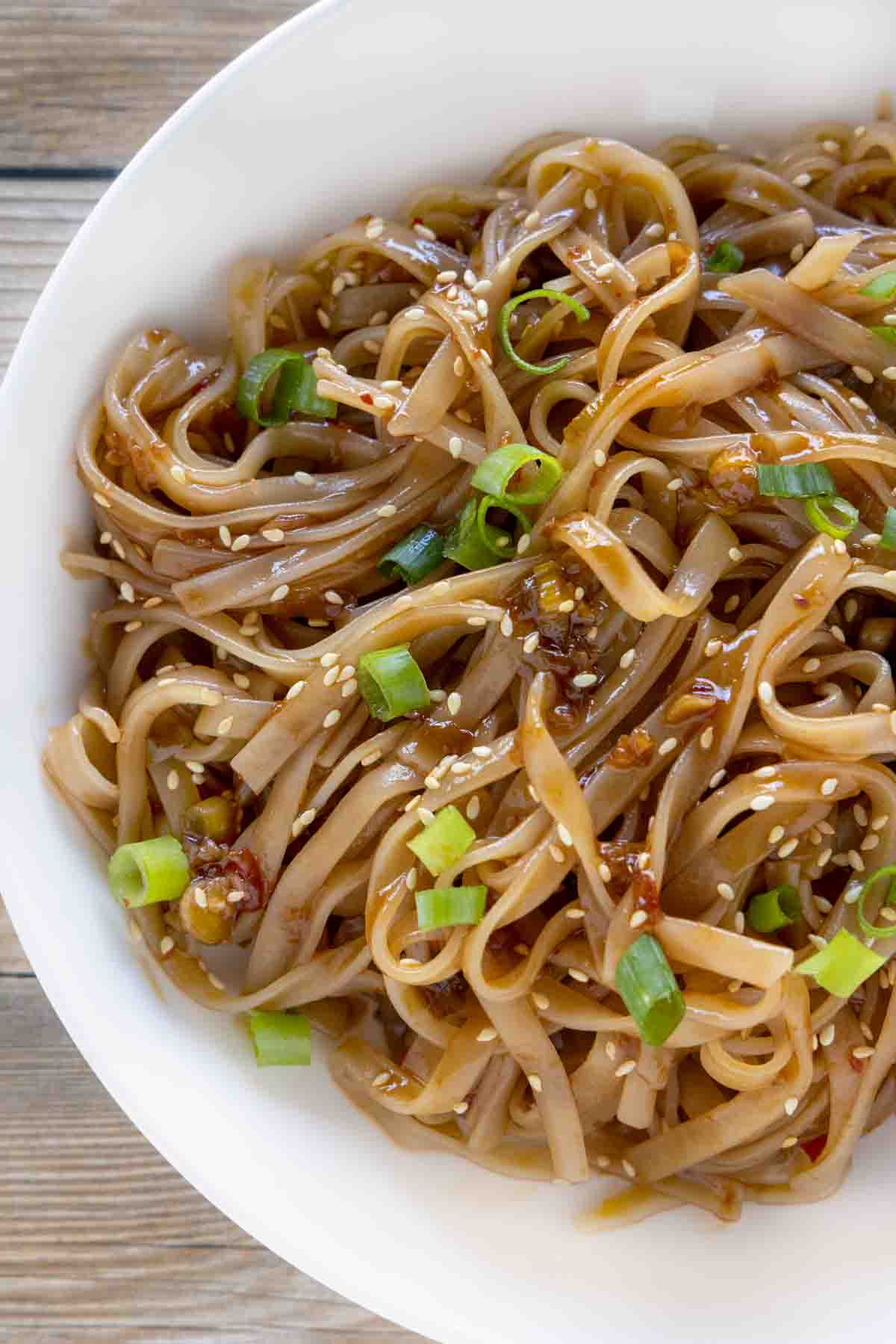 My spicy chili garlic noodles recipe combines the mild flavor of rice noodles, with pungent garlic, savory shallots, and the fiery kick of chili, creating a dish that will kick your taste buds into high gear!
Garlic chili noodles make a delicious side dish or add cooked shrimp, chicken, or pork to the sauce for a heartier main meal.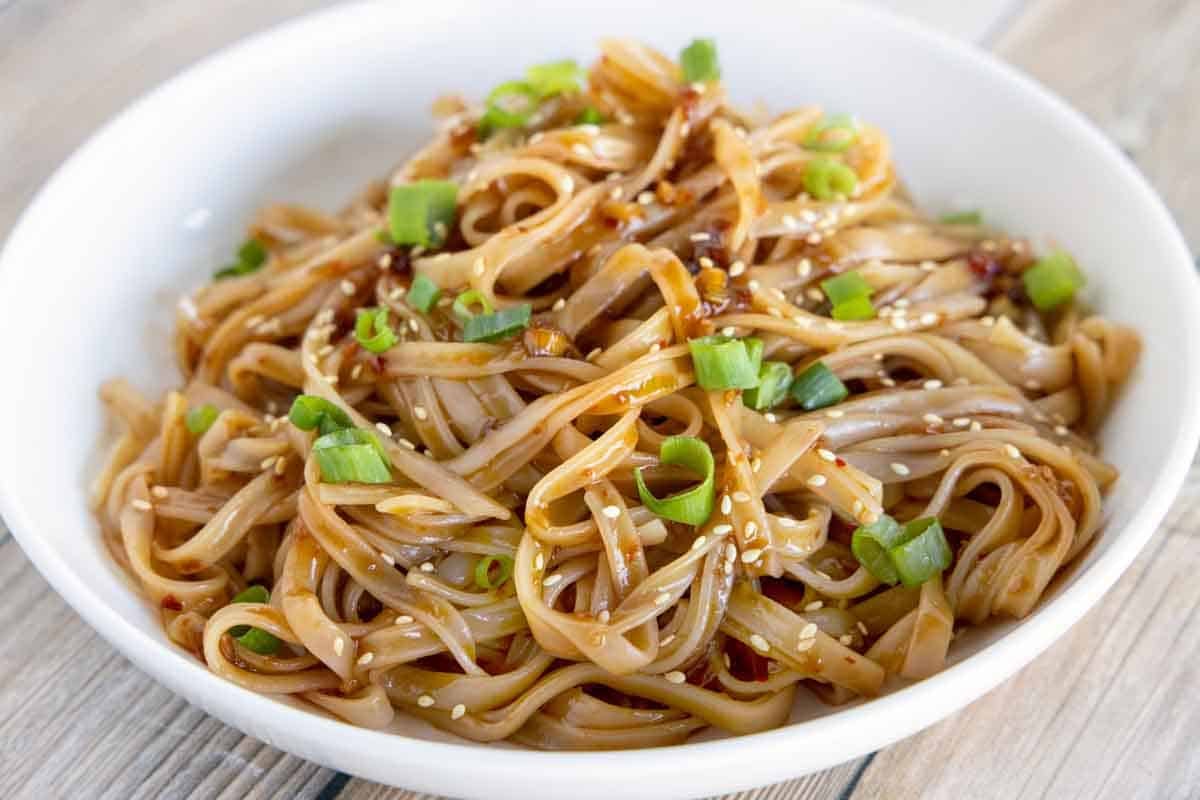 Everyone loves noodles, and the heart of this dish is the noodles. They are the perfect canvas to absorb the spicy chili sauce. Just make sure to cook the noodles enough to achieve an irresistible chewiness that complements the fiery chili garlic sauce.
If you love spicy noodle dishes try my Italian Arrabbiata Sauce.
Ingredients to make Spicy Chili Garlic Noodles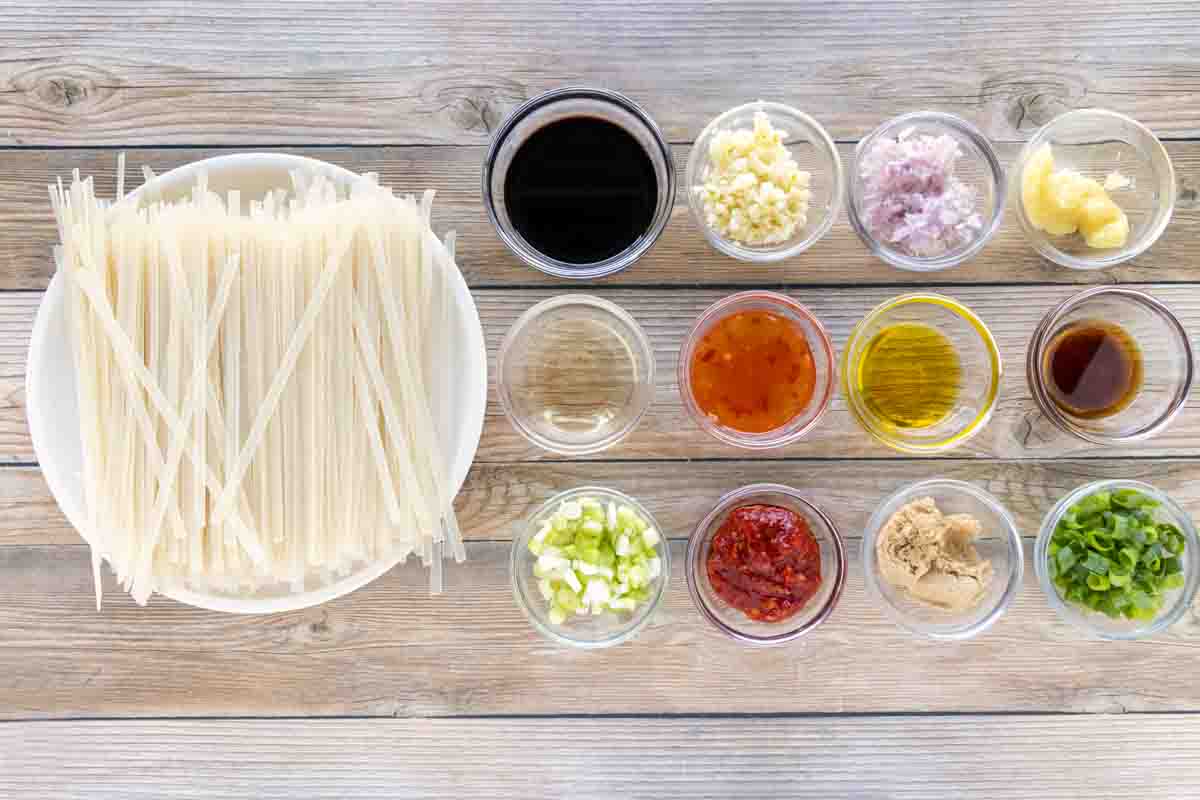 Let's start by gathering the ingredients we need to make my Spicy Chili Garlic Noodles recipe. In Chef Speak, this is called the "Mise en Place," which translates to "Everything in its Place."
Not only does setting up your ingredients ahead of time speed up the cooking process, it also helps ensure you have everything you need to make the dish.
What type of noodles should I use?
Traditionally spicy garlic noodles are made with wide rice noodles, but my grocery store didn't stock them, so I used the linguine-style rice noodles they carried.
Rice noodles should be your first choice, thick or thin noodles work equally as well. Wide noodles will hold more sauce and have a good appearance.
You can also use ramen noodles, udon, or Chinese egg noodles to make this dish. Lo Mein and even fettuccine noodles can also be used.
How spicy are chili garlic noodles?
It's easy to adjust the level of spiciness to your taste preference. The recipe typically calls for chili garlic sauce, which can range from mild to extremely spicy, and sriracha, which is very spicy. I used sweet chili sauce (which is less spicy) instead of sriracha and the dish had a good level of heat without causing any pain.
You can always add more or less sauce depending on your tolerance for heat.
How can I change up the recipe?
Up the spice level: For an amazing noodle & spice recipe idea, try adding some Szechuan chili flakes, red pepper flakes, or sriracha sauce for some super spicy noodles. You can also add a little brown sugar to the recipe to soften the heat from the chili sauce.
Adding protein is a great way to make this meal heartier and more filling. I love to add sauteed shrimp, cooked chicken, pork, or beef to this dish.
Add vegetables like bok choy, snow peas, asparagus tips, zucchini, or sliced mushrooms to the dish to add volume and flavor.
Use dark soy sauce instead of regular soy sauce for a deeper, richer flavor. You can also use Chinese black vinegar, which has a deeper more complex flavor than plain white rice vinegar.
You may not find all of the ingredients in your grocery store, but your local Asian market will carry all of the ingredients.
How to make Spicy Chili Garlic Noodles
Bring a large pot of water to a boil and cook the rice noodles according to package instructions for al dente.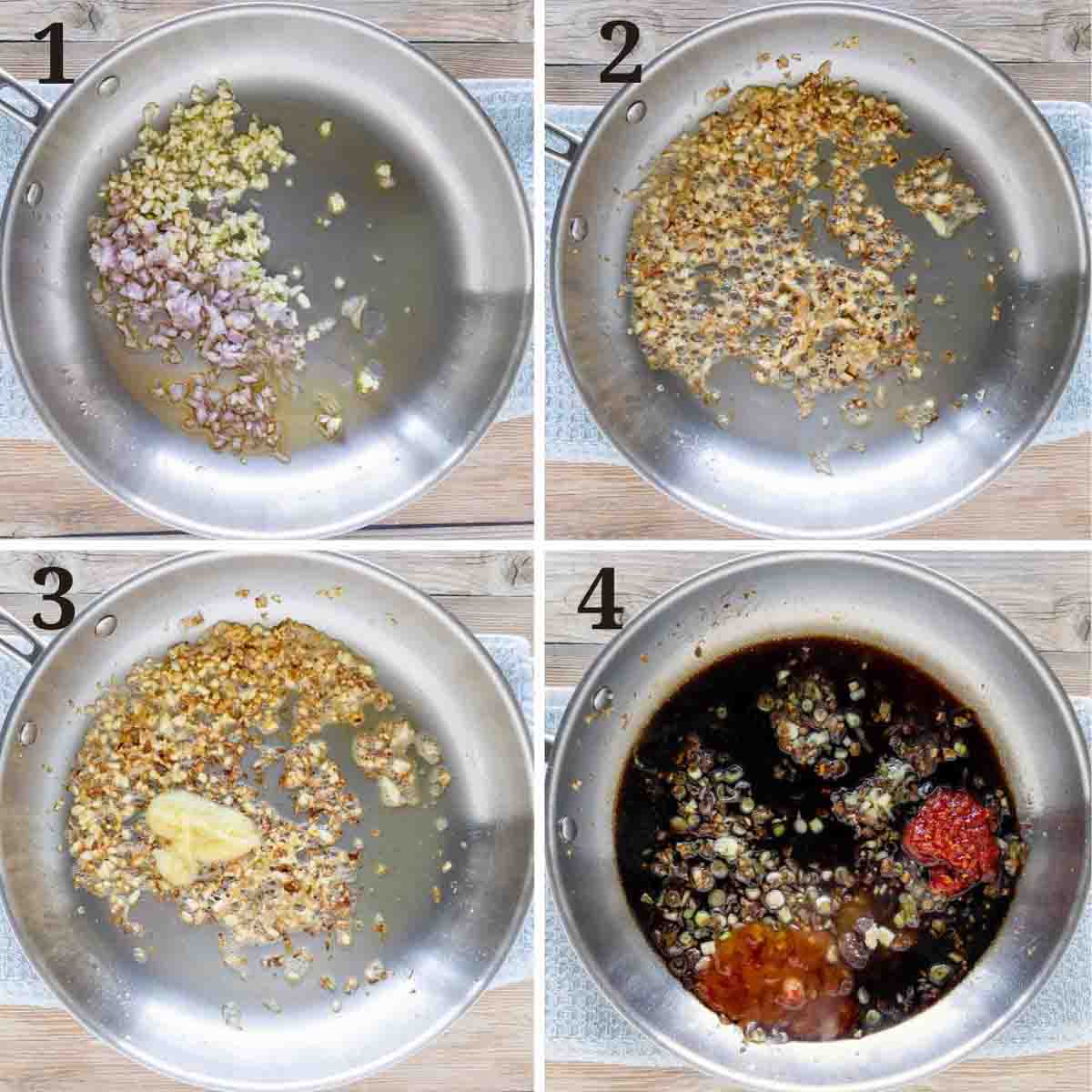 Add the olive oil and sesame oil to a large skillet (or small pot) over medium heat. When the oil is hot add the shallots and garlic to a pan.
Let the shallots and garlic cook for 4-5 minutes. Stir the ingredients often and make sure the garlic doesn't burn. It will start to darken and almost look burnt so keep an eye on the process.
Add the ginger to the pan and saute for 1 minute, then add the white part of the scallions and continue to cook for another minute.
Add the low sodium soy sauce, chili garlic sauce, sweet chili sauce, brown sugar, and rice vinegar to the pan.
I used sweet chili sauce instead of Sriracha. I like spicy food but that would have been a bit much for me, so I used sweet chili sauce. It has a nice flavor and kept the heat level tolerable.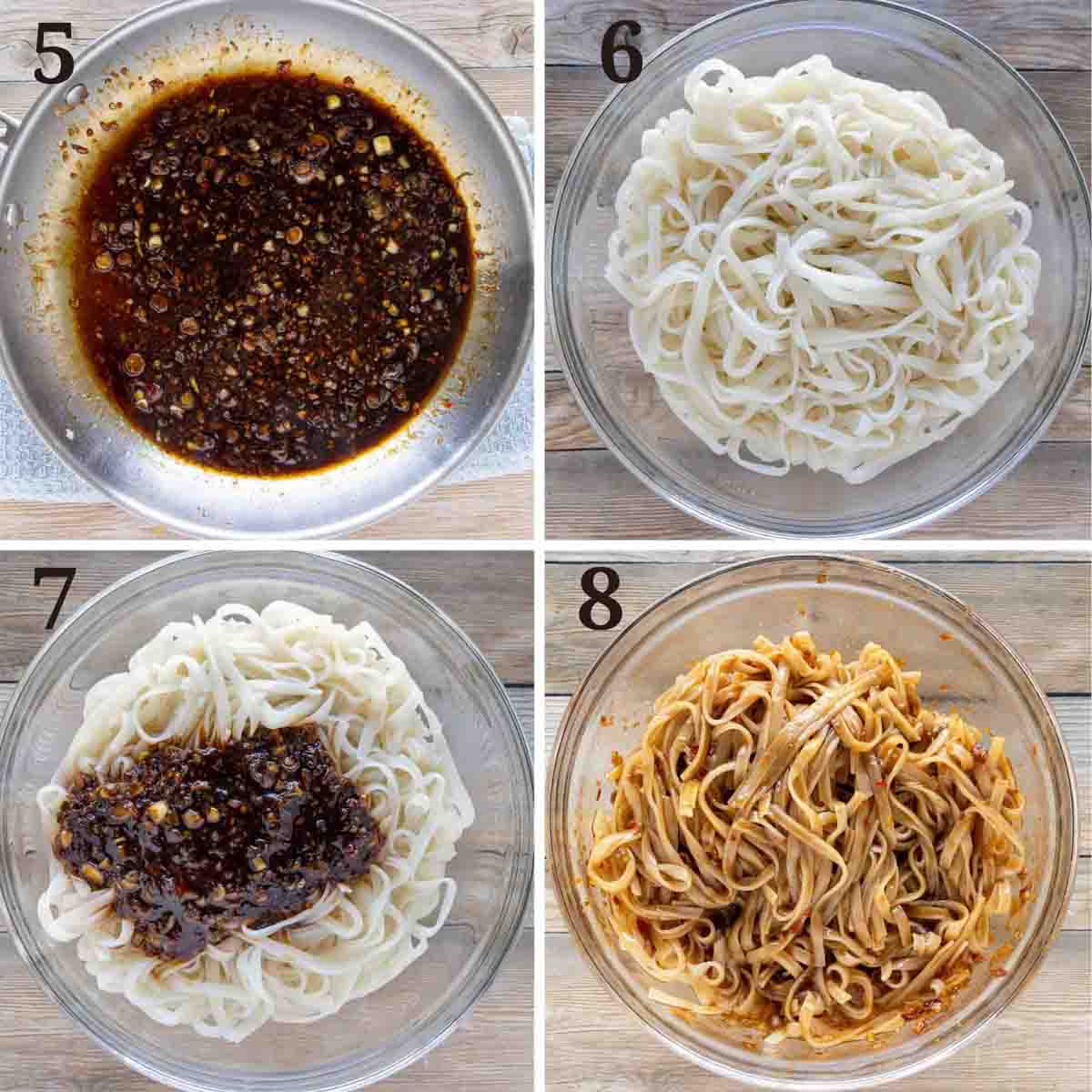 Stir the ingredients to combine and let the mixture cook for 60 seconds then remove it from the heat.
When the noodles have finished cooking, drain them thoroughly and add them to a large bowl.
Add the chili garlic sauce to the drained noodles and mix thoroughly, making sure to get a good coating of the sauce on the noodles.*I used tongs to mix the sauce into the noodles.
Taste and adjust the seasonings as desired. You can always add more heat, but you can't make it less spicy.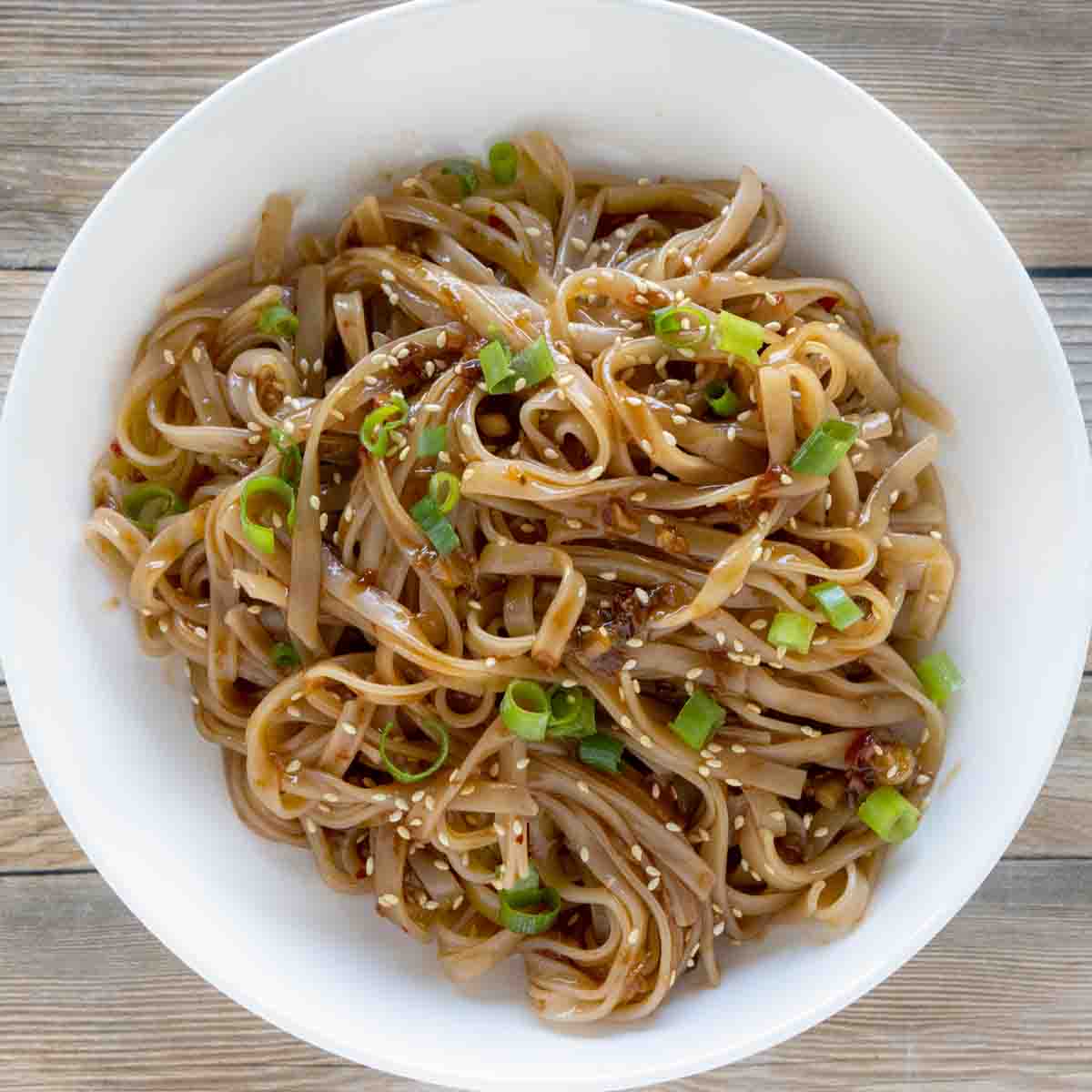 Garnish the chili garlic noodles with green onions and toasted sesame seeds. Serve with sauteed bok choy, collard greens, spinach, or your favorite sides.
So, grab your chopsticks and prepare and let my spicy garlic chili noodles take you on a culinary journey that will leave you yearning for more!
Recipe FAQ's
Is chili garlic sauce the same as Sriracha?
It's somewhat similar to Sriracha but has a thicker and chunkier texture. the flavor has always seemed a little brighter than Sriracha and has more depth of flavor.
What can I substitute for chili garlic sauce?
Sambal Oelek, chili paste, harissa paste, and chili-garlic paste can be used as substitutions.
Can I use fresh garlic instead of chili garlic sauce?
They are not the same thing, and while you can add more fresh garlic, you still need some type of chili sauce to make this dish. If you prefer a milder dish, substitute the chili garlic sauce with sweet chili sauce.
More Recipes You'll Love!