Total Time:
4
hours
30
minutes
Guest post with Chef Mireille: Italian Baccala
I became acquainted with Chef Dennis via my participation in his G+ Food Bloggers Group.  He is an amazing leader of the group, providing useful information to make us all successful in our food blogging and culinary business endeavors.  It is such an honor to be able to do a guest post for him.  However, before we get to the recipe, here's a little about me.
My name is Mireille and I live in New York, where I have been lucky to be able to experiment with the cultural foods of many countries.  My family background is as diverse as my city, with relatives spanning the globe from Haiti to Indonesia.  I currently work freelance as a food writer and personal chef and use my blog to present authentic and fusion recipes from around the world.  Lots of Indian, Caribbean and so many other cuisines are represented at Chef Mireille's Global Creations.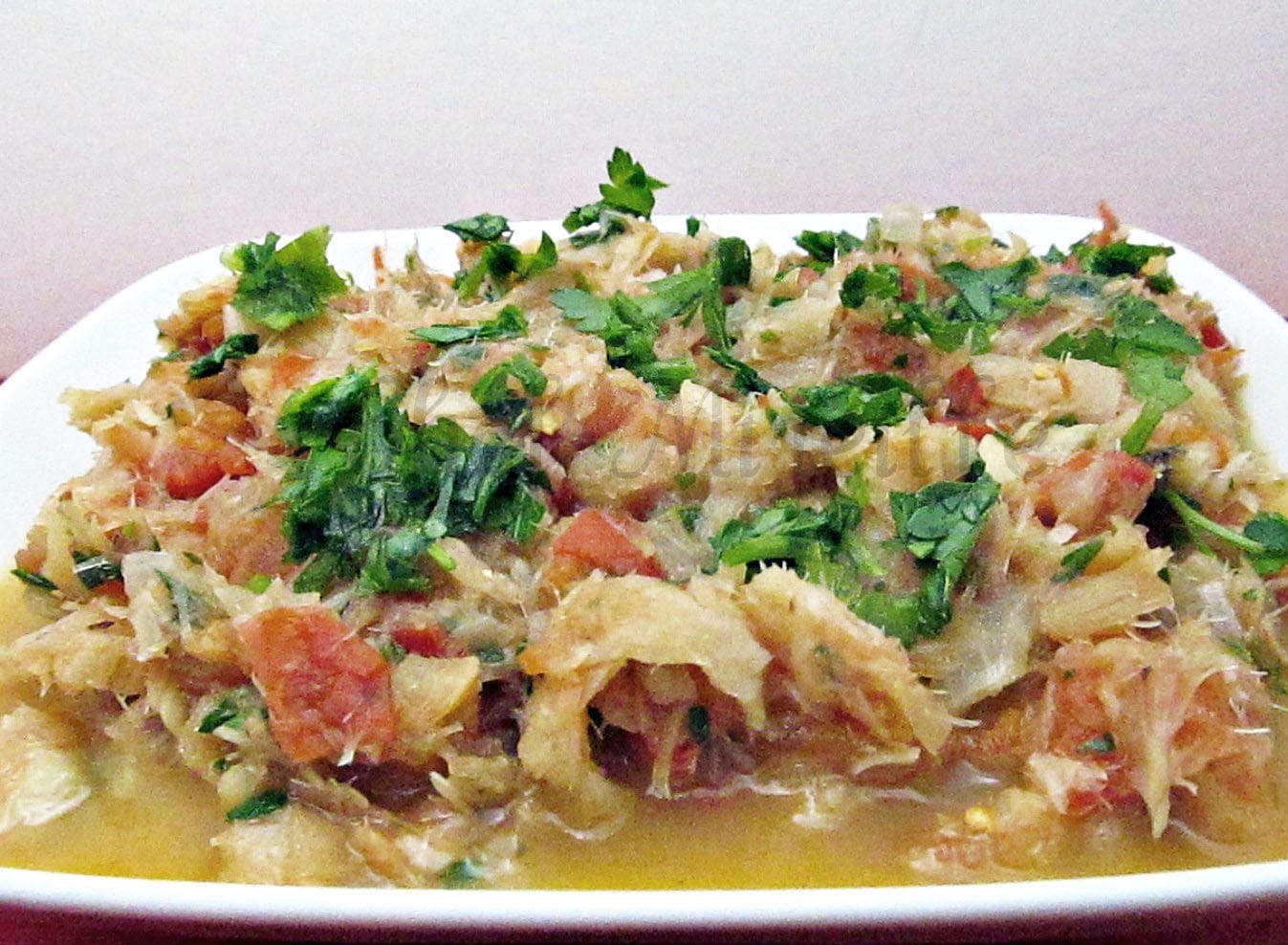 NY has one of the largest Italian communities, outside of Italy.  Just about every other person you meet is at least 1/2 Italian. Most Italians are Catholic.  As a result, Christmas is one of the most important holidays to them and one of their traditions involves eating 7 different seafood dishes on Christmas Eve.  Many of the dishes will differ from family to family, however, one dish is always included – Baccala.  Also known as Bacalao in other countries like Spain and Portugal, salted cod is popular in many countries.  Usually originating as peasant food, it becomes part of the national culinary landscape in these countries.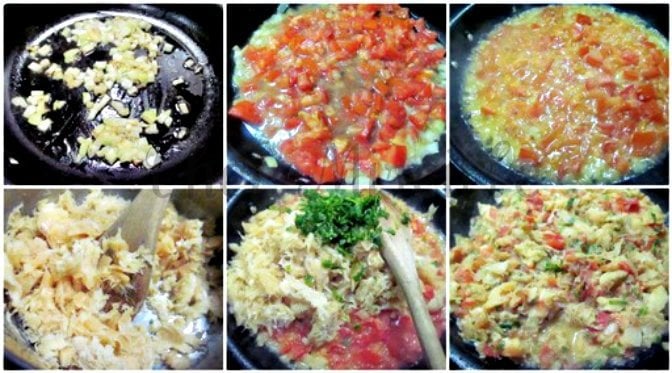 Italian Baccala
Ingredients
1

tablespoon

olive oil

1/2

onion

chopped

1

clove

garlic

finely chopped

12

oz

. dried salted cod

boned

1/2

cup

white wine

1 1/3

cup

tomatoes

chopped

1/4

cup

parsley

finely chopped, plus extra for garnish

1/2

teaspoon

crushed red pepper

juice of 1/2 lemon
Instructions
Soak fish in water for 2-4 hours. Drain and put fresh water to cover. Boil until fish is tender, about 20 minutes. Drain. Once it is cool enough to handle, flake by hand.

In a large skillet, heat oil. Add onion and garlic and saute for a few minutes, until onions are translucent. Add tomatoes and wine and cook on medium-high heat for about 3-4 minutes, until alcohol has been cooked out.

Add fish and parsley. Toss and cook for 1-2 minutes.

Add pepper and lemon juice and toss to combine.

Serve, garnished with more parsley, with crusty Italian bread or roasted potatoes.
If you are a seafood fanatic like I am, you may want to try this delicious tradition for your next Christmas meal.  Who says you have to be Italian?  Here are some ideas to complete the Feast of the Seven Fishes:
Linguine in White Clam Sauce, Squid Ink Pasta with Clams, Oysters, Mussels;  Shrimps, Fried Calamari, Marsala Fish – cooked with wine and mushrooms, Fish in Puttanesca Sauce (tomatoes, olives, white wine) and Octopus Salad.
Wow, now those are some great ideas for some pretty tasty seafood dishes, and I'm sure if you check Chef Mireille's Global Creations you'll find recipes for them!  Thanks for such a delicious guest post Chef Mireille!
Have a wonderful weekend my friends!