Kick your summertime into high gear with my Grilled Chicken Fajitas. Perfect for your next get-together or family taco night.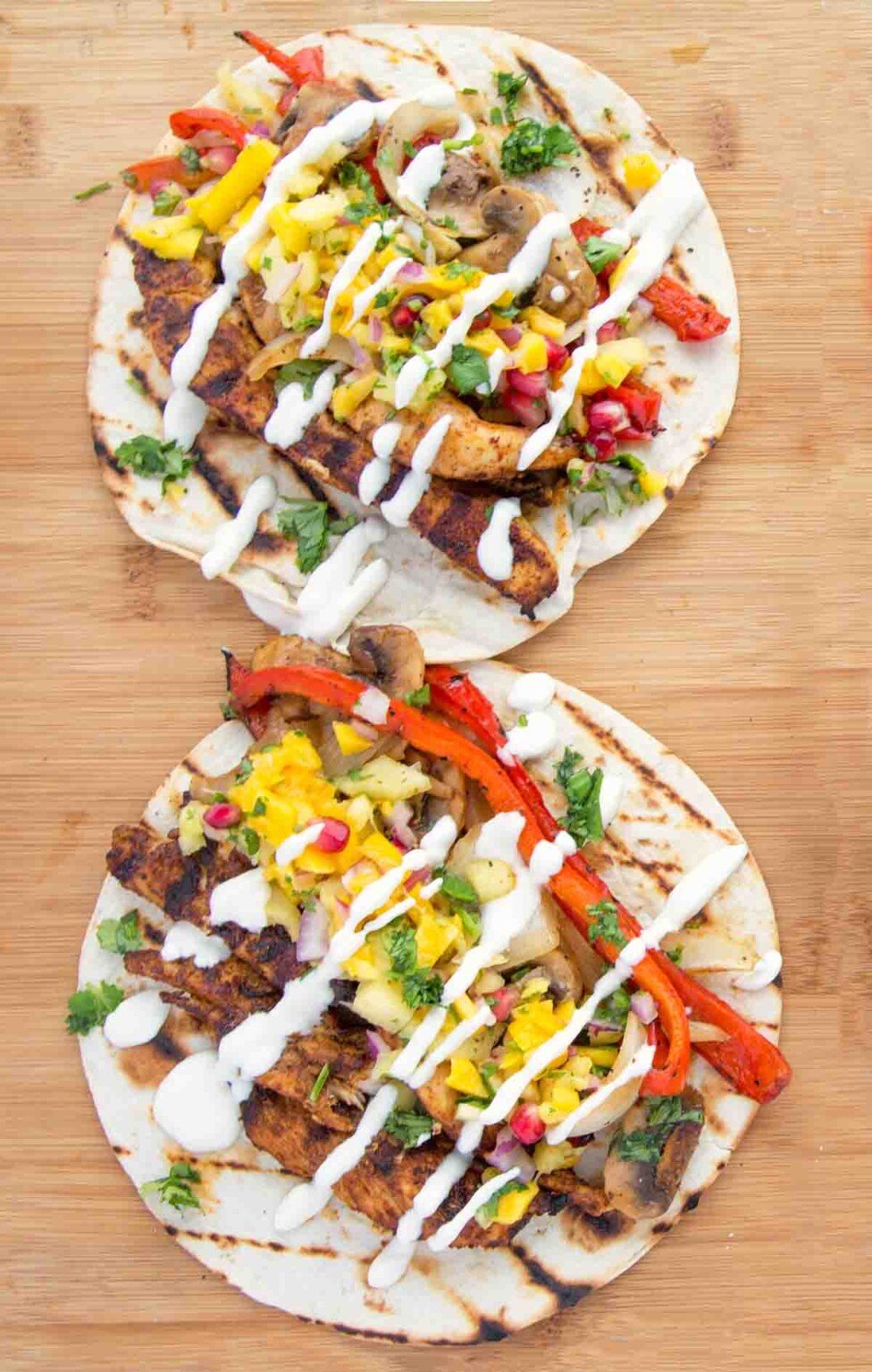 Summertime and the living is easy….sigh. I love the summer weather, which is why I moved to Florida 5 years ago. Blue skies, sunshine and every day is a good day to grill! Of course, grilling has become a year-round activity no matter where you live. But it somehow feels more special during the summer months.
With all the traveling I've been doing over the last few years my time grilling has been cut back. So when I do go outside to cook over an open flame, I make sure what I'm cooking is extra special.
So today I'm sharing an easy to prepare Grilled Chicken Fajitas recipe that will kick your taste buds into overdrive!
These are the Ingredients you need for Grilled Chicken Fajitas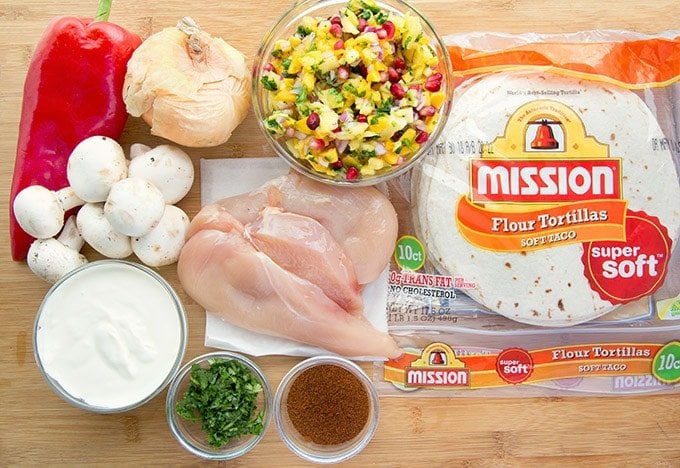 Let's start by gathering the ingredients we need to make my Grilled Chicken Fajitas. In Chef Speak this is called the "Mise en Place" which translates to "Everything in its Place".
Not only does setting your ingredients up ahead of time speed the up cooking process, but it also helps ensure you have everything you need to make the dish.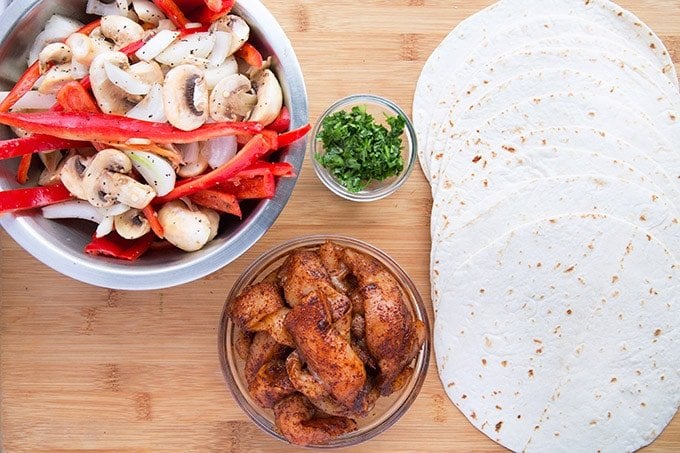 How to prepare the chicken and vegetables for the fajitas
The first thing you need to do is prepare the crema. It's super easy and can be made a day or two ahead of time. Once that is done move on to prepping your vegetables and chicken.
You want to make sure that the chicken isn't too thick before you cut it into strips. All the ingredients should be easy to eat. I like to let both the veggies and chicken sit for 15 minutes or so to give them time to absorb the seasonings.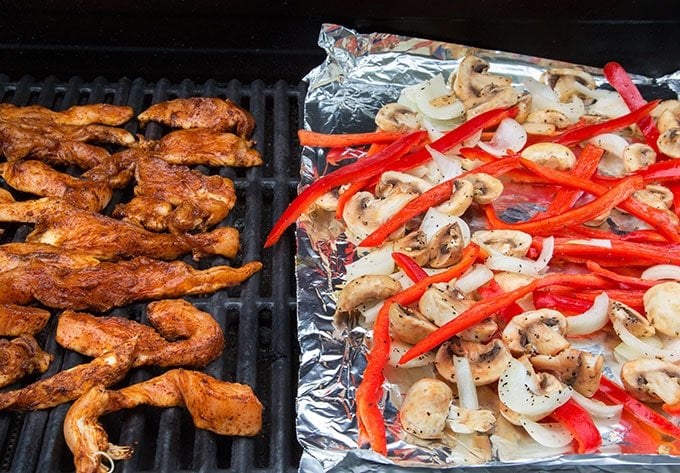 Now its time to move onto the grilling aspect of our recipe. I don't have a specific grill pan for the veggies so I use foil doubled up and placed directly on the grill. It works really well and keeps the smaller pieces from getting caught in the grates and falling through.
Can I make the fajitas with beef?
Yes you can. Flank Steak or Skirt Steak will make delicious steak fajitas. You can also use fish, shrimp or pork.
Grilling tips
You want the grill to be nice and hot before you start. And make sure to close the grill during the process, opening only to turn the chicken and move the vegetables around. Keep in mind that the chicken should take about half the time to cook as the vegetables.
How to grill tortillas
As soon as the chicken and vegetables are done, turn the heat down on the grill and place the flour tortillas on the grill. They don't take long to cook so keep a watchful eye on them. Try not to turn them more than once.
If this doesn't get you drooling nothing will! Remember that people eat with their eyes first, so make sure your presentation is worthy of the deliciousness you just prepared.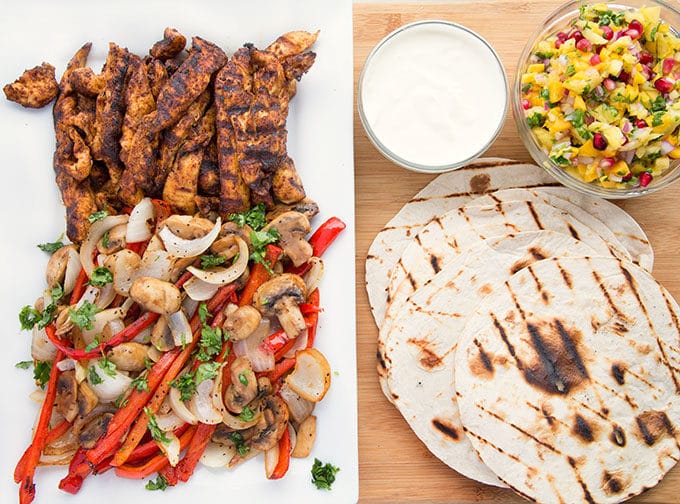 Have fun with your Fajita Bar. Add your favorite toppings and switch out any of the other ingredients to make this fiesta just how you like it. My wife loves mango so I like to use it in my salsa, but cantaloupe or peaches work really well too.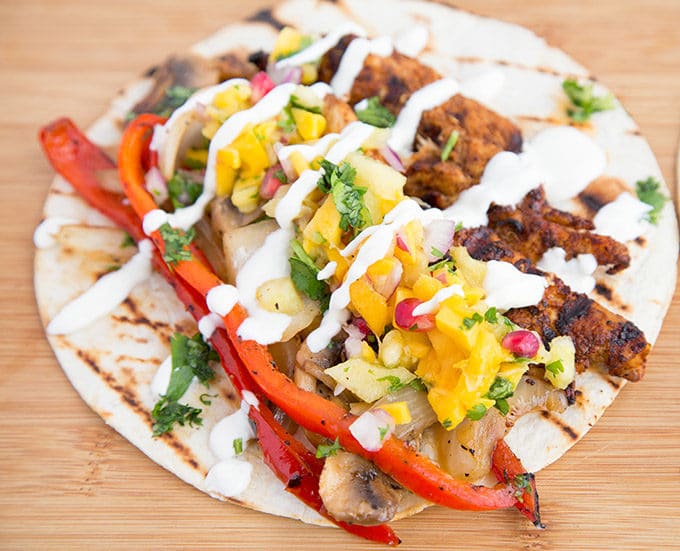 Now it's party time Mexican Style! Nothing makes me happier than seeing all the smiling faces as they build their own fajitas and then devour them. That's what makes cooking fun for me, bonding over food when your friends and family are around should always be a special occasion and never take for granted.
If you enjoyed this recipe you may also like these: