Kick your summertime into high gear with my Grilled Chicken Fajitas. Perfect for your next get-together or family taco night. Tender, juicy grilled chicken topped with onions, bell peppers, fresh mango pico de gallo, and lime crema makes chicken fajitas that will rival your favorite Mexican restaurant.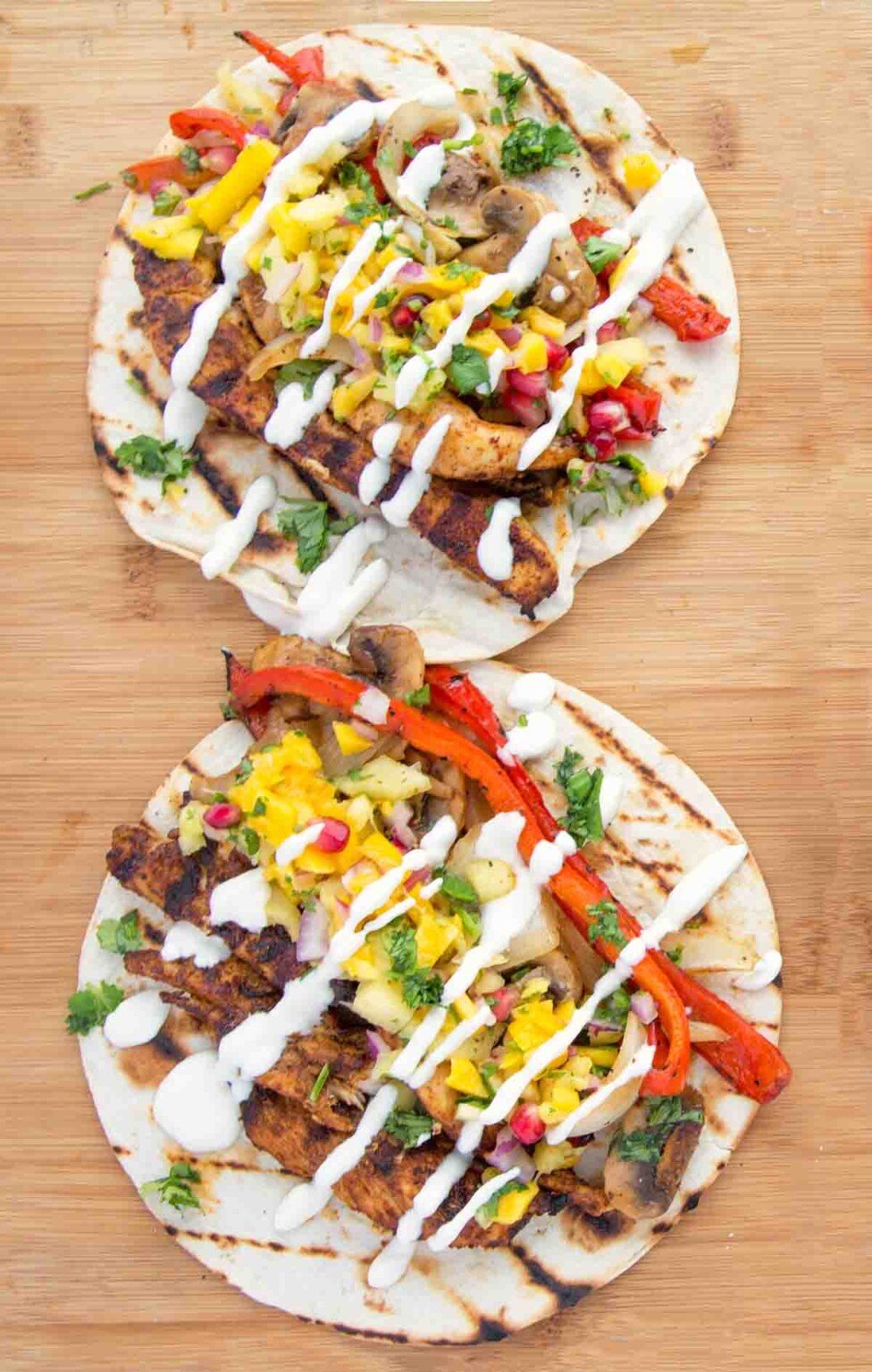 With all the traveling I've been doing over the last few years, my time grilling has been cut back. So when I do go outside to cook over an open flame, I make sure what I'm cooking is extra special.
So today, I'm sharing an easy-to-prepare Grilled Chicken Fajitas recipe that will kick your taste buds into overdrive!
My blackened chicken taco bar is another delicious recipe you'll love!
Ingredients to make Grilled Chicken Fajitas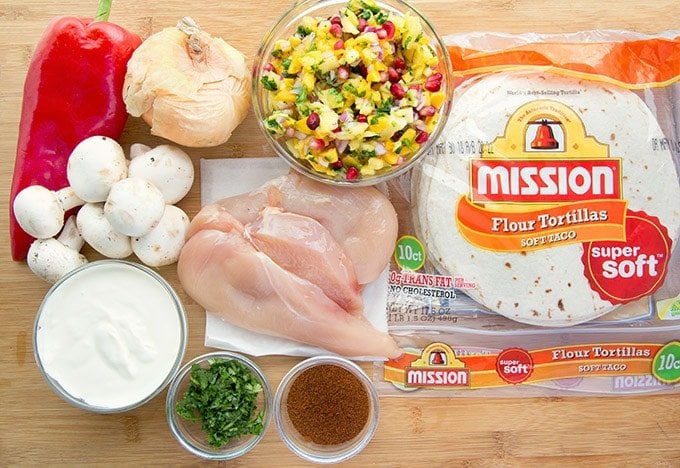 Let's start by gathering the ingredients we need to make my Grilled Chicken Fajitas. In Chef Speak, this is called the "Mise en Place," which translates to "Everything in its Place".
Not only does setting your ingredients up ahead of time speed the up cooking process, but it also helps ensure you have everything you need to make the dish.
Made with simple ingredients
boneless skinless chicken breasts (or chicken thighs)
flour tortillas (or corn tortillas)
red bell peppers (or your favorite pepper)
sweet onion
mushrooms (optional)
cumin
chili powder
granulated garlic
granulated onion
black pepper
sea salt
cilantro
You can use your favorite taco seasoning or fajita seasoning instead of making your own seasoning.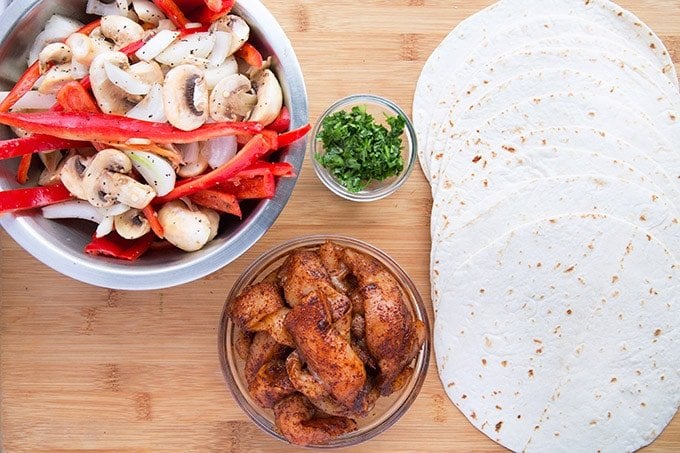 How to make grilled chicken fajitas
The first thing you need to do is prepare the crema. It's super easy and can be made a day or two ahead of time. Once that is done, move on to prepping your vegetables and chicken.
You want to make sure that the chicken isn't too thick before you cut it into strips. All the ingredients should be easy to eat. I like to let both the veggies and chicken sit for 15 minutes or so to give them time to absorb the seasonings.
Preheat your grill to high heat.
Slice the chicken breast lengthwise so they are about ¾ inch thick
Combine all the spices in a small bowl and mix them well.
Coat chicken breasts lightly with olive oil, then rub the spice mixture into the chicken. Allow chicken to sit for 5 -10 minutes, marinating the spices.
Slice peppers, onions, and mushrooms.
In a large mixing bowl, toss the vegetables with 2 tablespoon olive oil, salt, and black pepper to taste.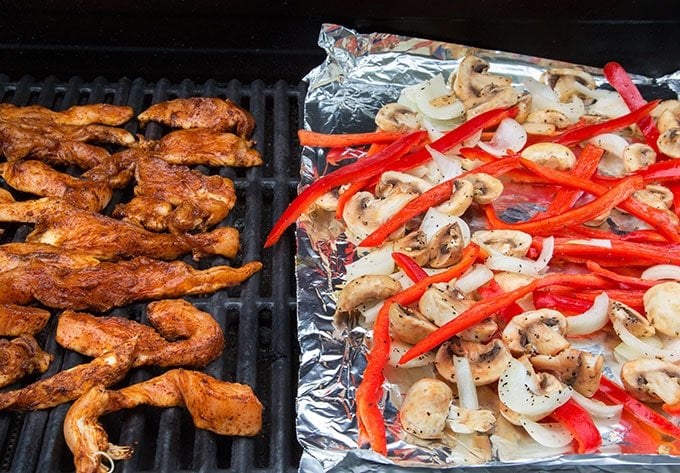 Cut a piece of foil large enough to be doubled up and place it on a section of your grill.
Place the vegetables on the foil-lined part of the grill and cook until soft and just a little charred, stirring often.
Add the chicken to the grill and cook until the chicken has reached an internal temperature of at least 165 degrees.
Remove meat and vegetables from the grill and reduce the grill heat.
Allow grilled chicken to cool slightly, then slice into strips.
I don't have a specific grill pan for the veggies, so I use foil doubled up and placed directly on the grill. It works really well and keeps the smaller pieces from getting caught in the grates and falling through.
You can use a grill pan to make this recipe or cook the chicken and veggies in an oven or air fryer.
Can I make the fajitas with beef?
Yes, you can. Flank Steak or Skirt Steak will make delicious steak fajitas. You can also use fish, shrimp, or pork.
Grilling tips
You want the grill to be nice and hot before you start. And make sure to close the grill during the process, opening only to turn the chicken and move the vegetables around. Keep in mind that the chicken should take about half the time to cook as the vegetables.
How to grill tortillas
As soon as the chicken and vegetables are done, turn the heat down on the grill and place the flour tortillas on the grill. They don't take long to cook, so keep a watchful eye on them. Try not to turn them over more than once.
If my chicken fajitas bar doesn't get you drooling, nothing will! Remember that people eat with their eyes first, so make sure your presentation is worthy of the deliciousness you just prepared.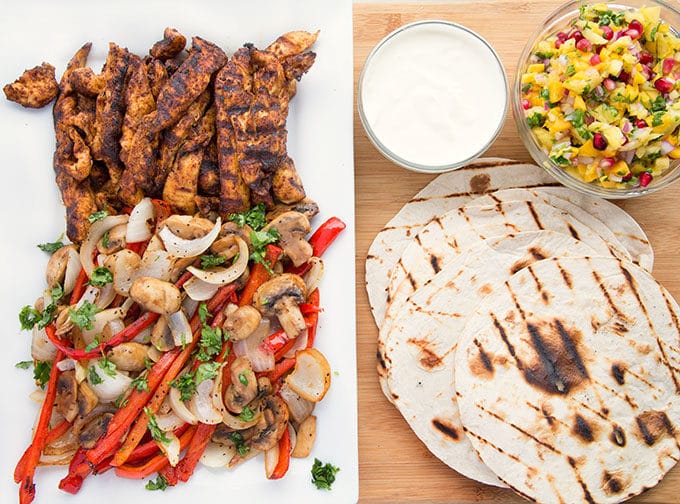 Have fun with your Chicken Fajitas Bar. Add your favorite toppings and switch out any of the other ingredients to make this fiesta just how you like it. My wife loves mango, so I like to use it in my salsa, but cantaloupe or peaches work really well too.
Making a chicken fajitas bar lets your family and friends add the ingredients they like to their fajitas. If you like cheese, add shredded cheddar or Monterey Jack to the bar. You can also make a tomato salsa to add another option, and guacamole and sour cream are also welcome additions to the fajita bar.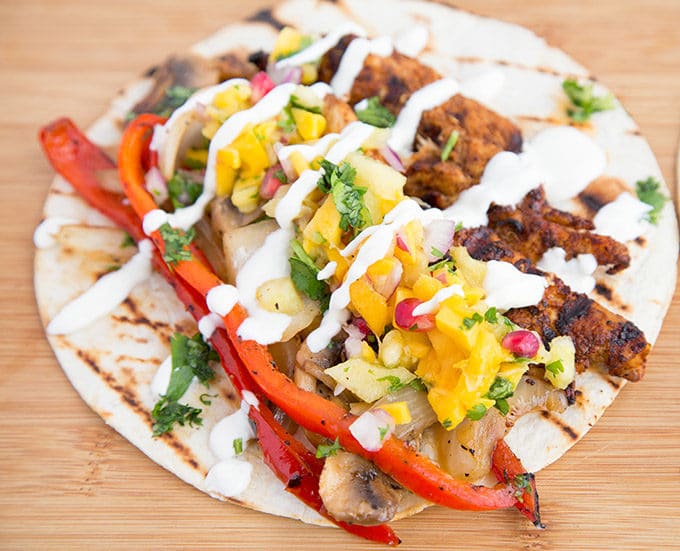 Now it's party time, Mexican Style! Nothing makes me happier than seeing all the smiling faces as they build their own fajitas and then devour them. That's what makes cooking fun for me, bonding over food when your friends and family are around should always be a special occasion and never take for granted.
Recipe FAQ's
What side dishes go with chicken fajitas?
I love to serve Mexican rice with my fajitas. You can also serve refried beans, black beans, Mexican street corn, guacamole, and tortilla chips with salsa.

Do I have to grill the chicken and vegetables?
No, you don't. You can cook the chicken and vegetables on a sheet pan in a 350-degree oven for 20-25 minutes or until an instant-read thermometer in the chicken reads at least 165 degrees. You can also use an air-fryer.
What can I put on my fajitas?
I made a fruit salsa and lime crema for my fajitas, but you can add shredded cheese, guacamole, sliced avocados, tomato salsa, sour cream, and jalapenos.
More Recipes You'll Love!