If you've never heard of Cincinnati Chili you're not in the minority. This American Classic is a regional American dish that has been finding its way to dinner tables across the country.
And after you sample this deliciousness, you'll understand why.
Do you have favorite dishes? Dishes that you haven't been able to eat because of how your body reacts to the ingredients in the dish?
What is Cincinnati Chili?
Cincinnati chili started out as a Mediterranean-spiced meat sauce used as a topping for spaghetti (two-way) or for hot dogs (coneys). Both dishes were developed by Macedonian immigrant restaurateurs in the 1920s. To make ordering more efficient, the "Way" system of ordering was created.
In 2013, Smithsonian named it one of "The 20 Most Iconic Foods in America".
Ingredients to make Cincinnati Chili
Let's start by gathering the ingredients we need to make a Cincinnati Chili Five Ways. In Chef Speak this is called the Mise en Place which translates into Everything in its Place.
Not only does setting your ingredients up ahead of time speed up the cooking process, but it also helps ensure you have everything you need to make the dish.
Do I have to use Beans in my Cincinnati Chili?
No, you don't. If you're not fond of beans, leave them out. It will just be a four-way style of this iconic dish.
You can also swap the beans I used with your own favorites.
What other toppings can I add to my Cincinnati Chili?
Creating dishes that you enjoy eating is what cooking at home is all about. Adding your own special touches is what makes cooking fun. And the more fun you have in the kitchen the more likely you are to be spending time creating deliciousness for your friends and family.
Some of my favorites are:
Sour cream
Pickled jalapenos
Roasted corn
Roasted Mushrooms
Do I have to use spaghetti to make this dish?
No. you don't. You can use a variety of pasta shapes, rice, your favorite grain, zoodles (zucchini noodles) or spaghetti squash.
Using your favorite brand of chili makes this dish an easy weeknight dinner. If you'd like to make your own chili you can find my favorite recipe here -> Four Bean Beef and Beer Chili. Just omit the beans from the recipe.
Putting the dish together is pretty easy. This is the "Two-Way" version, simply spaghetti and chili.
To make this "Three-Way" add the beans. If you're not a fan of beans skip this step. If you add cheese instead of beans, that will be another version of "Three-Way".
Classic "Four-Way" adds Cheese to the spaghetti, chili and beans.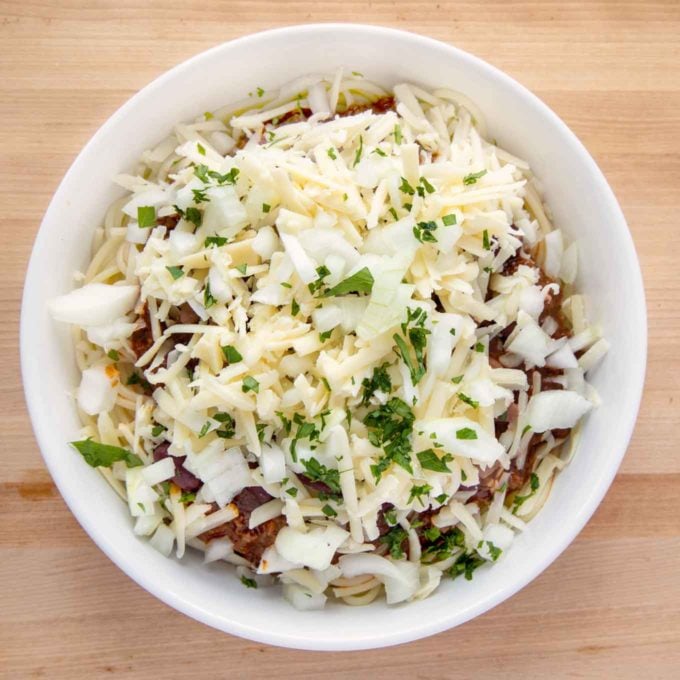 But when it's time to go for the gusto, add chopped onions to create Cincinnati Chili "Five-Ways".
For one of the most flavorful dishes of pasta, you'll ever enjoy, mix everything together. And add a little extra cheese….sigh.
More recipes you'll love!