One of America's favorite regional dishes is Five-Way Cincinnati Chili. If you've never had this delicious dish, add it to your weeknight menu. I promise it will bring smiles to your dinner table!
This post includes affiliate links. As an Amazon Associate I earn from qualifying purchases.
If you've never heard of Cincinnati Chili you're not in the minority. This American Classic is a regional American dish that has been finding its way to dinner tables across the country.
And after you sample this deliciousness, you'll understand why.
This post was sponsored by Mirum. The thoughts and opinions expressed are my own.
Do you have favorite dishes? Dishes that you haven't been able to eat because of how your body reacts to the ingredients in the dish?
And it doesn't have to be spicy to cause heartburn, sometimes it's the ingredients or combination of ingredients that cause you distress.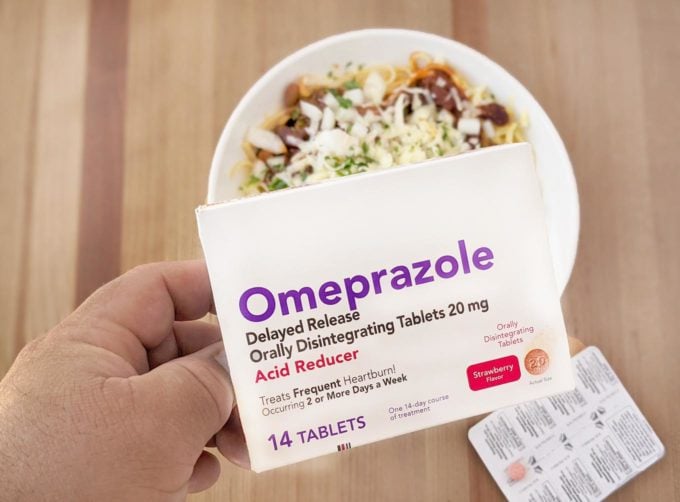 As a chef and food lover, there is nothing worse than not being able to eat your favorite foods or try new cuisines and dishes because you worry about heartburn.
And if you've never experienced heartburn, trust me when I tell you it can be debilitating. But Thanks to Omeprazole Orally Disintegrating Tablets I can eat what I want and enjoy sharing meals with my friends and family.
Omeprazole ODT melts in your mouth, no water needed. I wish I had these when I worked at my restaurants, it would have made life so much easier (and enjoyable).
Made for frequent heartburn sufferers who experience symptoms 2 or more days per week, Omeprazole Orally Disintegrating Tablets provide long-lasting 24-hour protection! Bonus: you don't even need a glass of water, as the strawberry-flavored tablet dissolves right on your tongue.
Take one dose daily for 14 days according to package directions. Don't take Omeprazole Orally Disintegrating Tablets for more than 14 days unless otherwise directed by your doctor. Omeprazole ODT may take 1-4 days for full effect and is not intended for immediate relief.
What is Cincinnati Chili?
Cincinnati chili started out as a Mediterranean-spiced meat sauce used as a topping for spaghetti (two-way) or for hot dogs (coneys). Both dishes were developed by Macedonian immigrant restaurateurs in the 1920s. To make ordering more efficient, the "Way" system of ordering was created.
In 2013, Smithsonian named it one of "The 20 Most Iconic Foods in America".
What do I need to make Cincinnati Chili?
Let's start by gathering the ingredients we need to make a Cincinnati Chili Five Ways. In Chef Speak this is called the Mise en Place which translates into Everything in its Place.
Not only does setting your ingredients up ahead of time speed up the cooking process, but it also helps ensure you have everything you need to make the dish.
Do I have to use Beans in my Cincinnati Chili?
No, you don't. If you're not fond of beans leave them out. It will just be a four-way style of this iconic dish.
You can also swap the beans I used with your own favorites.
What other toppings can I add to my Cincinnati Chili?
Creating dishes that you enjoy eating is what cooking at home is all about. Adding your own special touches is what makes cooking fun. And the more fun you have in the kitchen the more likely you are to be spending time creating deliciousness for your friends and family.
Some of my favorites are:
Sour cream
Pickled jalapenos
Roasted corn
Roasted Mushrooms
Do I have to use spaghetti to make this dish?
No. you don't. You can use a variety of pasta shapes, rice, your favorite grain, zoodles (zucchini noodles) or spaghetti squash.
Using your favorite brand of chili makes this dish an easy weeknight dinner. If you'd like to make your own chili you can find my favorite recipe here -> Four Bean Beef and Beer Chili. Just omit the beans from the recipe.
Putting the dish together is pretty easy. This is the "Two-Way" version, simply spaghetti and chili.
To make this "Three-Way" add the beans. If you're not a fan of beans skip this step. If you add cheese instead of beans, that will be another version of "Three-Way".
Classic "Four-Way" adds Cheese to the spaghetti, chili and beans.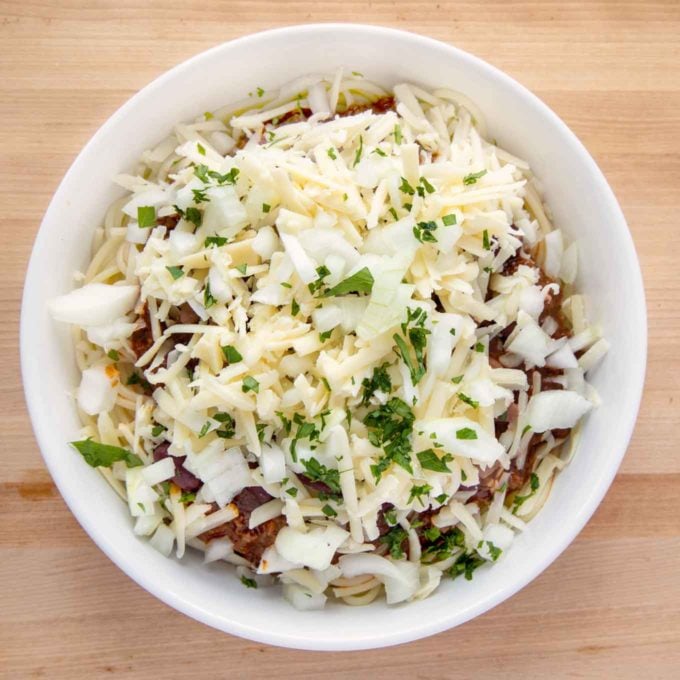 But when it's time to go for the gusto, add chopped onions to create Cincinnati Chili "Five-Ways".
For one of the most flavorful dishes of pasta, you'll ever enjoy, mix everything together. And add a little extra cheese….sigh.
More recipes you'll love!
Print Recipe
Cincinnati Chili 5-Ways
One of America's favorite regional dishes is Five-Way Cincinnati Chili. If you've never had this delicious dish, add it to your weeknight menu. I promise it will bring smiles to your dinner table!
Ingredients
Chili
2

tablespoons

olive oil

1

cup

sweet onion chopped

2

cloves

garlic minced

2

tablespoons

brown sugar

8

ounces

dark beer or your favorite root beer

2

pounds

ground chuck or ground sirloin if you prefer a leaner beef

16

ounces

heavy crushed tomato

2

tablespoons

tomato paste

1

tablespoon

corn masa or fine cornmeal

1

tablespoon

chili powder

1

teaspoon

ground cumin

1

teaspoon

dried oregano

1

teaspoon

sea salt or to taste
Cincinnati Chili 5 Ways
2

cups

cheddar cheese

shredded

1

large

sweet onion

chopped

1

pound

linguine

cooker per directions on box

1

cup

kidney bean

or chili beans

1

cup

pinto beans

or beans of your choice

4

cups

beef chili

from my recipe or your favorite brand
Instructions
Chili
In a large skillet or pot add the chopped onions, garlic and olive oil. Sauté for a few minutes until the onions are lightly cooked.

Add ground meat and begin the browning process. You may need to add additional olive oil.

Brown all the meat continuously stirring to break up the meat. ( you may find a heavy wire whisk helpful in breaking up the chunks)

When the meat is browned begin adding in your seasonings including brown sugar( remember you can always add more after its cooked for awhile).

Add crushed tomatoes and beer combining all of the ingredients.

Reduce the heat to a simmer and allow to simmer for 1 – 2 hours, stirring so the chili won't stick to the bottom of the pan.

If the chili begins to get too thick you can add chicken stock or water to get it to the consistency you like.

Taste and re-season to your taste.
Cincinnati Chili 5 Ways – Assembly
Cook pasta per instructions on the box

place pasta on the plates, top with chili, beans, chopped onions and shredded cheddar cheese and enjoy!
Nutrition
Calories:
896
kcal
|
Carbohydrates:
144
g
|
Protein:
41
g
|
Fat:
20
g
|
Saturated Fat:
8
g
|
Cholesterol:
54
mg
|
Sodium:
1679
mg
|
Potassium:
1786
mg
|
Fiber:
25
g
|
Sugar:
7
g
|
Vitamin A:
1078
IU
|
Vitamin C:
6
mg
|
Calcium:
206
mg
|
Iron:
15
mg