Mediterranean Style Salmon – Delicious and Healthy!
Since finding out that I like salmon (specifically Northwest Salmon) I've been enjoying experimenting with different ways to prepare and serve this delightful fish!
One of my new favorites is my easy to make Mediterranean Style Salmon.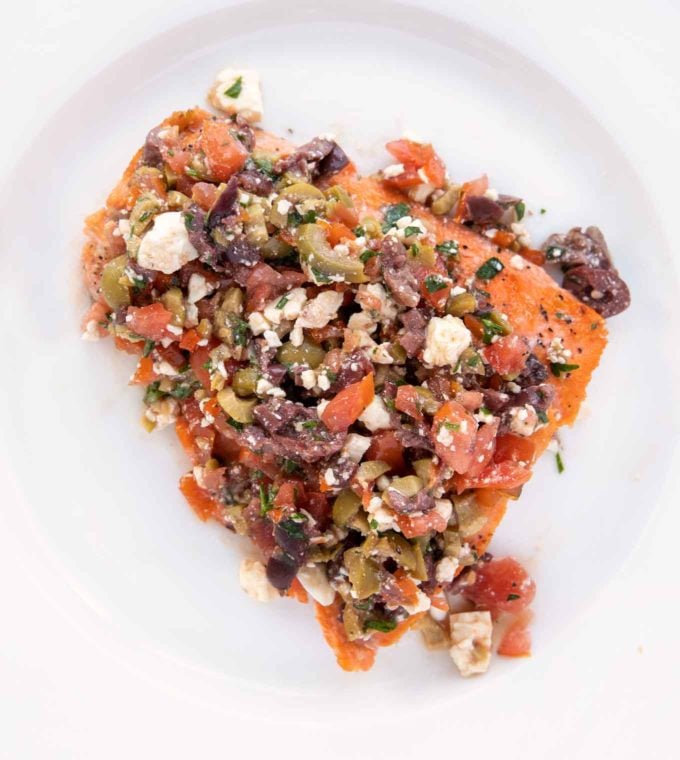 This is one of my Restaurant Style Dishes that you can make easily in your own home in less time than it takes to pick-up takeout and for a fraction of the cost of eating out……. What could be better?
Everyone has busy lives and eating well has to be one of the most important decisions we need to make. But eating healthy doesn't mean we need to scrimp on the flavors and my Mediterranean Style Salmon is loaded with flavor.
With a busy lifestyle, we need to find healthy flavorful dishes that we can make in a short amount of time, and of course, we need them to be cost-effective.
Since my recent find of Northwest Coho Salmon at Costco, good salmon has become affordable and since its IQF frozen, readily available.
What do I need to make Mediterranean Style Salmon?
Let's start by gathering the ingredients we need to make Mediterranean style salmon. In Chef Speak this is called the Mise en Place which translates into Everything in its Place.
Not only does setting your ingredients up ahead of time speed the cooking process, but it also helps ensure you have everything you need to make the dish.
Can I use the tapenade with other fish?
Yes, you can. This topping will be a wonderful addition to any of your favorite white flesh fish.
These are some of my favorites:
Mahi-Mahi
Grouper
Red Snapper
Flounder
You can make the feta-olive tapenade ahead of time to even save yourself, even more, time and do yourself a favor and make a little extra because you're going to love the flavor of my feta-olive tapenade. It should be served cold on top of the cooked salmon.
Do I have to use Feta Cheese in this Tapenade?
No, you don't.
I also like this tapenade with Bleu Cheese or Gorgonzola.
If you're not fond of cheese you can leave it out altogether.
It makes a great bruschetta topping and would be delicious with grilled chicken or any other fish. Serve this dish with your favorite side dish or just a salad and you have a healthy delicious restaurant-style dinner on your table in less than 30 minutes!
If you enjoyed this recipe you might also like these recipes: