How to make Restaurant Style Stuffed Salmon
Since discovering Northwest Wild Caught Salmon earlier this year, I've been having fun finding different ways to prepare and enjoy this lovely fish. I was lucky enough to pick up some nice sockeye salmon at Sam's Club.
This week Stuffed Salmon was on the menu at home, and I decided to try something a little different with the stuffing using cream cheese in my stuffing mix.
Lisa and I had eaten at a seafood restaurant in Madeira Beach on one of our road trips and they had a similar stuffing with a grouper we had for dinner. So I thought I'd give it a try with salmon. It was such an easy and delicious way to make salmon it's become a regular addition to our home dinner options.
What do you need to make Crabmeat Stuffed Salmon?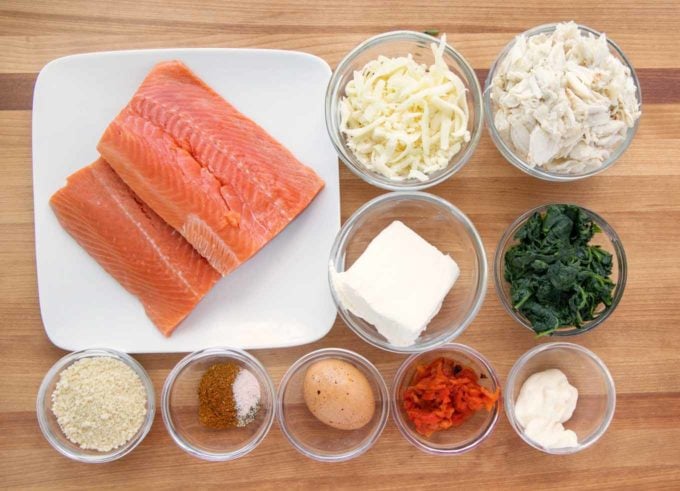 Let's start by gathering the ingredients we need to make my Stuffed Salmon. In Chef Speak this is called the Mise en Place which translates into Everything in its Place.
Not only does setting your ingredients up ahead of time speed the cooking process, but it also helps ensure you have everything you need to make the dish.
What type of salmon can you use for this recipe?
I used Sockeye Salmon for this recipe and always try to find Pacific Salmon for my recipes.
You can, of course, use any salmon you have available in your markets. Coho (silvers) and King (chinook) are two of my other favorites.
Atlantic Salmon is more plentiful and usually less expensive and can also be used. I prefer wild-caught fish to farmed seafood.
*Farmed salmon is much higher in fat, containing slightly more omega-3s, much more omega-6 and three times the amount of saturated fat. It also has 46% more calories — mostly from fat. Conversely, wild salmon is higher in minerals, including potassium, zinc and iron.
Can I use Frozen Salmon for this dish?
You sure can. Fresh salmon is great if you can find it, but if not frozen is the next best thing. Just make sure to let the salmon fully thaw before you stuff it.
*These days, I buy Alaskan Salmon, shipped directly from the supplier in Alaska, and it's always shipped frozen.
What type of cream cheese should I use for the stuffing?
The first time I made this recipe I used whipped cream cheese. I found that to be a mistake as it did not hold up as well as I thought it should. I made the Stuffed Salmon again using regular cream cheese and also added in shredded mozzarella which gave the dish a better overall appearance and taste.
In a bowl add the cream cheese, mayonnaise, beaten egg and old bay. Mix well, but it's okay if it has some lumps in it.
Then fold in the spinach, roasted red peppers, mozzarella and crabmeat.
Chef Dennis Tip:
Pull the spinach apart or mix it into the cream cheese mixture first. It has a tendency to clump together.
Mix all the ingredients together as gently as possible so you don't break up the crabmeat too much.
Refrigerate the mixture for 30 minutes to let it firm up. If for some reason the mixture is too loose, add some bread crumbs to help hold it together.
Can I use other cheese in the stuffing?
I added shredded mozzarella because of its binding properties, but cheddar, swiss or your favorite cheese could be used instead of the mozzarella.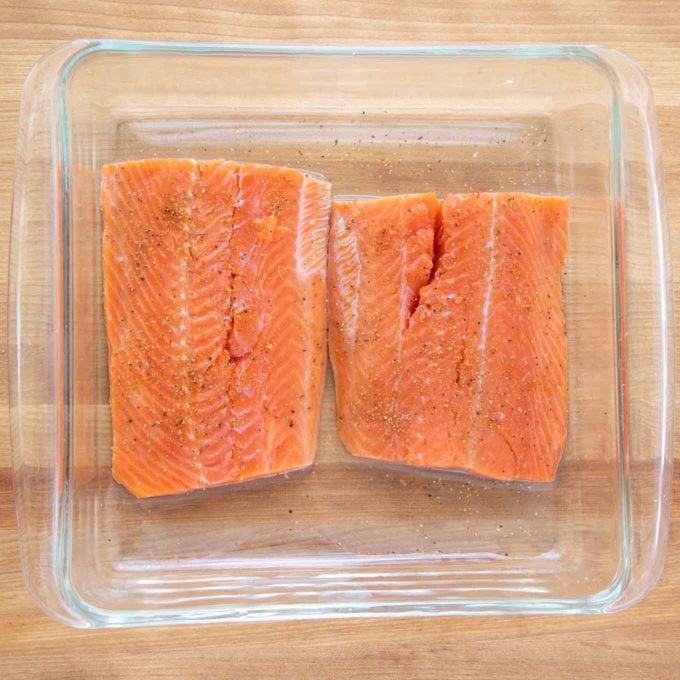 Season the salmon fillets with sea salt and black pepper.
Add the crabmeat stuffing on top of the salmon fillet. Sprinkle the top of the stuffing with panko bread crumbs (or any bread crumb you have on hand). Bake at 350 degrees for 18 – 20 minutes.
Can I use this topping with other fish?
You sure can. This topping would work well on just about any white flaky fish. Flounder, cod, and halibut would also work well. The only fish I wouldn't try to stuff would be tuna or swordfish.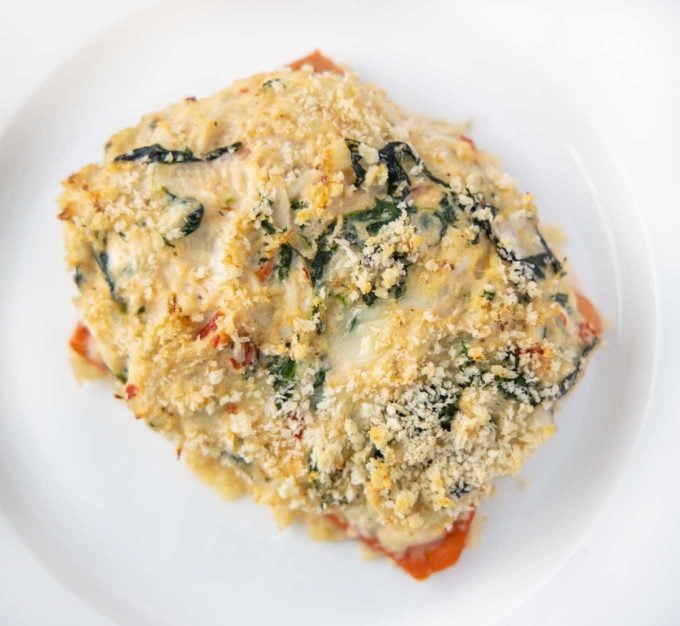 My Stuffed Salmon is a great way to turn an ordinary night into a special occasion and is great for entertaining as it can be made up ahead of time and cooked before your guests arrive. You may also try stuffing a whole side of salmon and roasting it for a buffet. It will look spectacular!
If you love Salmon, you might also like these recipes: