Everyone loves Asian style dishes and they're not as hard to make as you might think. Learn how to make my favorite Stir Fried Pork with Ho Fun Noodles in your kitchen tonight.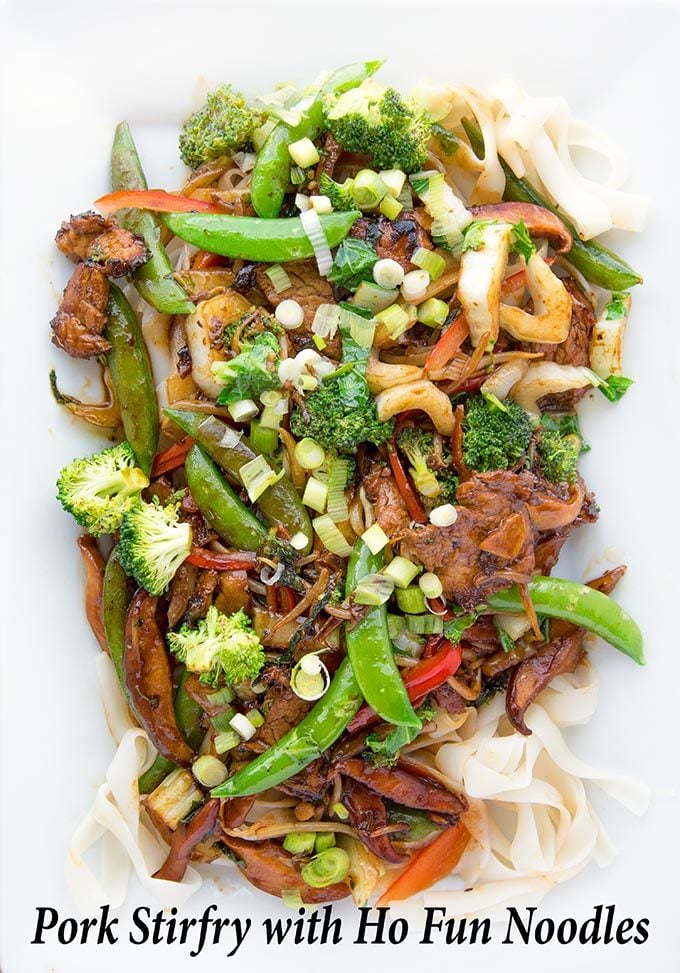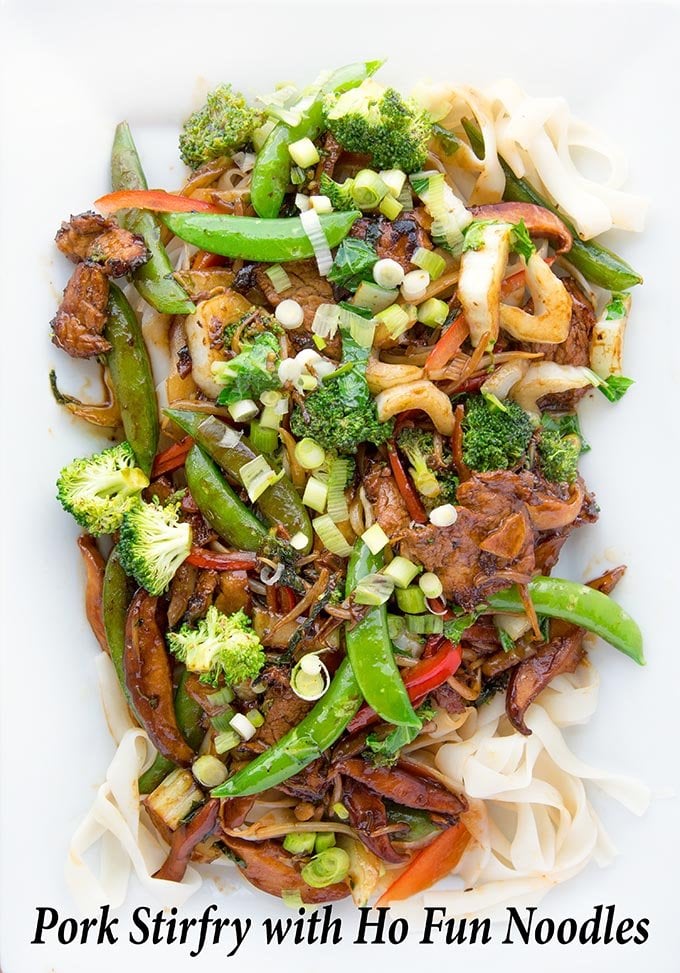 Years ago I had my very first Ho Fun noodle dish, and its an item I look for on every Chinese restaurant menu. Those lovely gluten-free noodles pair so well with a stir fry, adding more substance to the dish. And who doesn't love noodles?
The only tricky part of any Asian inspired dish is how the sauce is thickened. Corn starch is the key ingredient in thickening the sauces that take minutes to make and explode with flavor!
What Ingredients do you need to make Stir Fried Pork with Ho Fun Noodles?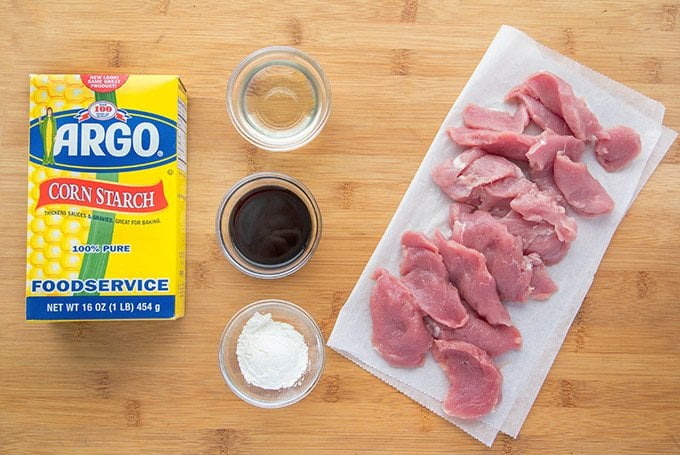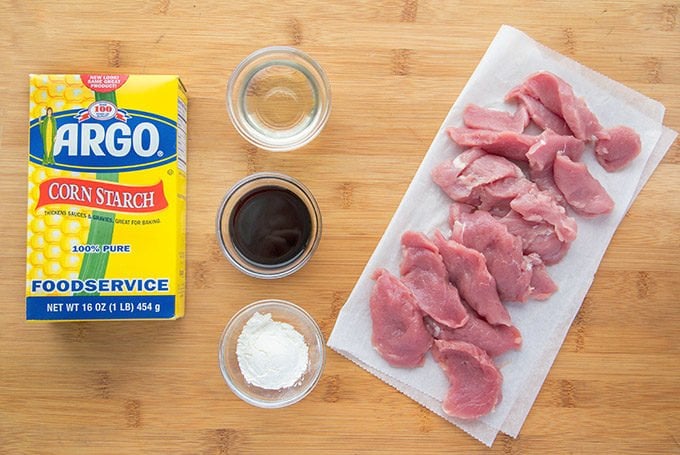 Before I start cooking any dish I make in my kitchen, I get all my ingredients together. This is called the mise en place (everything in its place). This not only speeds up the cooking process but ensures that I have all the ingredients necessary to make the dish I'm preparing. There's nothing worse than finding out you don't have something you need in the middle of cooking!
These are the first ingredients I'll be using, velveting the pork.
What is Velveting?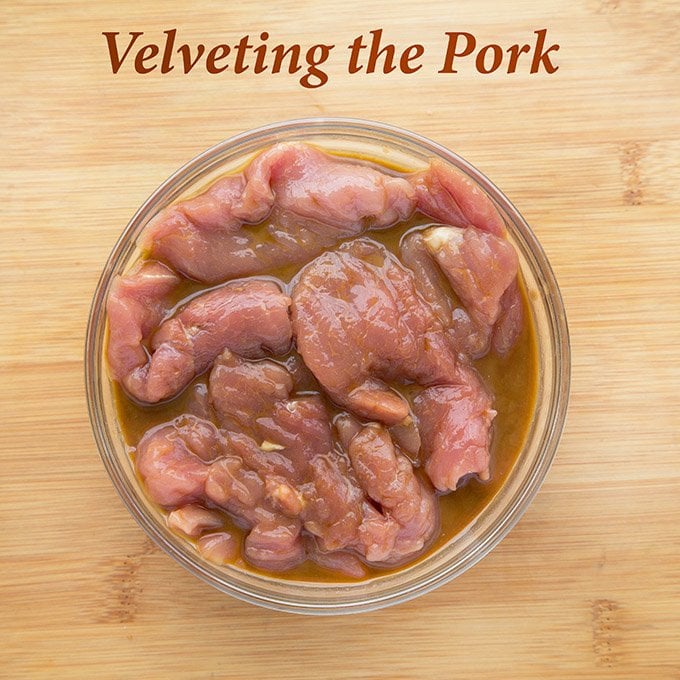 Velveting is a technique in Chinese cuisine for preserving the moisture of meat while cooking. Additionally, it provides a soft or "velvety" texture to the meat of any entrée.
The technique is applied to raw meat before cooking either in oil or in water. It involves pre-coating the meat with a mixture of oil, corn starch, rice wine and soy sauce ( some recipes call for egg whites). The meat can then be sautéed, stir-fried, deep-fried, simmered, or boiled. During cooking, the velveting mixture also protects the meat fibers, preventing them from seizing, resulting in more tender meat.
The most important ingredient of any velveting marinade is the cornstarch. The other ingredients can vary depending upon whose recipe you're using. But they all include corn starch and that my friends is non-negotiable.
If you've never tried the velveting process you're going to be surprised to see just how easy it is to do and how much of a difference it makes in the dish. That's why it's important to use the best quality corn starch you can find so it mixes well with the other ingredients creating deliciousness time after time.
In the picture above the pork is in the velveting mixture. Keep it in the refrigerator until you're ready to cook.
It's not difficult to cook Chinese food at Home-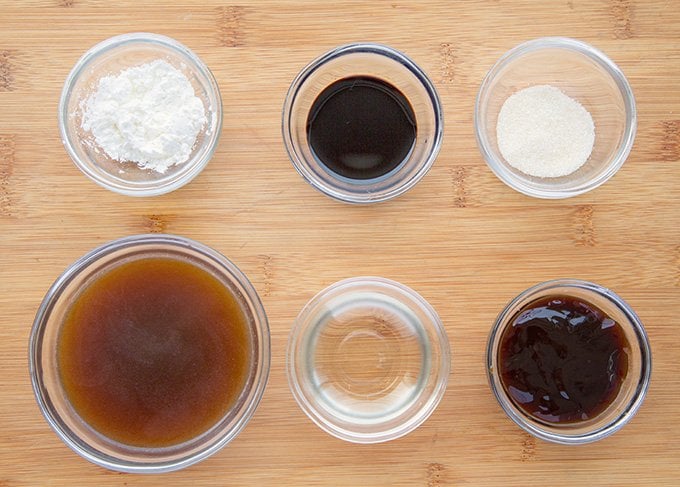 The trick to Chinese cooking is simply in having the right ingredients. Most supermarkets sell everything you need to create your own Chinese favorites, and if they don't you can usually find an Asian market in your area.
The mise en place for the sauce has a few ingredients that might be unfamiliar to you, like oyster sauce and dark soy sauce. But they do make a difference so look for both of those items and keep them on hand. The other ingredients are easy, beef stock, rice wine, sugar and Corn Starch.
What are Ho Fun Noodles?
Ho fun (He fun, shahe fun, chow fun) is a wide flat rice noodle, popular in Southern China, especially in Guangdong province. It is normally stir-fried with meat or vegetables.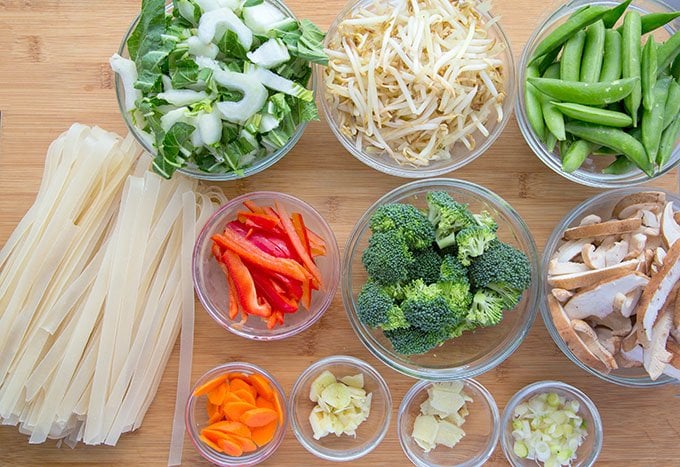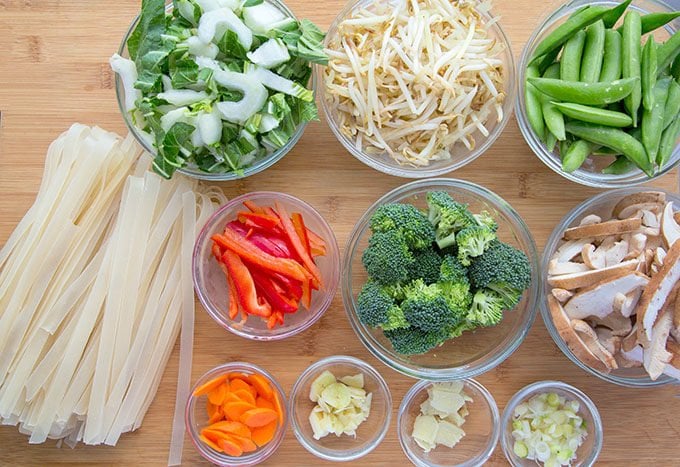 Let's gather the ingredients (mise en place) for our Pork stir fry with Ho Fun Noodles. Here's where you can have some fun, swapping out the vegetables for your favorites. Remember that recipes are guidelines and don't be afraid to color outside the (guide)lines.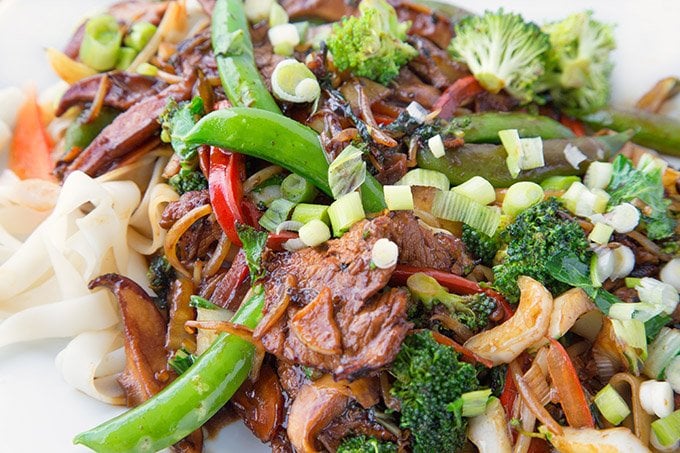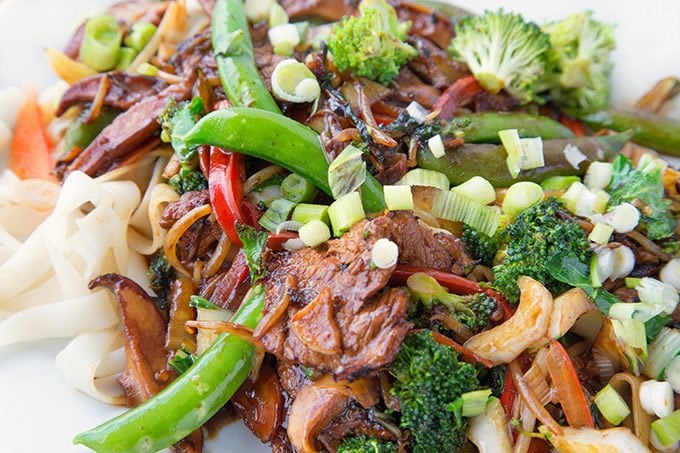 Stir-frying is a Chinese cooking technique in which ingredients are fried in a small amount of very hot oil while being stirred in a wok. I do have a wok but almost never drag it out to cook, so feel free to use a large saute pan as I did. A wok will make it easier but isn't a deal-breaker.
It's all about the sauce and a fast cooking process. That's why it's important to have your ingredients ready to go before you start. And quality ingredients help you be more successful in creating deliciousness in your own kitchen.
I do love Ho Fun noodles but this dish would go equally as well on a bed of jasmine rice. Wouldn't your family love to sit down to this delicious Chinese dish? And it's quicker and a lot less expensive than ordering out! Cooking doesn't need to be difficult and having control over the ingredients you use, makes the process even more important. I love to know what's in the food I'm eating, don't you?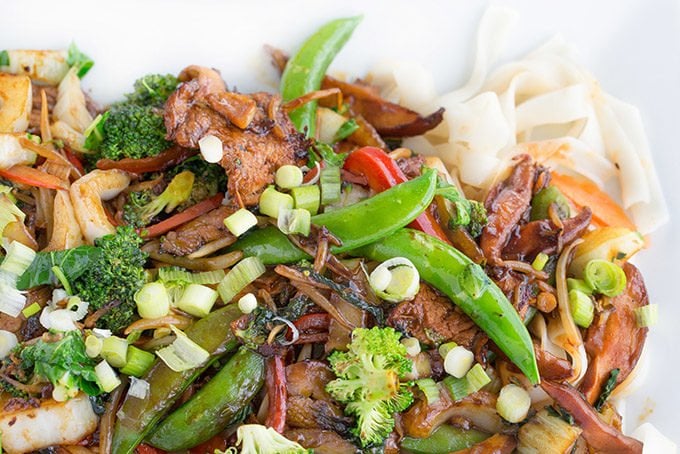 If you enjoyed this recipe you might enjoy these other Asian inspired recipes: