New England Style Steamed Clams Recipe included!
When it comes to deliciousness in the Orlando area I love visiting Disney Springs and I love dining at the Paddlefish Restaurant! I've been living in the Orlando area for four years now and I've enjoyed the ever-growing culinary scene and all it offers a foodie. Orlando has become a true foodie paradise. A theme park for your senses and your stomach!
I recently got to experience a new dining option at the Paddlefish, their first-ever Rooftop Beer Dinner. They paired five courses with beers from Winter Gardens' very own Crooked Can Brewing Company.
We started off with an Oyster Trio that included a Lemon & Pepper, Mignonette and an Oyster Shooter. As you can see the presentation was perfect and each oyster so very flavorful and so very different. Crooked Can paired their Mr. Tractor Kolsch Style Ale with this first course.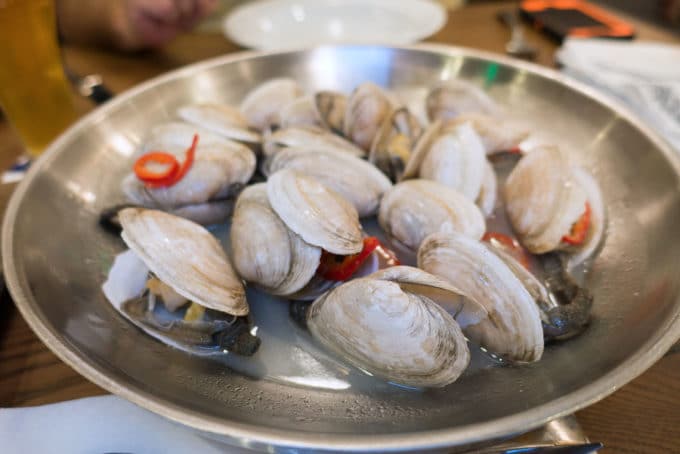 The second course was one of the best dishes of Steamed Clams I've ever had. The Paddlefish chef explained the difference in these New England clams as opposed to the littlenecks we're used to seeing. As you can see there is a tubular siphon that sticks out of these clams which is how they breathe. Its often called a neck or a foot.
The Crooked Can Brewery paired their High Stepper American IPA with the clams.
The third course was a traditional Gumbo. And although this combination of Chicken, Chorico (Portuguese Sausage) and Shrimp wasn't as aesthetically pleasing as the rest of the courses, one bite left no doubt in your mind that the chef that prepared this deliciousness knew his way around the kitchen!
This bowl of gumbo was masterfully paired with Crooked Can's McSwagger's Own Amber Ale. I that was my favorite beer of all that we tasted.
Our fourth course was as beautiful as it was delicious. And in fact, I took quite a few pictures at different angles to make sure I did it justice.
This OMG delicious course was Pork Two Ways. Coffee dusted loin, stout braised Kurobuta pork belly, pureed cauliflower and seared Brussel Sprouts with a coffee-stout demi glace. This tasted so good, it brought a tear to my eye…..sigh
Crooked can paired this course with their Freedom Ride Stout, which was also used in the sauce. It was perfection on a plate!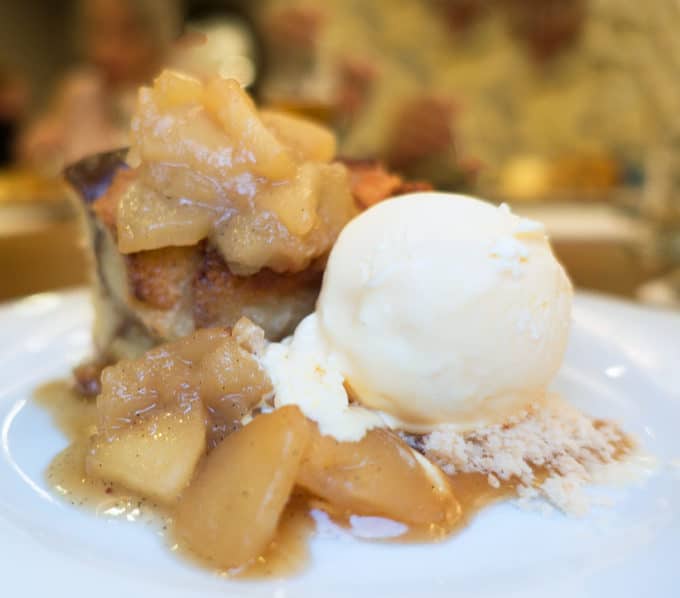 By this time we were so full that I didn't think I could eat another bite. That changed as soon as they brought out dessert…..
Dessert was a Spiced Apple Bread Pudding that would have been heavenly on its own, but with the vanilla ice cream, it was over the top and simply ah-mazing! This was paired with Crooked Can's Domestic Bliss.
I am constantly amazed at how craft beers have developed and how they are artfully matched with foods to bring the nuances of the beer. Beer has definitely become the new wine and the Crooked Can Brewery is having a great time making their guests happy with their creations. When you do what you love it's not work!
And if you've never been to the Paddlefish at Disney Springs put that down on your must-visit list. And make sure to find time to visit the rooftop for a cocktail or two and a spectacular view.
I was so impressed with the New England Steamed Clams that I asked their Executive Chef Steven Richard for the recipe and he was kind enough to share it with us. You can, of course, use littlenecks in the recipe if you can't find the New England Steamers.
If you enjoyed this recipe you may also like these: