Total Time:
1
hour
45
minutes
How to make a blueberry bread pudding with a creme Anglaise sauce.
One of my signature desserts has always been bread pudding. I had learned to make it early on in my career and there are few that ever come close to this amazingly simple dessert. I'm sure you have bread pudding many times in your life and most are so dense and heavy that they need to smothered in an over the top sauce just to make them palatable.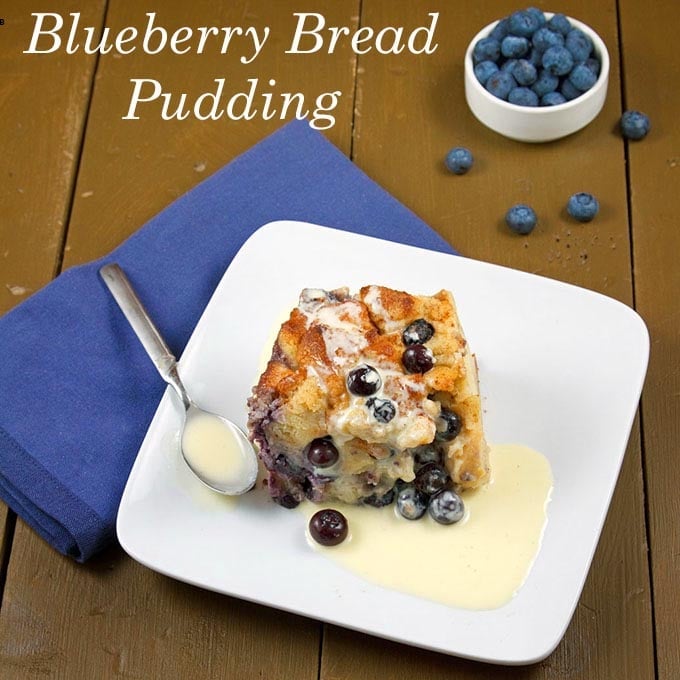 My bread pudding can stand on its own and the sauce simple accents the light fluffy texture and flavors.
I started out making my legendary bread pudding with a cream cheese frosting but I wanted to change things up a bit. I noticed a pint of fresh blueberries in the fridge and thought that would be an excellent addition to this delicious dessert. I didn't want to overpower the blueberries in this dessert so I decided to make Creme Anglaise for the sauce.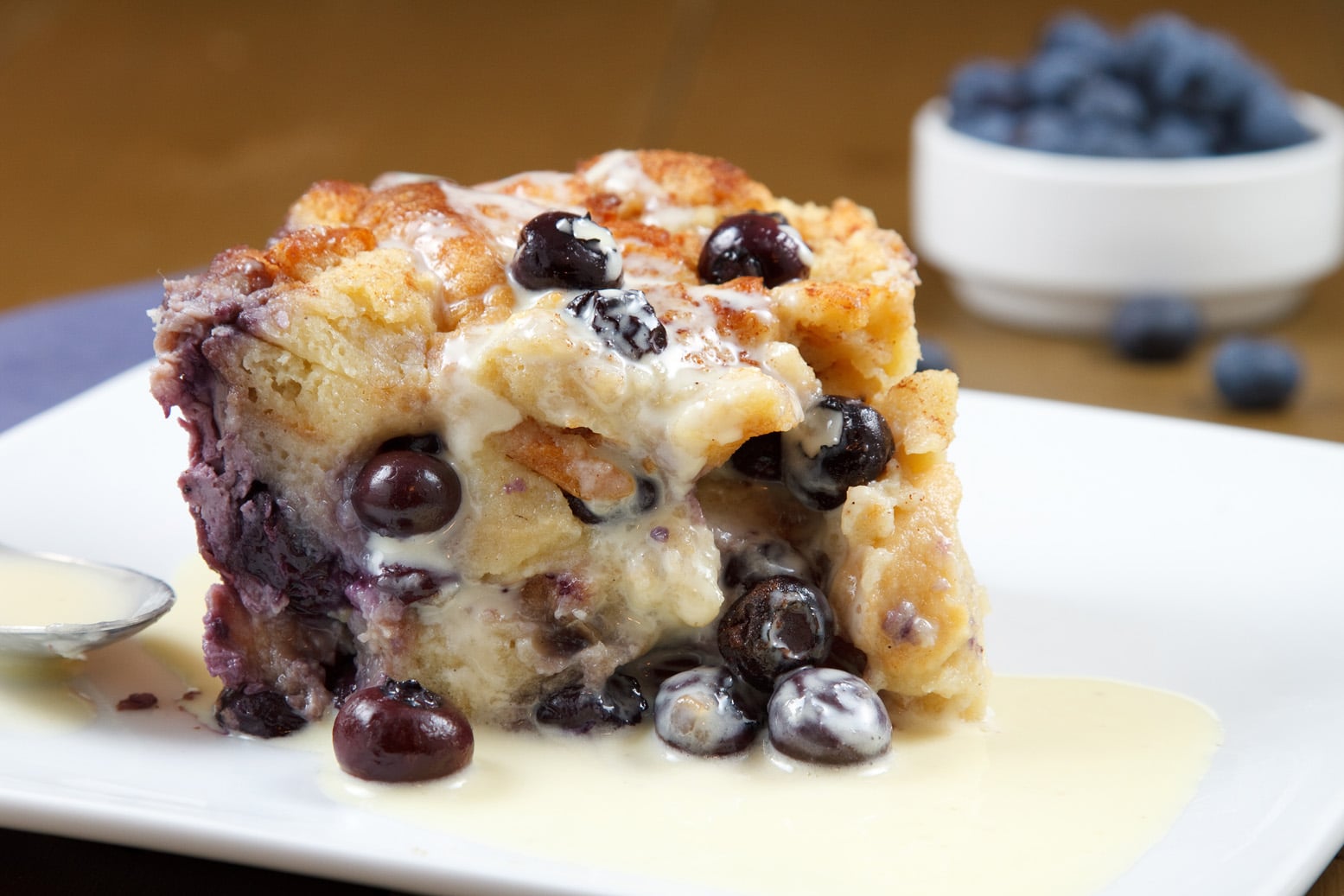 This would also be amazing served with vanilla ice cream or simply homemade whipped cream. But either way you serve it, serve warm from the oven!
Blueberry Bread Pudding with Creme Anglaise
Ingredients
Blueberry Bread Pudding
1

loaf of sliced potato bread -cut into cubes

4

cups

of whole milk

960 ml

3

large eggs

1 and 1/2

cups

of sugar

300 gm

2

tablespoons

pure vanilla

30 ml

1

teaspoon

ground cinnamon

5 gm

2

cups

Blueberries

280 gm

1/2

stick of butter melted

optional
Creme Anglaise
1

cup

whole milk

240 ml

1/3

cup

half and half

80 ml, or heavy cream

3

oz

sugar

86 gm

4

large egg yolks

1

teaspoon

vanilla bean powder

5 gm
Instructions
Blueberry Bread Pudding
You will need a 13×9 inch baking pan

Cut the potato bread into cubes and place in the baking dish (it should be higher than the pan)

Gently beat the eggs, then add the milk, sugar, cinnamon and vanilla and continue to whip with a whisk until the sugar has been fully incorporated.

Pour this milk and egg mixture over the cut bread, mixing it well so that all of the bread has absorbed some of the milk. Let it sit for at least 15 minutes.

Add in the blueberries, distributing them through out the bread mixture. Drizzle the melted butter over the entire pan letting some of the butters richness touch as much of the top of the mixture that it can.

Cover the pudding with cling wrap (restaurant habits die hard), then cover it with foil.

Bake for One hour at 350 degrees, then uncover and continue to bake for 15 minutes more or until center is fully set. (if the butter has pooled in any area, spread it around before the finally 15 minutes…this will help get it golden brown.)

Allow the pudding to cool some, but serve it warm with the Creme Anglaise
Creme Anglaise
Bring 4 eggs to room temperature, and separate using only the yolks.

Whip the egg yolks with the sugar until fluffy and pale yellow, set aside

In a small pot heat the milk and half and half until it is simmering, remove from heat.

Slowly mix half of the milk into the egg mixture, stirring the eggs as you pour the hot milk into them.

Add the egg mixture back into the remaining milk along with the vanilla and continue to simmer for about 5-7 minutes until the mixture has slightly thickened, use a rubber spatula to stir the mixture constantly, getting into all the corners.

(The Creme Anglaise should be thick enough that when you run your finger through a coating on a spoon it remains separated.)

You may strain the Creme Anglaise if it looks like it might have cooked egg in it, but if you're careful you should not need to. **

Place the pot with the finished sauce in a bowl of ice water to cool it down quickly, stirring as it cools.

Place the Creme Anglaise in the refrigerator to get completely chilled and serve with the warm bread pudding.
Recipe Notes
**do not get the creme anglaise too hot and don't be tempted to leave it on too long to try and continue to thicken. It will break and be unusable if it heats too long.
This is a wonderful summertime dessert, perfect for any occasion. My original recipe without the blueberries and cream cheese frosting can be found here. I did cut down the sugar a little in this recipe, and I did not miss the extra sweetness. The blueberries were plump and delicious, and the Creme Anglaise add such a nice touch to the dessert!
Let's hope for a better week!