If you love mussels as much as we do my quick and easy mussels recipe will make you very very happy! If you've always been intimated when it comes to shellfish, I'm here to show you just how easy it is to prepare restaurant-style shellfish dishes in your home for a fraction of the cost of eating out.
How to buy fresh mussels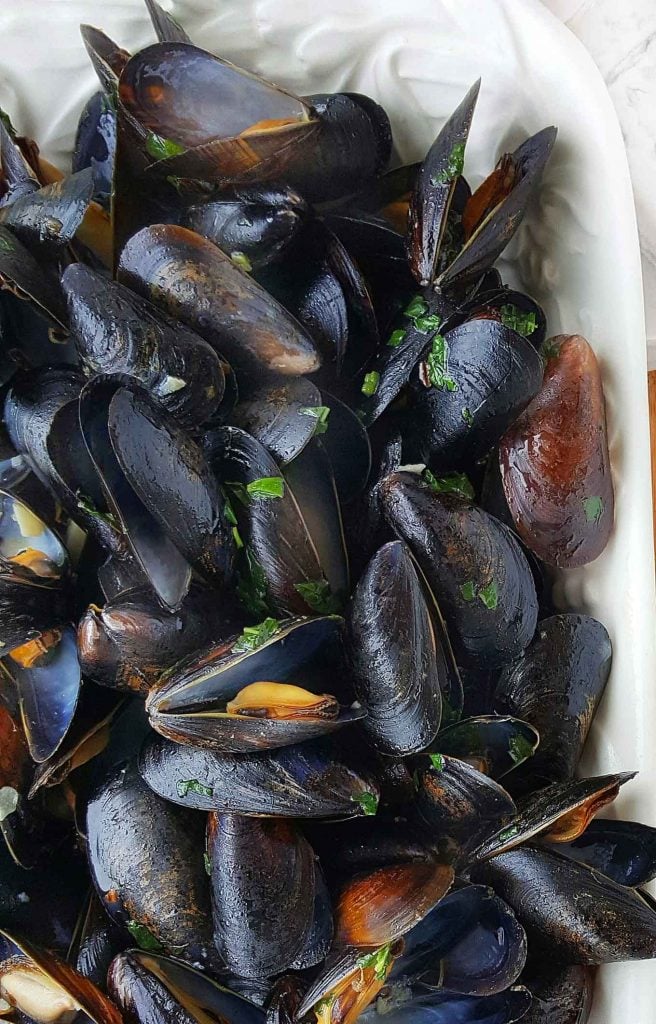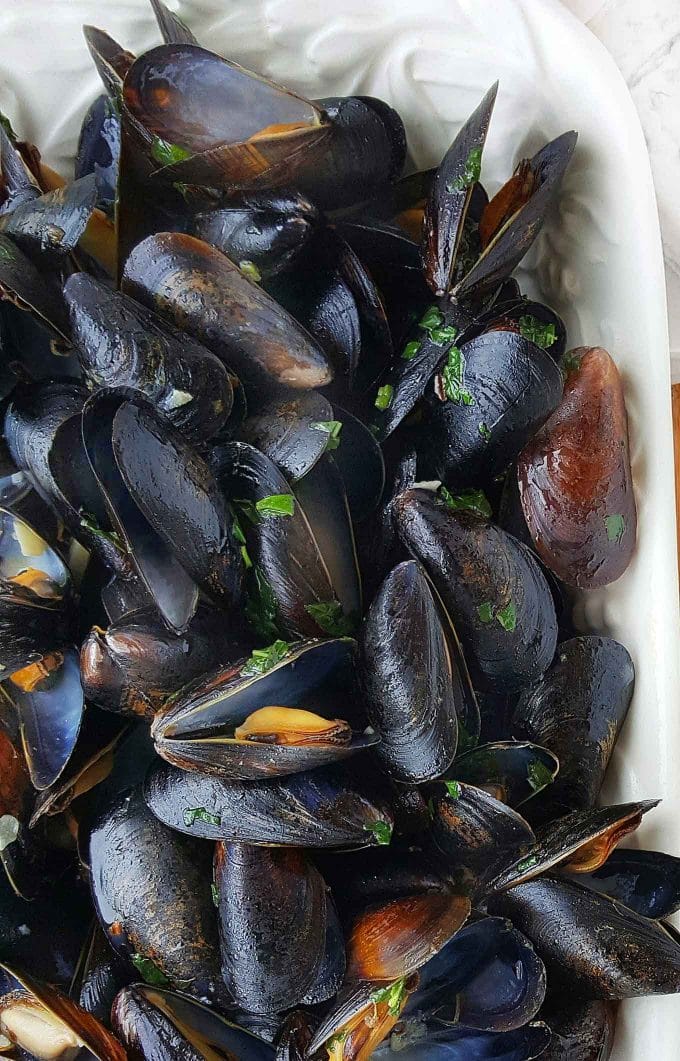 And today's subject is mussels. The majority of mussels that you'll find in local markets are farmed instead of wild-caught. This is good news both for the environment and for home cooks.
According to the Monterey Bay Aquarium's Seafood Watch, farmed mussels (cultivated) are the "best choice" when it comes to mussel buying because the methods used are responsible, chemical-free, and can also benefit the surrounding ocean habitat. On the consumer side of things, farmed mussels are typically grown suspended in seawater, rather than on the ocean floor, which means less sand,
On the consumer side of things, farmed mussels are typically grown suspended in seawater, rather than on the ocean floor, which means less sand, seaweed and grit to clean off!
All bags of mussels and clams must have a tag on them. This is important because it tells you when the mussels were removed from the water and where they were taken from. In the restaurant, we have to keep these tags on file, in case anyone claims to have gotten sick from the shellfish we served.
Here's an important tip about storing or transporting your mussels.
Never store or transport mussels in anything airtight because they are alive and you want to keep them that way (this goes for the plastic bags you put them in at the grocery store- leave them open so they can breathe)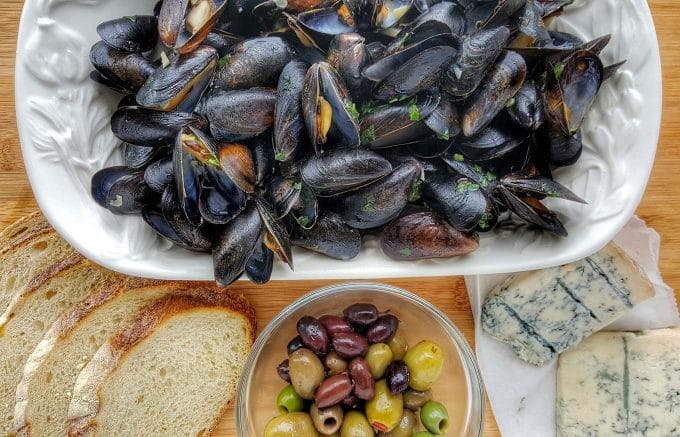 How to cook fresh mussels
Mussels are so easy to cook they almost cook themselves. The first thing you need to do is rinse the mussels in cold running water. I usually do this with the mussels in a colander inside of a bigger bowl. I add fresh water and turn the mussels gently with my hands.
While you're doing this you can pick out any mussels that are open. If they don't close when you tap them, they're dead. If they're dead throw them out, never eat dead shellfish.
After you've rinsed the mussels with fresh water 3 or 4 times let them drain.
For my mussels recipe, start with a large frying pan, skillet, or pot. Add olive oil, chopped garlic and red pepper flakes. As the garlic begins to cook, add the mussels and fresh chopped basil. If you'd like to add any white wine this would be the time to add it.
Cover the pot and let the mussels cook until they're all opened. Give them a couple more minutes than you think, to make sure they are fully cooked.
The fresher the mussels are the more natural juice you'll have. At this point, you could add your favorite spaghetti sauce, if you prefer the mussels in a red sauce.
Do I need to De-Beard the Mussels?
The majority of mussels you'll find in Supermarkets or at Seafood Distributors are farm-raised (including PEI mussels) and need little to no debearding. a good rinsing is usually all they need.
On the other hand, wild mussels can be full of sand and debris and will need more cleaning and de-bearding.
Where do the best Mussels come from?
Most chefs will agree that PEI (Prince Edward Island, Canada) is the gold standard for mussels in the US. That being said any cold water mussel is a good choice.
Washington state has amazing mussels, I just try to stay with cold water shellfish whenever possible.
I've eaten mussels in almost every country I've traveled to in Europe and they have ah-mazing!
What to serve with steamed mussels
Making a meal with my mussels recipe is pretty easy. You can either serve the mussels over pasta or serve up some crusty bread and cheese to go along with the meal. This is a good time to add in that rich dessert you've been craving since the meal itself is a little on the light side.
I added in two types of Gorgonzola cheese, Piccante and Dolce. The difference is in the aging with the Dolce being creamier and not as sharp as the Piccante.
I served up crusty Sourdough bread with the cheese and an assortment of olives that made my mussels a filling dinner. Throw in some homemade gelato and we've got a meal worthy of your favorite Italian restaurant.
More Recipes You'll Love!