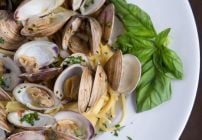 Clams and Spaghetti is one of the easiest and most delicious restaurant style meals you'll ever prepare in your home.
One of the easiest Restaurant Style Meals you'll ever make is Clams and Spaghetti!
Clams and Spaghetti are one of the traditional Italian dishes that you'll find served in the finest Italian restaurant around the world. And of course, the price will reflect its popularity. What these restaurants don't want you to know is just how easy it is to make this dish. And how inexpensively you can make it in your own home.
Not only will you have a delicious restaurant style meal in about 15 minutes, you'll have money left over for a bottle of wine and a movie!
So if you'd like to save yourself some money while improving your dinner menu this is the dish for you! If you want to make it red just add 2 cups of your favorite marinara,  or swap out mussels for the clams for a change of pace. It's just that easy!
Mussels and Clams are becoming much easier to find with safe and delicious farm raised products (from the United States) readily available in many supermarkets. Just remember if the clams/mussels are open and they can't be coaxed into closing back up they're dead. If they're dead, don't eat them! You want your shellfish alive and closed tight!
Check out the video below the recipe for the step by step process of how to make Clams and Spaghetti.
Don't forget a loaf of good crusty bread and a bottle of your favorite wine or sparkling water to make this an evening to remember!
Clams and Spaghetti in a garlic sauce
Clams and Spaghetti is one of the easiest and most delicious restaurant style meals you'll ever prepare in your home.
Nutrition Facts
Clams and Spaghetti in a garlic sauce
Amount Per Serving
Calories 677
Calories from Fat 99
% Daily Value*
Total Fat 11g 17%
Cholesterol 10mg 3%
Sodium 220mg 9%
Potassium 353mg 10%
Total Carbohydrates 114g 38%
Protein 25g 50%
* Percent Daily Values are based on a 2000 calorie diet.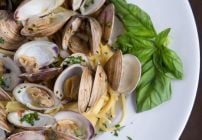 Ingredients
1

lb

of good quality Linguine (De Cecco

Del Verde, or Barilla)

1

bag Farm Raised Little Neck Clams (bag of 50

or at least 15 clams per person)

2

cloves

of Garlic sliced

1

Tablespoons

Fresh Parsley chopped

1

Tablespoon

Fresh Basil chopped

Pinch of Crushed Red Pepper

Pinch of Black Pepper

Sprinkle of grated Romano Cheese

2-3

Tablespoons

Extra Virgin Olive Oil
Instructions
place large stock pot on stove to cook pasta per directions on the box

Finely chop parsley and basil

Chop garlic

Rinse clams in cold water checking to make sure they are all closed, or that they will close when tapped. If they are open they are dead..do not use them!

As soon as the pasta water is ready add the pasta and set your timer per instructions.

Place a large saute pan on the stove and add the olive oil and garlic.

Briefly saute the garlic then add the clams, basil and crushed red pepper to the pan and cover with a lid allowing the clams to steam open.

If you have timed this correctly the clams will open with about two minutes to spare on the pasta, turn off the heat on the clams and keep covered until serving.

Drain pasta, place in bowl and divide clams and sauce between them

sprinkle fresh chopped parsley on top of the clams and serve with grated Romano cheese.