Clams and Spaghetti is one of the traditional Italian dishes that you'll find served in the finest Italian restaurant around the world.
And of course, the price will reflect its popularity. What these restaurants don't want you to know is just how easy it is to make this dish. And how inexpensively you can make it in your own home.
Not only will you have a delicious restaurant-style meal in about 15 minutes, but you'll also have money left over for a bottle of wine and a movie!
What ingredients do I need to make Clams and Spaghetti?
The list of ingredients is pretty short.
little neck clams
olive oil
garlic cloves
crushed red pepper flakes
fresh basil
How do you cook clams for clams and spaghetti?
Steaming clams and mussels is so easy they almost cook themselves!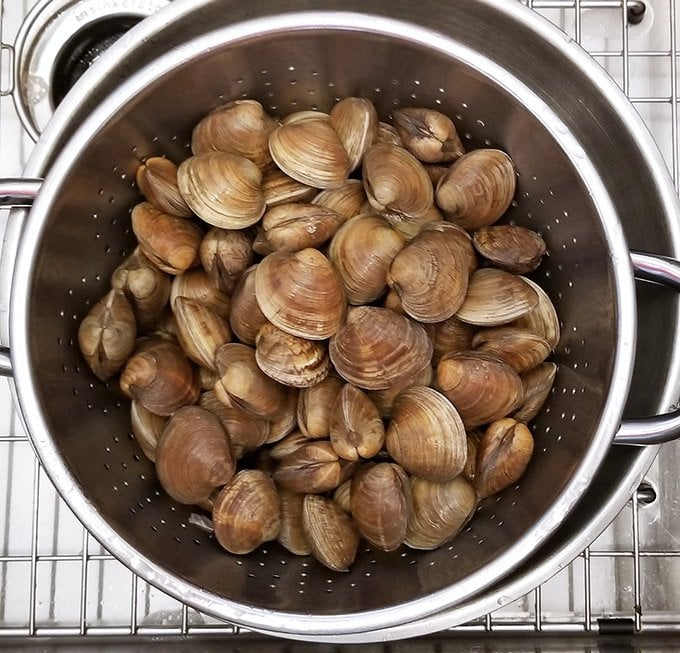 The first step is to rinse the clams thoroughly in cold clean water. I let them soak in the water using a colander. Then dump out the water and repeating the process 5 times or until the water is clear and free of sand and debris. If any of the clams are open, they are dead and must be discarded.
This is an important part of the recipe to ensure your clams and spaghetti is sand-free. Clams burrow themselves in the sand and washing them well can get rid of the grit you don't want in your dinner.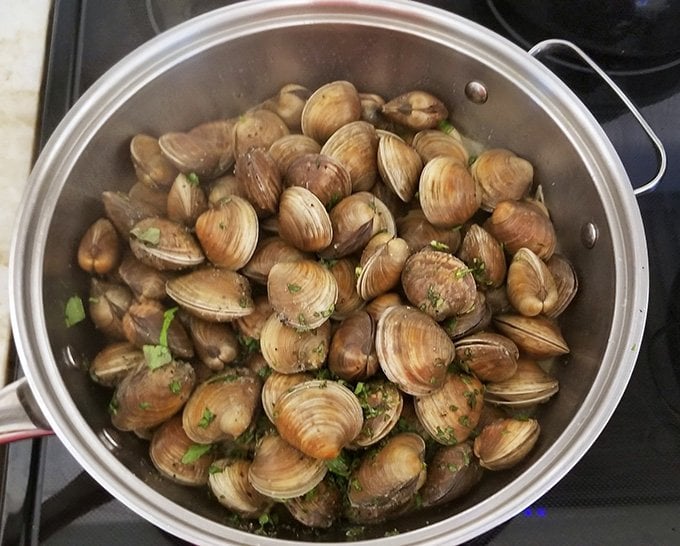 How do I know the clams are cooked?
The next step is adding olive oil, chopped garlic, crushed red pepper, fresh chopped basil and clams in a large pot with a lid and steaming them open. It's really that simple. You can add other spices or wine to make them exactly how you like them. The clams will be done cooking in 7-9 minutes on high heat.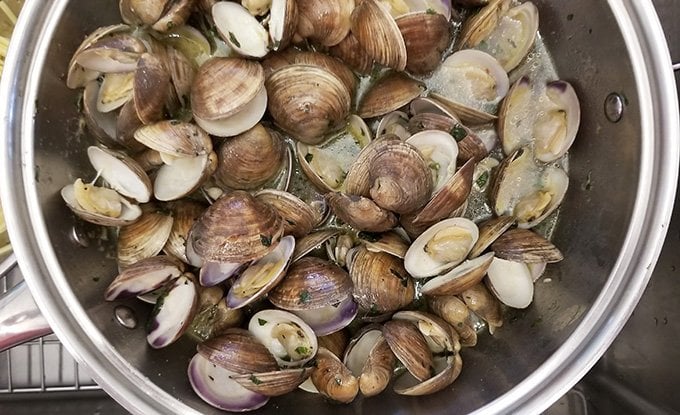 Once the clams have all opened they are done. Keep covered until ready to serve.
Then it's just a matter of serving those beautiful clams over pasta and enjoying the deliciousness.
So if you'd like to save yourself some money while improving your dinner menu this is the dish for you! If you want to make it red just add 2 cups of your favorite marinara, or swap out mussels for the clams for a change of pace. It's just that easy!
Can I buy Farm Raised Clams and Mussels?
Mussels and Clams are becoming much easier to find with safe and delicious farm-raised products (from the United States) readily available in many supermarkets. Just remember if the clams/mussels are open and they can't be coaxed into closing back up they're dead. If they're dead, don't eat them! You want your shellfish alive and closed tight!
Don't forget a loaf of good crusty bread and a bottle of your favorite wine or sparkling water to make this an evening to remember!
More Recipes You'll Love!