What could be better than good home-cooking? Especially when it's something as delicious as my Quick and Easy Skillet Chicken Gumbo!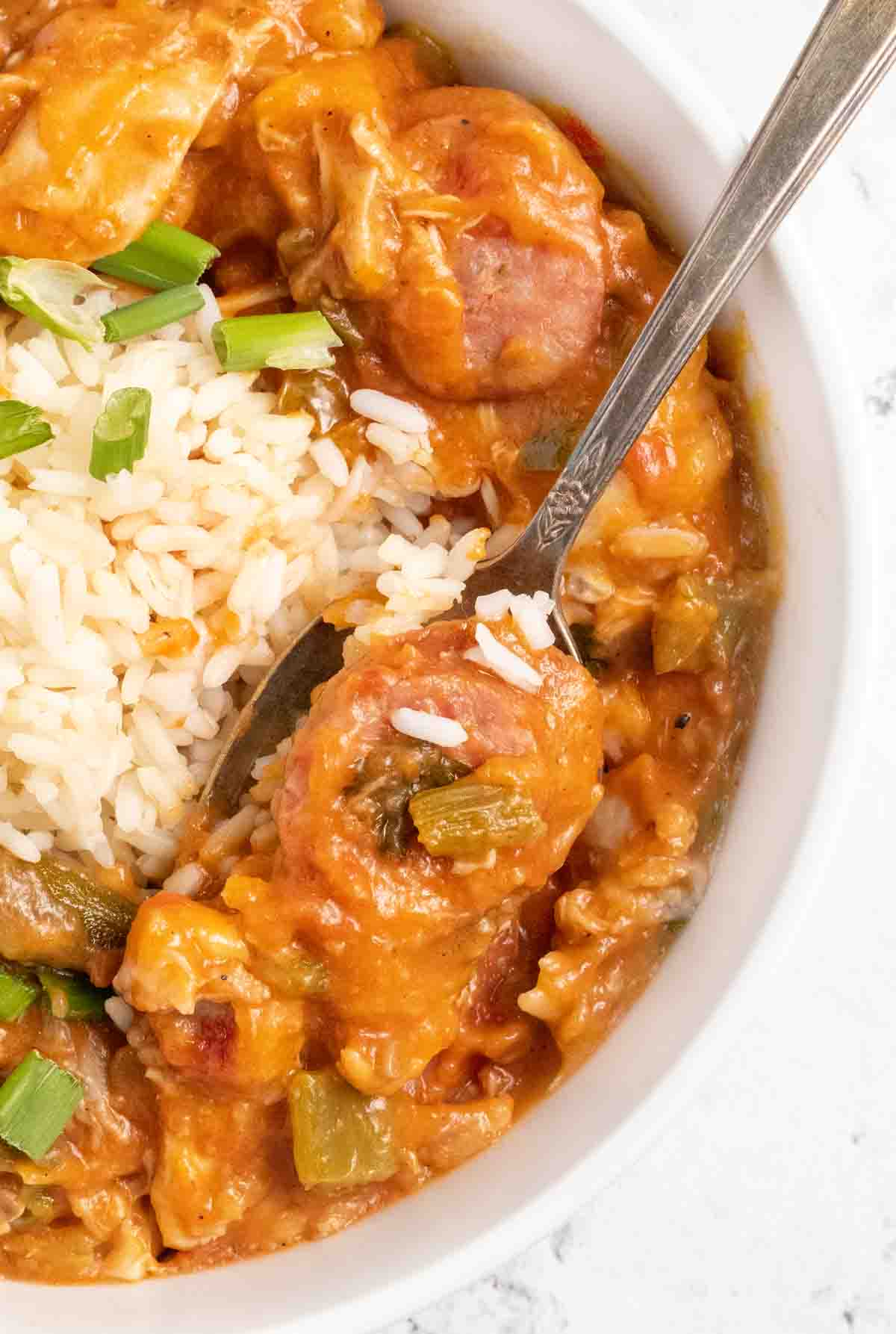 Chicken Gumbo, those are three words that evoke delicious memories…..sigh. Louisiana cooking at its best with Mama Jeanette.
Of course, Mama used a cast iron skillet that had seen many forms of deliciousness created, but I do believe her personal favorite was always a tasty skillet of Chicken Gumbo. And that my friends that is what we're making today!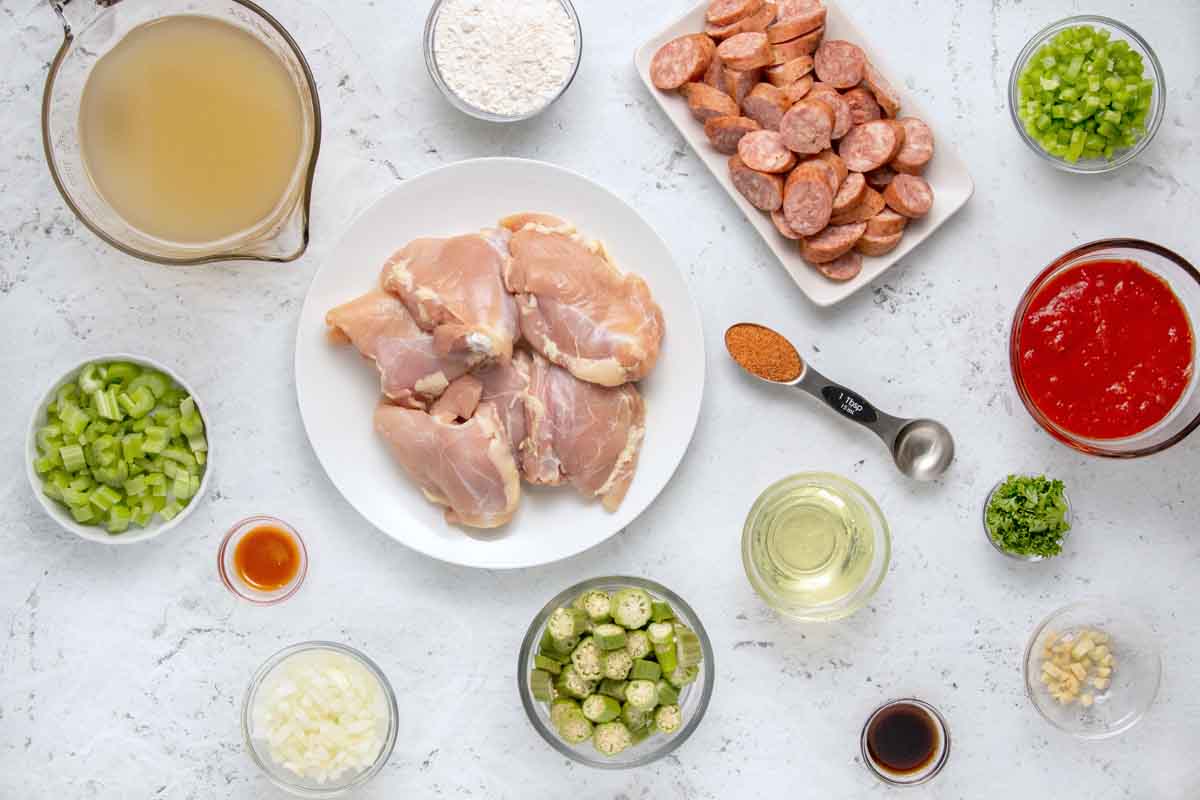 Let's start by gathering the ingredients we need to make Chicken Gumbo. In Chef Speak this is called the "Mise en Place" which translates to "Everything in its Place".
Not only does setting your ingredients up ahead of time speed up the cooking process, it also helps ensure you have everything you need to make the dish.
These ingredients include onion, green bell pepper and celery which is known in cajun or creole cooking as "the Holy Trinity".
Do I have to use andouille sausage to make gumbo?
If you want the authentic taste of gumbo then andouille sausage is one ingredient that you should include. If you're not worried about being "authentic" then feel free to use whatever type of sausage you enjoy eating. Chorizo or smoked sausage would be a delicious substitute.
What else can I add to gumbo recipes?
If you search the internet you'll find chicken and shrimp gumbo recipes, some cajun and some creole, which is how you'll generally find it prepared in New Orleans.
Think of recipes as guidelines and add your own touch to come up with your very own gumbo recipes!
How do I make chicken Gumbo?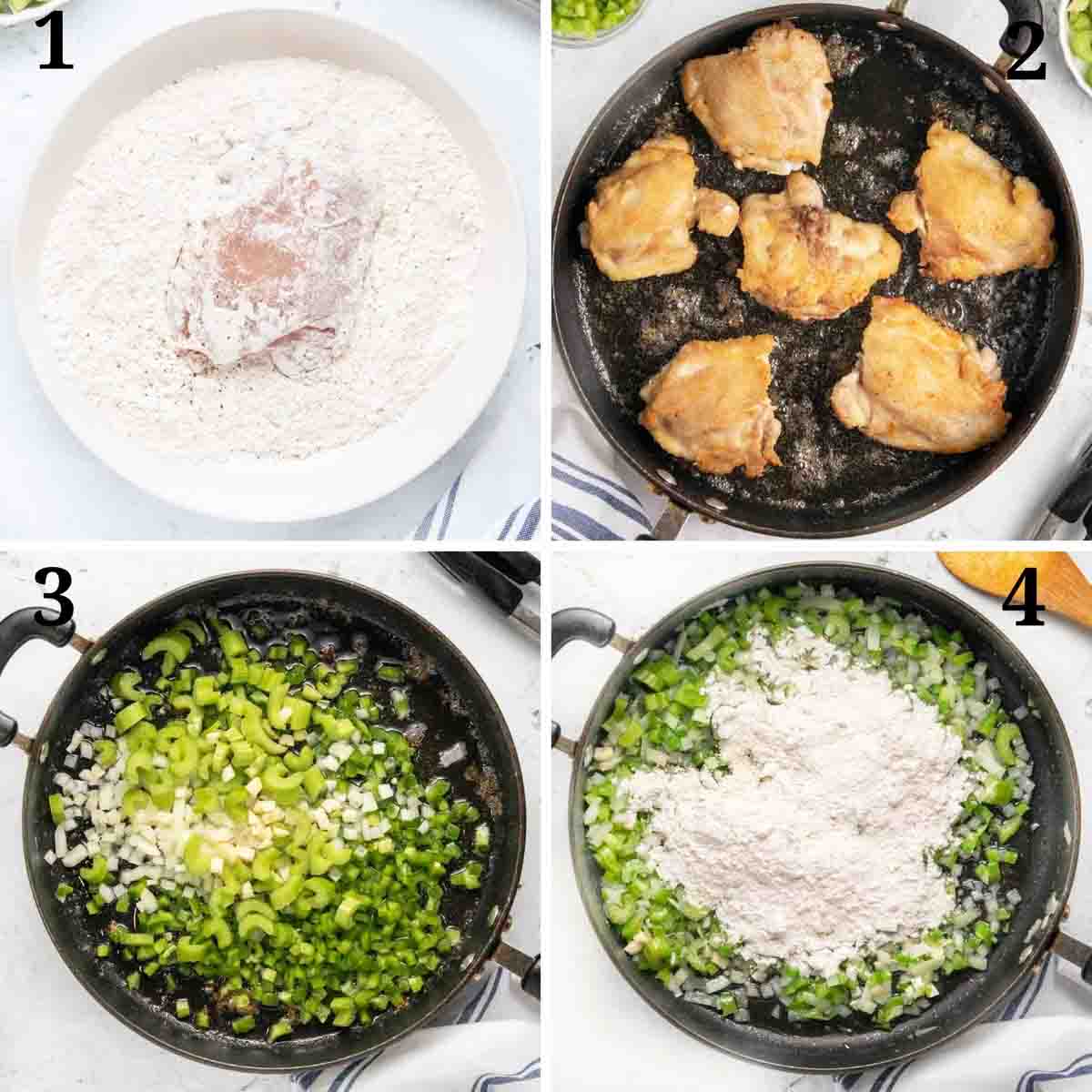 Dredge the chicken thighs in flour seasoned with sea salt and pepper. Place the chicken in skillet (or dutch oven) over medium high heat with a little olive oil. Start with skin side down and allow to sear for 3-4 minutes until the chicken gets a good color. Turn over and do the same thing to the other side.
Remove the chicken from pan, and set aside until needed.
Add the peppers, onion, celery (holy trinity) and the garlic to the oil and saute for 1 minute.
Add the flour to pan and mix well, the flour and vegetable oil make up the roux. If more oil or flour is needed add it in now.
Can I use chicken breasts instead of chicken thighs to make gumbo?
yes, you can. Chicken breasts do tend to dry out the longer you cook them, which is why I use chicken thighs for my recipe, but you can definitely use either in your gumbo.
Chef Dennis Tip:
If you're looking for a quick and easy substitute for cooking chicken, pick up a grocery store rotisserie chicken.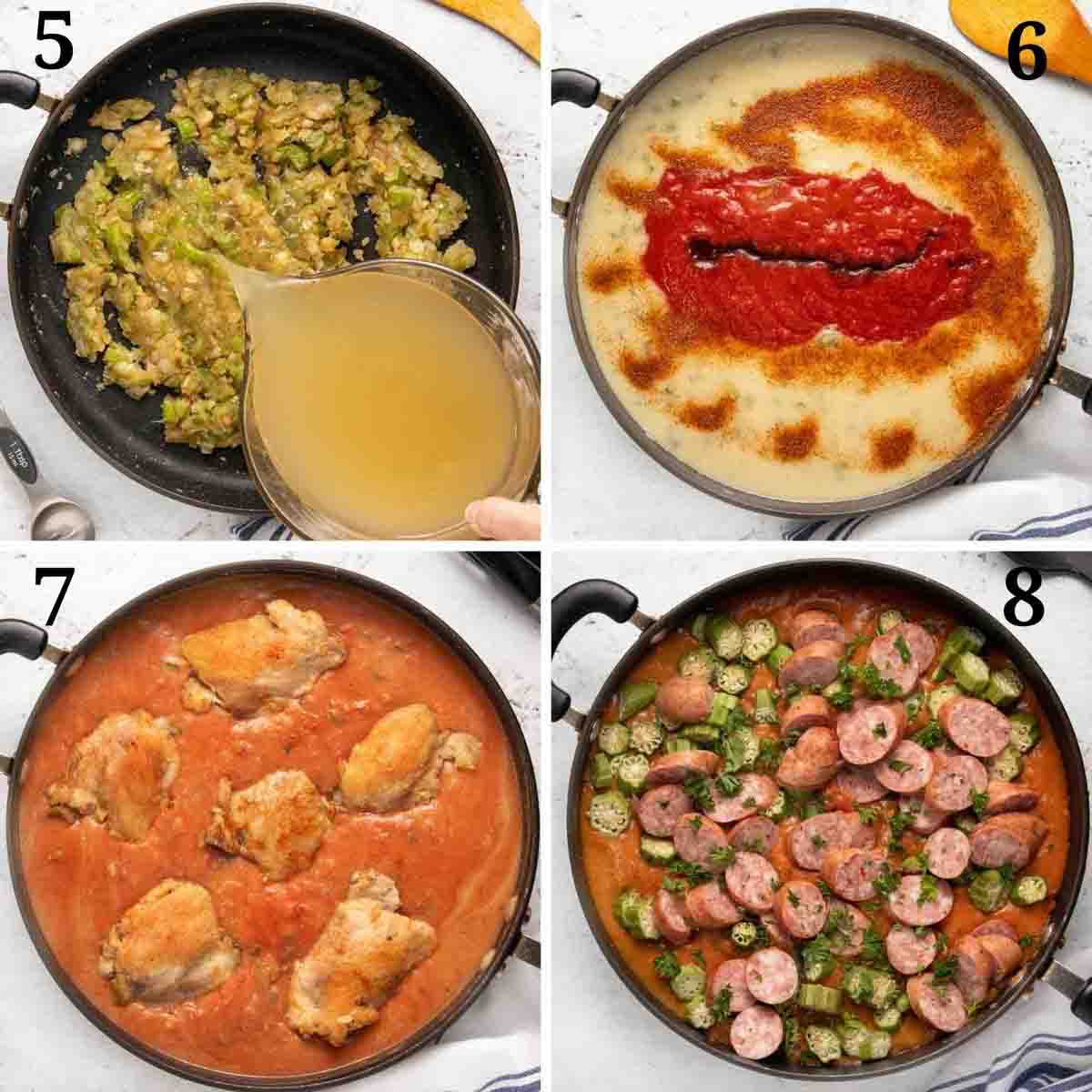 Turn the heat down to medium and allow roux to cook and brown for 12-15 minutes, stirring constantly. The roux should turn medium brown. Be careful not to the burn roux, you just want it to cook and get brown.
Add the chicken broth to the roux mixture and mix well, making sure all the roux gets incorporated into the broth.
Add the crushed tomatoes, creole seasoning and Worcestershire sauce to the mixture, striring until fully combined.
Reduce the heat to low, return the chicken to the pan and simmer, stirring occasionally for 1 hour.
Remove the chicken from the pot and allow to cool.
Add the andouille sausage, okra and chopped parsley to the gumbo.
What's the difference between Creole Seasoning and Cajun Seasoning?
The difference between Creole and Cajun seasoning blends comes down to the ingredients used in the spice blends. Cajun seasoning features an array of ground pepper, including black pepper, cayenne pepper, and white pepper. This is why it's often used to make blackened fish or chicken. Creole seasoning is more herbal, with recipes often containing oregano, thyme, rosemary, paprika and file powder.
Simmer the gumbo for 20-30 minutes.
Bone the chicken and pull the meat apart. Add the chicken to the gumbo, and simmer for an additional 5 minutes to reheat the chicken.
Serve the chicken gumbo over plain white rice, brown rice or farro.
Garnish with chopped green onions, file powder and enjoy
Comfort food brings out the best in people. It doesn't have to be fancy, just plain delicious. Tried and true recipes redone for the fast-paced lifestyle we live, bring deliciousness to your kitchen.
Wouldn't you like to sit down to a bowlful of this deliciousness? I bet your family would love this hearty, heartwarming dish. And the best part is, you only need one pan to create my Chicken Gumbo.
Recipe FAQ's:
What is the difference between a brown roux and a dark brown roux?
A roux in creole cooking is made with two ingredients, flour and oil. A French roux is made with flour and butter.
To make a dark brown roux the flour and oil are cooked and stirred together for about 30-45 minutes until it becomes dark brown almost like chocolate and the consistency is close to that of dough. Most people at home don't have the time or the skill to allow the roux to cook that long with burning it, so a medium brown or brown roux is often used. The cooking process is the same but is cut down to 15 minutes.
Do tomatoes go in gumbo?
Creole gumbo includes tomatoes, okra, brown roux, and often shellfish and file powder. Cajun gumbo doesn't usually include tomatoes.
What is the difference between gumbo and jambalaya?
The main difference between the two is that gumbo recipes almost always use a roux which is cooked until dark in color.
Jambalaya is more of a one-pot dish that doesn't use a roux for thickening or color. Jambalaya will also include rice that is cooked into the dish.
Should gumbo be thick or soupy?
Gumbo is much denser than soup, and shouldn't have a broth consistency. It's a real stick to your ribs kind of meal.
More Recipes You'll Love!