What could be better than good home-cooking? Especially when its something as delicious as my Quick and Easy Skillet Chicken Gumbo!
Skillet Chicken Gumbo, those are three words that evoke delicious memories…..sigh. Louisiana cooking at its best with Mama Jeanette.
Of course, Mama used a cast iron skillet that had seen many forms of deliciousness, but I do believe her personal favorite was always a tasty skilletful of Chicken Gumbo. And that my friends is what we're making today!
Let's start by gathering the ingredients we need to make Pasta Puttanesca. In Chef Speak this is called the "Mise en Place" which translates to "Everything in its Place".
Not only does setting your ingredients up ahead of time speed up the cooking process, it also helps ensure you have everything you need to make the dish.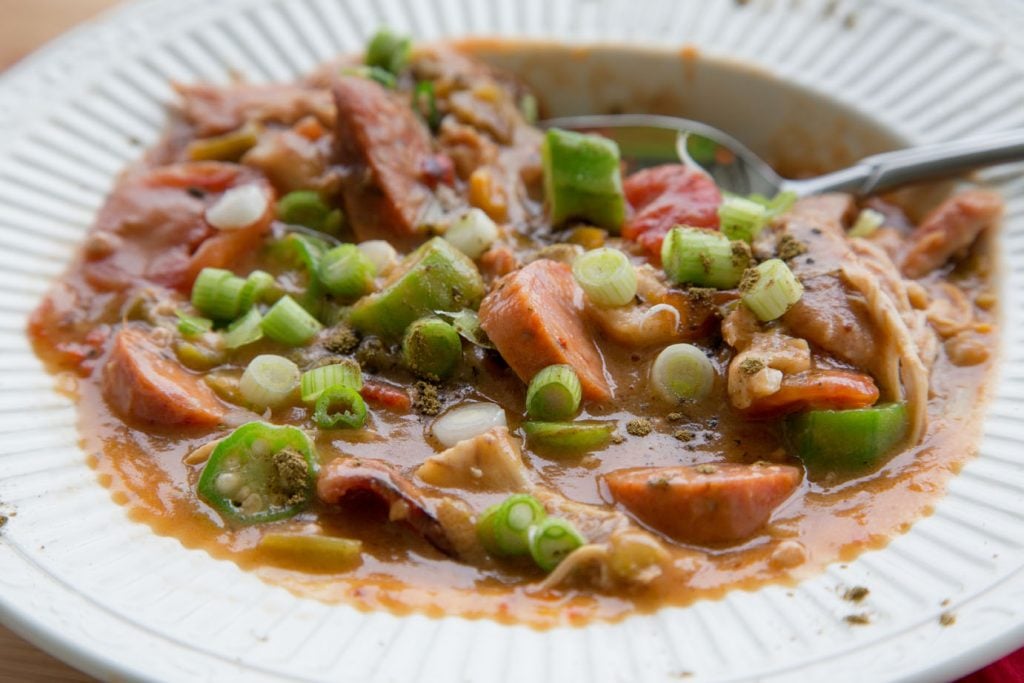 Comfort food brings out the best in people. It doesn't have to be fancy, just plain delicious. Tried and true recipes redone for the fast-paced lifestyle we live, bring deliciousness to your kitchen.
Spend this time with family and friends, enjoying the flavorful as spicy as you like the taste of my Chicken Gumbo. Bring sausage back to the dinner table with this dish.
Wouldn't you like to sit down to a bowlful of this deliciousness? I bet your family would love this hearty, heartwarming dish. And the best part is, you only need one pan to create this Cajun Classic.
If you this enjoyed recipe you may also like these: