Make restaurant-style meals in your own home. My Chicken and Shrimp Toscano takes minutes to prepare and will turn any occasion into a special occasion!
This post includes affiliate links. As an Amazon Associate I earn from qualifying purchases.
How to make Chicken and Shrimp Toscano.
During my restaurant days, I loved the saute station, blending ingredients together, finding the right balance, getting the sauce just right and providing my guests with a good value and a delicious meal.
One of the ways I used to keep costs down was to mix chicken and shrimp together. My guest still got the splurge of plump juicy gulf shrimp, while the chicken helped keep the cost in line, and of course, I served the dish over pasta so by the end of the meal my guest was full and satisfied.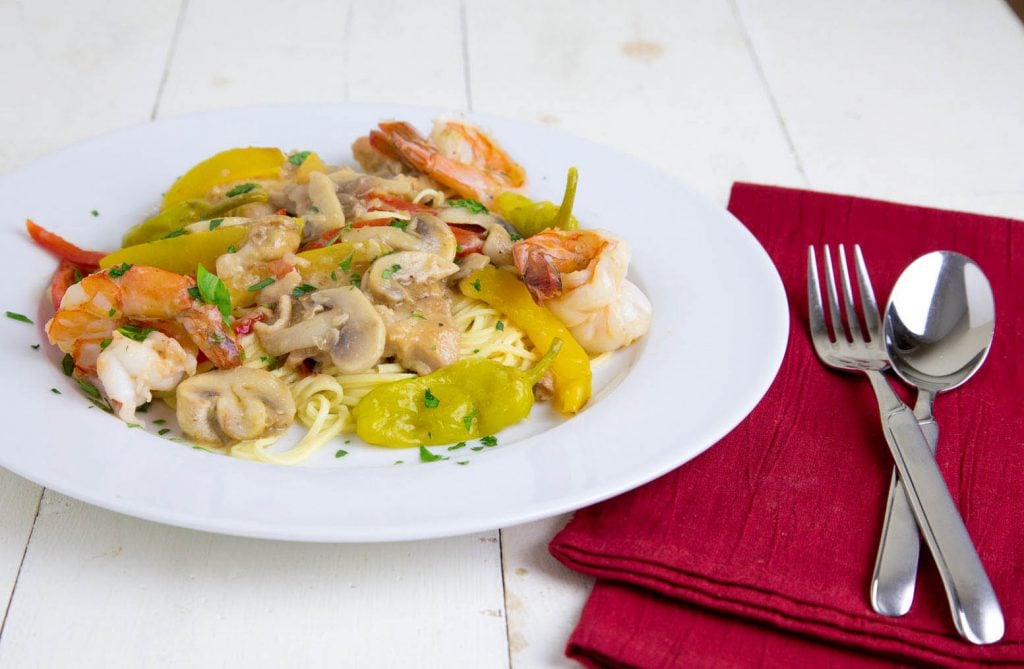 Using the same philosophy in your kitchen you can take ordinary everyday meals and transform them into special occasions by creating my Restaurant Style Meals in your own home. Don't think you can't afford shrimp because if you shop in the right stores you can find quality products at about the same cost that I would pay from my suppliers when I worked in restaurants.
When it comes to seafood Sams Club has been my go-to store for years, providing me with huge wild-caught shrimp, lobster and even scallops. You'll find most of your club stores will not only have great seafood selections but also some good cuts of meats. By shopping wisely your once or twice a year big splurge can become a once a month date night at home at a fraction of what you'd pay at a restaurant for the same meal.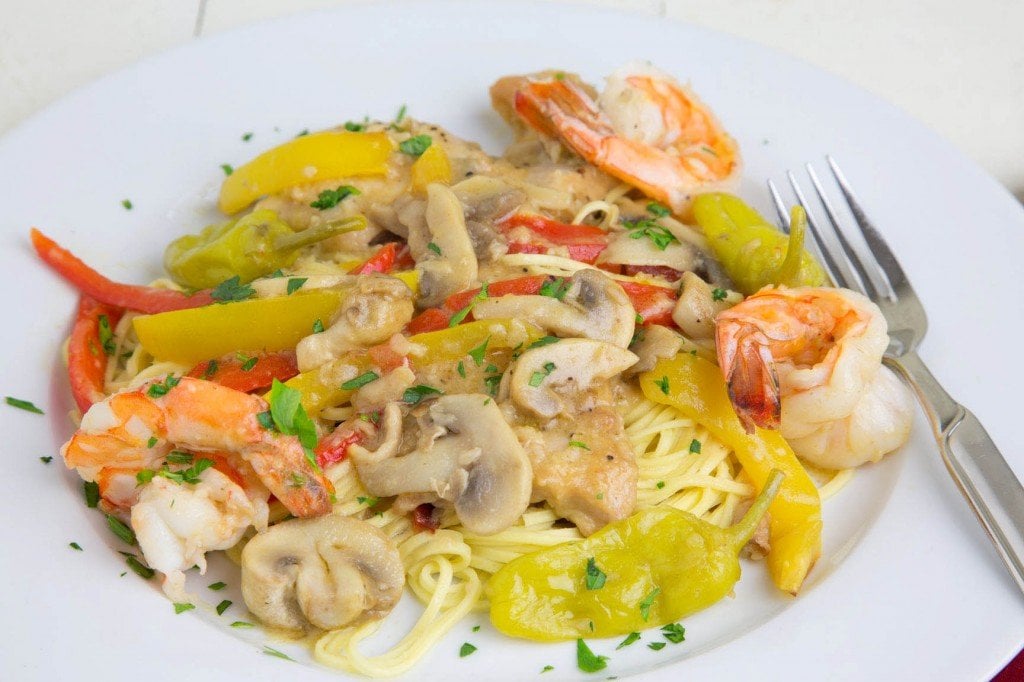 Of course, this dish is just one of many you can create using chicken and shrimp, so if you don't like peppers or want it in a red sauce, by all means, adjust the recipe. Just stay along the basic guidelines and you'll find out how easy it is to cook just like and even better than your favorite restaurant!
If you enjoyed this recipe you may also like these:
[full social]
Print Recipe
Chicken and Shrimp Toscano
Make restaurant-style meals in your own home. My Chicken and Shrimp Toscano takes minutes to prepare and will turn any occasion into a special occasion!
Ingredients
6

ounces

chicken tenderloins

6-8 pieces

1/2

pound

shrimp

peeled and deveined

1

cup

sliced mushrooms

1/2

red bell pepper sliced

6-8

pepperoncini

8

oz

linguine or spaghetti cooked aldente

I use De Cecco

4

ounces

chicken stock

1

ounce

olive oil

2

tablespoons

grated romano cheese

pinch of black pepper

1

clove

garlic chopped

1

tablespoon

butter

flour to dredge chicken and butter

1

Tablespoon

finely chopped Italian Parsely
Instructions
peel and devein your shrimp

get large pot of lightly salted water ready for pasta, and cook per directions when you begin cooking chicken. The dish should be done just about the time the pasta is cooked 11-12 minutes

dredge chicken in flour seasoned with salt and pepper

add one tablespoon olive oil into large heated saute pan

place chicken and chopped garlic in pan and cook for 1-2 minutes then turn over.

when turning place mushrooms and bell peppers in pan along with shrimp and continue cooking until shrimp look almost done.

Remove shrimp from the pan, add Tuscan peppers saute briefly then add chicken stock and reduce heat.

Season with grated Romano cheese and pinch of black pepper.

When ready to serve add shrimp back into pan , and roll butter into flour, pushing flour into butter creating a beurre manie. This will help thicken the sauce.

If your dish looks too dry add a little more stock until there's enough sauce for the pasta.

Place pasta on serving dish and divide shrimp and chicken, then finish topping with remainder of ingredients and sauce.

Sprinkle with chopped Italian parsley a little extra cheese and enjoy!
Nutrition
Calories:
635
kcal
|
Carbohydrates:
42
g
|
Protein:
53
g
|
Fat:
27
g
|
Saturated Fat:
7
g
|
Cholesterol:
362
mg
|
Sodium:
1181
mg
|
Potassium:
807
mg
|
Fiber:
4
g
|
Sugar:
4
g
|
Vitamin A:
1405
IU
|
Vitamin C:
72.6
mg
|
Calcium:
226
mg
|
Iron:
4.9
mg