This post includes affiliate links. As an Amazon Associate I earn from qualifying purchases.
Creating a delicious morning meal like my Breakfast Lovers Cheesy Skillet Breakfast is a great way to show your friends and family that you care.
This post is sponsored by Cabot Creamery. The opinions, recipe, and images are 100% my own.
Do you love breakfast? I certainly do, and for years they've been telling us its the most important meal of the day.
So why not make the most delicious meal of the day? Creating a dish like my Cheesy Skillet Breakfast isn't difficult or time-consuming. In fact, you can do all of the prep the night before.
What do you need to make a Skillet Breakfast?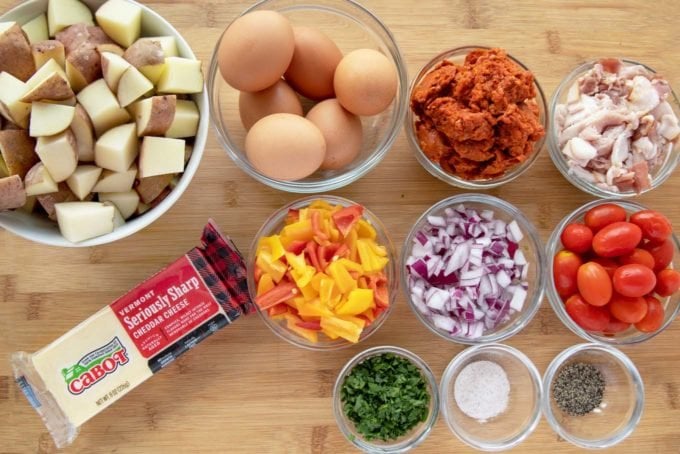 I always start by gathering the ingredients I need to create my recipe. In chef speak we call this the Mise en Place (everything in its place).
As you can see you can prep all of the ingredients that night before. Then it's just a matter of getting the ingredients cooked and put together which should take 30 – 40 minutes.
Can I substitute ingredients in my Skillet Breakfast?
I used Mexican style chorizo for this recipe, but you could use any sausage that you like. I prefer loose sausage meat, but you could also you diced or sliced cooked sausage. If you like Andouille or Italian sausage it's all up to you.
I love bacon so that was a no brainer for me. If you prefer to leave out the bacon its not going to hurt the recipe. Or go with all bacon and no sausage, remember recipes are guidelines.
Onions and peppers are a must, once cooked they add flavors that can't be replicated. That being said, it's your food and it should have ingredients you enjoy eating. My wife hates both onions and peppers so they rarely make it into anything I cook at home. Tomatoes are just for color, as is the chopped parsley, it's your call.
Potatoes can be any variety you like, including sweet potatoes. This breakfast would be amazing with sweet potatoes.
It's hard to imagine that anyone wouldn't want cheese in their skillet breakfast, so I'm going to tell you to use your favorite variety of Cabot Cheese in your recipe.
And yes all this cheese and more is in my fridge. What's your favorite variety of Cabot Cheese?
Can I cook all of the ingredients in the oven?
You sure can. I would use separate pans for the bacon and sausage, so you can drain the extra grease off before mixing the ingredients together. You can roast the potatoes for half the time before adding the onions, peppers and tomatoes.
After the ingredients are cooked, mix them all together top with the cheese, parsley and eggs and finish under the broiler. Okay, it's one pan but no stovetop required if you choose this route.
You could also cook this on your barbecue grill if that skill set is in your wheelhouse.
Do I need to use a Cast Iron Pan for a Skillet Breakfast?
No, you don't. You can use any type of pan you like. Honestly, in this case, the cast iron skillet is more for presentation.
This can easily be made on sheet pans or in your favorite casserole dish.
I did use the cast iron pan for cooking the bacon and chorizo. After removing the meats and draining off the grease I then sauteed the onions and peppers in a little of the grease. Feel free to use olive oil if you prefer.
How do I make a Cheesy Skillet Breakfast?
Now that I've explained the hows and whys lets get on with how I prepared my skillet breakfast.
After doing all the prep, the first step was roasting the potatoes.
I used parchment paper to line my baking sheet, making the end process and clean up so much easier.
After the potatoes, meats, onions and peppers are ready, put them all together on the sheet pan. Top the mixture with Cabot Cheese and finely chopped parsley.
Place the pan back in the oven for 3 minutes to let the cheese melt.
Remove the baking sheet from the oven and very carefully pick up the parchment and slide all the ingredients into a cast-iron skillet (or casserole dish).
Add whole eggs to the top of the ingredients. Don't worry if a few of the eggs break, it happens. Cracking them into a bowl first and using a tablespoon to place the will help keep breaking the eggs to a minimum.
Make sure to season the eggs well with sea salt and black pepper, sprinkling a little more parsley for color.
*Chef Dennis Tip – Making little wells in the mixture will help keep them in place.
Turn on the broiler and place the cast iron pan back into the oven. This will cook the eggs.
I like mine sunny side up so I let them cook just long enough to see the whites becoming solid. If you leave them too long the yolks will start to harden.
Do I have to cook the eggs in the oven?
No, you don't.
You can finish your Cheesy Skillet Breakfast on the stovetop. Simply cover the pot with a lid (or aluminum foil) and let the heat and steam cook the eggs.
You could also pan-fry the eggs and place them on top of individual servings.
If you enjoyed this recipe, you may also like these: