My Slow Cooker Chicken Thighs is an economical delicious dish that the whole family will love! The tender chicken thighs and the sweet and savory flavors of my honey garlic sauce make this dish the perfect meal for a busy weeknight or your next get-together.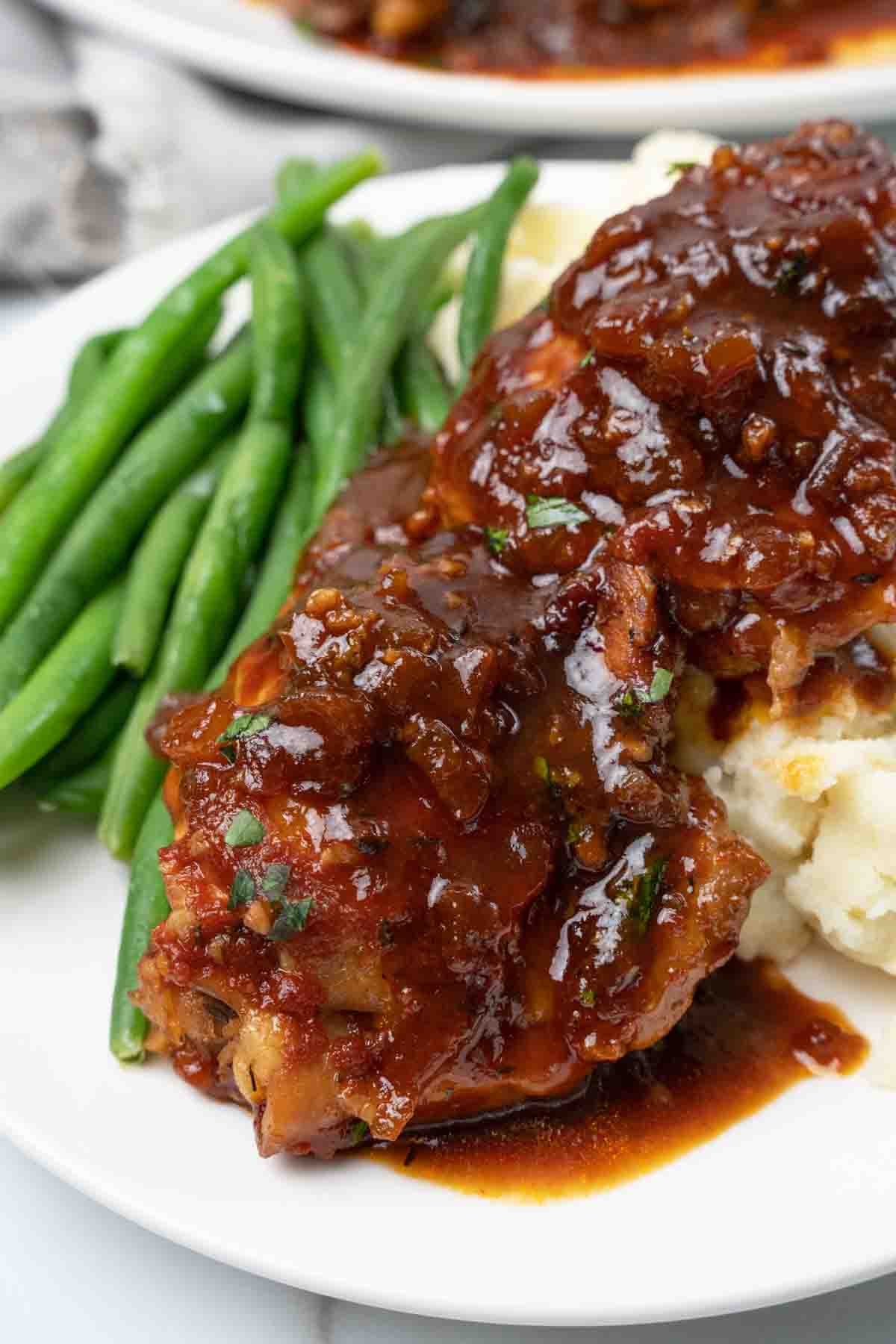 Slow cooking is an easy way to get dinner on the table with minimal work, and recipes like my crockpot chicken thighs recipe will definitely be one of the more popular chicken dinners you serve your family.
This easy recipe can be made with boneless chicken thighs, but honestly, the bone and extra fat from the chicken skin add a lot of flavor to this delicious dish. Dark meat, in general, has more flavor than chicken breasts, and slow cooking gives you tender, juicy, flavorful chicken thighs every time.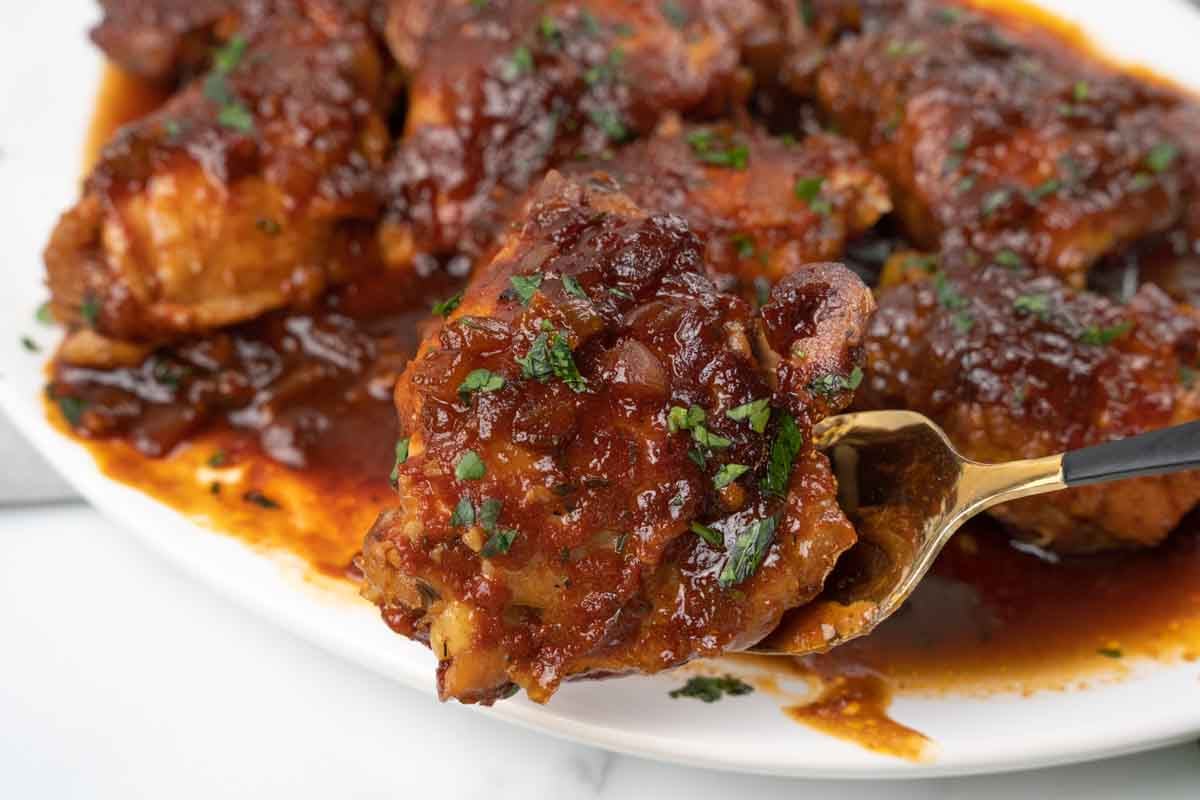 Dinner time will definitely be more delicious with my Slow Cooker Chicken Thighs, it's one of my favorite crockpot recipes!
If you love creating delicious chicken dishes in your slow cooker, you'll love my Slow Cooker Chicken Merlot.
Ingredients to make slow cooker chicken thighs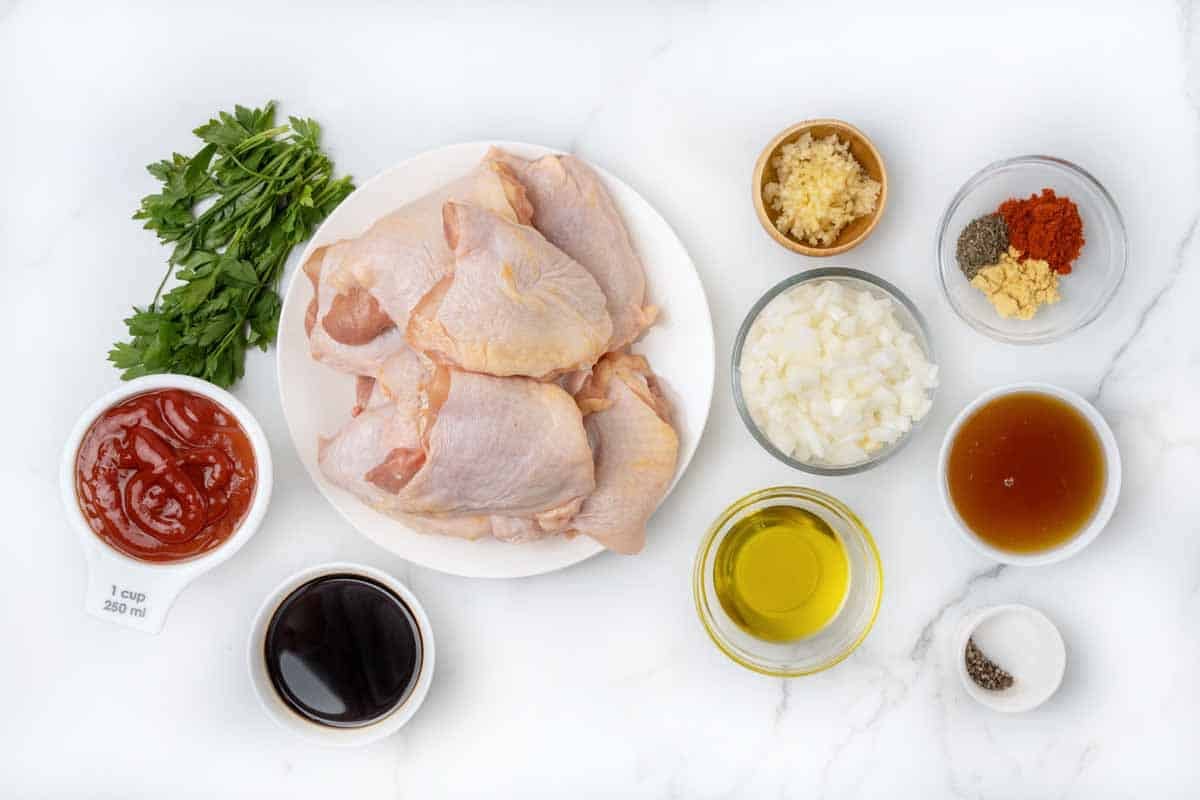 Let's start by gathering the ingredients we need to make Slow Cooker Chicken Thighs. In Chef Speak, this is called the "Mise en Place," which translates to "Everything in its Place."
Not only does setting up your ingredients ahead of time speed up the cooking process, it also helps ensure you have everything you need to make the dish.
Made with simple ingredients
skin-on chicken thighs
olive oil
ketchup
soy sauce
honey
fresh garlic
onion
dried thyme
sweet paprika (or smoked paprika)
dried mustard
salt
black pepper
Can I use different cuts of chicken to make this recipe?
You can use bone-in chicken breasts, boneless skinless chicken breasts, or boneless thighs to make this recipe. You can even cut up a whole chicken and use the parts to make my slow cooker honey garlic chicken.
How to make slow cooker chicken thighs
Add the ketchup, soy sauce, honey, minced garlic, chopped onion, dried thyme, paprika, and dried mustard to a medium bowl.
Whisk the ingredients together until well blended.
Pat dry the chicken thighs with paper towels and season with salt and pepper on both sides.
Place a cast iron pan or large frying pan over medium-high heat with olive oil. Place the chicken skin side down in the hot pan and sear until golden brown.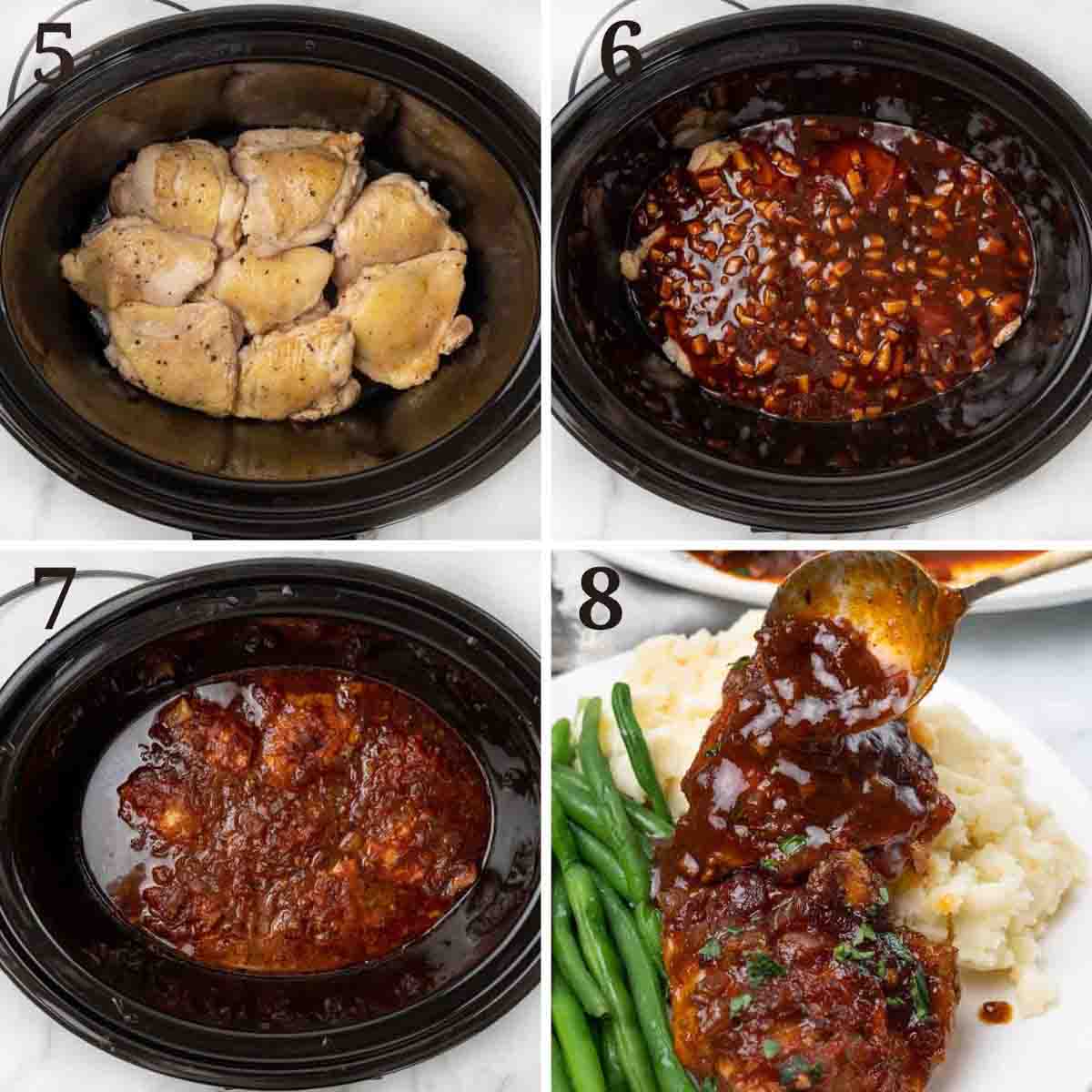 Remove the chicken from the pan and place it in a single layer, skin-side up in the crock pot.
Pour the sauce mixture over the chicken in the slow cooker.
Place the lid on the slow cooker and cook on high for 3 hours or high heat temperature or 5 hours on the low heat setting. When finished cooking, pour the sauce out of the slow cooker and skim off any excess fat. If needed, heat until thickened.
Remove the chicken from the slow cooker and place on a serving dish. Spoon the sauce over the chicken and garnish with fresh chopped Italian parsley.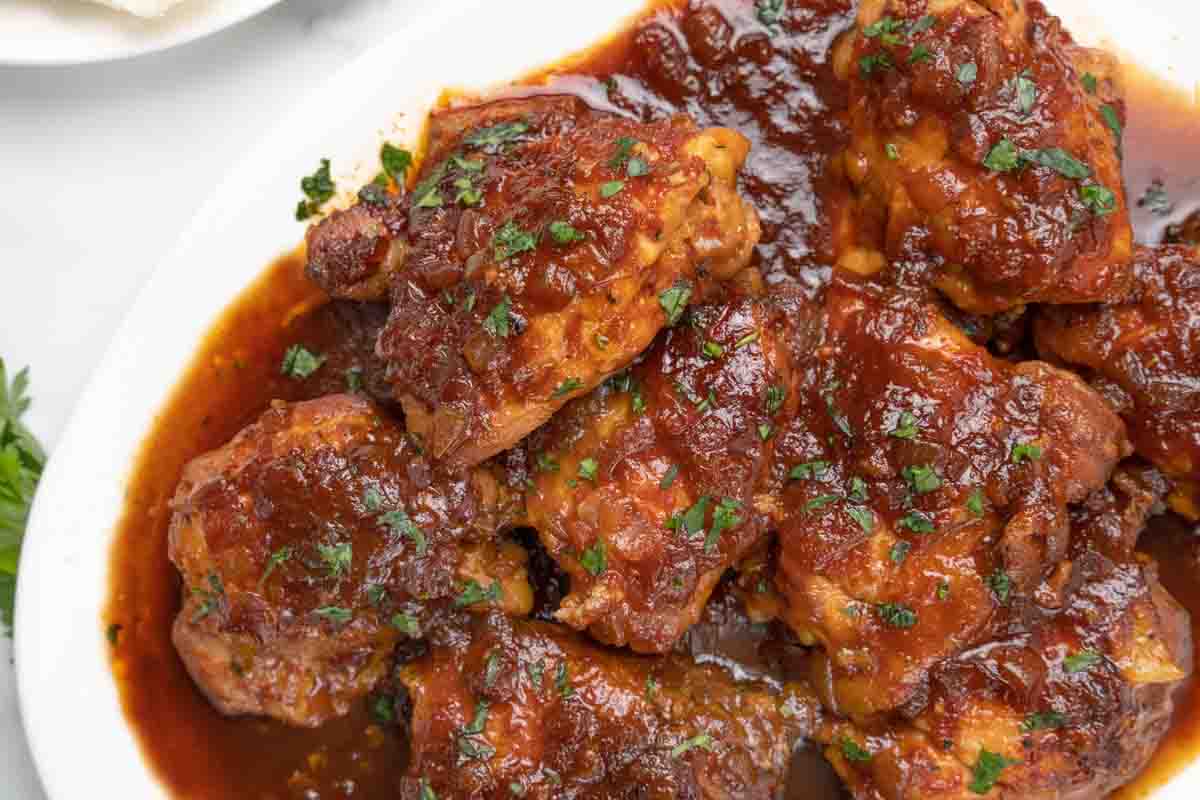 I like to serve my slow cooker chicken thighs with mashed potatoes and green beans. But it can also be served with white rice or brown rice and your favorite vegetable.
Save any leftover chicken thighs in an airtight container for 3-4 days in the refrigerator. This dish can be frozen and will last up to 3 months in the freezer.
This post includes affiliate links. As an Amazon Associate, I earn from qualifying purchases.
I recommend and use this slow cooker for my recipes. It's a little larger than most and gives me room to cook just about anything.
Recipe FAQ's
Should I cook chicken on high or low?
Bone in chicken thighs is one of the chicken parts that can be cooked on high heat because of the higher fat content of the dark meat and the bone. When it comes to breasts or boneless chicken, it's best to avoid using high, intense heat.
Can I put raw chicken in a slow cooker?
Absolutely, Slow cookers and Crock-Pots are designed specifically to cook raw meats. The direct heat from the pot, long slow cooking time, and the steam that's created from the covered slow cooker will destroy the bacteria during the cooking process. You can also put frozen chicken in a slow cooker.
Do I need to sear the chicken before adding it to the slow cooker?
No, you don't. But searing the chicken seals in the juices will result in a more tender piece of chicken. Also, caramelizing the outside of the chicken will add to the flavor.
More Recipes You'll Love!