If you're looking for the perfect appetizer, my Roasted Eggplant Dip is guaranteed to bring smiles to your table, not just the eggplant lovers. With a slightly smoky flavor, this chunky Mediterranean eggplant dip with a hint of tomatoes, garlic, and lemon is a taste sensation your whole family will love.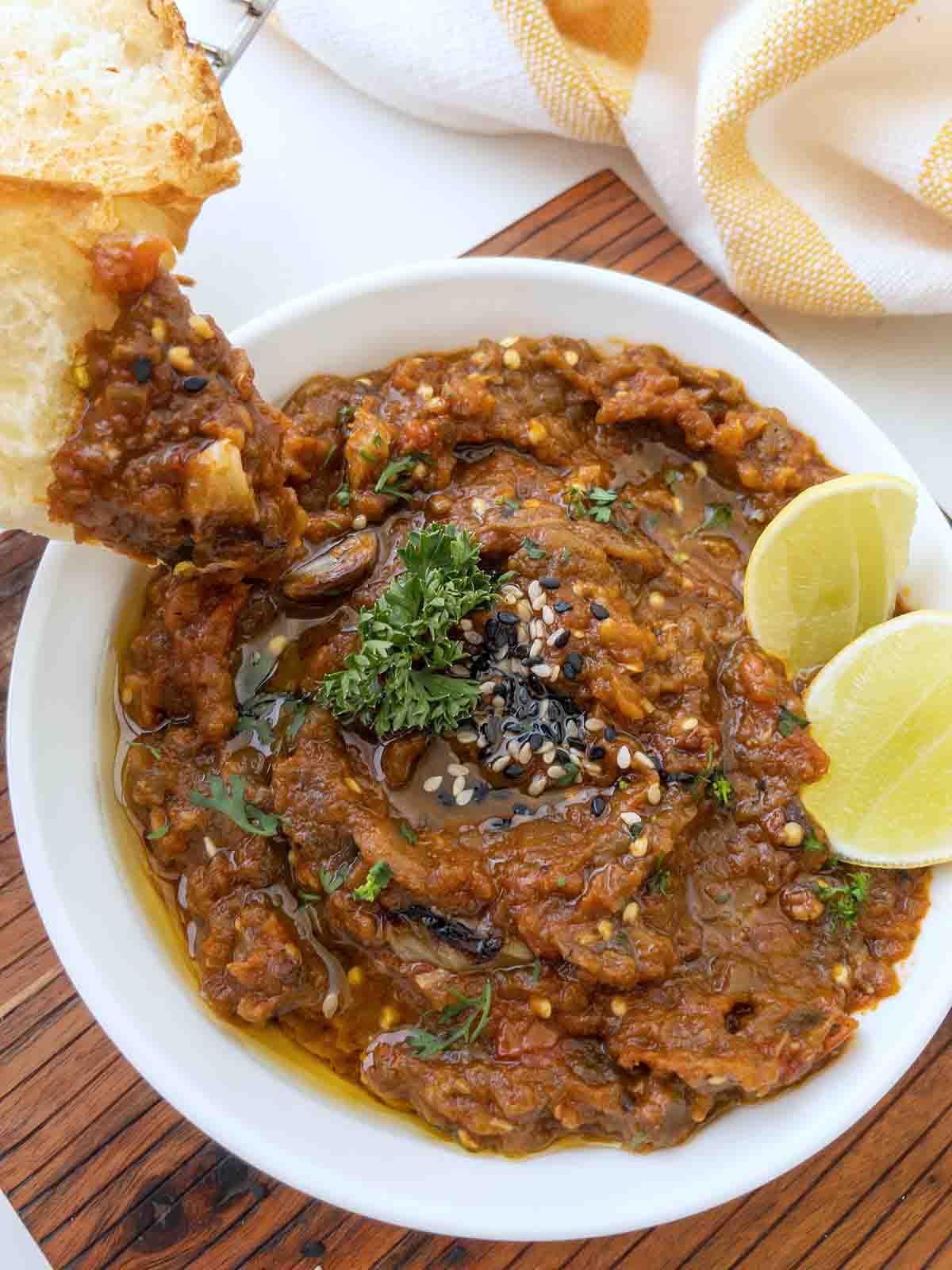 My easy roasted eggplant dip is one of my favorite eggplant recipes, and once you taste this delicious dip, I know you'll be making it every chance you get. And I promise after one bite, you'll agree that this is the best roasted eggplant dip you've ever tasted!
If you love eggplant, be sure to try my Eggplant Caponata recipe.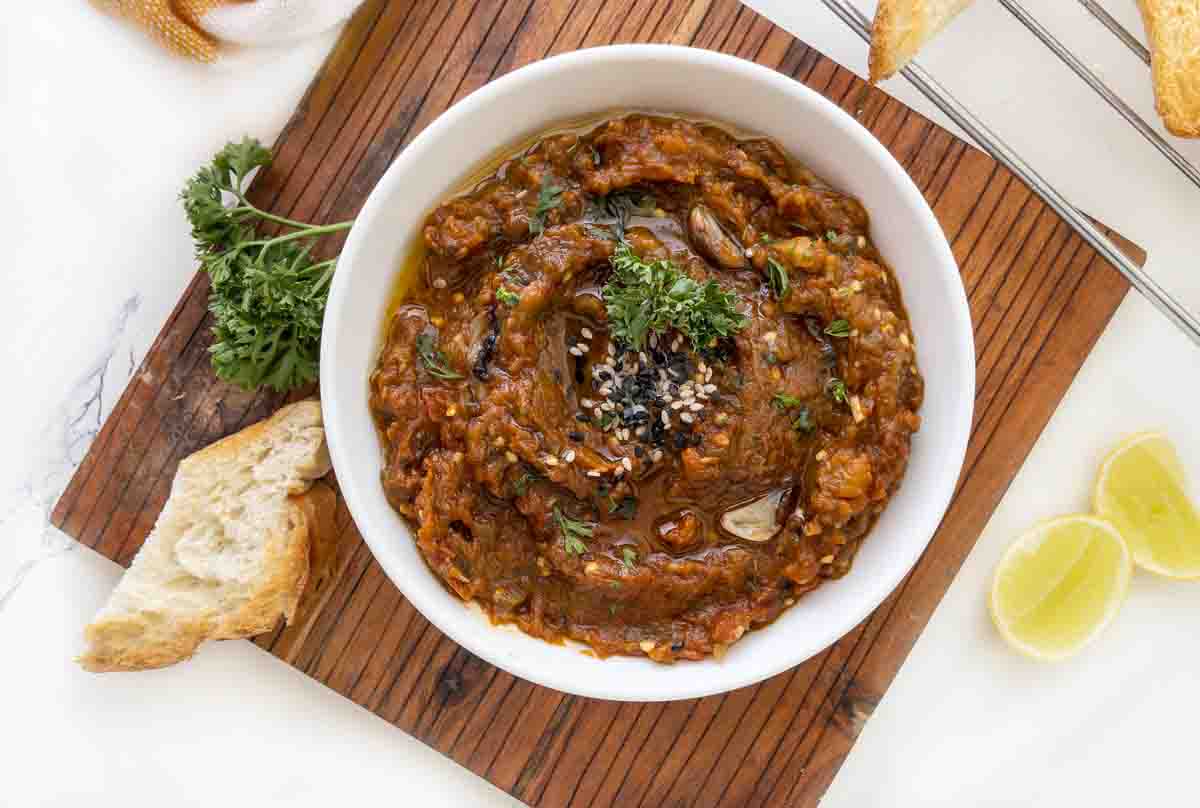 My Mediterranean Eggplant Dip is a little different than Baba Ganoush (Baba Ghanouj). While both are made with eggplant, the other ingredients vary. While this dip is made with tomatoes, Baba Ganoush is made with tahini, which keeps that dip more of a tan color than the vibrant brownish red of my Mediterranean version. There is also a Greek Eggplant dip (Melitzanosalata) which is a simpler version made with parsley, lemon, olive oil, salt, and pepper.
My Naan Bread would be a delicious way to enjoy this flavorful roasted eggplant dip.
Ingredients for Roasted Eggplant Dip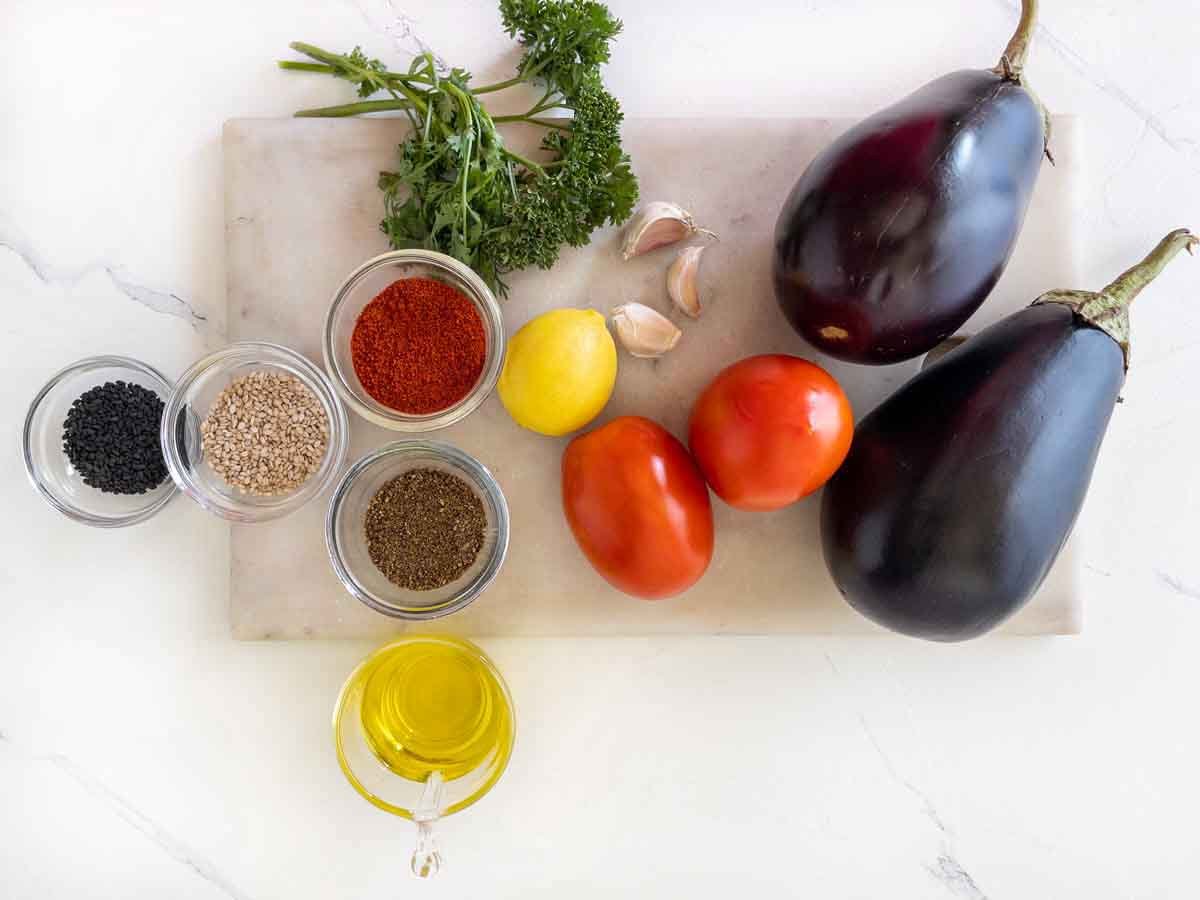 Let's start by gathering the ingredients we need to make Roasted Eggplant Dip. In Chef Speak, this is called the "Mise en Place," which translates to "Everything in its Place."
Not only does setting up your ingredients ahead of time speed up the cooking process, it also helps ensure you have everything you need to make the dish.
Made with simple ingredients
eggplant
garlic cloves
tomatoes
extra virgin olive oil
fresh lemon juice
parsley
cilantro
salt
You can use 3 tablespoons of tomato paste instead of fresh tomatoes if you want a deeper, richer tomato flavor. You can also add one teaspoon of smoked paprika for a smokier flavor to my roasted eggplant dip recipe. For a spicier flavor, add red pepper flakes to the dip.
How to make Roasted Egg Plant Dip
Preheat the oven to 400˚F.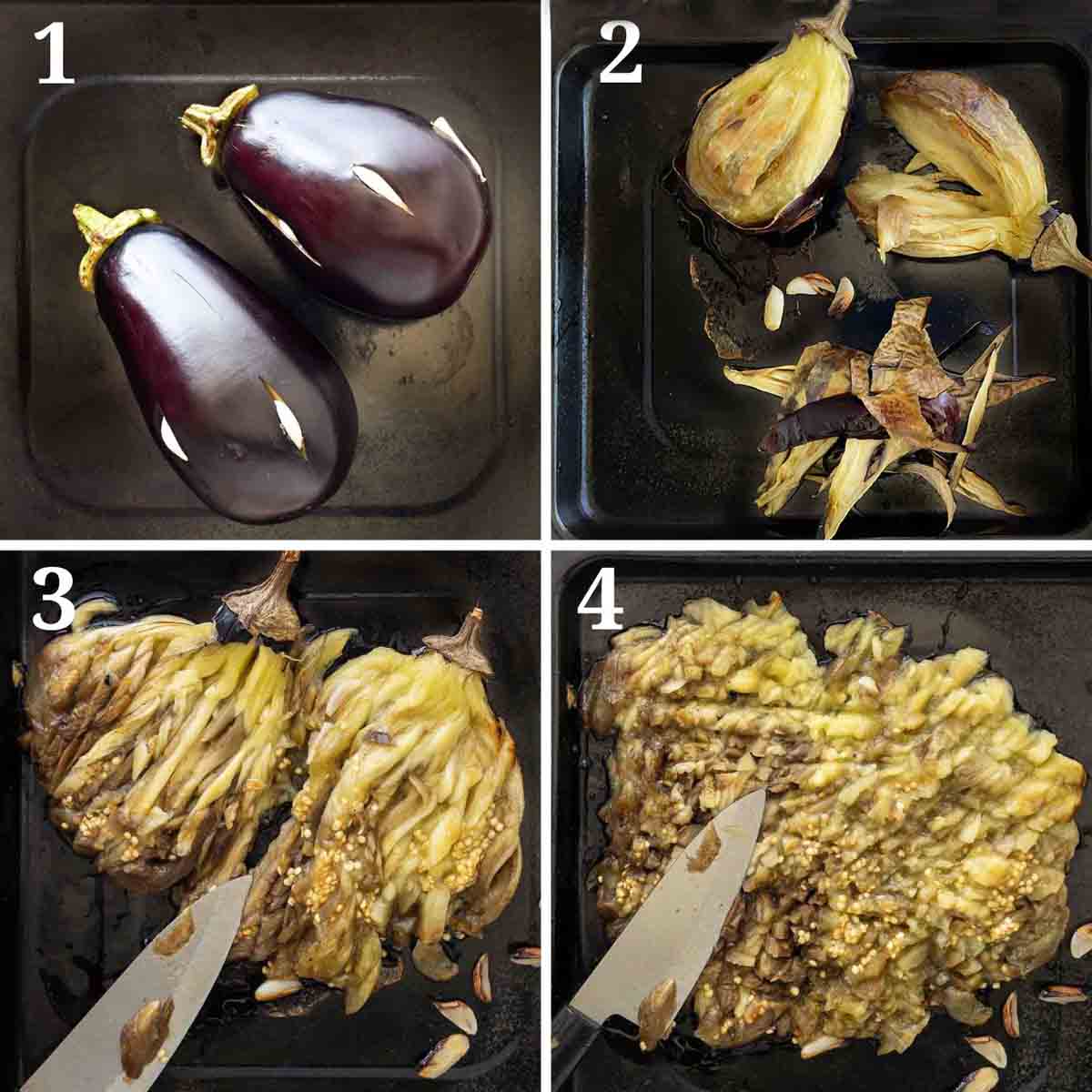 Make a few small slices in the eggplant and insert garlic cloves into the slits and place the eggplant on a baking tray lined with aluminum foil or parchment paper.
Bake the whole eggplants for 35 to 45 minutes. Let the eggplants cool slightly, then remove the skin of the eggplants.
Slice the eggplant into thin slices.
Crosscut the eggplant into small pieces. Or alternatively, mash the eggplant with a fork.
You can cook the eggplant over the high heat of the open flame of your gas grill instead of roasting it in the oven. Turn the eggplant frequently as the skin chars, making sure to keep the lid closed all other times so the eggplant bakes. The charred skin will add a smoky flavor to the dip.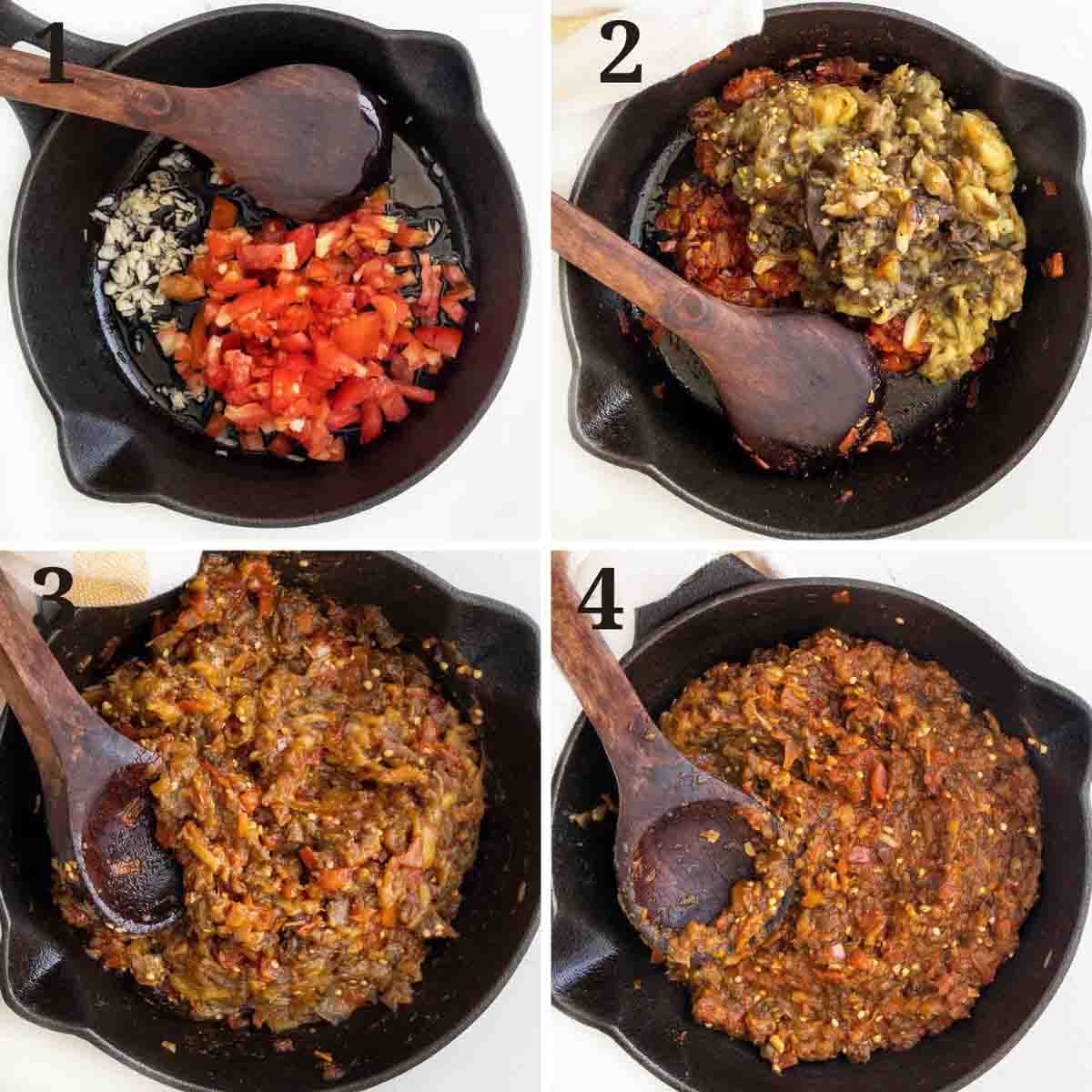 Add two tablespoons of olive oil to a skillet over medium heat. Add the chopped garlic, chopped tomatoes, cumin, chili powder, salt, cilantro, and water to the pan.
Let the mixture cook until the tomatoes are softened (about 5 to 8 minutes). Stir as needed. Then add the eggplant to the pan, mix with the other ingredients, and cook for two minutes.
Reduce the heat to low heat and continue cooking for 6-8 minutes, mashing the eggplant as it cooks to blend the ingredients into a puree.
Squeeze in half the lemon juice and stir to combine.
This is a chunky eggplant dip which is more of the Mediterranean version. If you prefer a creamy dip, you can pulse it in a food processor until you have the desired consistency.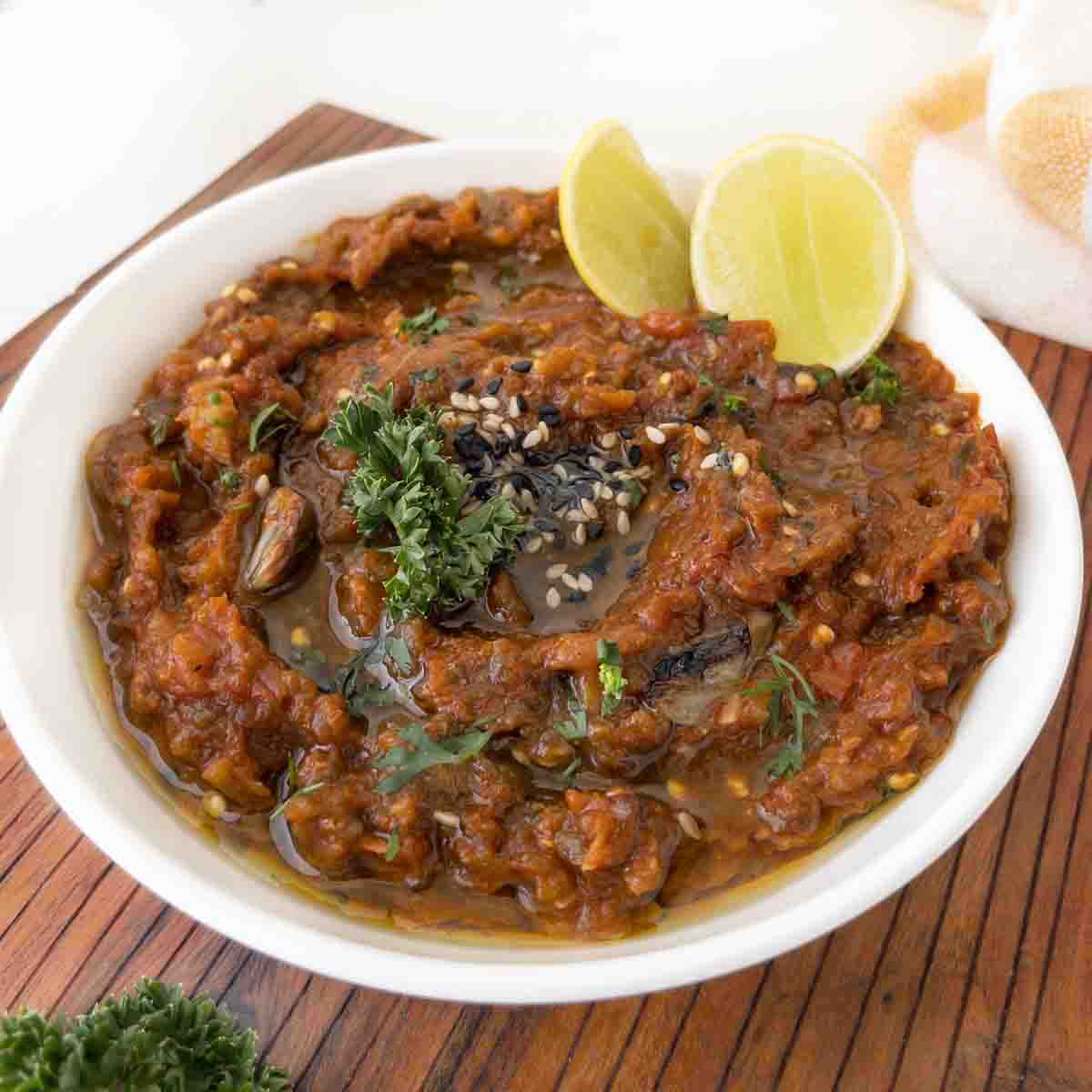 Serve the Roasted Eggplant Dip in a medium bowl (or serving bowl of your choice) and garnish with a drizzle of olive oil, toasted sesame seeds, and fresh chopped parsley. Serve the dip warm, at room temperature, or chilled with fresh bread, flatbreads, toasted bread slices, pita chips, or your favorite crackers.
Store any leftover dip in an airtight container in the refrigerator for 2-3 days.
Recipe FAQ's
What dips can I make with roasted eggplant?
Besides my delicious Roasted Eggplant Dip, you can also make the classic Baba Ganoush which uses Tahini,  garlic, and spices to make the dish. Melitzanosalata is the rustic Greek version of an eggplant dip that is made with roasted smoky eggplant, garlic, parsley, red onions, lemon juice and extra virgin olive oil. 
More Recipes You'll Love!