My Classic Marinara Sauce recipe is made with wholesome basic pantry ingredients and is an easy recipe for your next pasta night. This has been my go-to marinara recipe for as long as I can remember.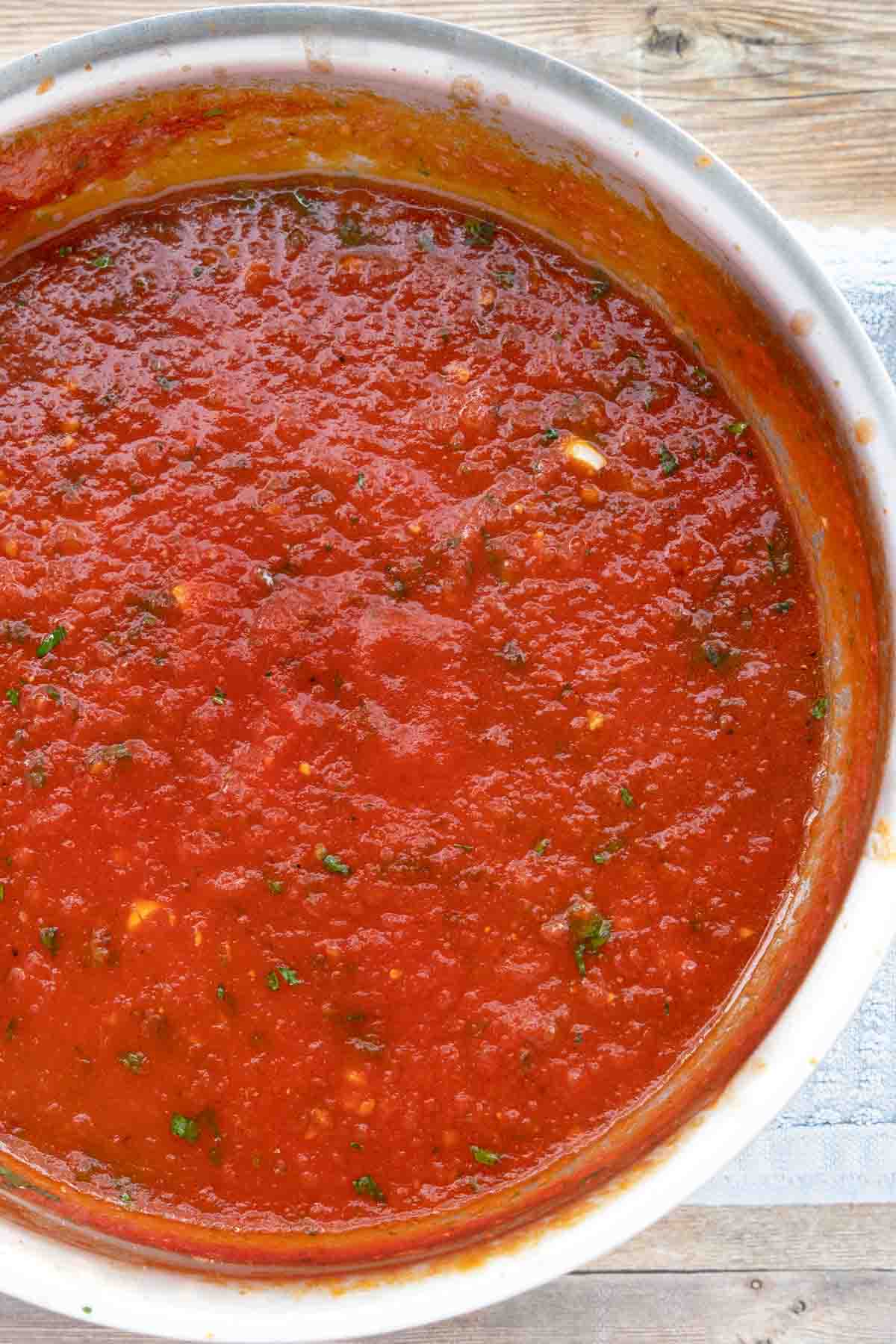 When I first learned to cook this simple marinara sauce, I was told it was first created by cooks on fishing ships. They had to feed the sailors on board the ships, so the dishes they made had to use simple fresh ingredients that could be cooked quickly.
The sauce was commonly referred to as mariner sauce (marinaio in Italian), which later became known as Marinara Sauce.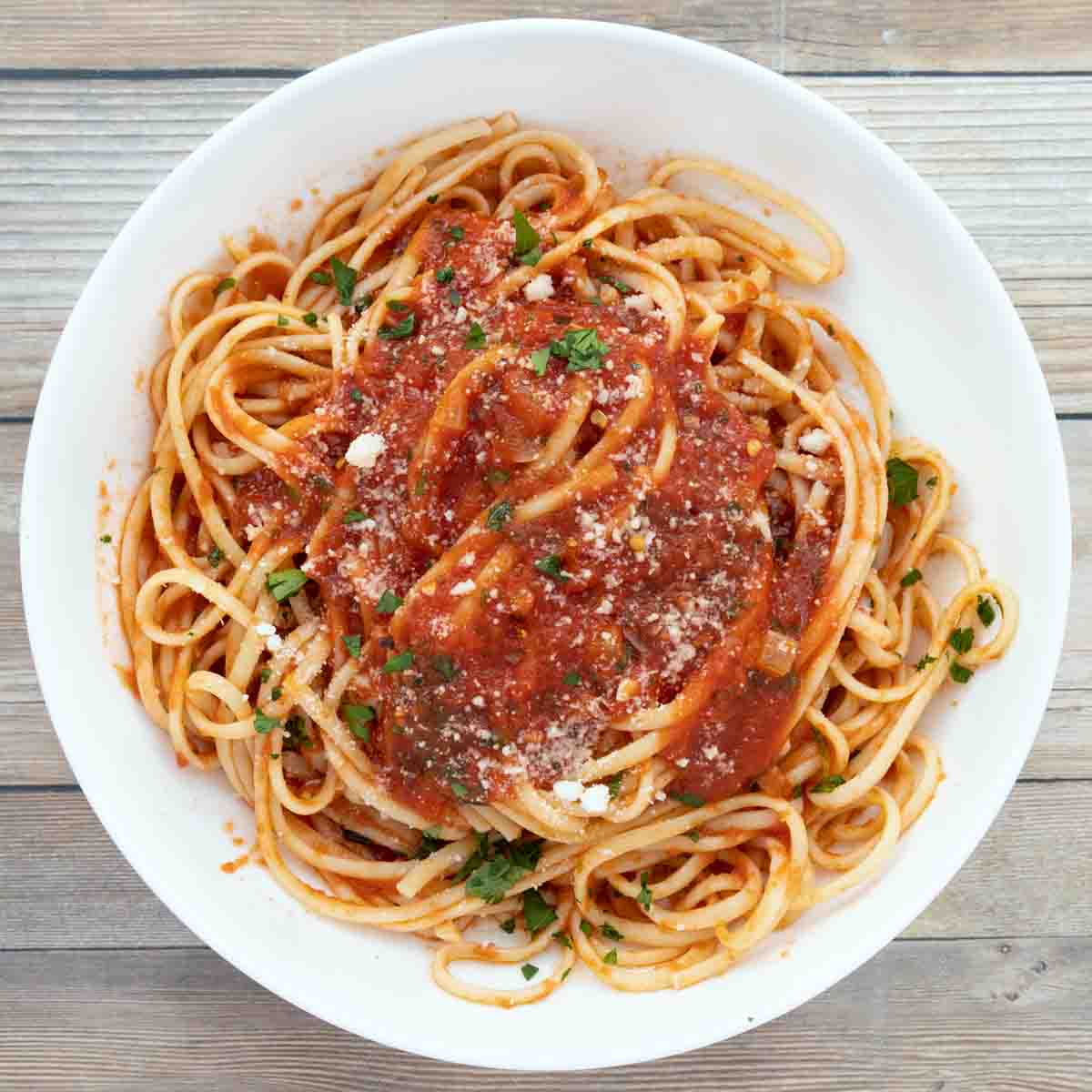 Serve this easy marinara sauce with your favorite pasta. Garnish with fresh chopped basil and grated Romano or parmesan cheese.
Over the years, I've made a lot of tomato sauces, and this is the best homemade marinara sauce recipe I've created, and it has a much fresher taste than any store-bought marinara sauce.
Ingredients to make marinara sauce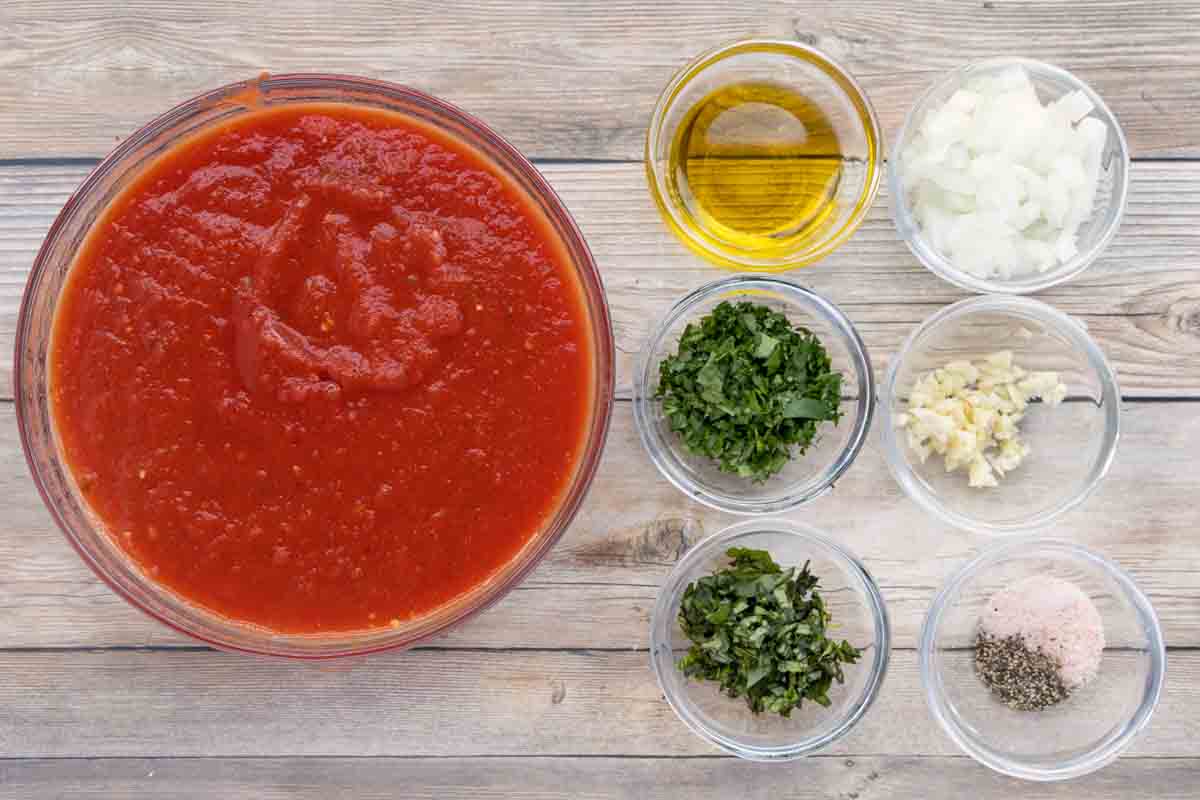 Let's start by gathering the ingredients we need to make Marinara Sauce. In Chef Speak, this is called the "Mise en Place," which translates to "Everything in its Place."
Not only does setting up your ingredients ahead of time speed up the cooking process, it also helps ensure you have everything you need to make the dish.
Simple Ingredients
extra virgin olive oil
fresh garlic
fresh onions
Italian plum tomatoes (or crushed tomatoes)
fresh basil
fresh Italian parsley
sea salt
black pepper
red pepper flakes (optional)
This sauce is not typically made using tomato paste or tomato puree, but in a pinch, it can be made with just about any tomato product, including fresh tomatoes.
*I will admit that I do a little sugar to all my tomato sauces, this is a personal choice and one I find enhances the flavor of the marinara.
How to make Marinara Sauce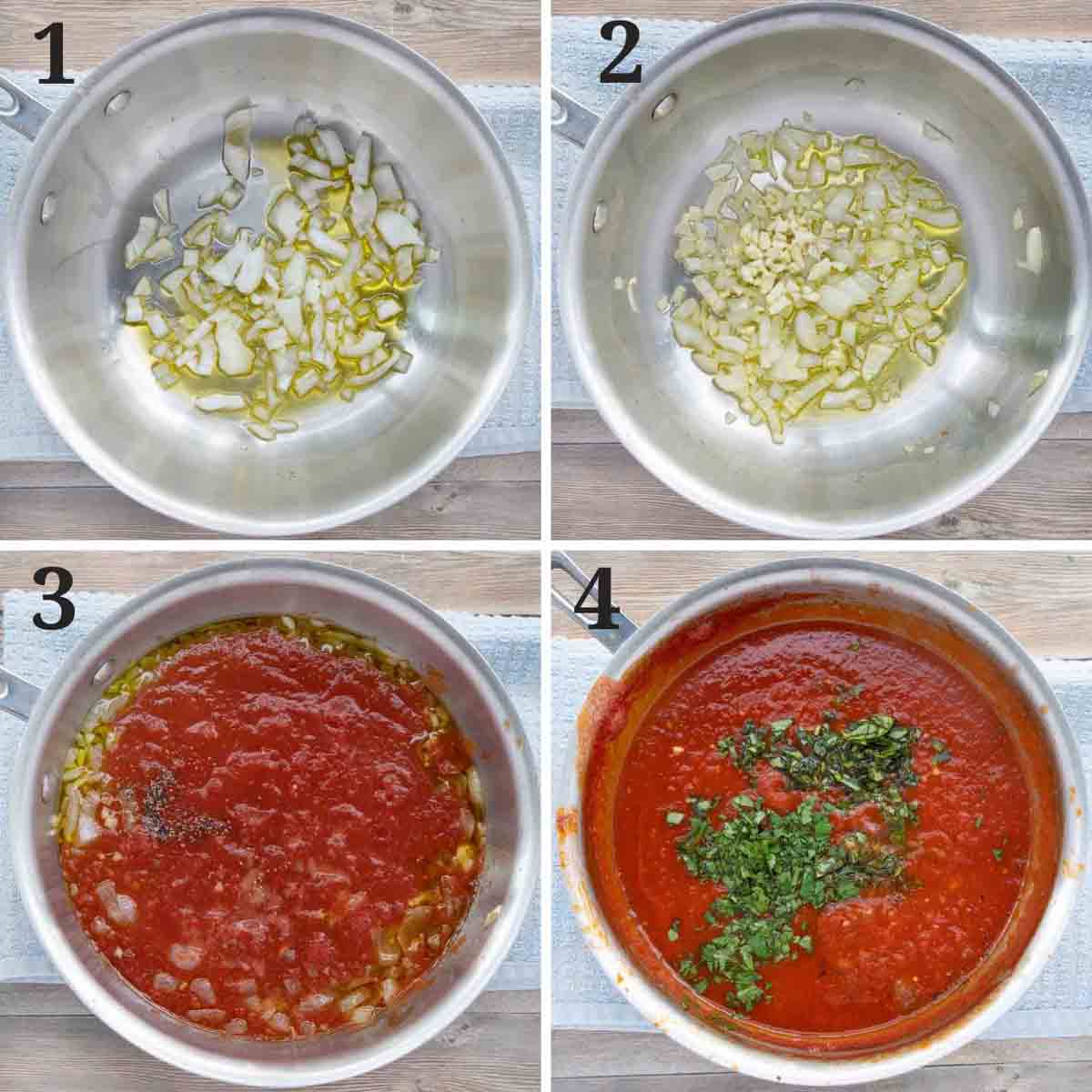 Add the olive oil and chopped onions to a small saucepan over medium-high heat. (yellow onions, white onions, or sweet onions can be used)
Cook the onions for 3-4 minutes, then add the chopped garlic cloves. Cook for another minute to sear the garlic.
Add the crushed tomatoes, sea salt, and black pepper to the pan. Bring to a light boil and reduce the heat to a simmer. Continue cooking for 15 minutes.
Add the chopped basil and Italian parsley to the pan and continue to cook for 3-4 minutes.
I used an immersion blender to puree the whole tomatoes. They can be crushed by hand if you prefer a chunkier marinara sauce. When buying tomatoes, I suggest using San Marzano tomatoes for all your pasta sauce recipes. They are the Gold Standard of canned tomatoes.
Real San Marzano tomatoes will only be available whole in juice or puree. By law, they cannot be crushed. If they are sold crushed, they will be classified as "San Marzano Style."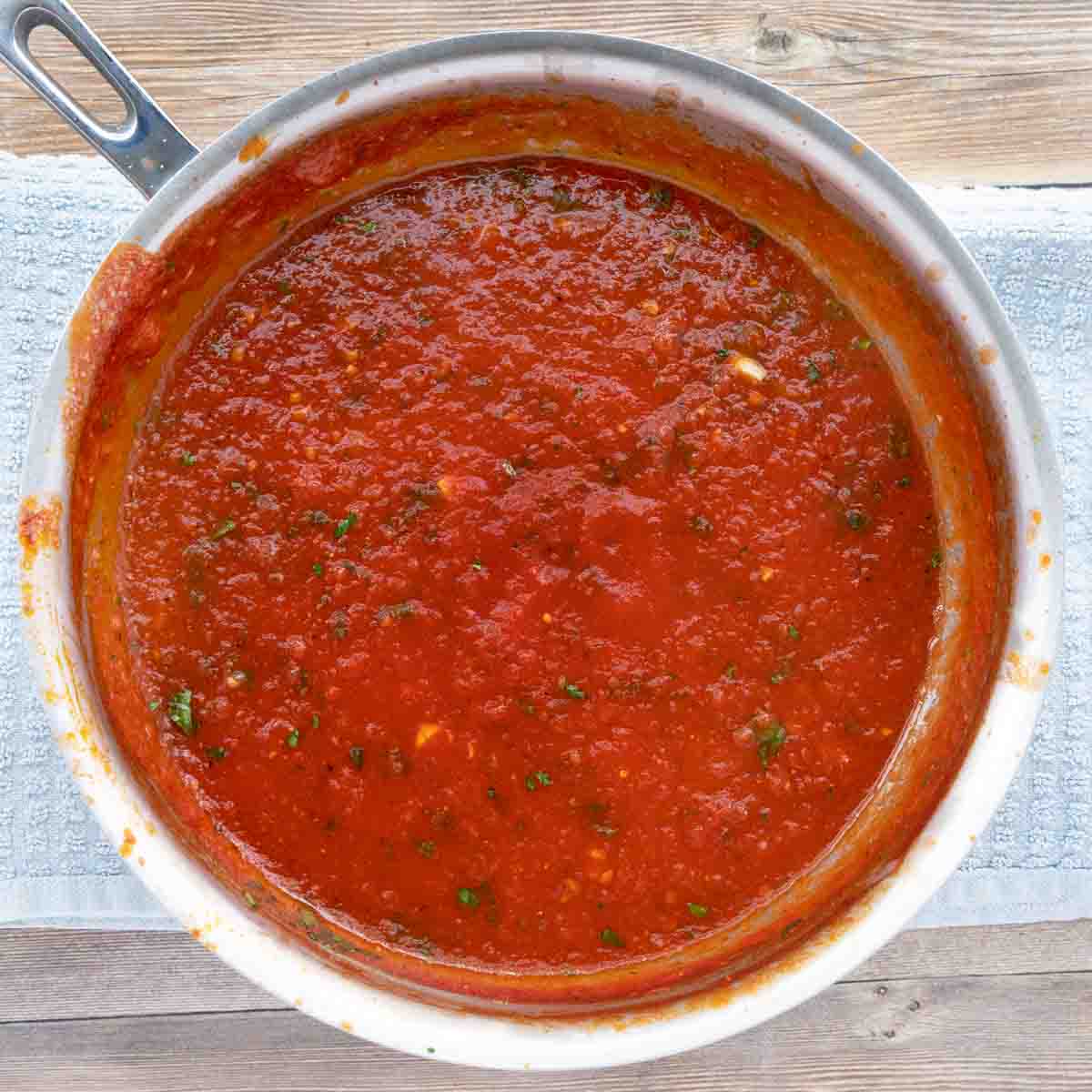 At this time, the Marinara sauce is done. It won't have the depth of flavor that a tomato sauce simmered for hours will have. But it will have a vibrant red color and fresh taste.
I've seen many versions of this sauce that contain oregano. When I was taught to make this sauce by my adopted Italian Nonna, I was told to only use fresh basil and parsley. Nonna told me oregano was used only in pizza sauce.
Recipe FAQ's
What is the difference between marinara and spaghetti sauce?
The main difference between the two simply comes down to the cooking time. Marinara is cooked for a shorter time which keeps the sauce a bright vibrant red with a fresh taste. While spaghetti sauce that is simmered for hours will have a deeper dark red color and a depth of flavor you won't get in a marinara sauce. Also, a marinara sauce will not contain meat, while most long-simmered tomato sauces include meat, which adds greatly to the overall flavor.
What are the best tomatoes to use for Marinara Sauce?
The best tomatoes in the world come from the San Marizano Region of Italy. San Marzano tomatoes are plum tomatoes which are thinner and longer than most plum tomato varieties. The san marzano tomatoes also benefit from the rich volcanic soil of the area which is near Mr. Vesuvius.
More Recipes You'll Love!