If you love peanut butter and chocolate, my Easy Peanut Butter Pie Recipe with a chocolate graham cracker crust and chocolate ganache will make you do a happy dance! Just imagine, a creamy rich peanut butter filling and all that chocolate goodness in one delicious no bake pie.
It's going to be love at first bite!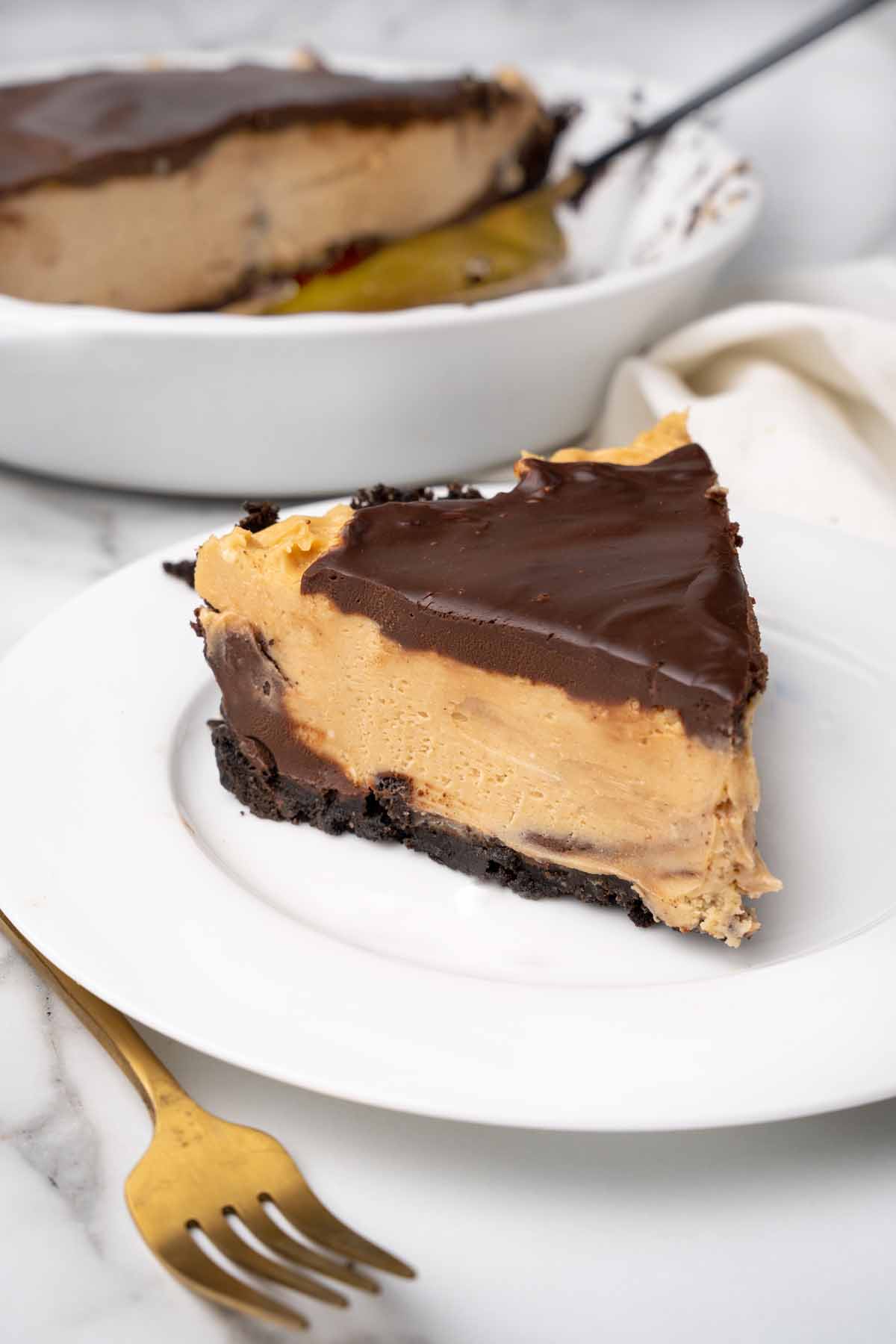 Wouldn't a slice of this decadent dessert satisfy the sweet tooth of the peanut butter lovers in your house? It was one of my customer's favorite desserts during my restaurant days and after you taste it, you'll understand why.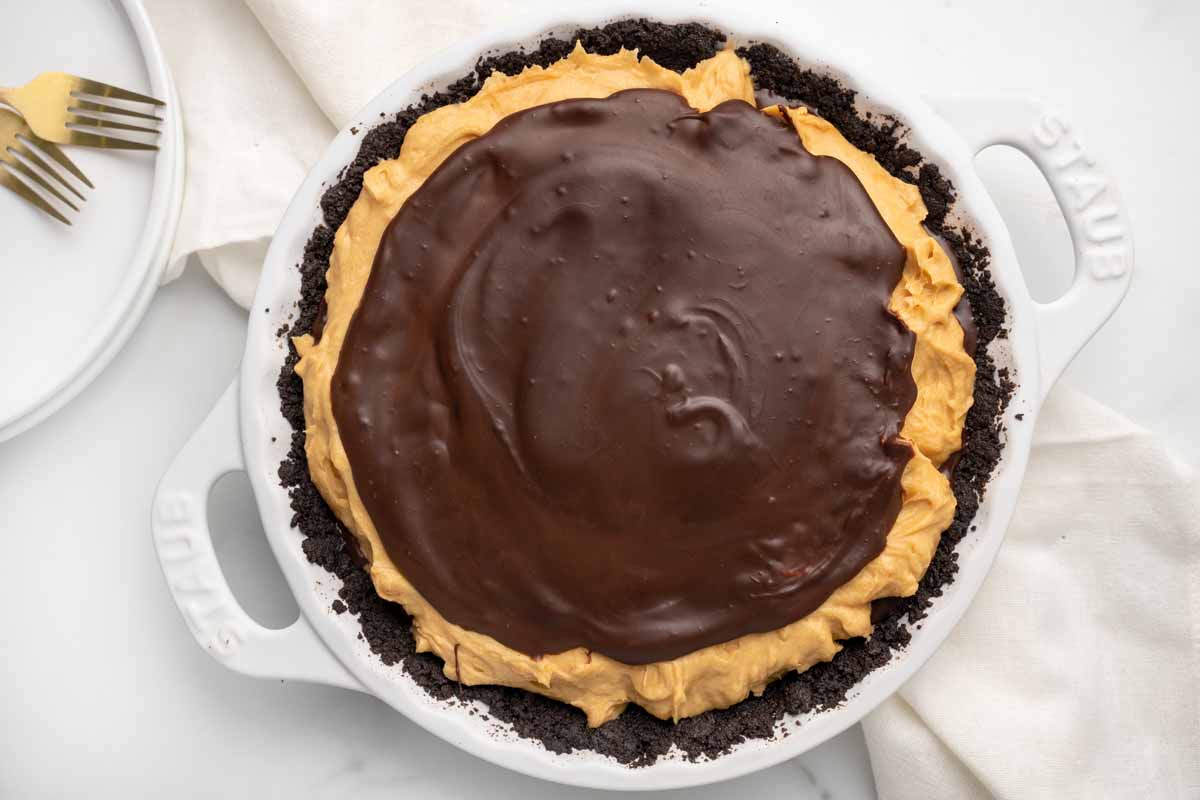 And it really is an easy peanut butter pie recipe, I promise. It also freezes really well, so if you're tempted to eat the whole pie, you can always freeze half.
What ingredients do I need to make Peanut butter Pie?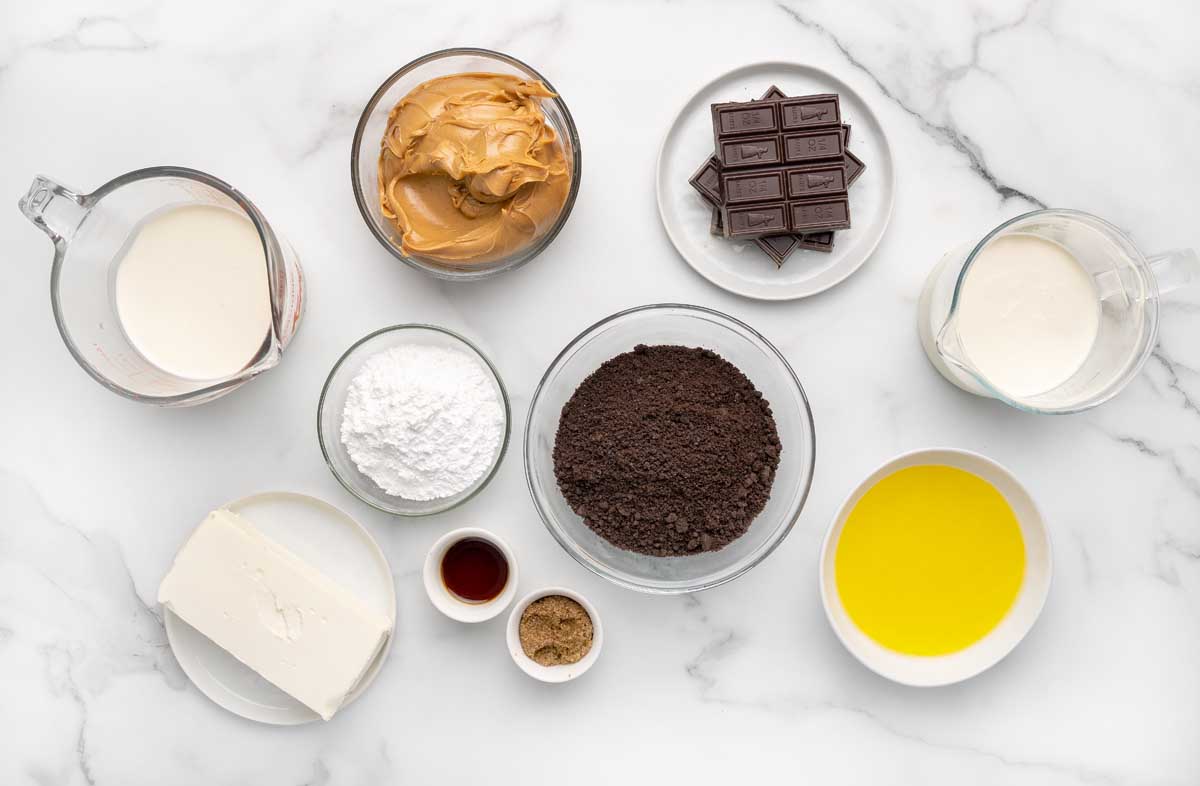 Let's start by gathering the ingredients we need to make a Chocolate Peanut Butter Pie. In Chef Speak this is called the "Mise en Place" which translates to "Everything in its Place".
Not only does setting your ingredients up ahead of time speed up the cooking process, it also helps ensure you have everything you need to make the dish.
How do I make a graham cracker cookie crust?
Start by preheating the oven to 375 degrees F.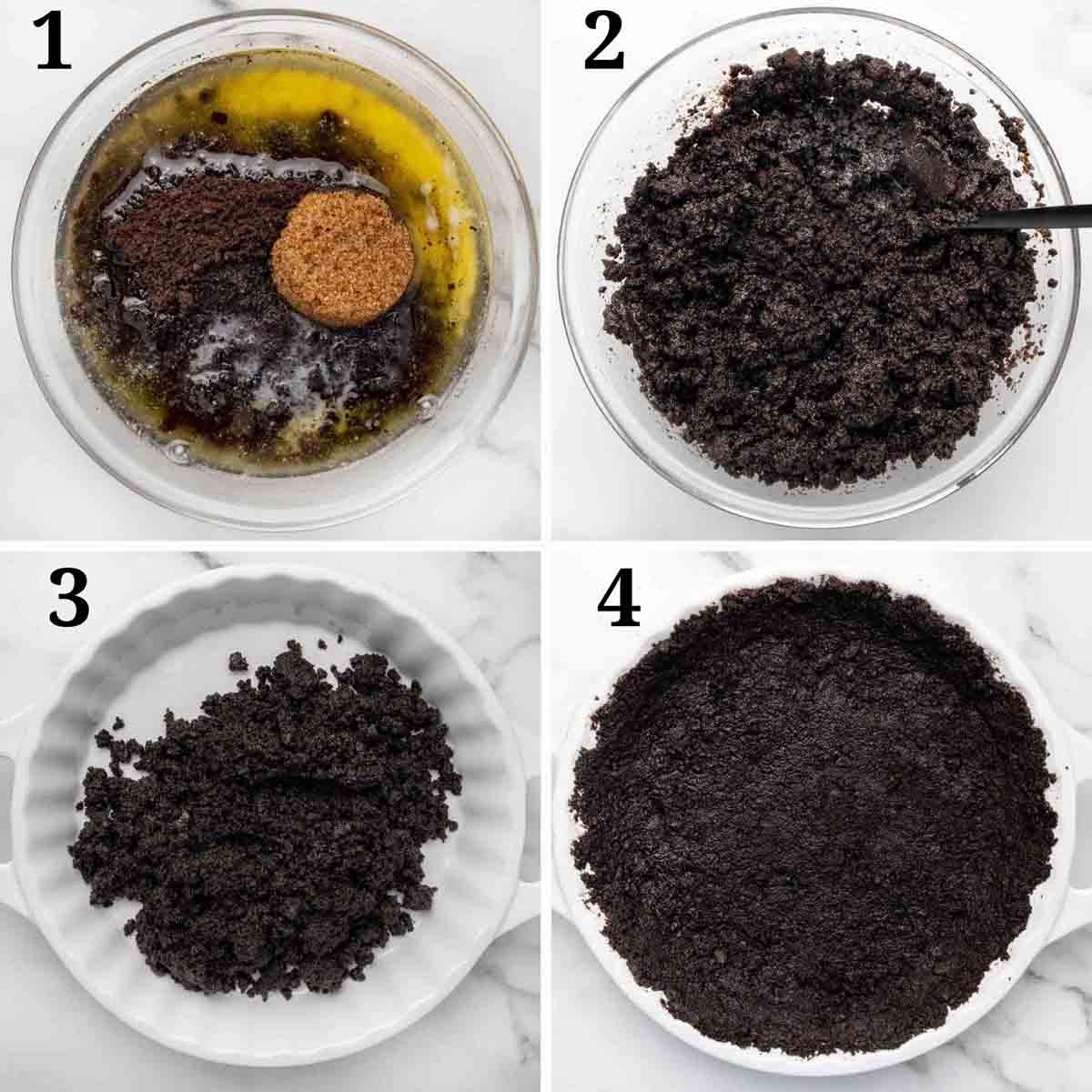 Add the melted butter, sugar, and graham cracker crumbs to a medium mixing bowl.
Mix until well blended (you can do this in the food processor too, just pulse it a few times).
Press your mixture into a 9 or 10-inch pie pan. Spread the crumbs evenly and try to make the crust about ⅛ inch thick. *If the crumb mixture doesn't seem quite wet enough and won't stick where you press them, add a little water to the mix. **It's a good idea to chill the crust for an hour before you bake it, this will help keep the crust from crumbling when served.
Bake your graham pie crust for 8 to 10 minutes at 375 degrees. Make sure to let the pie crust cool completely before using.
*If you can't find chocolate graham crackers, you can make an oreo cookie crust or use regular graham crackers.
How do I make chocolate ganache?
Before we start the pie, we need to make a simple chocolate ganache.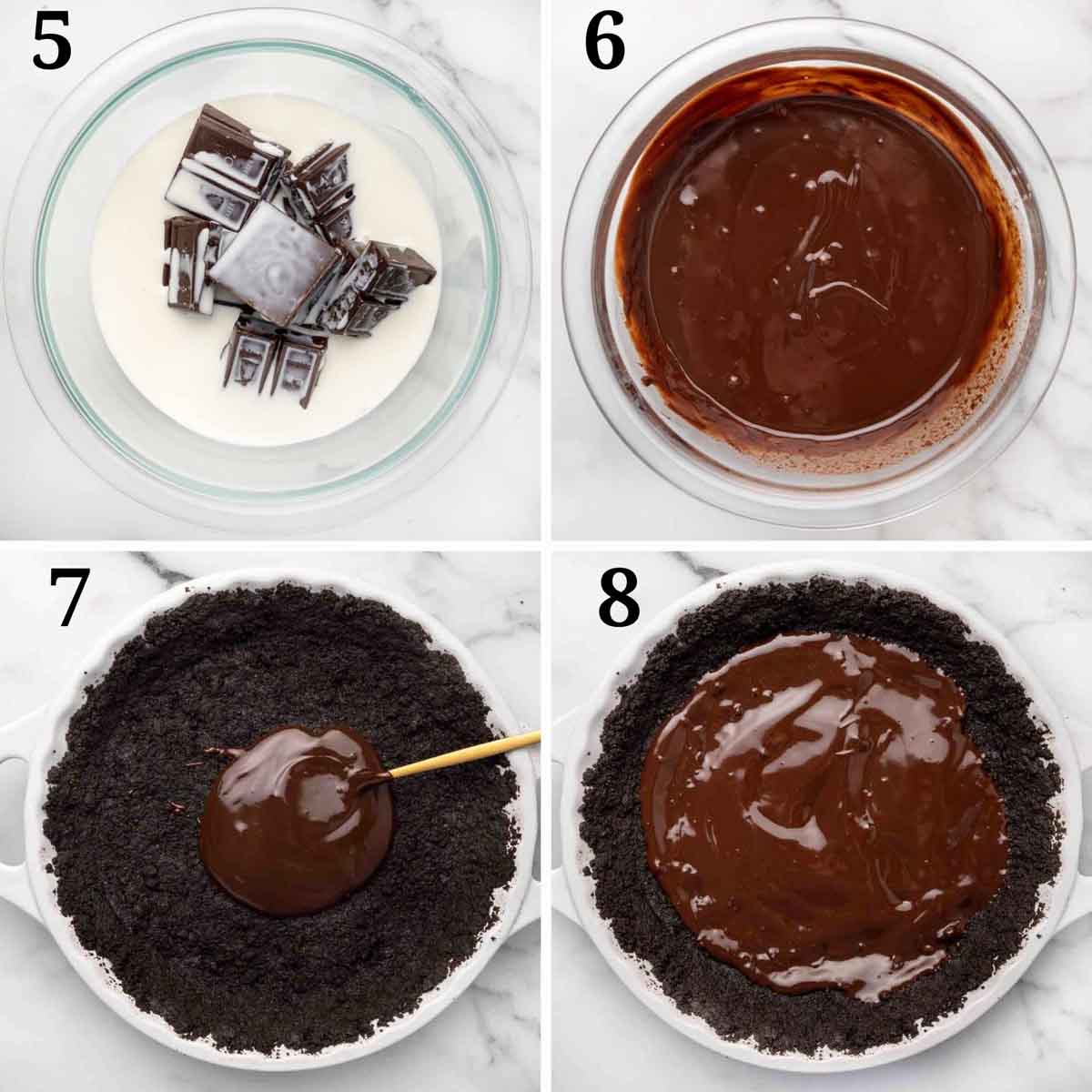 Add chocolate chips and heavy cream to the top of the double boiler. *You can use a microwave for this step.
Mix the melted chocolate and heavy cream together until smooth. Allow to cool slightly before using.
Add about ⅓ of the ganache to the chocolate graham cracker crust.
Spread the ganache evenly across the bottom of the pie crust and place the pie crust into the freezer or refrigerator so the chocolate can set up.
How do I make a peanut butter filling?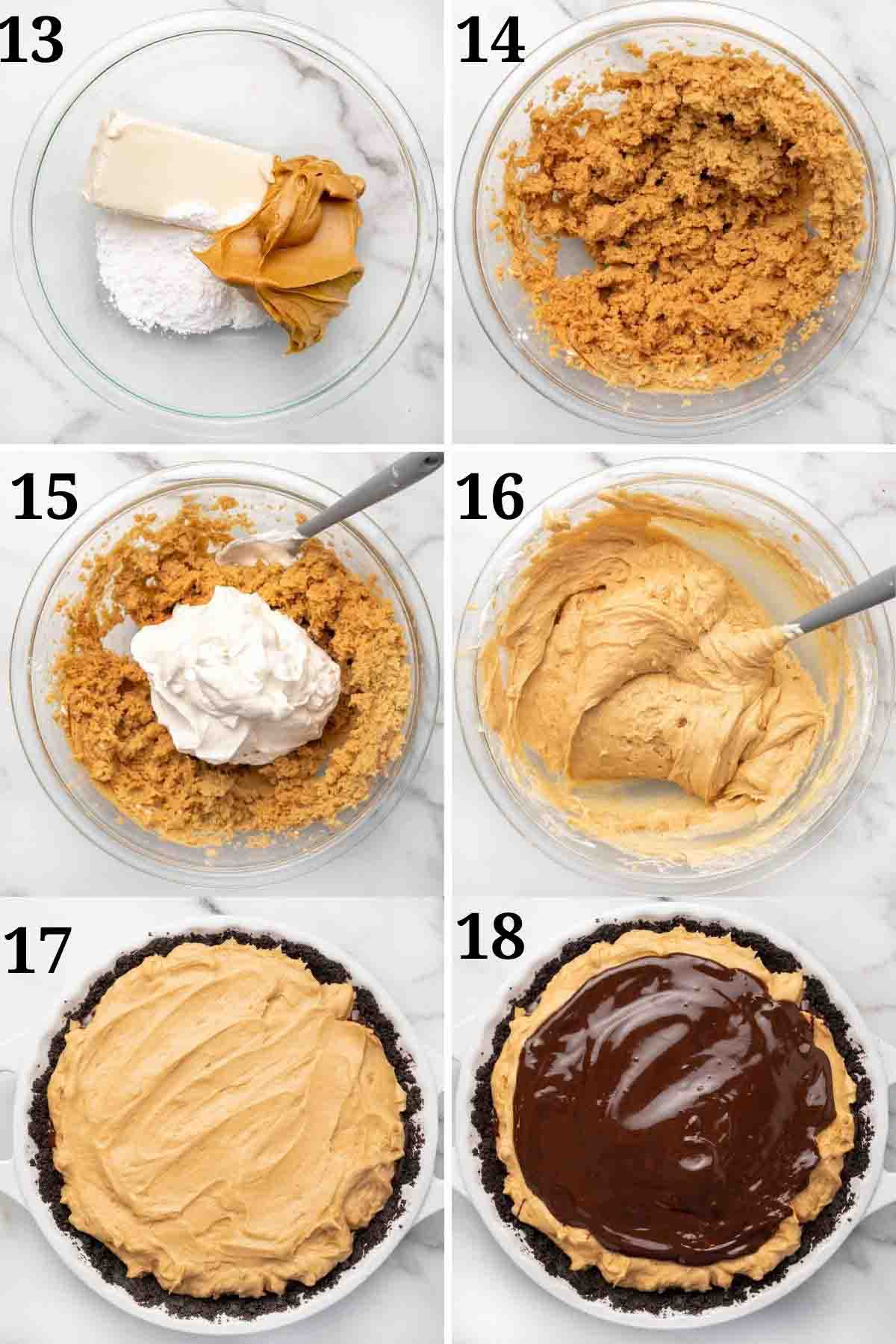 Add the cream cheese, powdered sugar, and peanut butter to a large mixing bowl, and using an electric mixer whip until light and fluffy, 3-4 minutes.
In another large mixing bowl, add the whipped cream, and vanilla. Using an electric mixer whip cream to stiff peaks. This process should be slow, start at a low speed, and increase the speed gradually over 8 – 10 minutes. *This method is how you keep the whipped cream from breaking. The cream should be ice cold and as fresh as possible. Look for heavy cream with the longest expiration date. **8 ounces of cool whip can be substituted for the homemade whipped cream. Let it thaw in the refrigerator before using.
Gently fold the whipped cream into the peanut butter mixture.
Mix just enough to incorporate the cream into the peanut butter filling.
Fill the prepared pie shell with the peanut butter mixture and if it's not firm enough to add the ganache, place it in the freezer for 10 minutes.
Top the pie with the chocolate ganache, leaving just a little uncovered around the edges. Refrigerate the peanut butter pie for 1-2 hours to completely set. *You can also freeze the pie to hurry the process.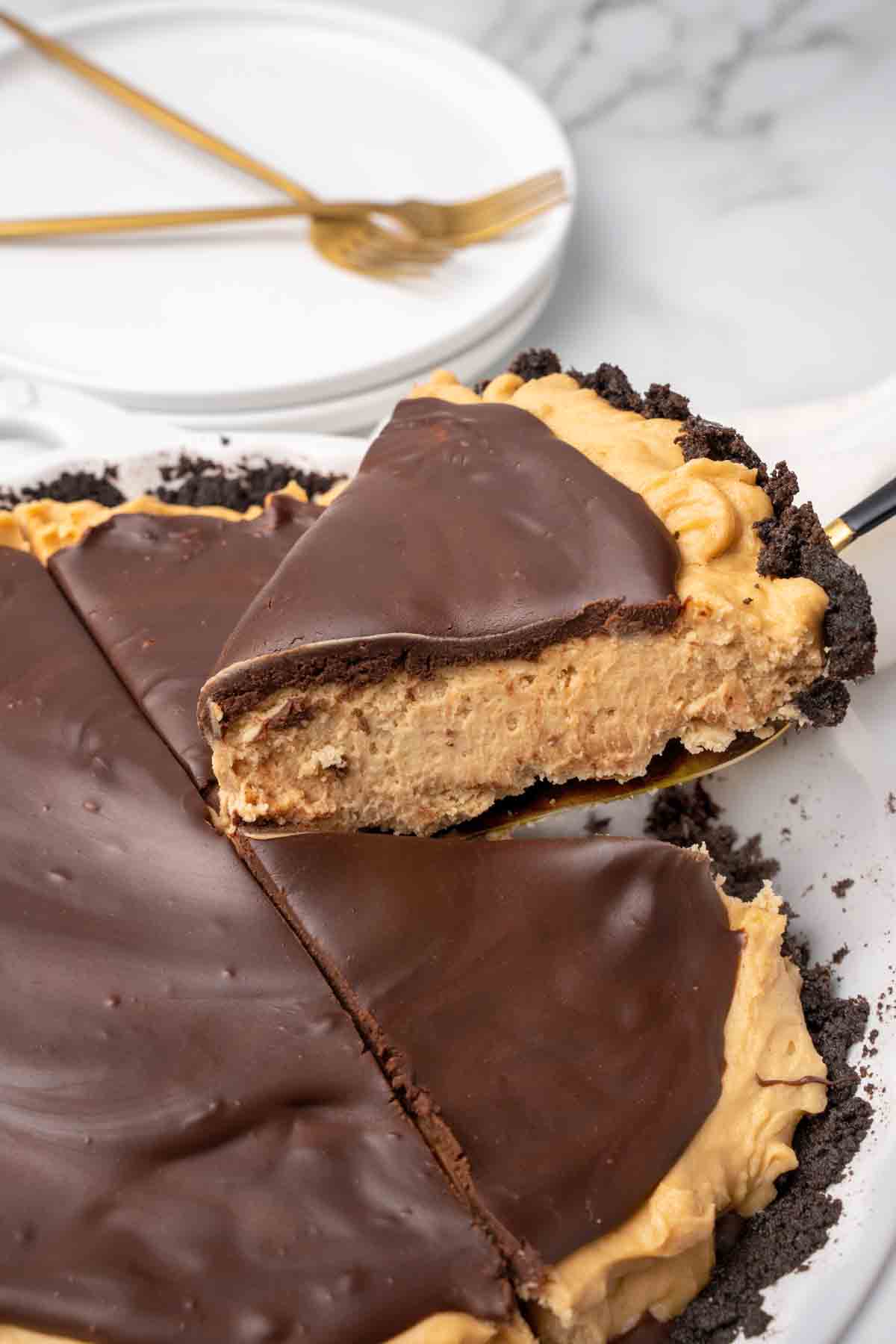 Your friends and family are going to love this rich and creamy peanut butter filling, surrounded by chocolate.
One of my other favorite non-traditional pies is my Toll House Cookie Pie.
Recipe FAQ's:
Can I use premade whipped topping to make the peanut butter filling?
Yes, you can. Substitute 8 ounces of your favorite whipped topping for the heavy cream, vanilla and sugar. Make sure to let the topping thaw in the refrigerator before using.
Can I freeze peanut butter pie?
Yes, you can. Freeze the pie solid unwrapped. After it is completely frozen, double wrap it in plastic wrap. When defrosting remove the plastic wrap and allow it to thaw in the refrigerator.
*You can also slice the pie after freezing and wrap the individual slices.
Can I use natural peanut butter to make peanut butter pie?
Natural peanut butter usually doesn't include added oil to stabilize the mixture. The pie filling can separate and get oily because of this. If you want to use natural peanut butter, use an electric mixer to whip it until creamy and well blended.
More Dessert Recipes You'll Love!