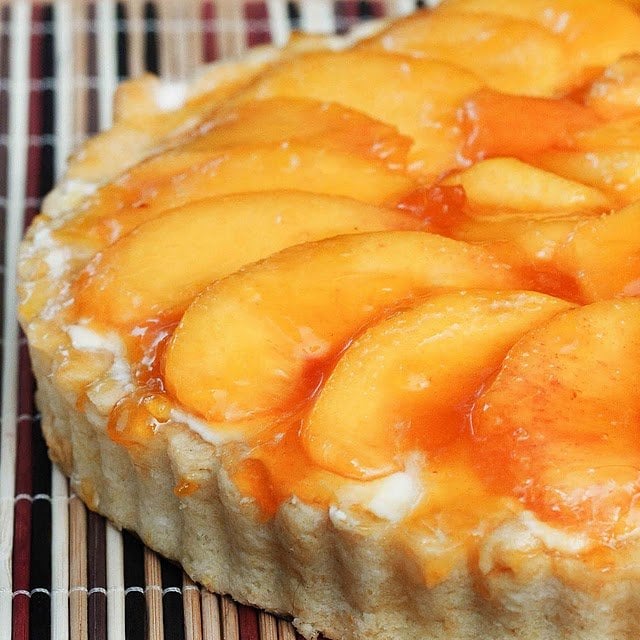 Bring on those lazy, hazy, crazy days of summer!! When summer starts to give it's worse, it also means it's time to give us its best, Jersey Peaches!! The first local peaches of the summer have been showing up at our farmer's market and there is nothing better than a ripe peach in all its juicy sweet glory! I think the best of the summer are still a week or two away, but if these aren't our best there pretty darn close to it.
With the heat of summer in full force, I try not to bake too much or if I do it's in the early hours of the day before the heat has set in. For this wonderful fresh creamy concoction, I only needed the oven for a few minutes to bake the tart shell, after that it was as easy as pie! Peach pie that is, or to be more specific a No Bake Peach Tart!
One of the easiest pies to make, and the perfect treat on a hot summer's day, cold and creamy with those luscious fresh peach slices….sigh
So my friends find yourself some local peaches, nectarines, or even berries and enjoy the taste of summer, for those of you in the winter of your year, you can substitute frozen fruit, and you have my permission to taunt me in December when your season is in full bloom! But what ever you do take a few minutes to make this delicious treat!
No Bake Peach Tart
Ingredients
8

oz

Mascarpone Cheese

8

oz

Cream Cheese

Cup

¾ Confectioners Sugar

cup

½ Heavy Whipping Cream

1

teaspoon

Vanilla Extract

Zest of one lemon finely grated

6

peaches

pitted, peeled and sliced

cup

¼ Peach Preserves

or orange marmalade

1

premade graham cracker pie shell
Instructions
In the bowl of your stand mixer, blend the mascarpone, cream cheese andconfectioners' sugar until smooth and creamy.

Add the lemon zest and vanilla extract and mix well.

In another bowl, whip the heavy cream until soft peaks appear and fold it into the mascarpone

mixture.

Spread the mixture into the pie crust.

Top with the peach slices.

In a small saucepan or microwave heat the peach preserves and brush the peaches with the liquefied peach preserves, this adds a nice glaze to the dessert.

Refrigerate the tart at least 1 hour or overnight before serving.
There you have the perfect pick me up dessert for these hot summer days! Now all you have to do is throw dinner on the barbecue, grab a glass of sweet tea, sit back and watch the boys of summer……
It doesn't get much better than this my friends, till next time.
Cheers
Dennis