My no-bake Turtle Pie has a decadent, creamy cheesecake-style filling with all of the chocolatey pecan and caramel goodness of the classic candy — and it's all nestled in a crunchy Oreo crust.
If you're a fan of traditional turtle candies, this easy turtle pie recipe is going to become your new favorite dessert.
You can't even imagine a more mouthwatering dessert recipe than this simple pie. It has all of the perfect textures, from the crumbly Oreo cookie crust and crunchy pecans to ooey-gooey caramel, silky chocolate, and a rich, creamy filling.
While I love a lot of pies, from creamy Hoosier sugar cream pie and banana cream pie to a bright lemon cream pie and an indulgent French silk pie, this turtle pie may rate at the top of my pie list. Plus, while it's amazing all on its own, you can also serve it with a scoop of ice cream, even more chocolate syrup, or even a drizzle of peanut butter sauce.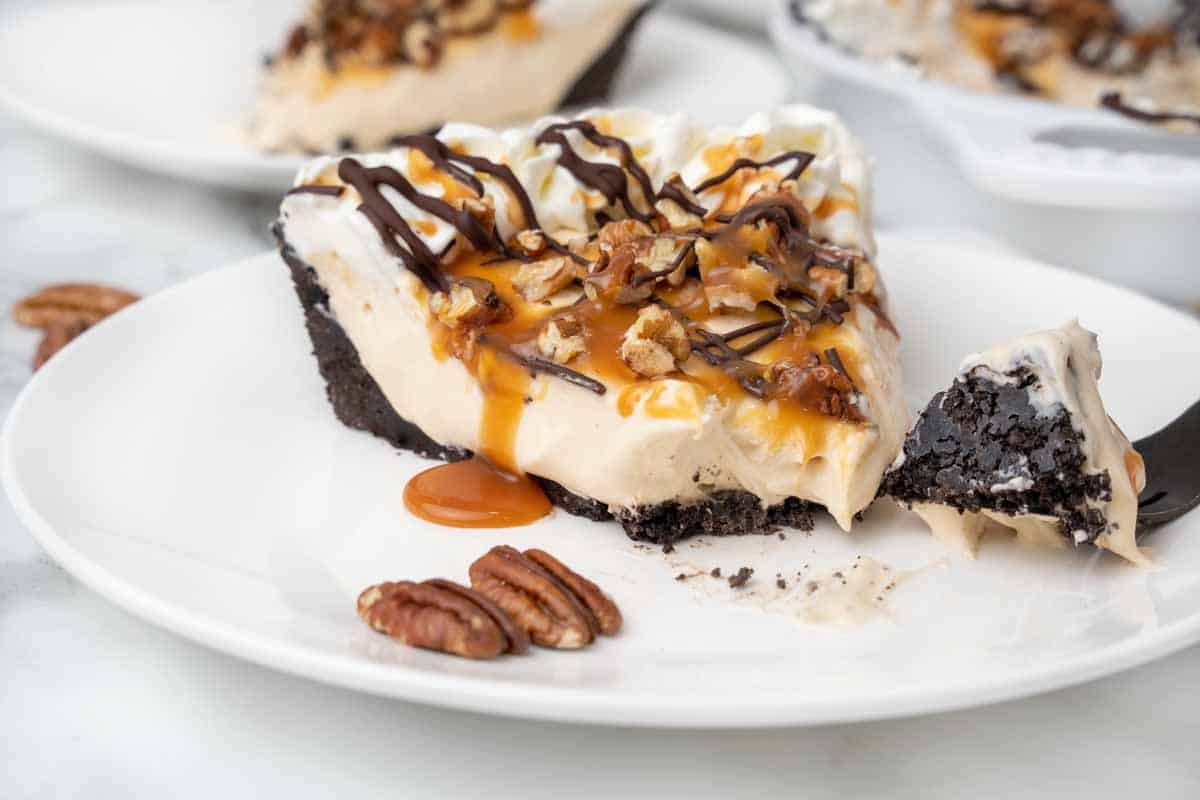 The next time you're looking for easy, no-bake recipes that are sure to wow a crowd, try making this simple yet delicious turtle pie recipe. This is bound to become one of your favorite desserts.
Ingredients to Make Turtle Pie Recipe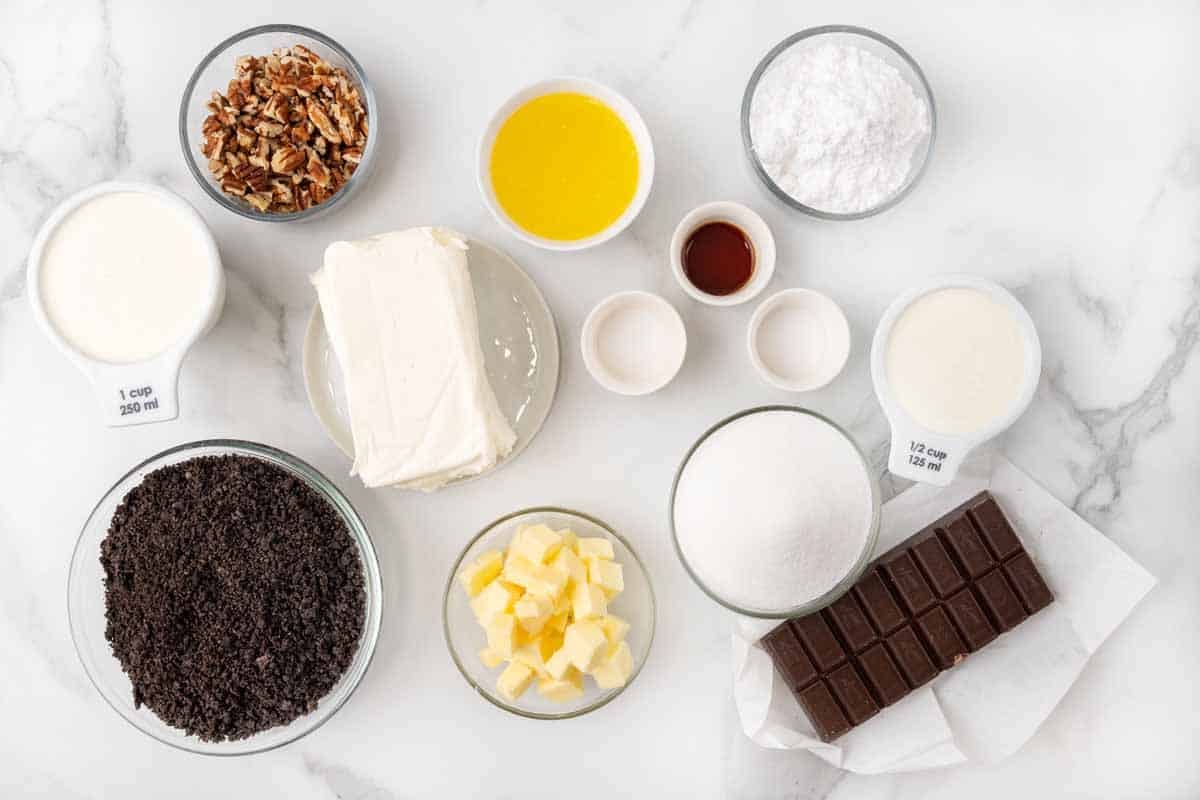 Let's start by gathering the ingredients we need to make my turtle pie recipe. In chef speak, this is called the "mise en place," which translates to "everything in its place."
Not only does setting up your ingredients ahead of time speed up the cooking process, it also helps ensure you have everything you need to make the dish.
How to Make a Turtle Pie
Start by making the Caramel and Chocolate Drizzle.
How to make Salted Caramel Sauce
Heat a medium saucepan over medium heat and add the sugar.
Stir the sugar until it melts. The sugar will clump together as it melts — continue whisking, and it will become a smooth, amber-colored sauce.
Add the butter pieces to the sauce and whisk until completely melted. *Use caution — the sugar is extremely hot and will bubble up as the butter is added.
After removing the pan from the heat, add the cream to the pan and stir until silky smooth before adding the salt and stirring to combine.
How to make chocolate sauce
Place the chocolate in a microwave-safe bowl.
Microwave the chocolate in 30-second intervals, stirring after each, until the chocolate has melted. Stir the melted chocolate until smooth.
I use pieces of chocolate, but you can use chocolate chips, too. Use whatever you like or can find at the grocery store. Don't be tempted to use store-bought chocolate sauce; it's too thin and will spread out, ruining the appearance.
How to Make an Oreo Pie Crust
Pulse Oreo cookies in a food processor until they are fine crumbs.
Melt the butter.
If you don't have a food processor, you can go old school and place the Oreos in a ziplock bag and use a rolling pin to crush them.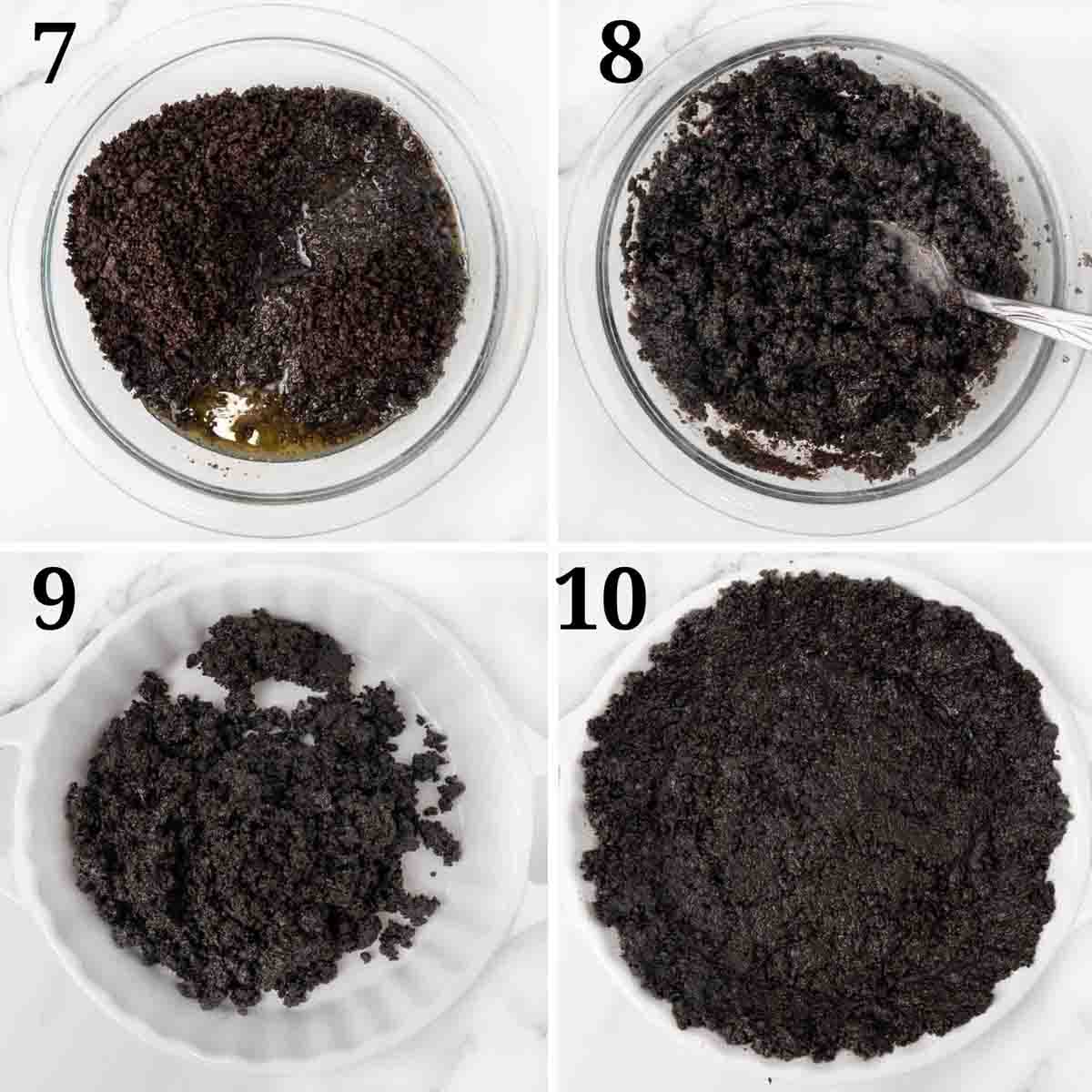 Mix in melted butter.
Press the Oreo mixture into a pie plate, taking care to make sure that the pie crust is evenly pressed up the sides and along the bottom of the pie pan.
Refrigerate the chocolate cookie crust for 30 minutes so that it can set.
Not a fan of Oreos? You can use a graham cracker crust if you prefer.
How to make Turtle Pie Filling
Start by whipping the cream.
Pour heavy whipping cream into the large bowl of a stand mixer (or large mixing bowl if using a hand mixer) fitted with the whisk attachment.
On medium speed, beat the cream until you have stiff peaks. Keep refrigerated until needed.
If you're really in a hurry, you can skip the cream whipping and use a store-bought version like Cool Whip, but the flavor is definitely superior when you make your own. Remember that cool-whip is sweetened, so cut back on the sugar in the recipe.
Place the softened cream cheese in a separate large mixing bowl and whip until smooth and creamy. *Full-fat cream cheese works best. You can use a lower-fat option but using full-fat cream cheese gives the best flavor and texture.
Add the salted caramel, confectioners' sugar, vanilla extract, and salt to the whipped cream cheese.
Continue to mix until the cream cheese mixture is silky smooth.
Use a rubber spatula to fold the whipped cream by hand into the cream cheese mixture.
How to Assemble a Turtle Pie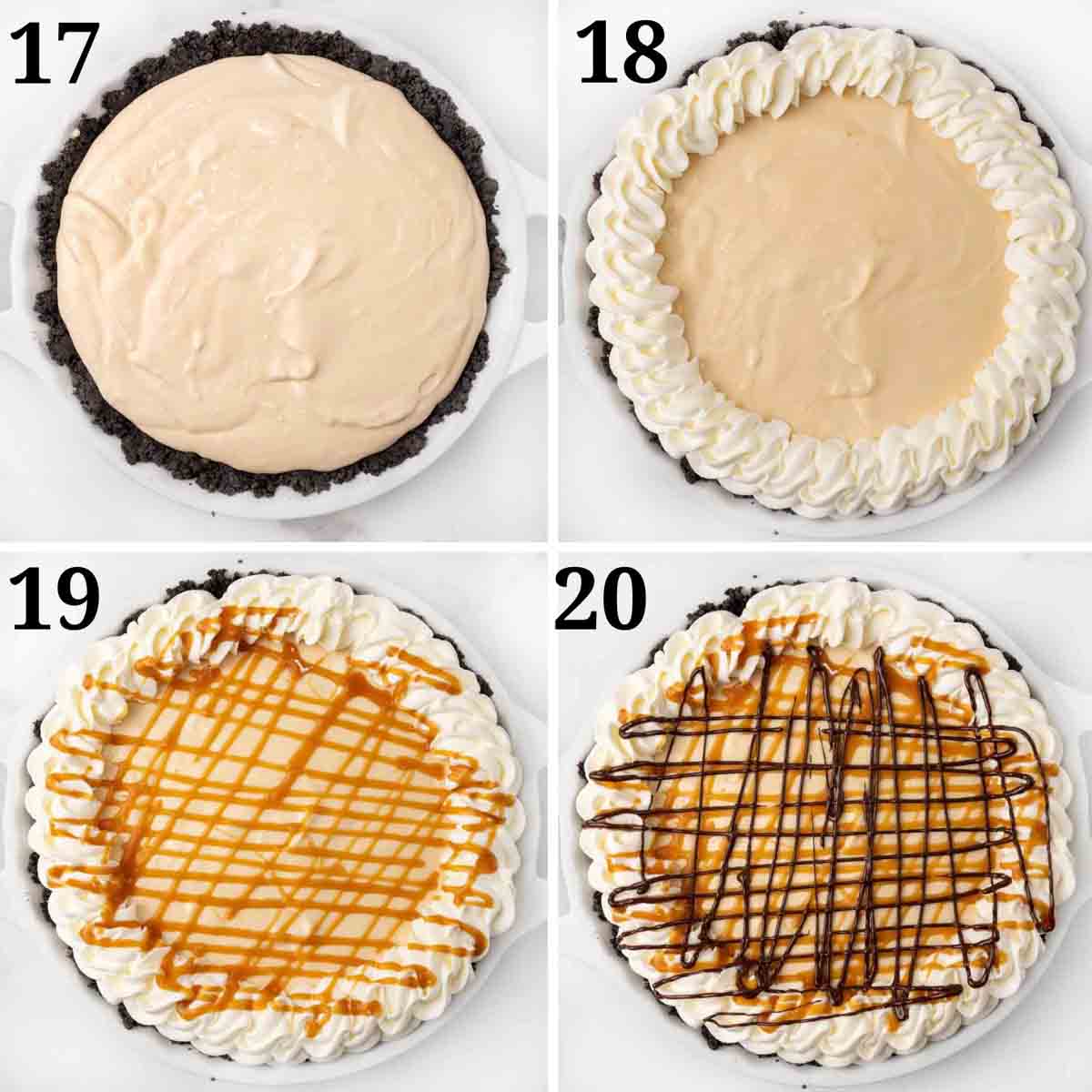 Pour the pie filling into the prepared oreo cookie crust. Then, cover the turtle pie with plastic wrap and refrigerator for 4-6 hours to set up (overnight is best).
Then, remove it from the refrigerator and decorate the outside edge of the pie with whipped cream.
Do a generous drizzle of caramel sauce over the top of the pie.
Drizzle the chocolate sauce over the top of the pie.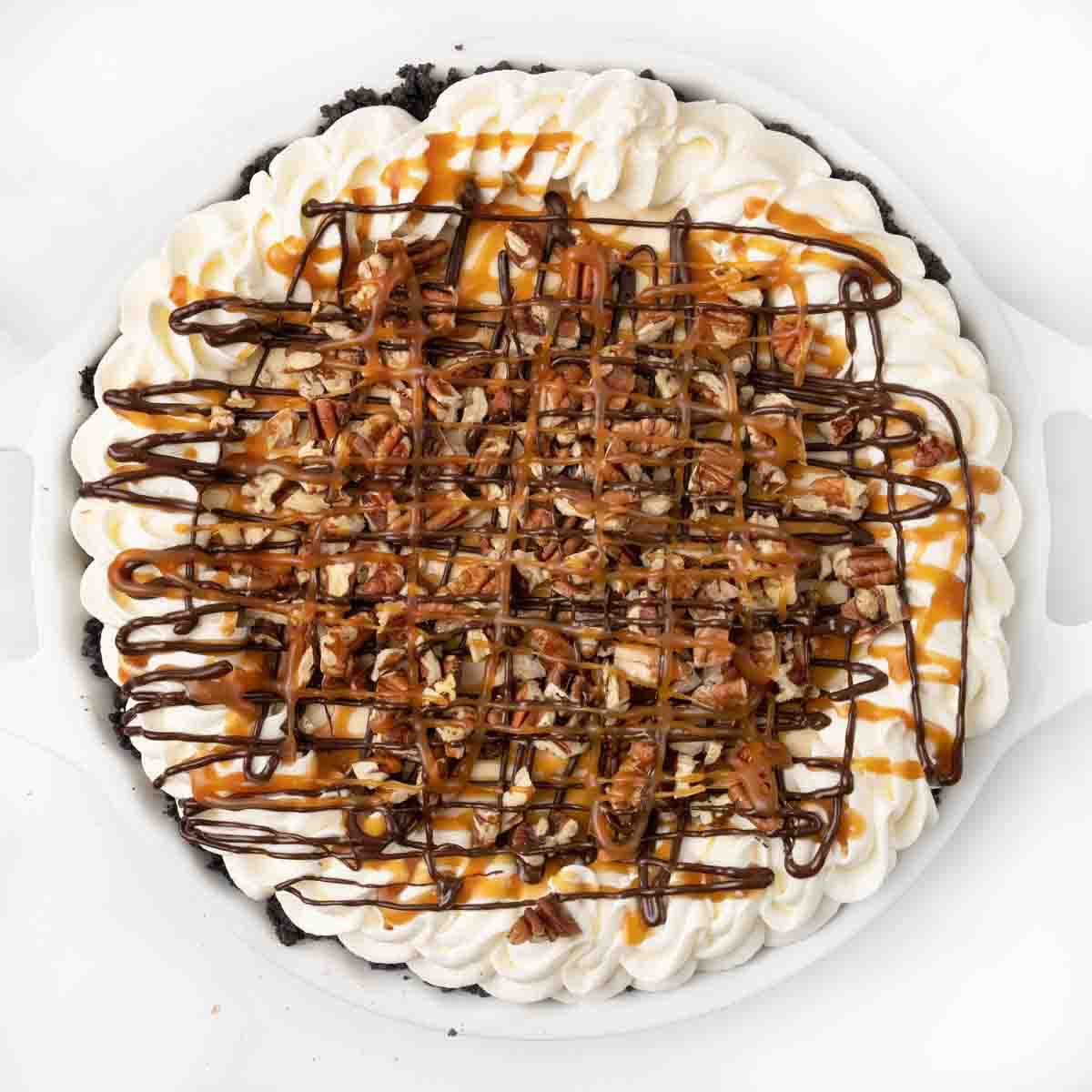 Add the chopped pecans to the top of the turtle cream pie.
Drizzle more salted caramel and melted chocolate over the top of the pecans.
Refrigerate the turtle pie for one hour before serving.
*For more of an ice cream texture to the pie, freeze the caramel turtle pie for 4 hours before slicing and serving.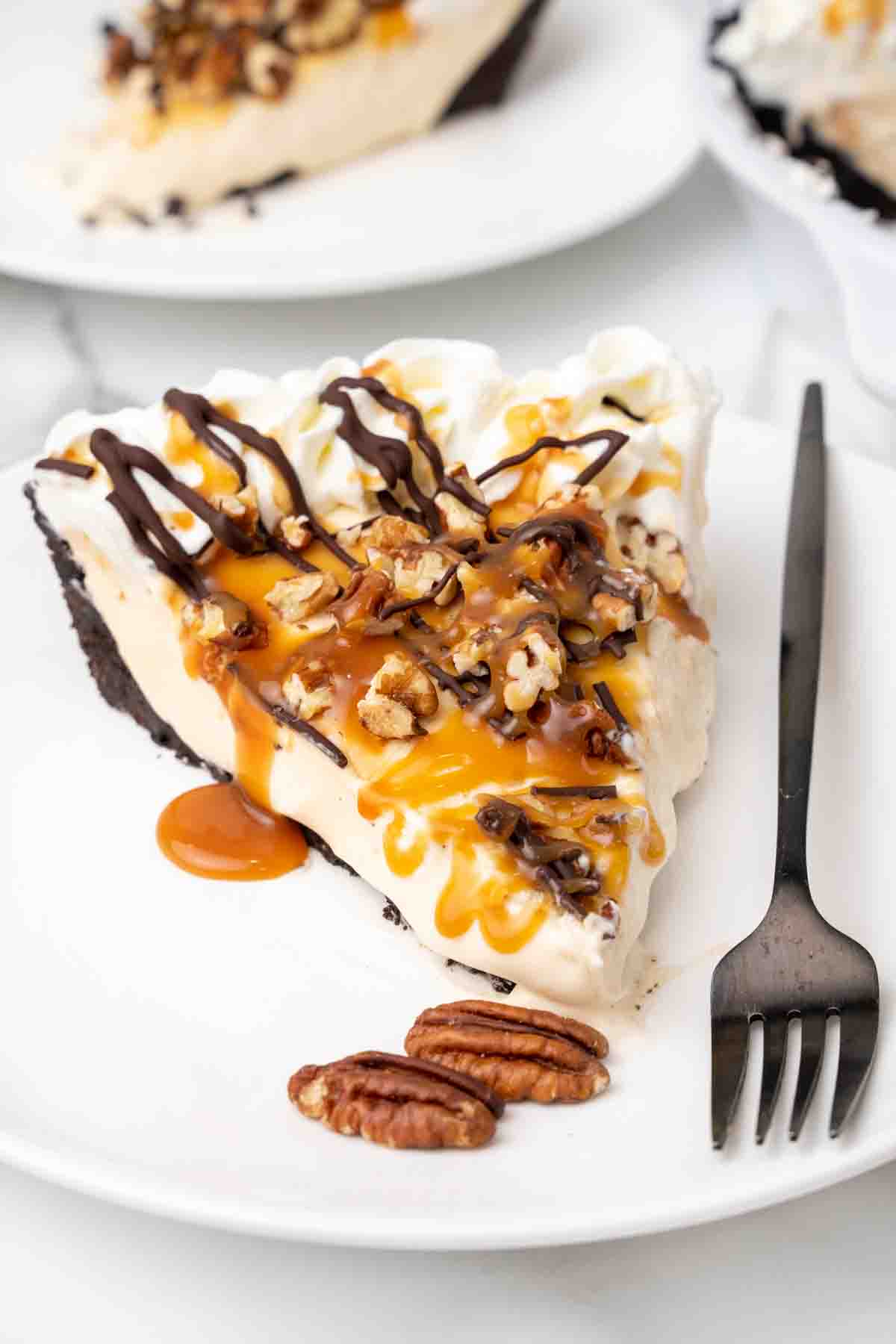 Trust me when I say that this easy turtle pie recipe will make one of the best no-bake cheesecakes you've ever tasted. It's the perfect dessert for dinner parties, family gatherings, or just to spoil your friends and family.
You can also make this dreamy, creamy turtle pie in a springform pan.
Recipe FAQ's
What is turtle pie made of?
Turtle pie has the traditional ingredients of turtle candy — pecans, chocolate, and caramel. It has a luscious cream cheese filling and a crunchy Oreo crust. 
Why are desserts called turtle? 
Desserts with these ingredients and flavors are called turtle, based on the original candies that were made with chocolate, caramel, and pecan that actually looked like turtles.
Where were turtle candies invented?
Turtle candies were invented in the early 1900s in Chicago.
More Recipes You'll Love!