Treat your guests to deliciousness with my Pasta Nests with Pan Seared Shrimp.
With the holidays rapidly approaching it's not too early to start thinking about dishes to make your holiday gatherings more delicious!
Every one of us becomes an event planner when the holiday season starts and whether it's a cocktail party, dinner or even a brunch, my Pasta Nests with Shrimp will leave a lasting impression.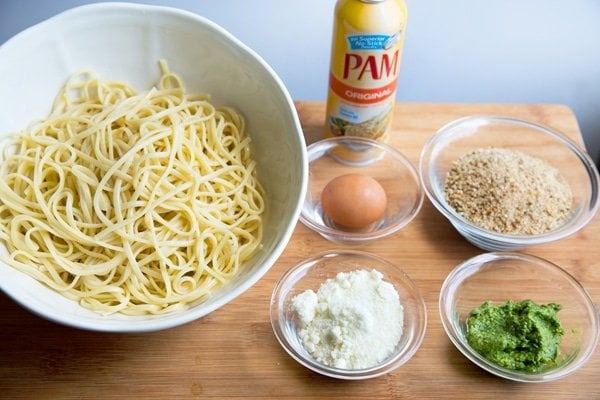 Let's start by getting our ingredients ready to make the Pasta Nests.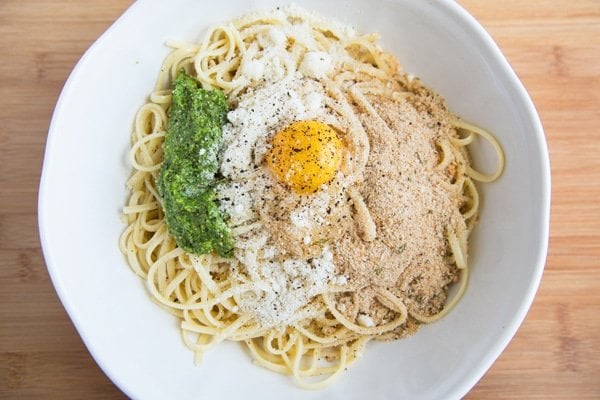 Everything can go together in the same bowl.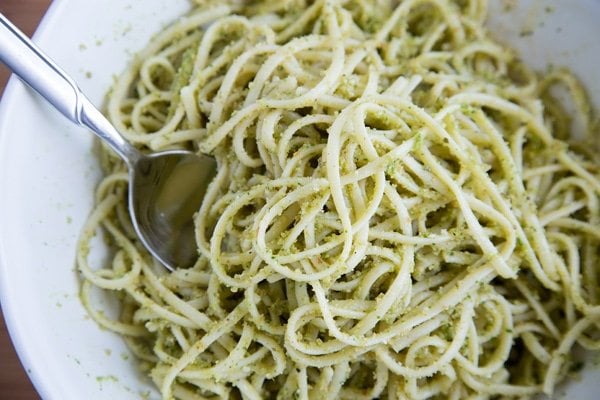 I found adding a little extra olive oil to the pasta helped keep it moister. Just add about 2 tablespoons of olive oil in as you blend all the ingredients.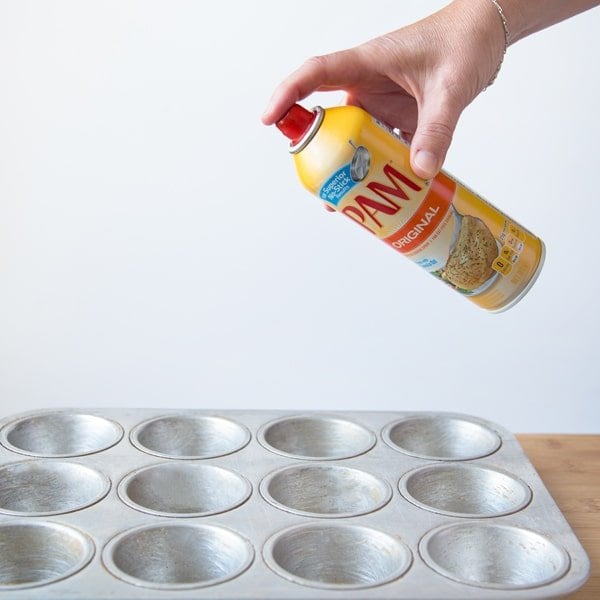 I used a cupcake size tin and sprayed the tin liberally with pan spray.
**Cooking Tip
After making your pesto, oxidation starts to take place darkening the top of your pesto, making it less visually attractive. Here's a tip to keep it fresh and that beautiful shade of green until you need it. Spray an ice cube tray with pan spray, then divide your pesto among the cubes.
Freeze the pesto solid, then twist the tray and watch the pesto cubes pop right out of the tray! Place your pesto cubes in a zip-lock bag and keep them in the freezer until needed. This way you'll be able to enjoy adding pesto to your dishes whenever you want to enjoy that fresh taste of summer.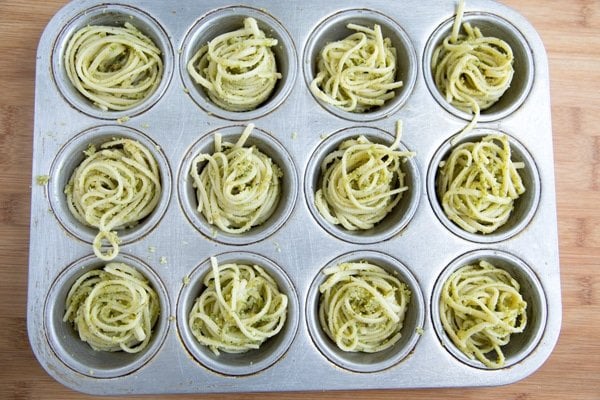 Now it's time to have a little fun making your Pasta Nests. Grab a tablespoon and a fork and using the Twirl Method, build your nests.
Gently place each nest into one of the cups in your pan, repeat the process until all of the cups have been filled with your pasta nests. Place the pan into a 425 degree preheated oven and bake for 10 minutes.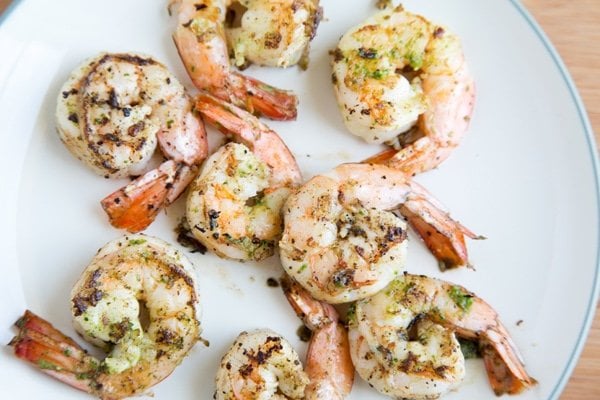 While your pasta nests are baking, it's time to cook your shrimp. Of course, you can do this ahead of time if you like, the shrimp do not have to be hot, room temperature is fine.
Searing shrimp is easy to do. The easiest way to get great color and sear the shrimp is to use no oil in your pan. Let your saute pan get good and hot, then give it a good spray of pan spray adding your shrimp a few seconds afterward.
Now season your shrimp with your favorite seasonings. I used old bay, a pinch of crushed red pepper, a sprinkle of Romano cheese and as the shrimp were almost finished cooking a dab of pesto for color. Chopped parsley would have been a good addition instead of the pesto but I didn't have any on hand.
By cooking the shrimp this way, you start to get a little burn in the pan, which adds great color to the shrimp. They almost look grilled. Be careful not to overcook your shrimp. so they don't get tough and chewy.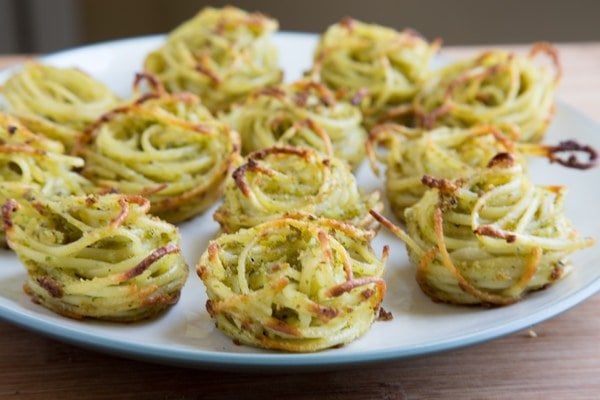 Remove the pan from the oven and place the pan on a wire rack to help it cool off. After about 5 minutes begin gently removing each nest by placing a tablespoon underneath and lifting the nest out of the pan. Place the nests on a plate as they finish cooling.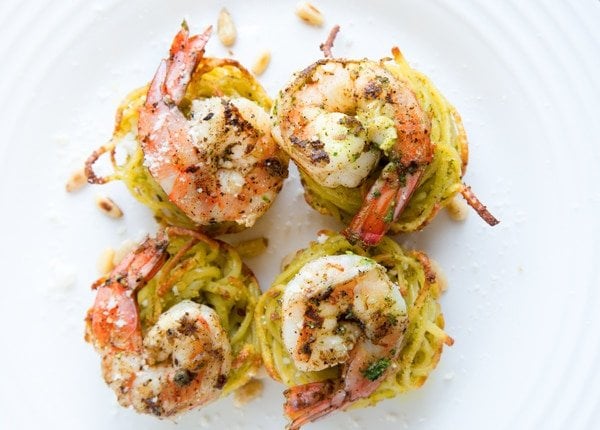 You'll delight your guests, friends and family with these perfect little pasta nests and pan-seared shrimp. And if you don't want to use pasta, think about using zucchini noodles instead.
One thing I found after making the first test of these Pasta Nests was that they needed to be over seasoned to have enough flavor, so don't be afraid to add a little extra flavor in your mixture.
You may also want to add a little Gorgonzola cheese to the mix, or simply add it to the top of the nests before baking. If you'd like to plate these individually as an appetizer for a sit-down dinner, think about using a larger muffin pan to give you more plate coverage. Just don't build the nests too high.
You could also serve these with a sauce of your choice if you plate them.
If you love shrimp you may also like these recipes: