Pasta with olive oil and garlic is a simple yet elegant pasta dish that uses simple ingredients to make. And the best part is this Classic Italian dish can be on your dinner table in 10 – 12 minutes.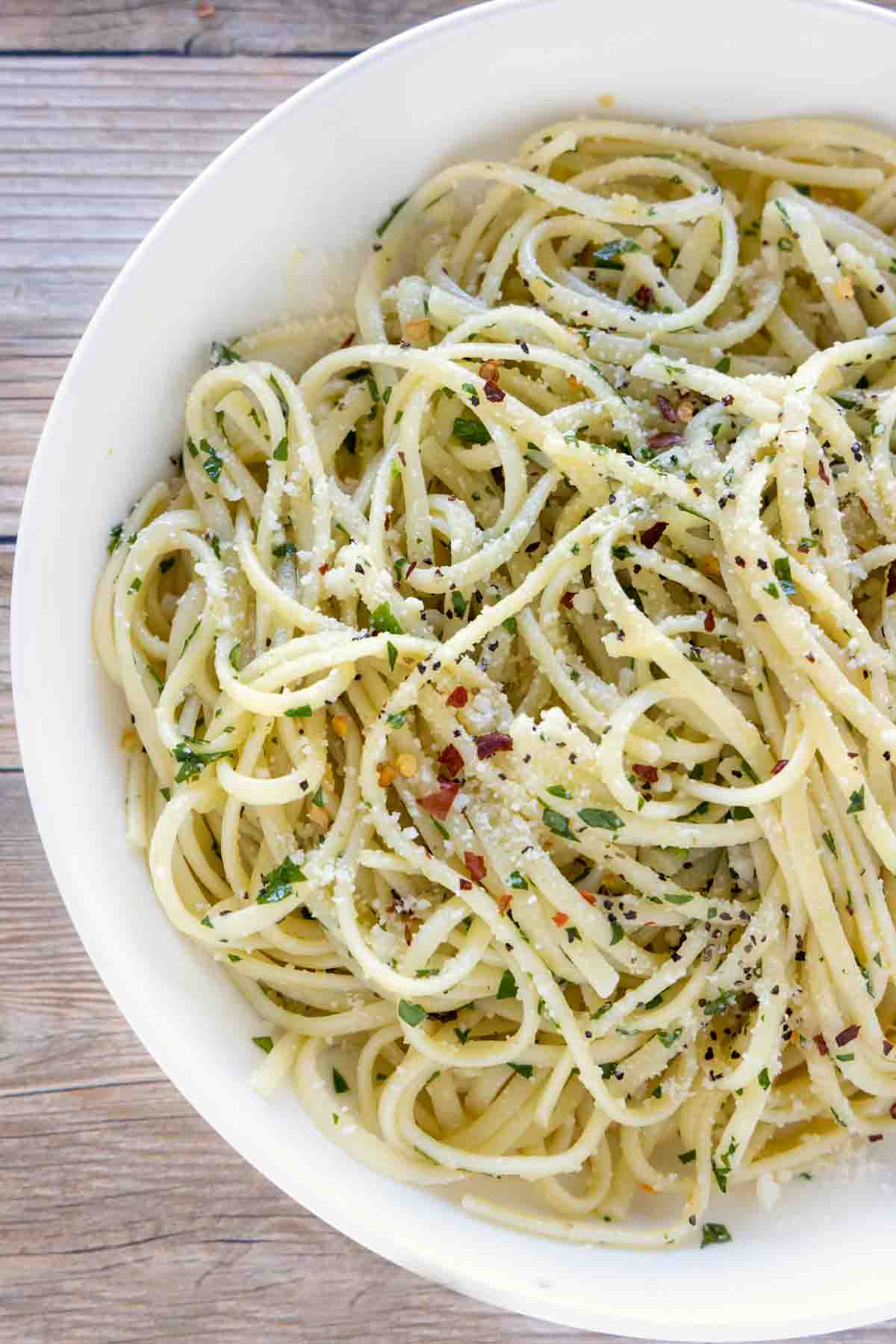 Pasta with olive oil and garlic is packed with flavor and makes a delicious side dish or add a salad and crusty bread to make a perfect light dinner. I promise you'll love this simple garlic and olive oil pasta, and
For variety add your favorite vegetables or protein to the olive oil sauce making it a heartier meal.
If you love easy and simple pasta dishes, make sure to try my Pasta Napoletana.
Ingredients for Pasta with Olive Oil and Garlic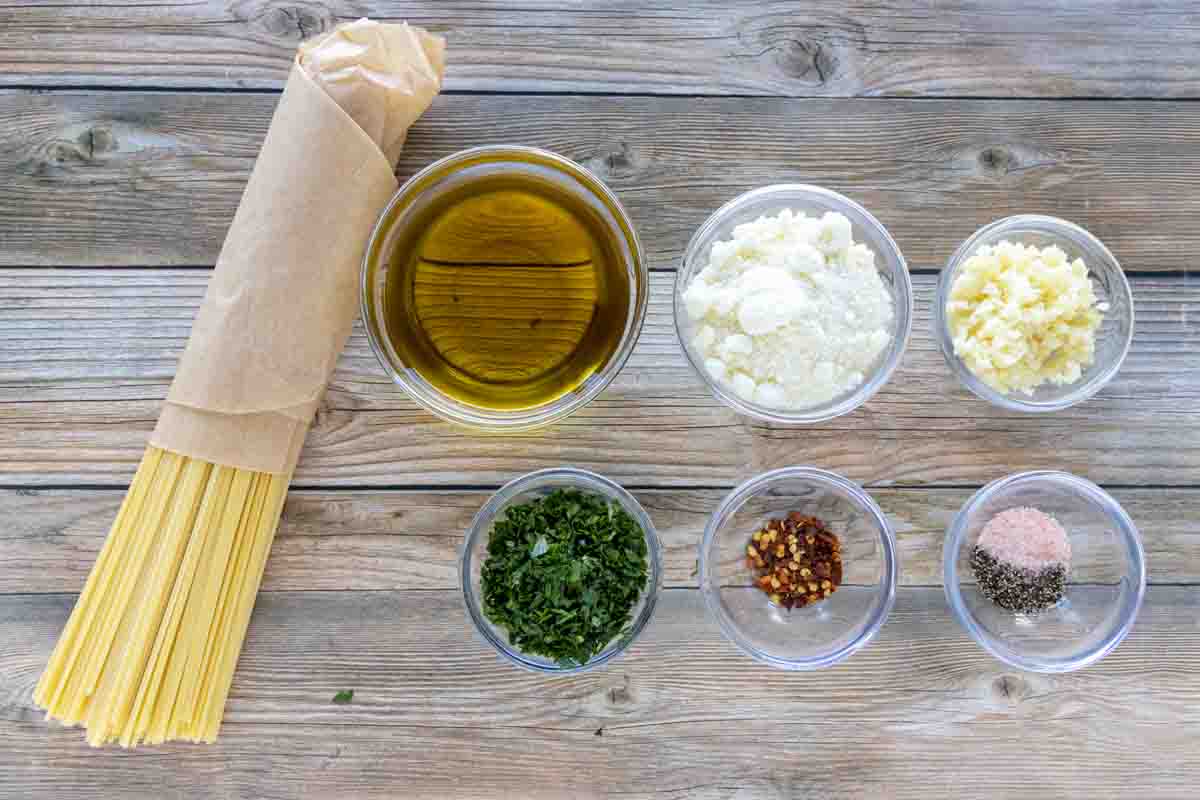 Let's start by gathering the ingredients we need to make Pasta with Olive Oil and Garlic (pasta aglio e olio). In Chef Speak, this is called the "Mise en Place," which translates to "Everything in its Place."
Not only does setting up your ingredients ahead of time speed up the cooking process, it also helps ensure you have everything you need to make the dish.
Made with pantry staples
Linguine (or spaghetti, angel hair pasta, bucatini, or penne)
Extra virgin olive oil (good quality)
Fresh garlic
Italian parsley
Red pepper flakes
Table salt
Black pepper
Grated Pecorino Romano cheese (or parmesan cheese)
How to make Pasta with Olive Oil and Garlic
Bring a large pot of water (salted) to the boil and add the linguine (or pasta shape of your choice) Cook the pasta per package instructions for al dente. While the pasta cooks, start making the olive oil pasta sauce.
When you drain the linguine, make sure to reserve ½ cup of pasta water.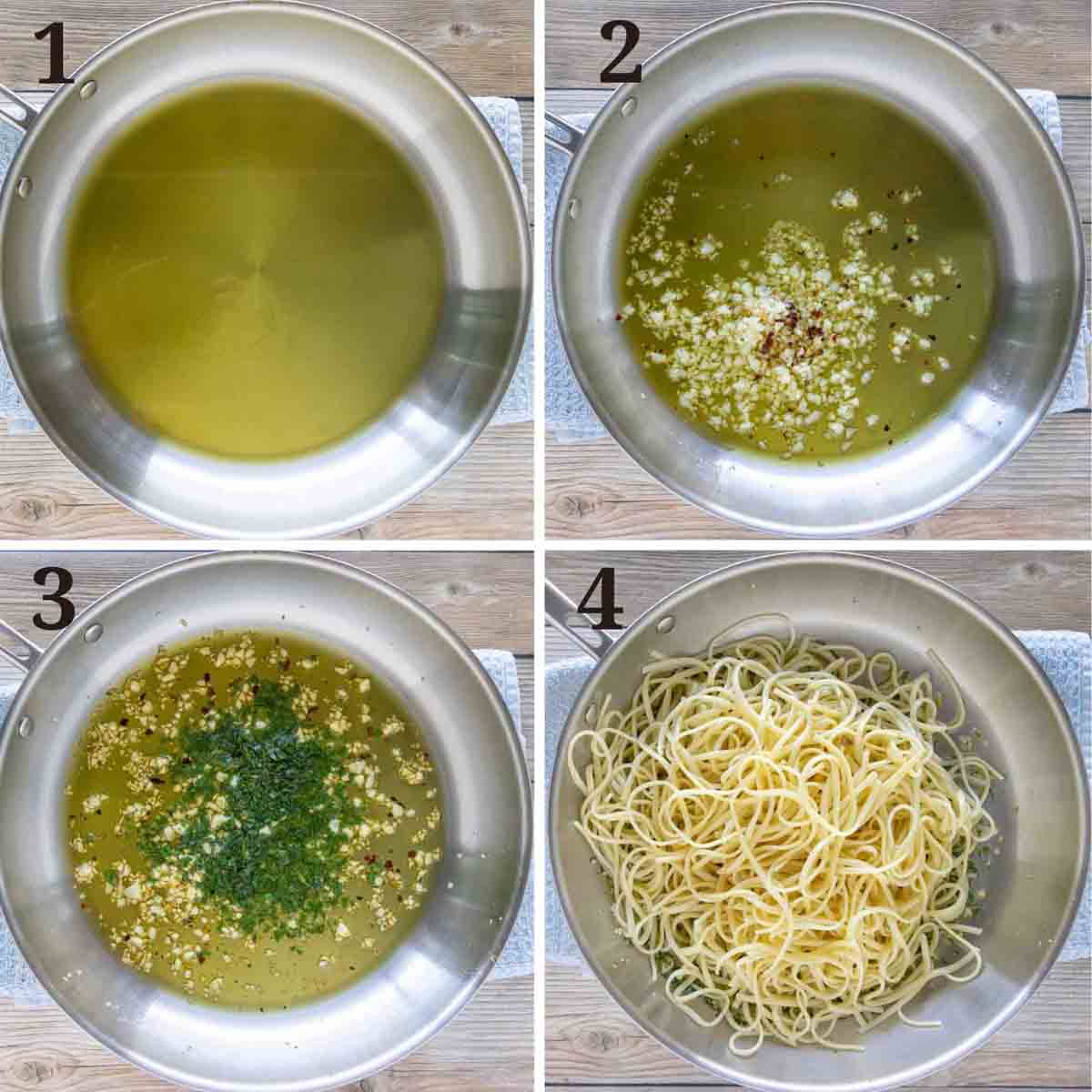 Add the olive oil to a large skillet over medium to medium-low heat.
When the oil is hot add the chopped garlic and red pepper flakes and saute for 1-2 minutes until the garlic is fragrant. *Don't let the garlic turn brown or burn, it should be a pale golden color.
Add two tablespoons of the chopped parsley to the pan and continue to cook for 30-60 seconds. Set the pan aside until the linguine is cooked.
Add the cooked pasta to the frying pan, and mix using tongs, coating the pasta with the garlic oil mixture.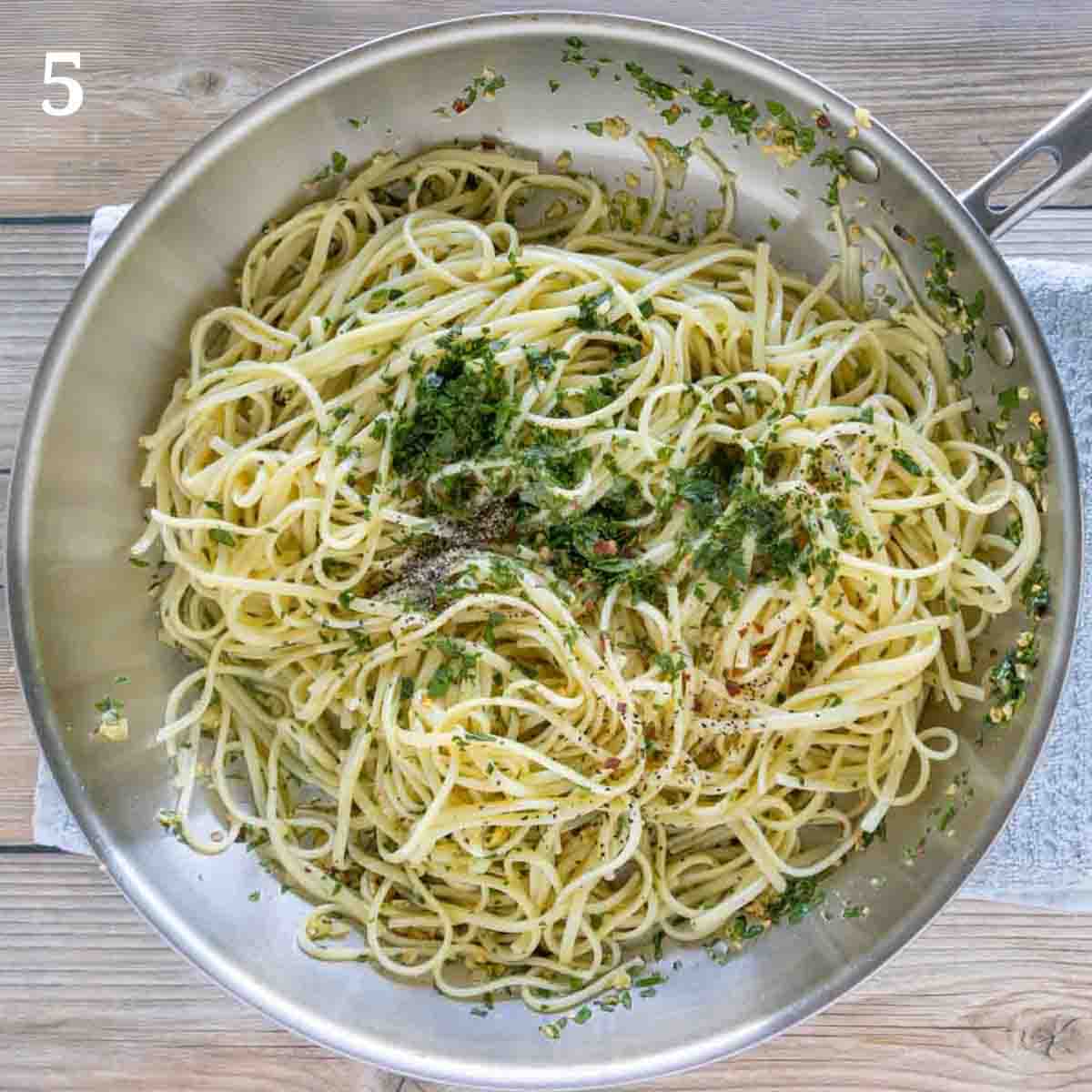 Add the pasta water to the linguine, using as much as you feel necessary to get the desired consistency. The starchy pasta water will add flavor and combine with the oil to make a silky smooth garlic sauce.
Add the remaining fresh parsley, black pepper, and salt to the linguine, seasoning to taste.
Toss the pasta and heat for one minute over medium high heat or until the pasta and sauce is hot.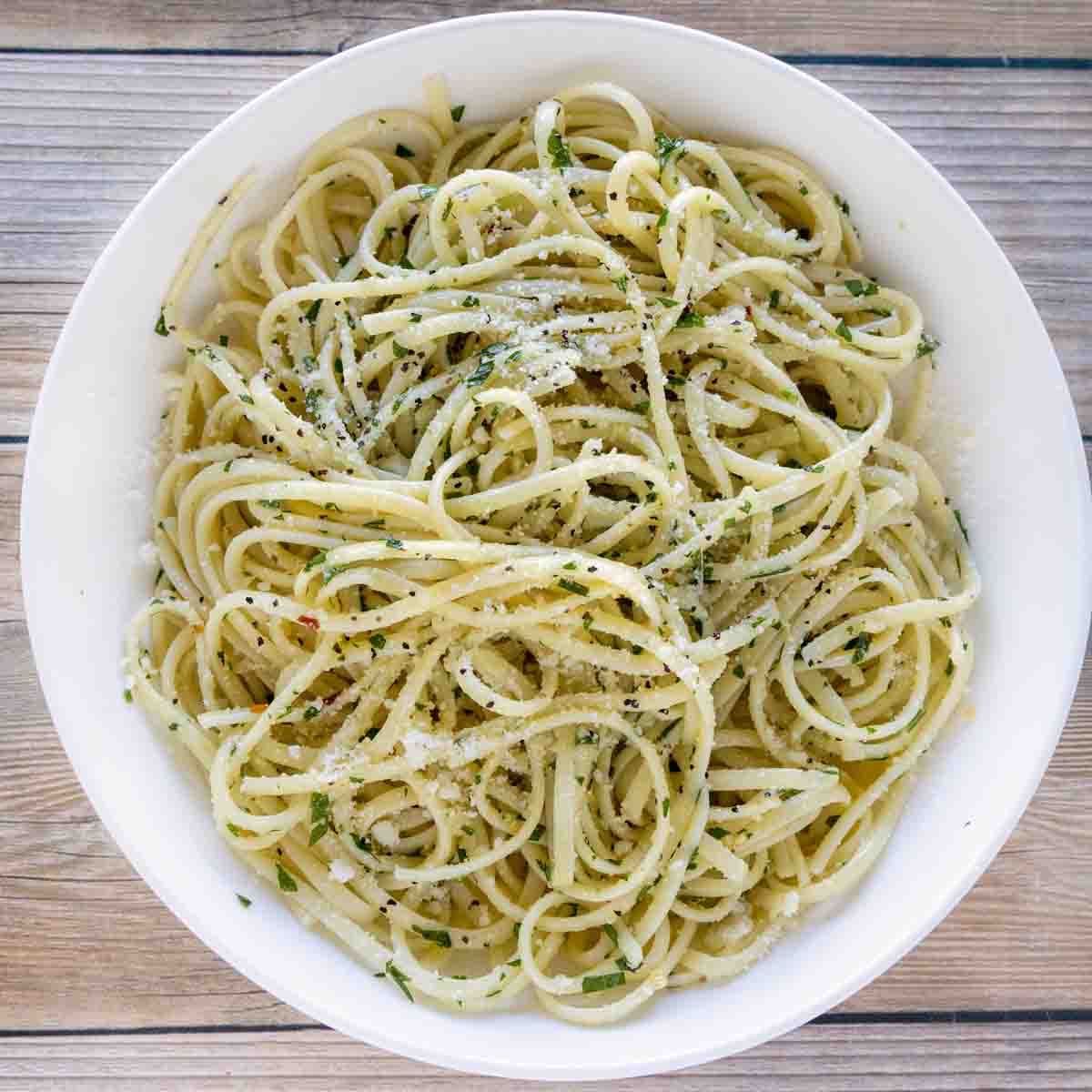 Serve the pasta with grated cheese, crushed red pepper, and additional olive oil for drizzling over the pasta.
Spaghetti Aglio e olio (garlic and olive oil) is a simple dish your whole family will love. Store any leftover pasta in an airtight container in the fridge and reheat in a frying pan over medium heat, adding additional olive oil or water to the pan.
Recipe FAQ's
What type of pasta works best with olive and garlic sauce?
You can use any type of pasta you prefer, spaghetti, linguine, bucatini, penne, and angel hair are good choices. For the best results choose a shape that holds the sauce well.
Can I add other ingredients to the sauce?
Absolutely! You can add sautéed vegetables like cherry tomatoes, spinach, or mushrooms. You can also add anchovies or capers for a briny taste.
You can add your favorite vegetable or protein to make this dish more filling. Just make sure to increase the amount of sauce ingredients.
More Recipes You'll Love!