My lemon ricotta pasta is a delicious pasta dish that takes minutes to make and is bursting with fresh lemon flavor. This creamy lemon ricotta sauce is perfect for a busy weeknight dinners or any night of the week. Wouldn't this be the perfect meal for your next date night?
My creamy lemon ricotta pasta recipe is made with just a handful of ingredients, and minimal effort. While the pasta cooks you can put together this creamy pasta sauce with a bright lemon flavor and have dinner on your table in less than 15 minutes. You're whole family is going to love the delicious flavor of this no cook sauce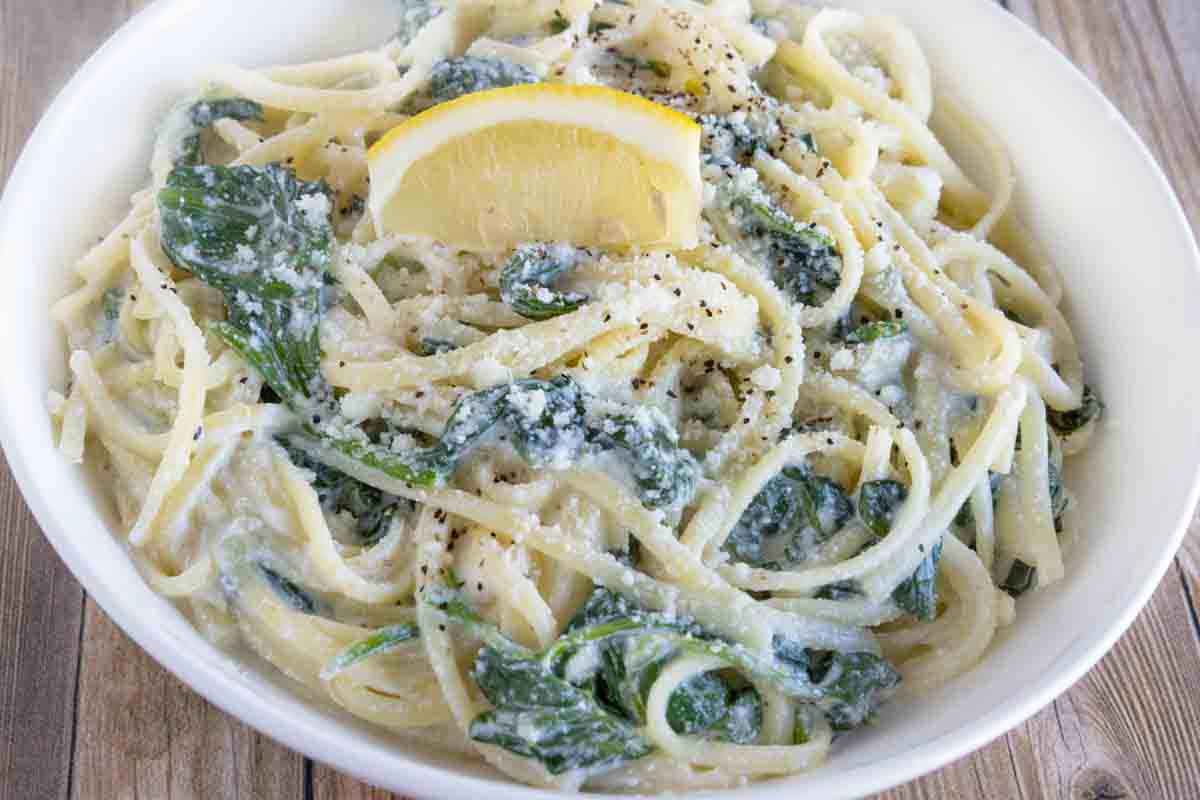 My zesty lemon ricotta pasta is an easy pasta recipe that is made in one pot. Not only is it an easy dinner to make, clean up is a breeze!
If you love easy to make creamy pasta dishes, make sure to try my Cacio e Pepe recipe.
Ingredients to make Lemon Ricotta Pasta
Let's start by gathering the ingredients we need to make Wings. In Chef Speak, this is called the "Mise en Place," which translates to "Everything in its Place."
Not only does setting up your ingredients ahead of time speed up the cooking process, it also helps ensure you have everything you need to make the dish.
Made with simple ingredients
Whole milk ricotta cheese ( I have a friend who makes this dish using cottage cheese)
Fresh baby spinach ( or fresh arugula)
Grated romano cheese (or parmesan cheese)
Fresh lemon juice
Fresh lemon zest
Fresh chopped garlic
Table salt
Black Pepper
Extra virgin olive oil
Chopped Italian parsley
Linguine (or pasta shape of your choice)
Starchy water (from cooking the pasta)
Don't be afraid to make adjustments to the ingredients in my lemon ricotta pasta recipe. You can add Italian seasoning, fresh basil or other fresh herbs to the ricotta mixture.
You can add other fresh vegetables like cherry tomatoes, cooked asparagus, broccoli, or zucchini. You can also add cooked chicken or shrimp to add more protein to the dish.
How to make Lemon Ricotta Pasta
Bring a large pot of salted water to a boil, then add the pasta. Cook the pasta al dente according to package instructions.
*Reserve 1 cup of pasta water before adding the spinach. You will add the starchy water to the ricotta sauce if needed.
Add the ricotta, olive oil, romano cheese, garlic, lemon zest, lemon juice, salt, and black pepper to a large bowl.
Mix until well combined. Taste and reseason as needed. Set aside until needed.
With one minute left of the pasta cooking time, add the baby spinach to the pot with the pasta. Push the spinach down into the water and let it cook for one minute.
Drain the pasta and spinach and return it to the pot you cooked the pasta in.
Add the ricotta mixture and two tablespoons of the reserved pasta water to the pot over medium heat (heat just long enough to bring the dish back up to temperature).
Stir the mixture well to evenly coat the pasta with the lemon ricotta pasta sauce. Add more cooking water as needed. The sauce should have a smooth and creamy texture.
Serve the lemon ricotta pasta with a drizzle of extra virgin olive oil, grated romano cheese, and lemon wedges.
For a little heat, add a sprinkle of red pepper flakes. For a more lemony fresh flavor, add a squeeze of fresh lemon juice.
Save any leftover pasta refrigerated in an airtight container for 2-3 days. Reheat leftover pasta in a frying pan with a little water, or splash of milk to keep the sauce creamy.
Recipe FAQ's
What type of pasta should I use?
I used linguine for my recipe, but you can use any pasta shape you prefer or have on hand. Spaghetti, or fettuccine are popular choices, but short pasta shapes like penne or rigatoni work well too.
Can I use cottage cheese instead of ricotta?
Yes, you can. Although ricotta cheese is preferred due to its creamy texture and mild flavor, you can use cottage cheese as a substitute. For best results, blend the cottage cheese in a food processor to achieve a smoother texture.
What should I use if I don't have fresh lemons?
Fresh lemons are really what sets this dish apart from others, because of the vibrant flavor fresh lemons provide. If you don't have fresh lemons, you can use lemon juice from a bottle, but the taste will not be as bright.
More Recipes You'll Love!