If you're looking for the best pesto recipe, you're going to love my Pesto Genovese. This classic sauce is made with six simple ingredients, and with so many ways to enjoy it, I'm sure you'll agree that my pesto Genovese recipe is a true culinary delight.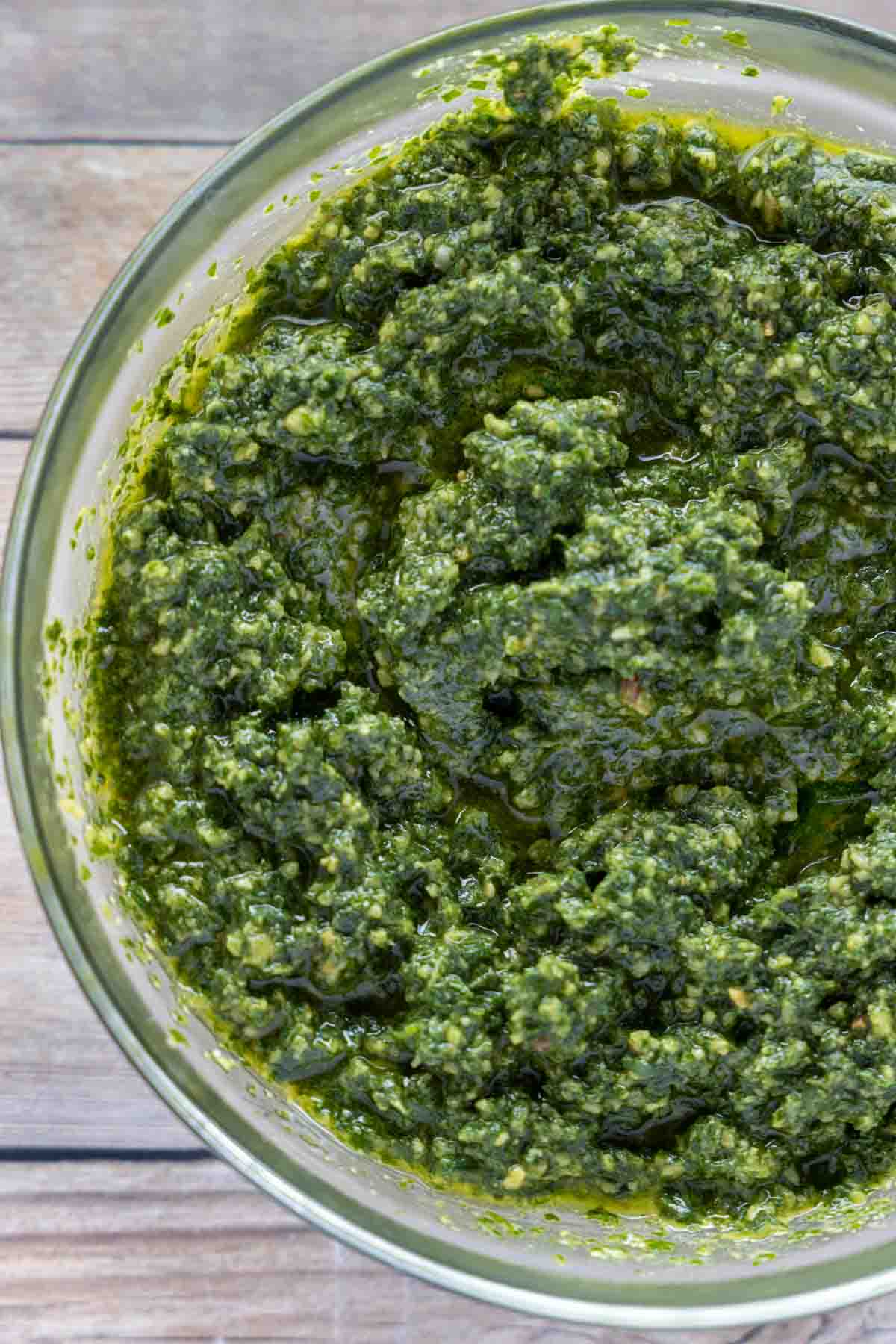 There's a secret to making pesto that you won't find in many recipes. But thanks to my adopted Nonna, I know the secret, and I'm happy to share it with you. Growing up in the coastal city of Genoa, Nonna learned how to make Pesto Genovese from her grandmother.
She was taught to add Italian parsley to the pesto to keep the sauce from being overpowering. She says that's the difference between a good pesto sauce and a great pesto sauce.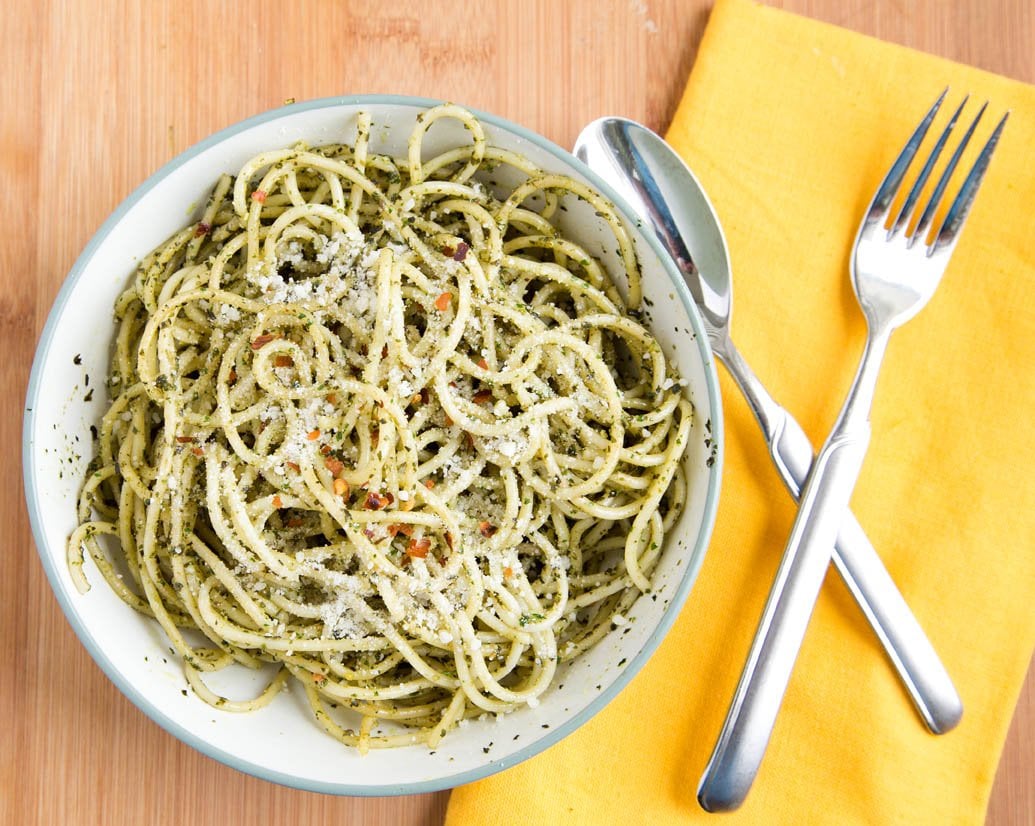 Pesto Genovese is perfectly delicious, simply mixed with spaghetti and served with grated pecorino Romano cheese, red pepper flakes, and drizzled with a little extra virgin olive oil.
To use Pesto Genovese as a pasta sauce, simply cook your favorite pasta according to the package instructions. Reserve a cup of pasta water and drain the pasta. Toss the pasta with the pesto, adding a little pasta water at a time to create a creamy sauce, to make delicious pesto pasta!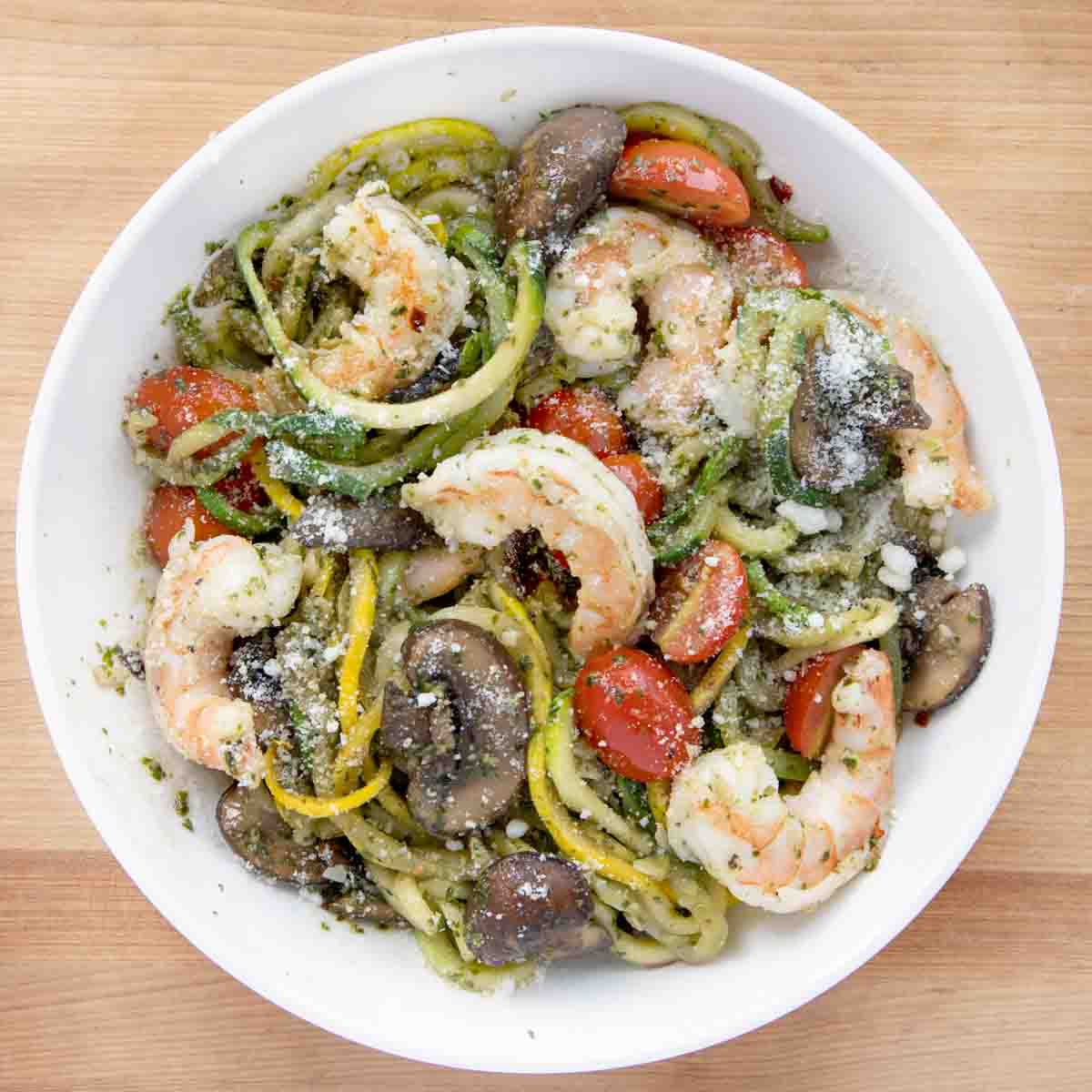 And if you're watching your carbs, you can mix pesto with zoodles as I did with my Shrimp and Zucchini Noodles all Pesto. I love the earthy, nutty flavor that pesto adds to the zoodles.
Ingredients to make Pesto Genovese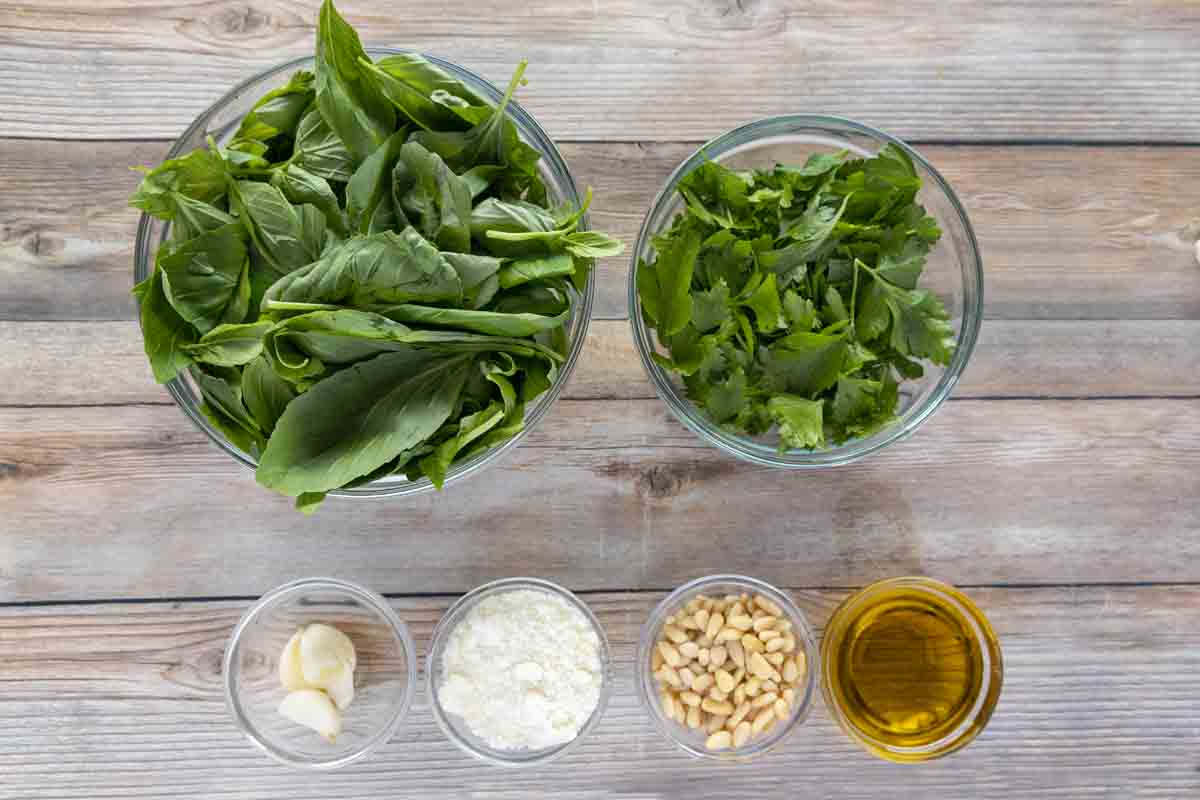 Let's start by gathering the ingredients we need to make Authentic Italian Pesto Genovese. In Chef Speak, this is called the "Mise en Place," which translates to "Everything in its Place."
Not only does setting up your ingredients ahead of time speed up the cooking process, it also helps ensure you have everything you need to make the dish.
Made with simple ingredients
fresh basil
fresh Italian parsley
Locatelli Romano cheese or parmesan cheese
pine nuts or walnuts
extra virgin olive oil
fresh garlic cloves
What is the history of Pesto Genovese?
The origins of Pesto Genovese can be traced back to the 16th century when it was first mentioned in a cookbook written by a Genoese chef named Giovanni Battista Ratto. The sauce was originally made using a marble mortar and pestle, which gave it a unique texture and flavor.
Today, Pesto Genovese is a staple in Italian cuisine and can be found in many different variations throughout the world. However, the traditional recipe remains unchanged and is still the preferred method of making this delicious sauce.
How to make Pesto Genovese
Place a frying pan over medium-high heat. When the pan is hot, turn off the heat and add the pine nuts to the pan. Swirl the pine nuts around as the toast. Keep the pine nuts moving around so they toast without burning.
Remove the leaves from the basil and parsley, do not use the stems. Then add the basil and parsley leaves to the bowl of a food processor.
Pulse the fresh basil leaves and parsley leaves until finely chopped.
Add the garlic, toasted pine nuts, and grated Romano cheese to the food processor.
Pulse until well combined.
With the food processor running, drizzle the olive oil into the mixture until it has a nice smooth consistency without looking oily. You may use between ¼ – ½ cup of olive oil, depending on how you like the consistency of your pesto.
*For a vegan version, replace the cheese with nutritional yeast. And if you have nut allergies, you can simply leave out the pine nuts.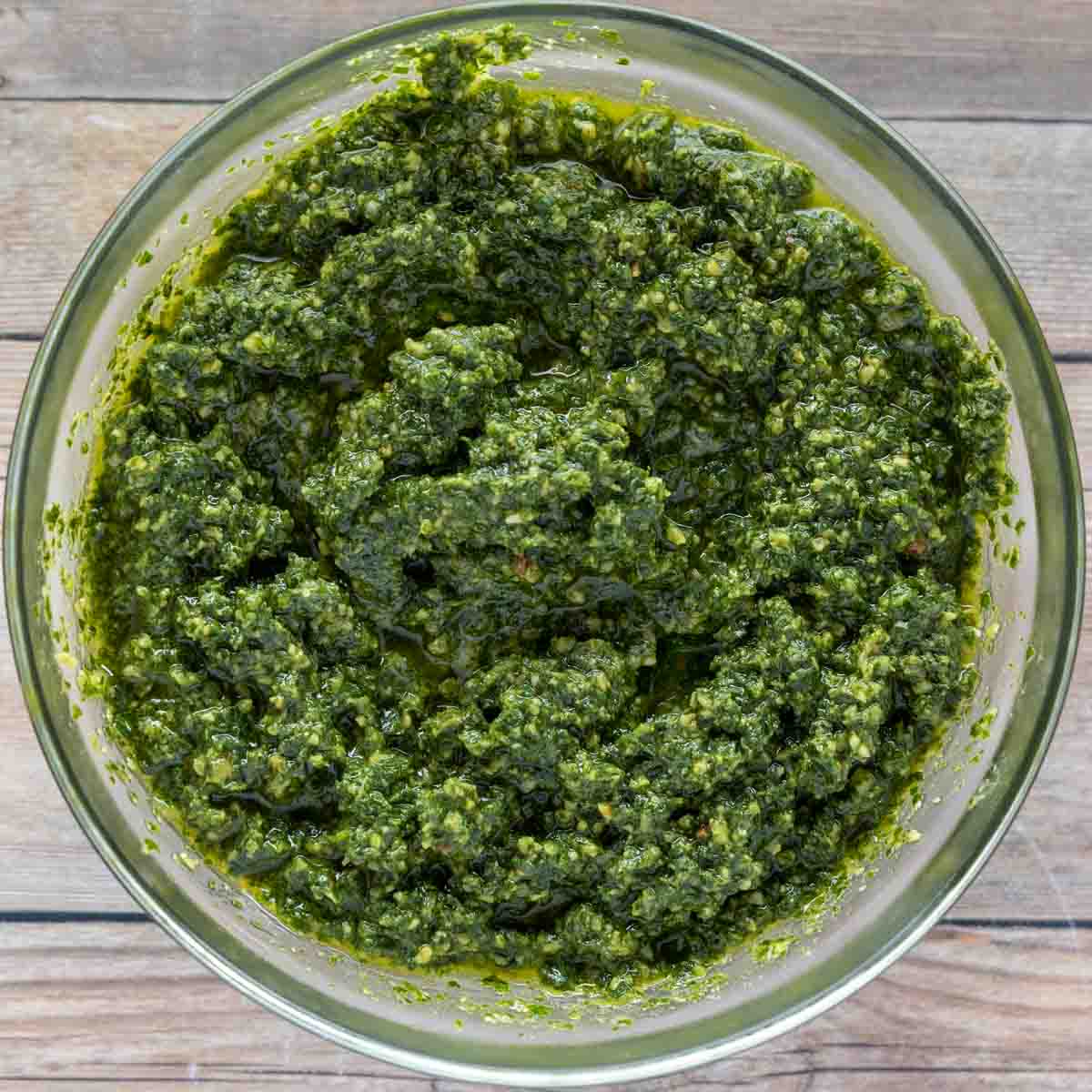 You can use Pesto Genovese in so many ways. It is most commonly used as a sauce for pasta dishes, but it can also be used as a marinade for chicken, pork, or fish. It also makes a very nice topping for bruschetta and can be used as a condiment for sandwiches or mixed with olive oil and red wine vinegar, a delicious salad dressing.
If you prefer a stronger basil flavor, leave out the parsley. It's all about your personal preference.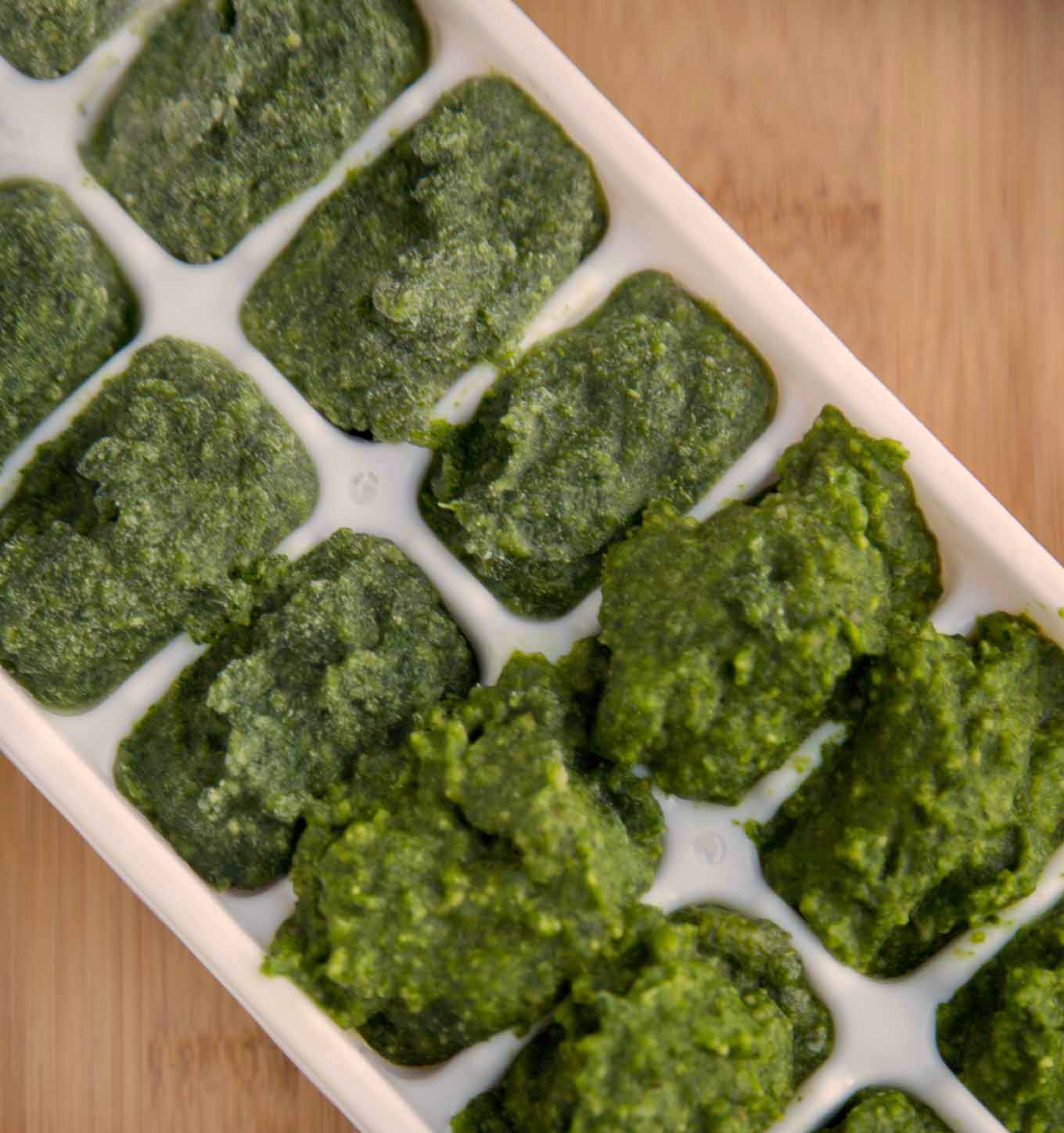 If you make a big batch of pesto, add the pesto to an ice cube tray and freeze it into pesto cubes. Once frozen, pop them out of the tray and store them in a ziplock bag or airtight container. That way, you can have fresh pesto whenever you need it.
Pesto Genovese is a classic Italian sauce that has stood the test of time. Its fresh and vibrant flavors are a perfect match for pasta dishes and many other dishes. Try making this traditional recipe at home and taste the authentic flavors of Italy.
If your local grocery store doesn't regularly have fresh basil, try planting a basil plant outside your house or inside by a window. I have all the herbs I regularly use planted around my house. That way, I have access to fresh herbs when I need them. Check with local farm markets or Home Depot for starter plants. With some sun and water, you'll have robust healthy plants in no time!
Recipe FAQ's
Is pesto the same as pesto Genovese?
Pesto is a generic term for anything made by pounding or crushing. You'll find the word pesto is used for several different types of pestos in Italy. But Pesto alla Genovese remains the most popular pesto in Italy and the rest of the world.
What does pesto Genovese taste like?
Authentic Italian-style pesto is a thick, green sauce that has a bright and herby flavor that is derived from fresh basil. It has a slightly salty and nutty flavor from the cheese and pine nuts. It's important not to use too much garlic, you want the pesto to have garlicky undertones but not so much to overpower the flavor of the basil. And lastly, a good quality olive oil rounds out the flavors of this classic Italian sauce.
Can you make pesto without cheese?
Yes, you can make Pesto Genovese without cheese for a vegan version of the sauce. Simply omit the cheese and add a little nutritional yeast for a similar cheesy flavor.
Can you make pesto without nuts?
Yes, you can make pesto without the nuts. Many restaurants no longer include pine nuts in the sauce because of nut allergies. While the flavor of the pine nuts rounds out the flavor, leaving it out is not a deal breaker.
More Recipes You'll Love!