Pasta Napoletana sauce is a simple yet flavorful pasta sauce that only takes about 30 minutes to make. The intense, rich taste of canned cherry tomatoes blended with the savory aromatics of the sauteed onion and garlic, makes this Neopolitan pasta a dish the whole family will love!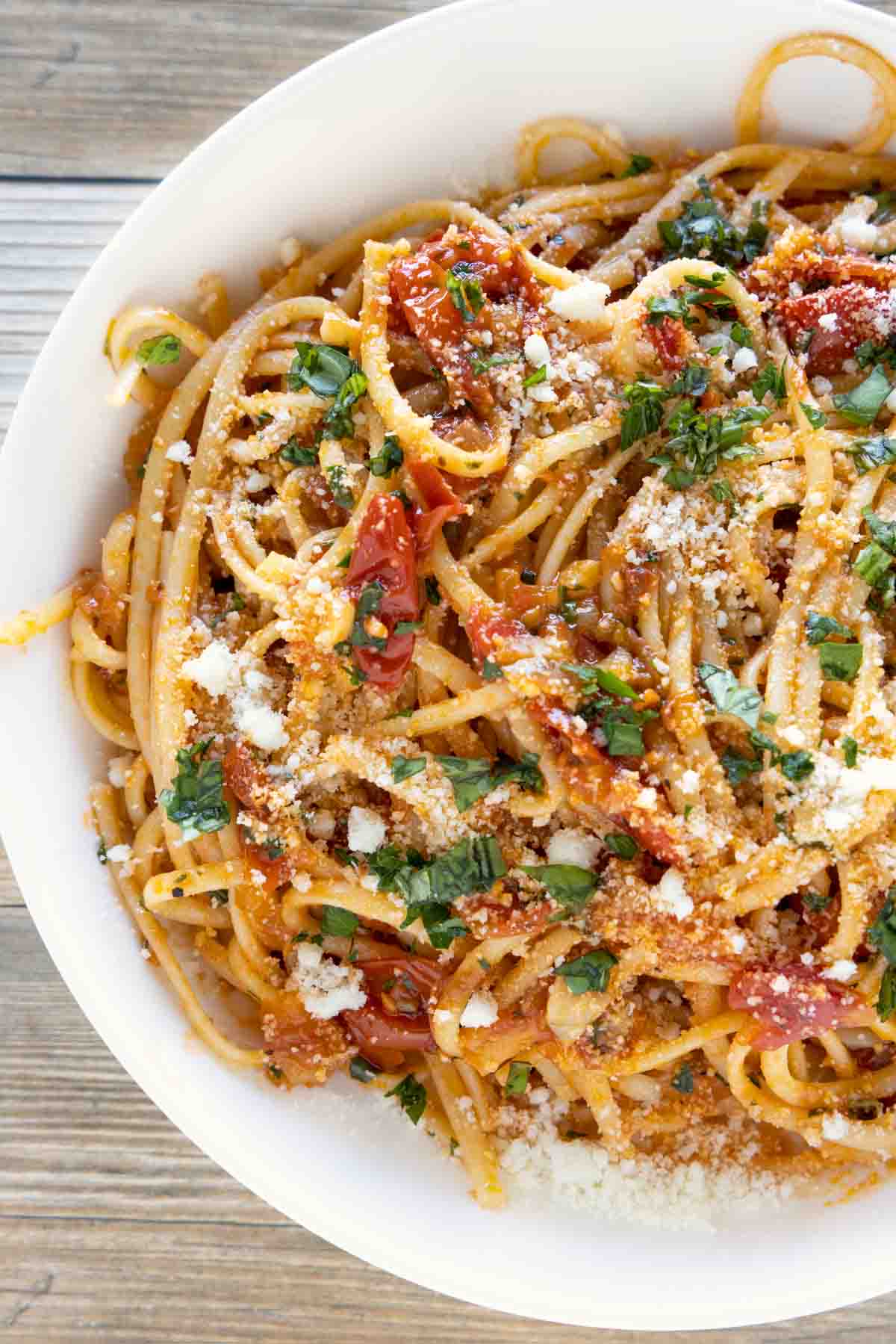 Pasta Napolitana is an easy, flavorful tomato sauce that's perfect for those busy weeknight dinners, yet elegant enough for a quiet date night or special occasions.
This is honestly is my favorite quick pasta sauce. In fact, it had such an incredible flavor, I didn't need to add much grated cheese to the dish.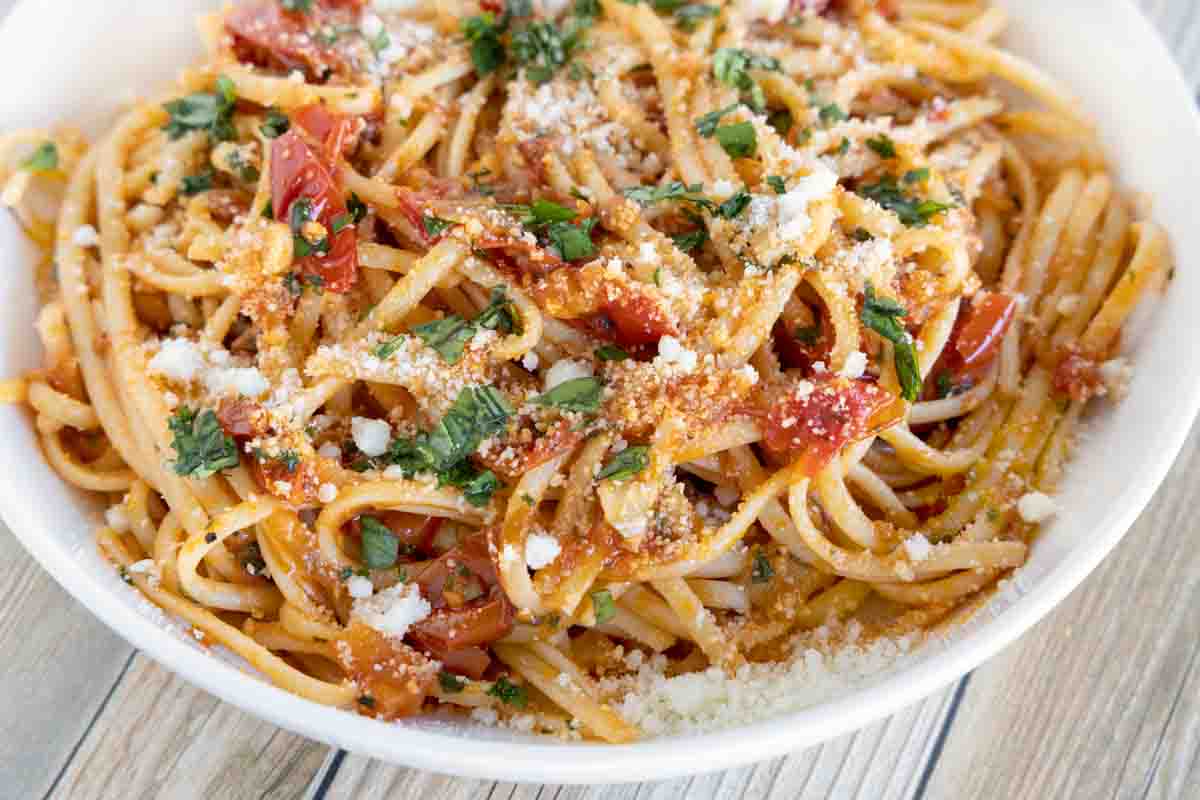 I know you're going to love this classic Italian pasta dish. Made with simple basic ingredients, this tomato-based sauce is even better than the Cheesecake Factory pasta napoletana recipe you see on the internet.
If you enjoy traditional pasta sauces from Naples, my Ragu Napoletano is a hearty meat sauce you'll love!
Ingredients to make Pasta Napoletana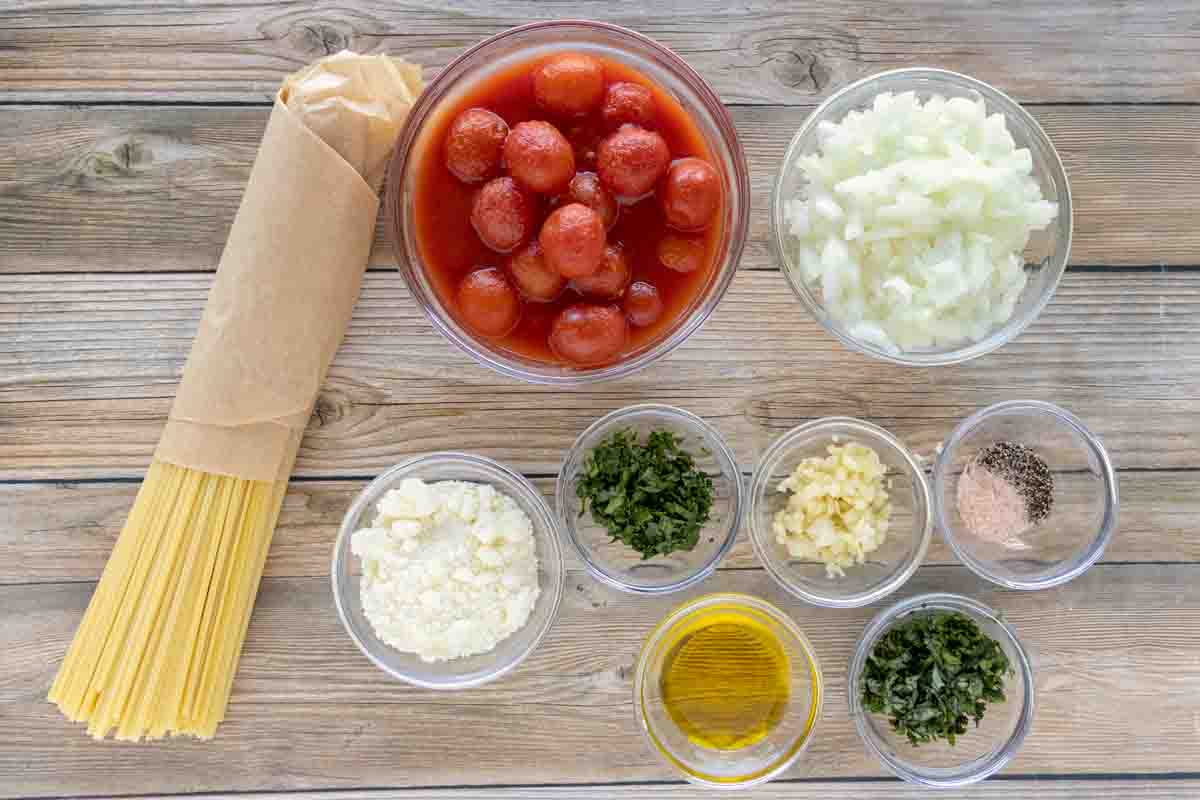 Let's start by gathering the ingredients we need to make Authentic Italian Pasta Napoletana. In Chef Speak, this is called the "Mise en Place," which translates to "Everything in its Place."
Not only does setting up your ingredients ahead of time speed up the cooking process, it also helps ensure you have everything you need to make the dish.
Can I use fresh cherry tomatoes?
No, you can't. There is a big difference between fresh tomatoes and canned tomatoes. The natural sweetness and rich flavor that develops during the canning process make canned tomatoes the best choice for this Napoli sauce.
If you can't find canned cherry tomatoes, use San Marzano tomatoes instead. The flavor isn't as intense but the sauce will still be delicious.
Another favorite quick pasta sauce is my easy marinara sauce.
What can I add to my pasta sauce?
If you want to make a more filling meat sauce you can add ground beef or Italian sausage meat to the Neapolitan sauce. Add the meat to the pan after you've cooked the onions. When it's fully cooked, follow the recipe as written.
You can also add other fresh herbs, like oregano, marjoram, or your favorite Italian seasoning blend. For a touch of heat add red pepper flakes.
If you prefer a creamy version of this sauce, add a quarter cup (or more) of heavy cream, or cream cheese sauce.
How to make Pasta Napoletana
Bring a large pot of salted cold water to a rolling boil. Add the pasta to the pot and cook per the instructions on the package for al dente pasta.
Save ¾ cup of the pasta water when you drain it. This is a crucial ingredient in the sauce. The starch from the pasta helps with the taste and texture of the sauce.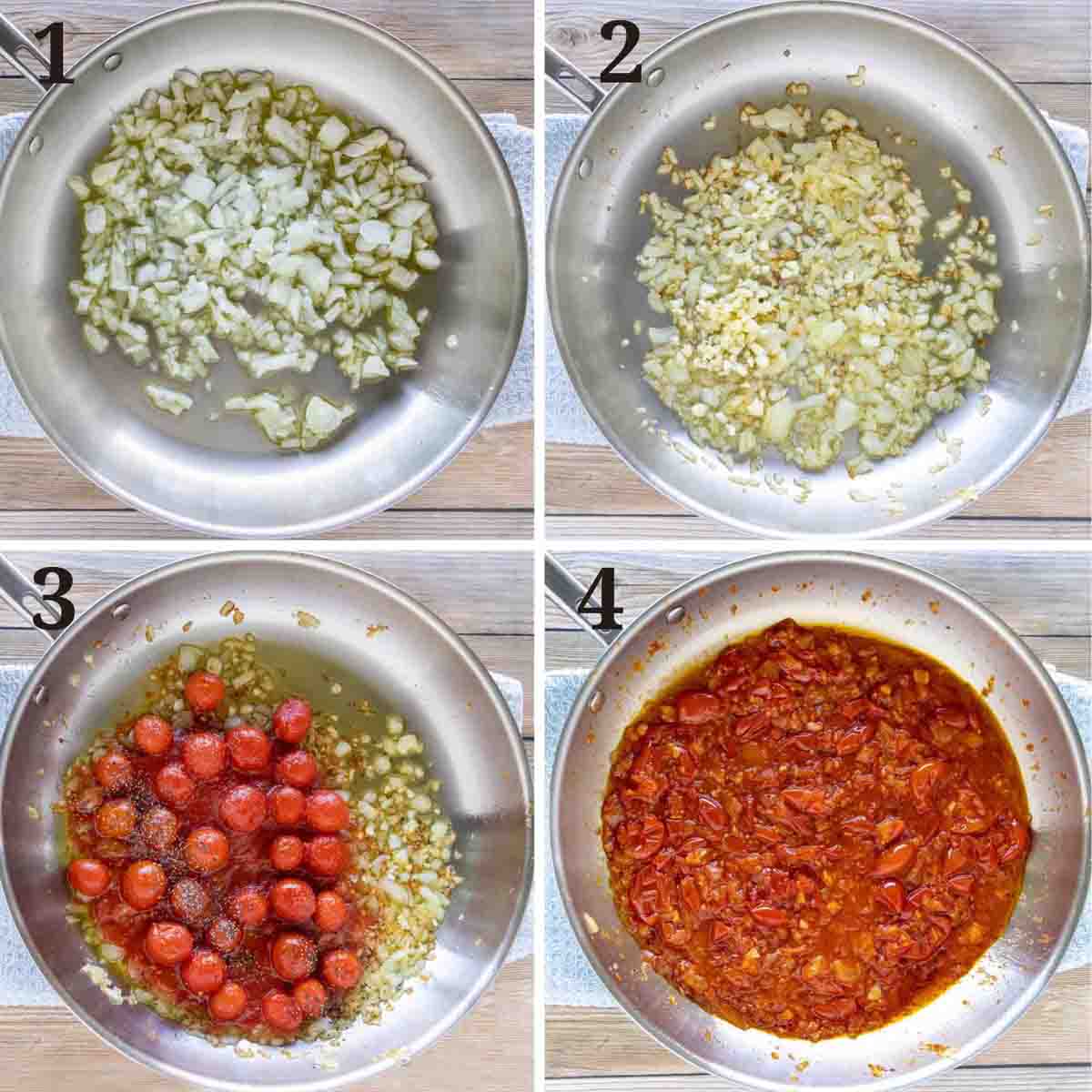 Add the extra virgin olive oil to a large skillet (or large saucepan) and place it over medium heat. When the oil gets hot add the diced onion to the pan. Sauté onions until soft and translucent (4-5 minutes). Stir the mixture as it cooks so the onion does not burn.
Add the garlic to the pan and cook for 1 minute.
Add the cherry tomatoes, salt, and black pepper to the pan. Bring the mixture to a boil then reduce the heat to simmer. *Break up the tomatoes with the bowl of a large spoon.
Let the sauce cook for about 5-7 minutes until it's slightly reduced, then add 2-3 tablespoons of the pasta water to the pan. Stir to mix the water into the sauce and continue to simmer for another 8-10 minutes, adding more pasta water as needed.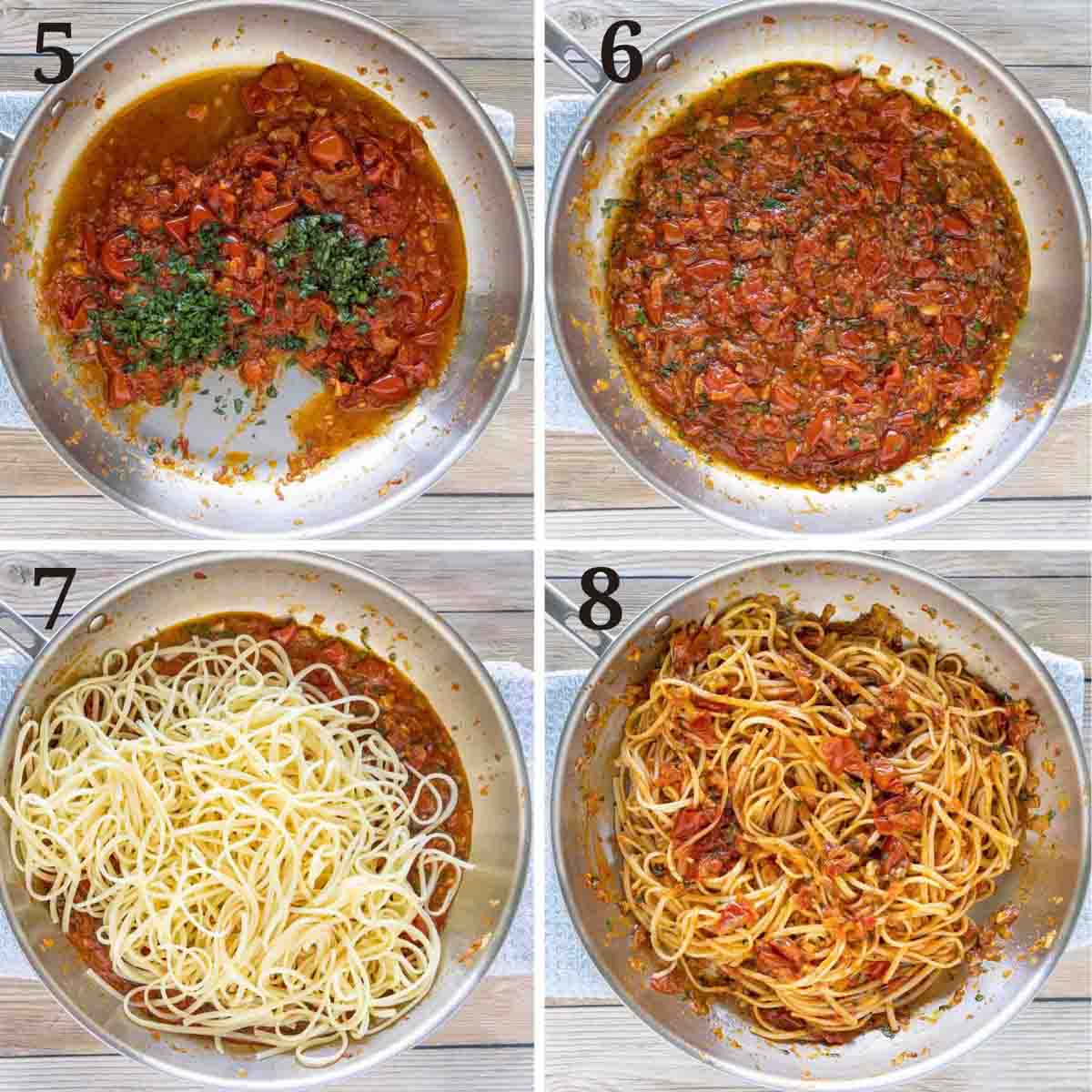 Taste the sauce and reseason with salt and pepper as needed. Then add the chopped fresh basil and chopped fresh parsley to the sauce.
Stir until well combined.
Add the drained pasta to the pan.
Toss until well combined. Add a little more of the reserved pasta water if needed.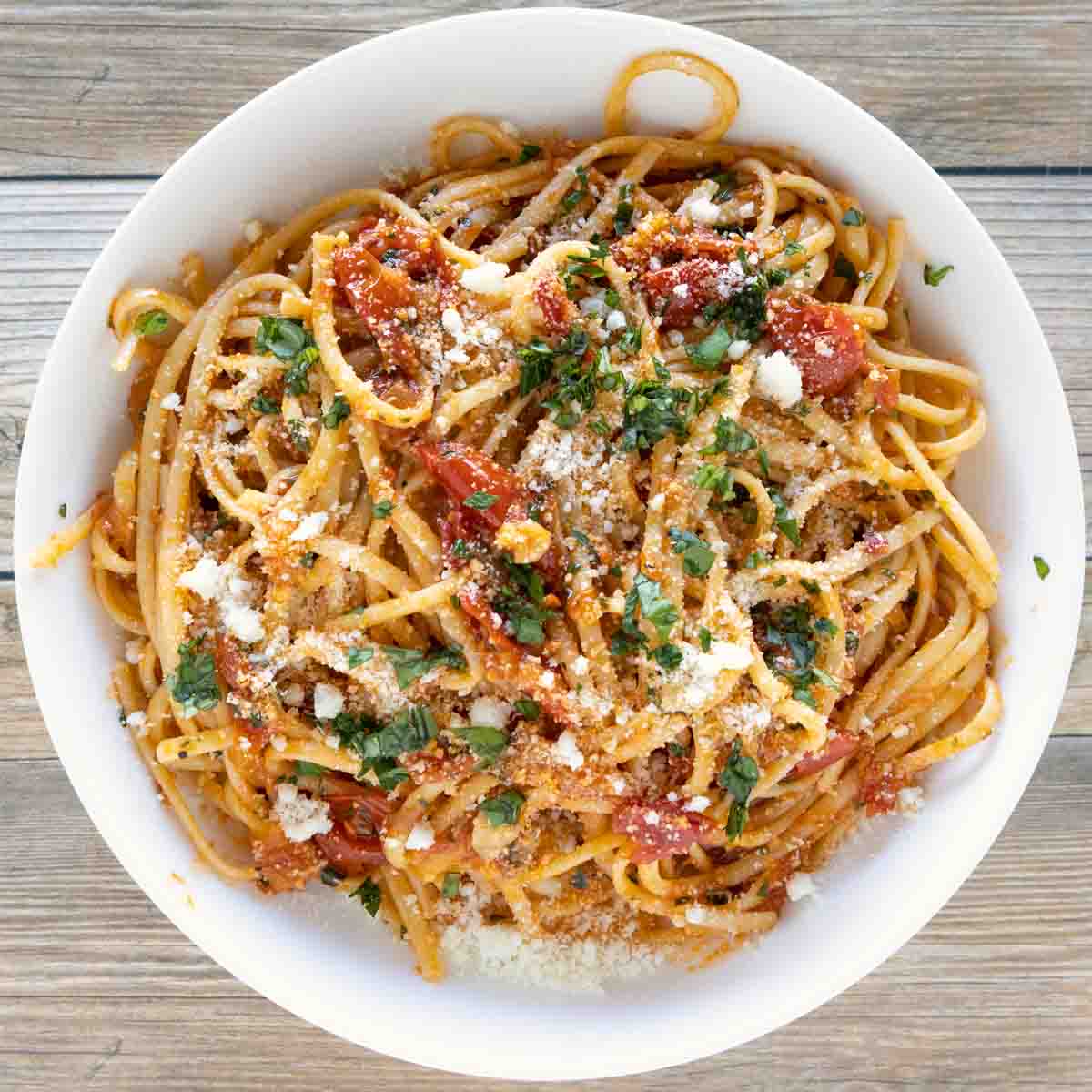 Serve the pasta Napoletana with grated Pecorino Romano or Parmesan cheese and garnish with a sprinkle of chopped Italian parsley. You can also add a drizzle of your best olive oil and a sprinkle of red pepper flakes if you'd like to add a little heat.
Recipe FAQ's
What is Pasta Napoletana?
Pasta Napoletana is a traditional Italian pasta dish that originated in Naples (Napoli), Italy. It typically consists of pasta served with a simple, flavorful tomato-based sauce made with cherry tomatoes, onion, garlic, fresh herbs and seasonings. But the real secret to making the perfect sauce is adding pasta water to the tomatoes as they simmer and at the finish of the sauce.
What type of pasta goes with Pasta Napoletana?
The most common pasta used for Pasta Napoletana is spaghetti, but other types of long pasta like linguine or fettuccine can be used. Short pasta shapes like penne, and rigatoni are also good choices.
What are good toppings for Pasta Napoletana?
I love to add grated Romano or Parmesan cheese to the dish. That along with a drizzle of good olive oil, a sprinkle of red pepper flakes, and a little more chopped parsley or basil is all you really need to make this dish even more delicious.
More Recipes You'll Love!