My cream cheese pasta made with just a few simple ingredients is cheesy and creamy with a hint of garlic. Your whole family is going to love this rich delicious pasta recipe, and the best part is it can be on your dinner table in 15 minutes.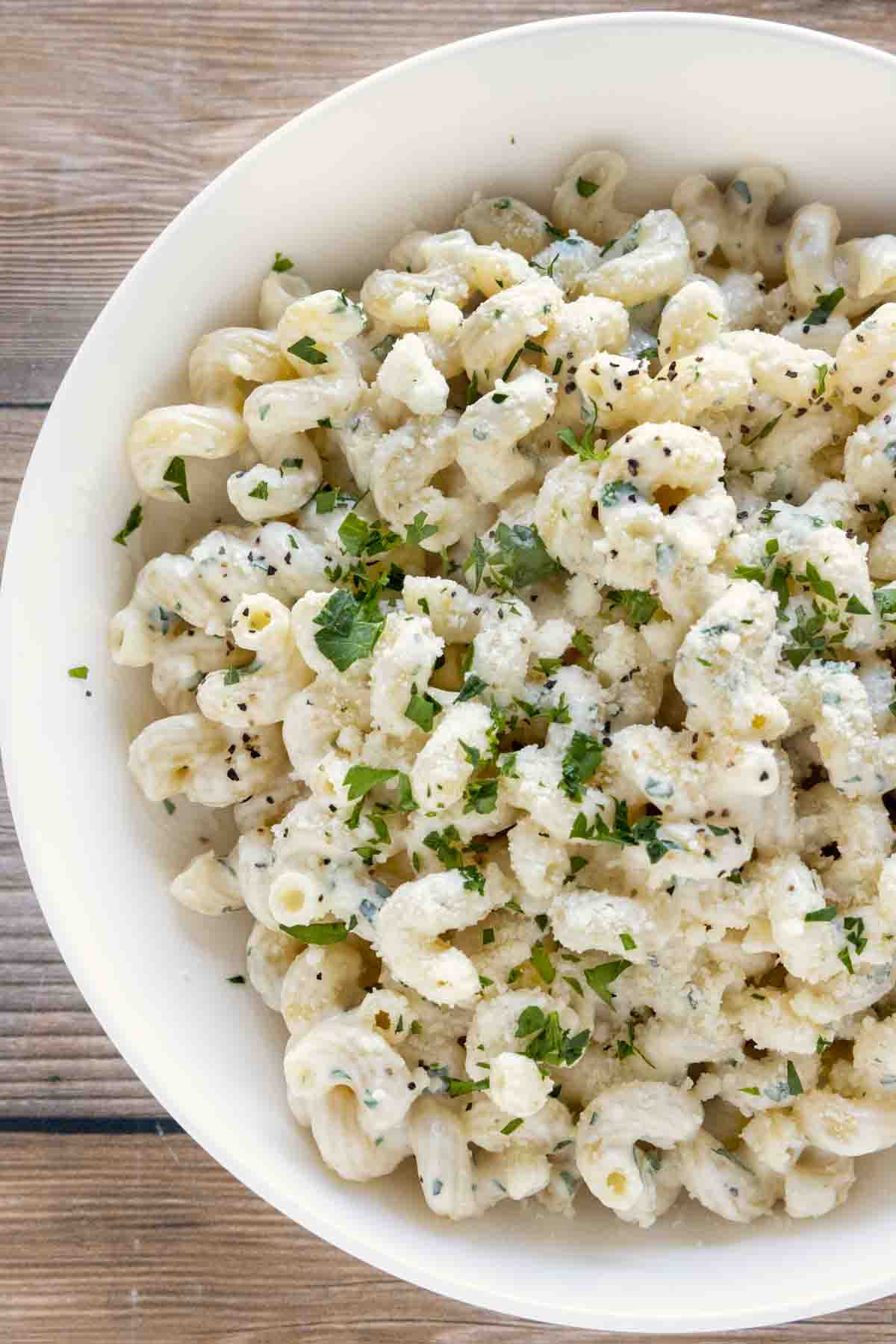 I've seen a lot of recipes for cream cheese pasta sauce recipes on the internet but don't be fooled by the imitators, this is the best cream cheese pasta recipe you'll ever make!
The cream cheese sauce is made with Philadelphia cream cheese and grated Locatelli Romano cheese, giving the creamy sauce a tangy cheesy flavor that will go well with your favorite pasta shape.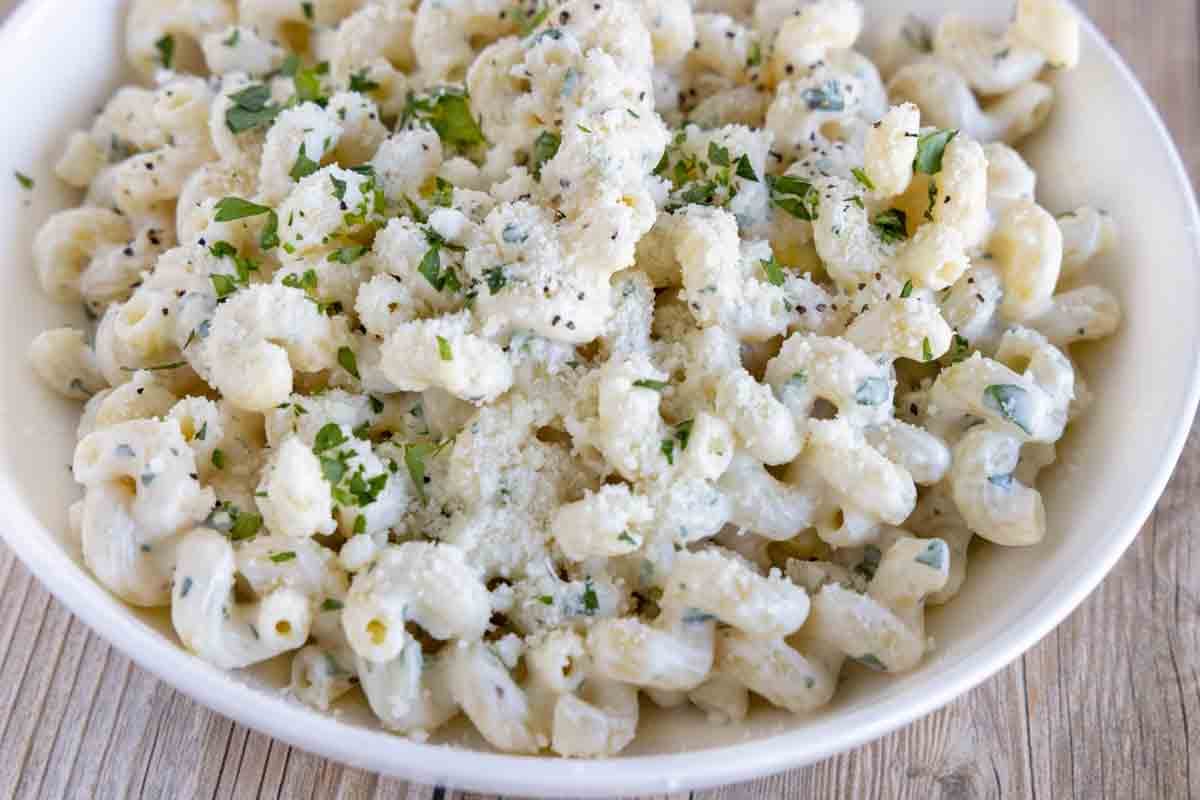 I love pasta dishes and the easier the better. My cream cheese pasta is perfect for a busy weeknight, and this easy pasta recipe is one you'll love to make and your family will love to eat. This delicious sauce is a keeper!
If you like creamy cheese pasta recipes, make sure to try my classic alfredo sauce recipe.
Ingredients for Cream Cheese Pasta Sauce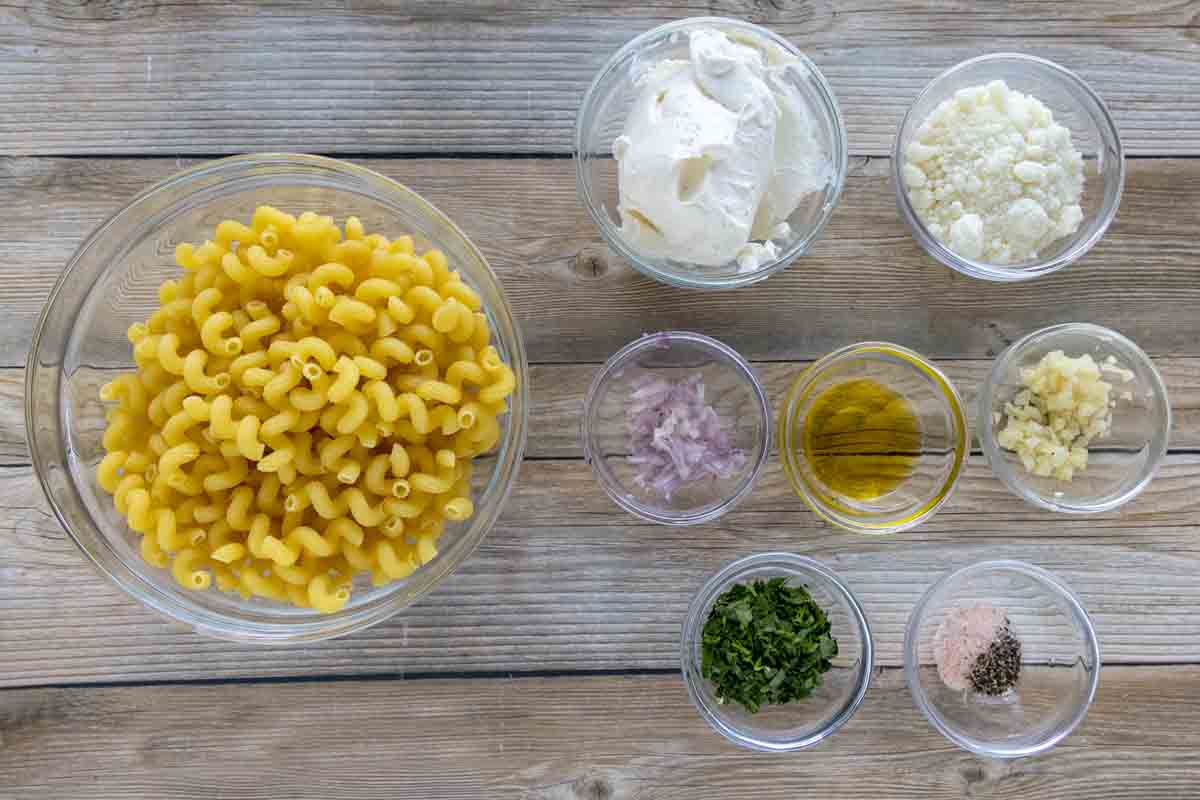 Let's start by gathering the ingredients we need to make my easy Cream Cheese Pasta recipe. In Chef Speak, this is called the "Mise en Place," which translates to "Everything in its Place."
Not only does setting up your ingredients ahead of time speed up the cooking process, it also helps ensure you have everything you need to make the dish.
Made with basic ingredients
Pasta – I used cavatappi – feel free to use different pasta shape.
Full fat cream cheese – Philadelphia brand or your favorite cream cheese.
Romano cheese or parmesan cheese (Locatelli Romano cheese adds a richer cheese flavor to the sauce).
Extra virgin olive oil or your favorite cooking oil (olive oil adds a nutty, rich flavor to the creamy pasta sauce).
Shallots – optional (the shallots are an aromatic and adds savory flavor to this easy sauce).
Fresh garlic – when you want true garlic flavor you have to use fresh garlic.
Italian parsley -people eat with their eyes first, adding color with chopped Italian parsley will help your creamy pasta recipes pop with a little color.
Salt – taste before adding. The pasta water and grated cheese will add salt to the sauce.
Black Pepper – goes so well with creamy cheese pasta sauces.
Starchy pasta water – from cooking the pasta.
I've seen recipes that include Italian seasoning, but I don't suggest using it as it will be a little too strong for this creamy cheese sauce. You can add garlic powder or onion powder, if you want it more heavily seasoned. And if you like heat add a little red pepper flakes to the sauce.
What else can I add to my cream cheese pasta?
You can add a variety of fresh vegetables to the sauce. Baby spinach, cherry tomatoes, broccoli, peas, zucchini, and asparagus tips are all good choices. I love adding sundried tomatoes to the sauce along with kalamata olives.
You can also add cooked chicken breast or shrimp for added protein and to bulk up the dish.
How to make Cream Cheese Pasta Sauce
Add the pasta to a large pot of boiling salted water, and cook according to package directions for al dente.
When it's time to drain the pasta, make sure to reserve one cup of the starchy pasta water before draining.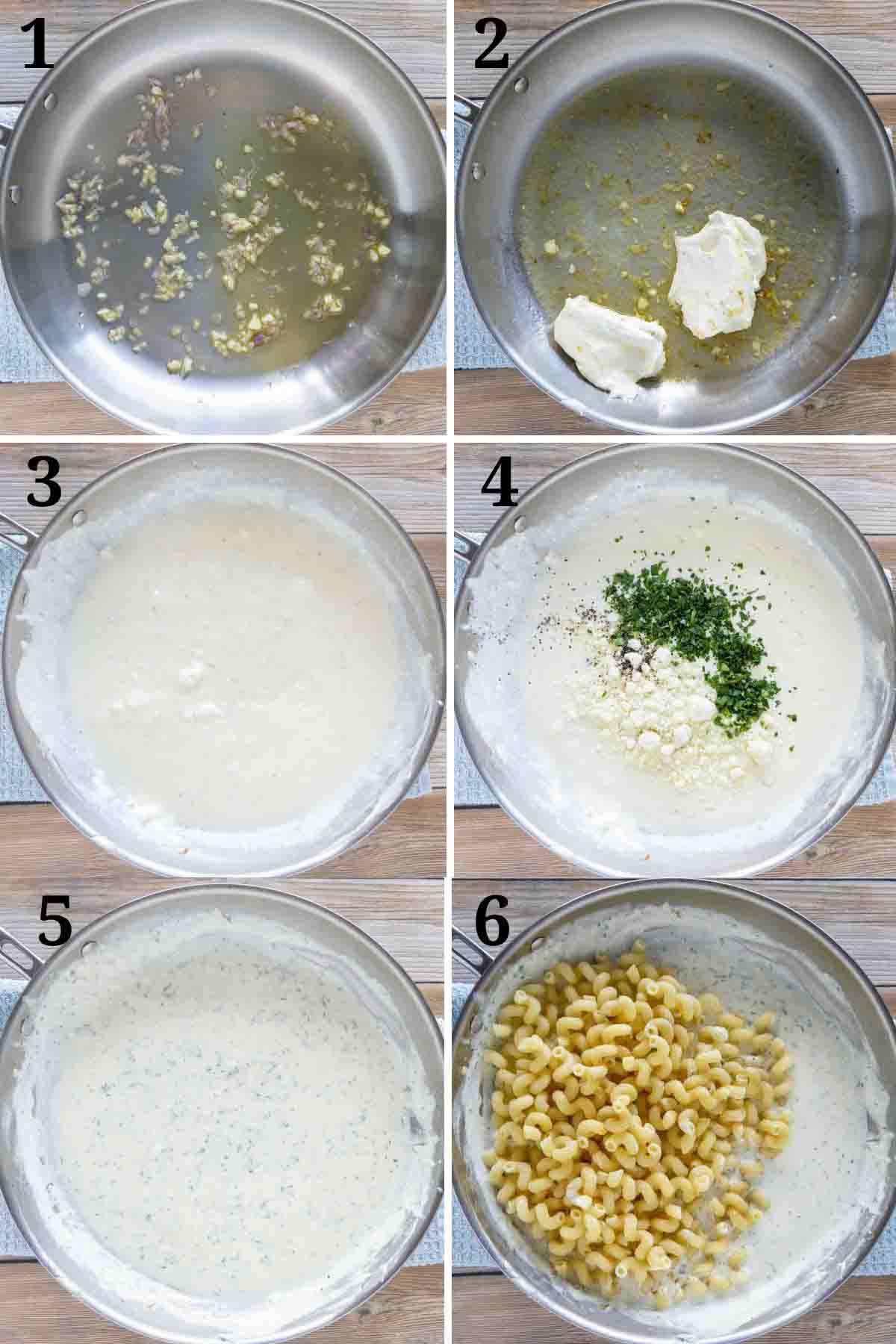 Add the olive oil,minced garlic, and minced shallots to a large skillet over medium heat and cook for 2-3 minutes. Don't let the garlic or shallots burn.
Add the cream cheese and ½ cup of starchy pasta water to the pan.
Mix the cream cheese, water, and oil mixture to create a creamy emulsion.
Add the grated pecorino romano cheese and chopped parsley to the pan.
Mix well until the sauce is creamy.
Add the cooked pasta to the skillet.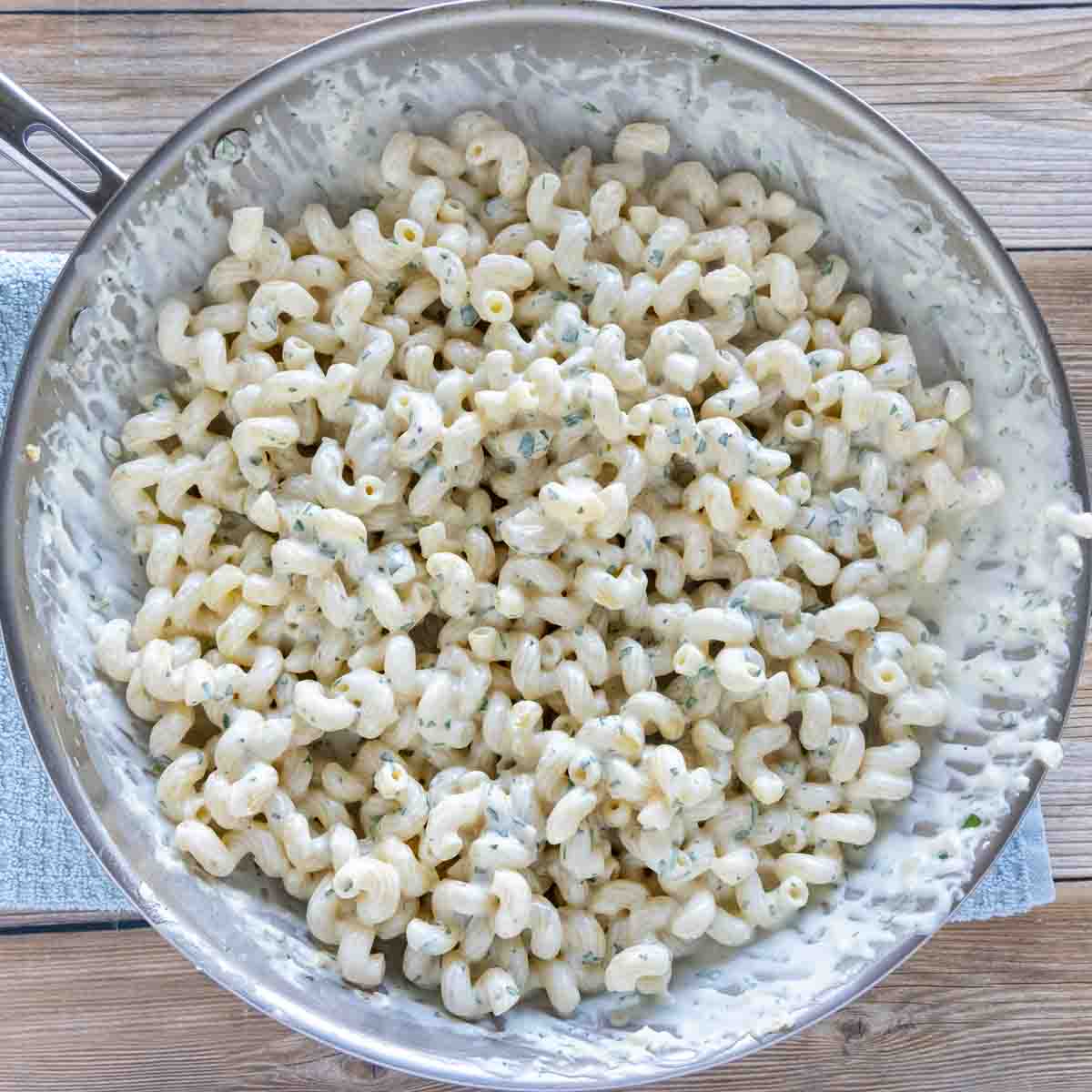 Stir well to evenly coat the pasta in the sauce. Add more of the reserved pasta water as needed so the cheesy pasta sauce has a smooth and creamy consistency.
For an even creamier sauce, you can add heavy cream or whole milk to the sauce instead of more pasta cooking water. The heavy cream will make it more like a homemade alfredo sauce.
Top this creamy cheese pasta with more grated cheese, a sprinkle of black pepper, and garnish with chopped parsley.
Serve my cream cheese pasta with a simple green salad and garlic bread for the ultimate easy dinner.
Save any leftover pasta refrigerated in an airtight container. To reheat add a splash of water or splash of milk to loosen up the cheesy sauce.
Recipe FAQ's
What type of pasta should I use?
Most pasta shapes will work, but i like using cavatappi. Other popular choices are fettuccine, penne, linguine and spaghetti. The creamy sauce coats these shapes well, allowing for maximum flavor.
Can I use low-fat or non-fat cream cheese?
Yes, you can use low-fat or non-fat cream cheese, but keep in mind that the sauce may be less creamy and have a slightly different taste and texture.
What can I use besides cream cheese?
If you don't have cream cheese, good alternatives are ricotta, mascarpone, or use a combination of heavy cream and grated romano cheese to create a creamy pasta sauce
More Recipes You'll Love!