When it comes to delicious easy pasta dishes Penne alla Vodka is at the top of my list. The rich and creamy tomato sauce takes this pasta dish to a whole new level of decadent deliciousness.
The heavy cream and grated Romano cheese along with the sweet San Marzano tomatoes add layers of flavor to this pasta sauce.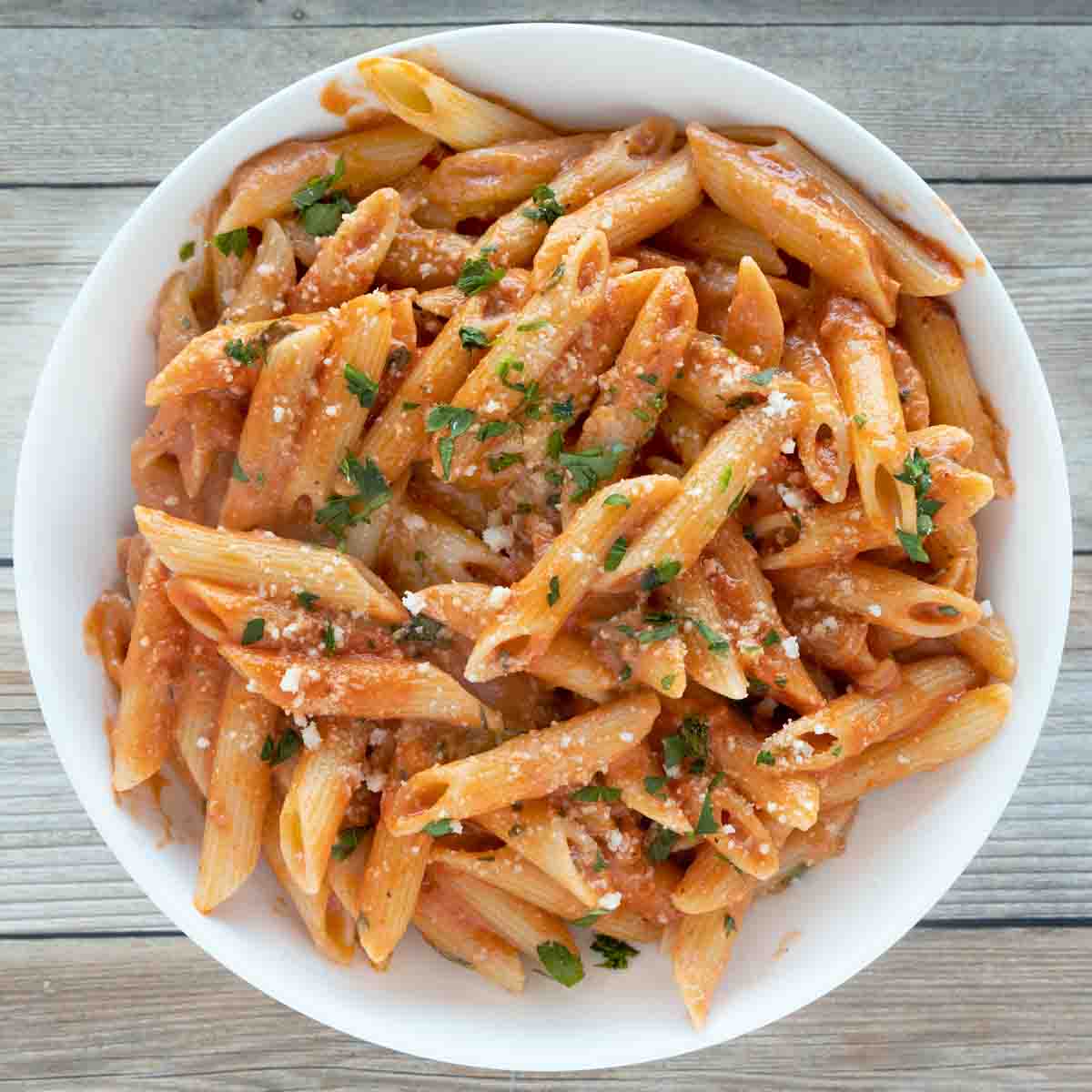 You'll find many variations of this recipe on the internet, most adding sugar, and some adding meat. You really don't need any extra ingredients or an overabundance of onions, shallots, or garlic to make this easy penne alla vodka recipe.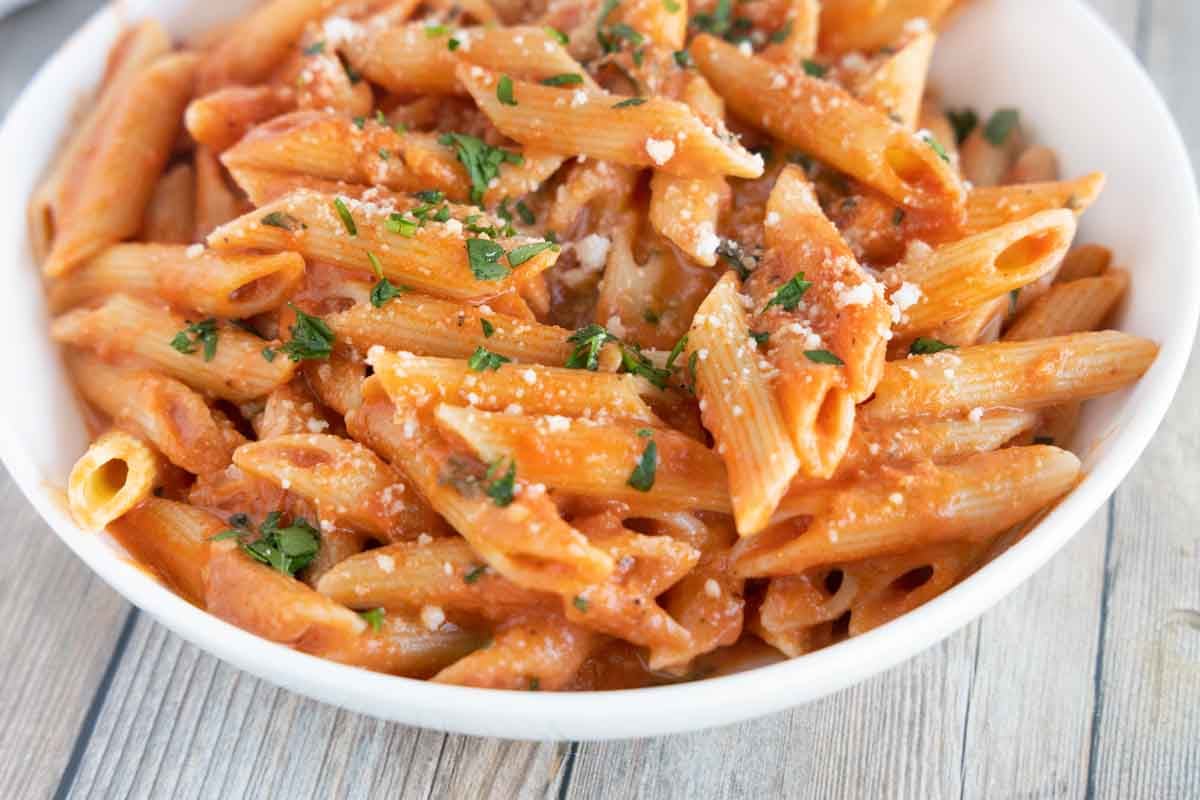 I'm sure you'll agree that this simple sauce truly is the best penne vodka sauce you'll ever make after tasting this dish. And the best part is that this delicious sauce requires minimal ingredients and little effort, making it as perfect for weeknight dinners as it is for date night.
If you love a creamy, cheesy pasta dish, you'll love my Easy Cacio e Pepe Recipe. And if you're a fan of a flavorful, smooth tomato sauce, try my Classic Marinara Sauce.
Is Penne alla Vodka really an Italian dish?
The short answer is no, it isn't. It was created by a New York Chef in the seventies and is a gimmicky take on Pasta with Rosa Sauce, which was created in Italy long before the vodka version became popular.
But as things go, penne alla vodka actually became a trendy dish in Italy during the eighties. And since the Italians did come up with the Rosa Sauce long before Penne alla Vodka came into being, they pretty much claim to be the originators of the sauce.
Ingredients for Creamy Tomato Vodka Sauce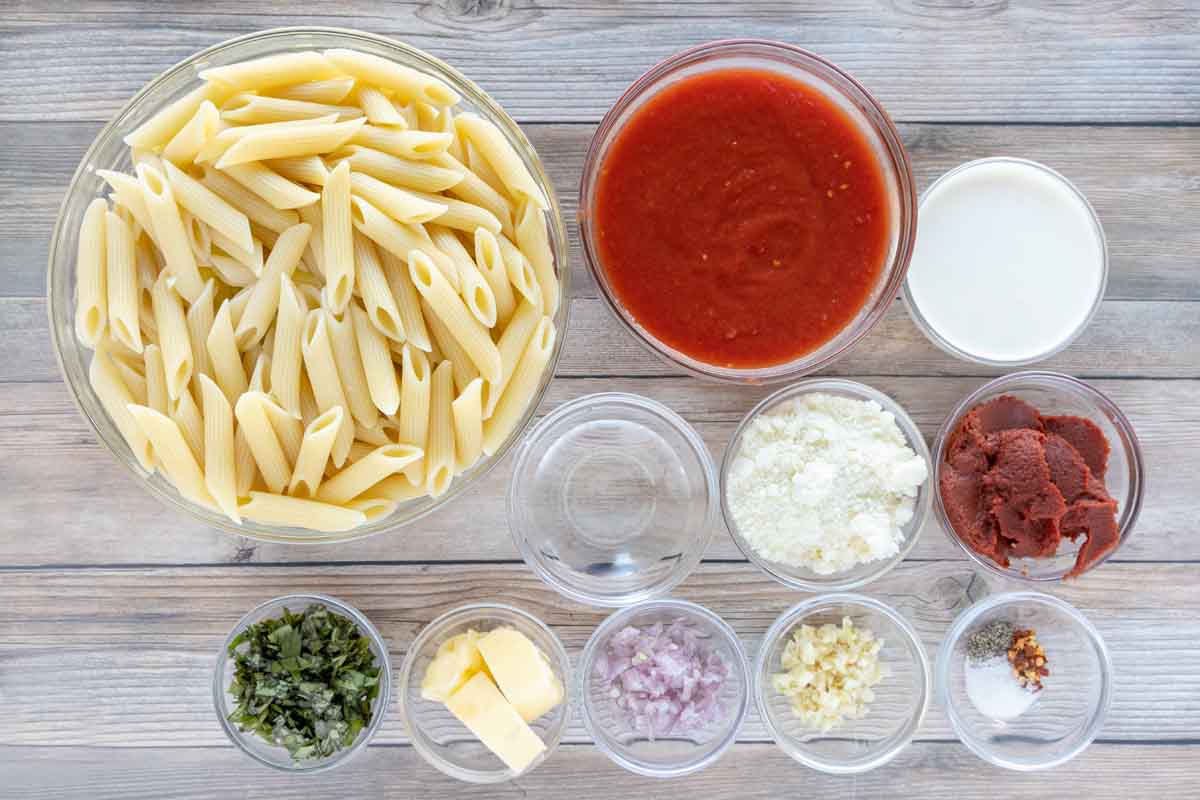 Let's start by gathering the ingredients we need to make Penne alla Vodka. In Chef Speak this is called the "Mise en Place" which translates to "Everything in its Place".
Not only does setting your ingredients up ahead of time speed up the cooking process, it also helps ensure you have everything you need to make the dish.
Is Vodka really needed to make Pasta alla Vodka?
Technically, to be called a vodka sauce, vodka needs to be in the sauce. But in this chef's opinion, it's a waste of good vodka.
You could use a little wine, but truth be told a little of the pasta cooking water will help the texture of the sauce achieve the right consistency. After all, the alcohol cooks off, anyway.
In my younger, wilder days, I was a serious vodka drinker, but honestly who really likes the flavor of vodka? It won't hurt the sauce, but it really won't help the sauce, so it's entirely up to you if you want to add vodka to your sauce.
How to Make Creamy Homemade Vodka Sauce
When the sauce is simmering, begin cooking the penne for the dish.
Bring a large pot of salted water to a boil and cook the pasta al dente, according to package instructions, to ensure you have perfectly tender penne pasta. Drain the cooked pasta well, reserving ½ cup of pasta cooking water.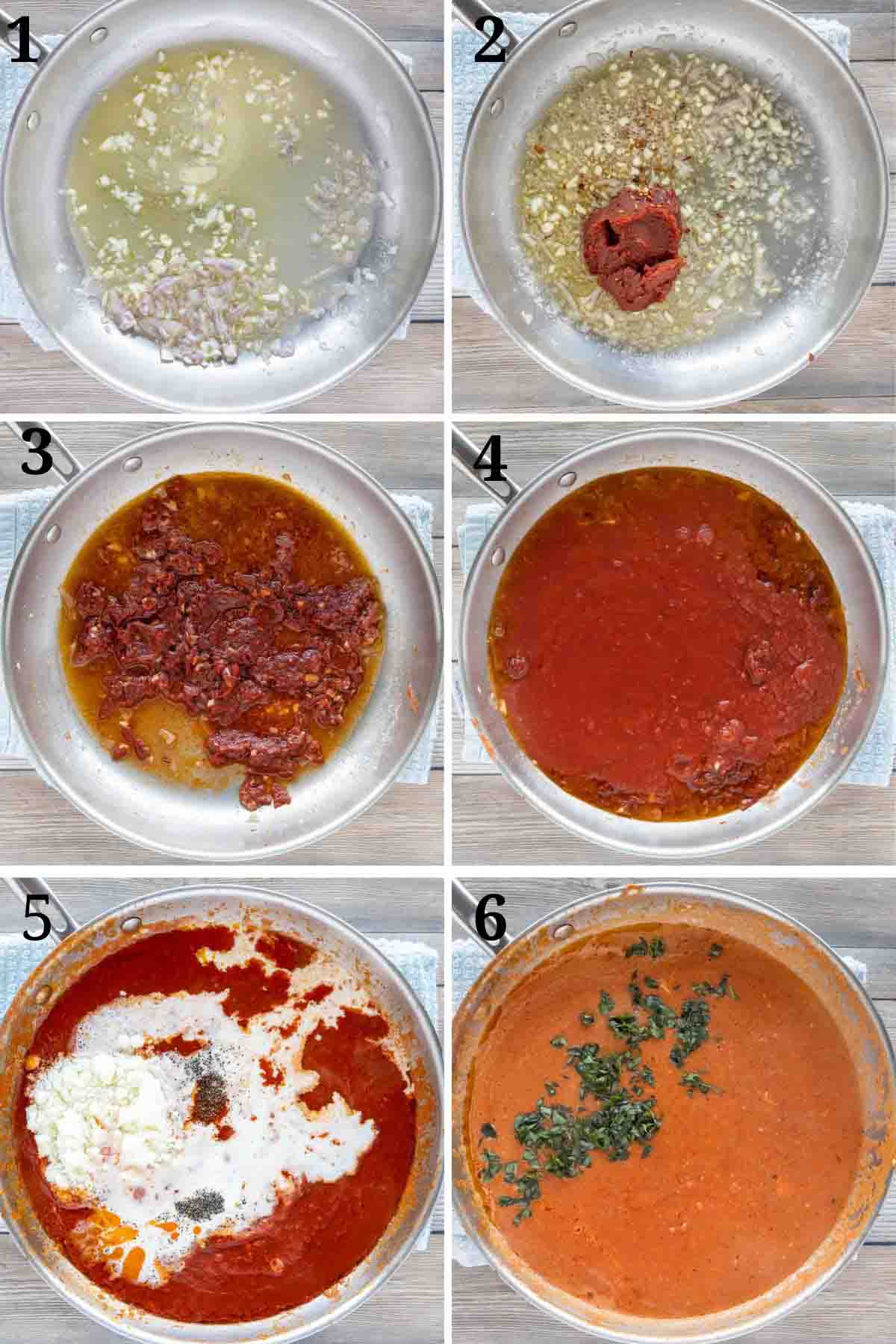 Melt the butter in a large skillet. Then add the garlic and shallots to the pan over medium-low heat. Although them to cook for 3-4 minutes until fragrant, stirring as needed. This is one of the few Italian tomato sauces that start with butter instead of olive oil.
Add tomato paste and red pepper flakes to the pan.
Mix the pasta and pepper flakes into the garlic shallot mixture, and continue cooking for an additional minute or two.
Remove the pan from the burner and add the vodka to the pan. Vodka can ignite with high heat so be careful. *This is usually only a problem with gas heat, but it's better to be safe when adding any alcohol to a hot pan.
Add the crushed tomatoes to the pan and mix well. Bring the sauce to a boil, and reduce the heat to a simmer. Continue to cook the sauce for 10 minutes stirring the mixture occasionally. *Real San Marzano tomatoes do not come crushed, only as whole tomatoes. You can crush them by hand or with an immersion blender or food processor.
Add the heavy cream and Romano cheese (or parmesan cheese) to the creamy vodka sauce and mix until smooth. Continue to simmer the sauce for 2 minutes. *Don't let the sauce cook too long or the cheese will start to stick to the bottom of the pan.
Add the fresh basil to the sauce and mix it into the sauce. Taste the sauce and reseason with salt and black pepper as needed.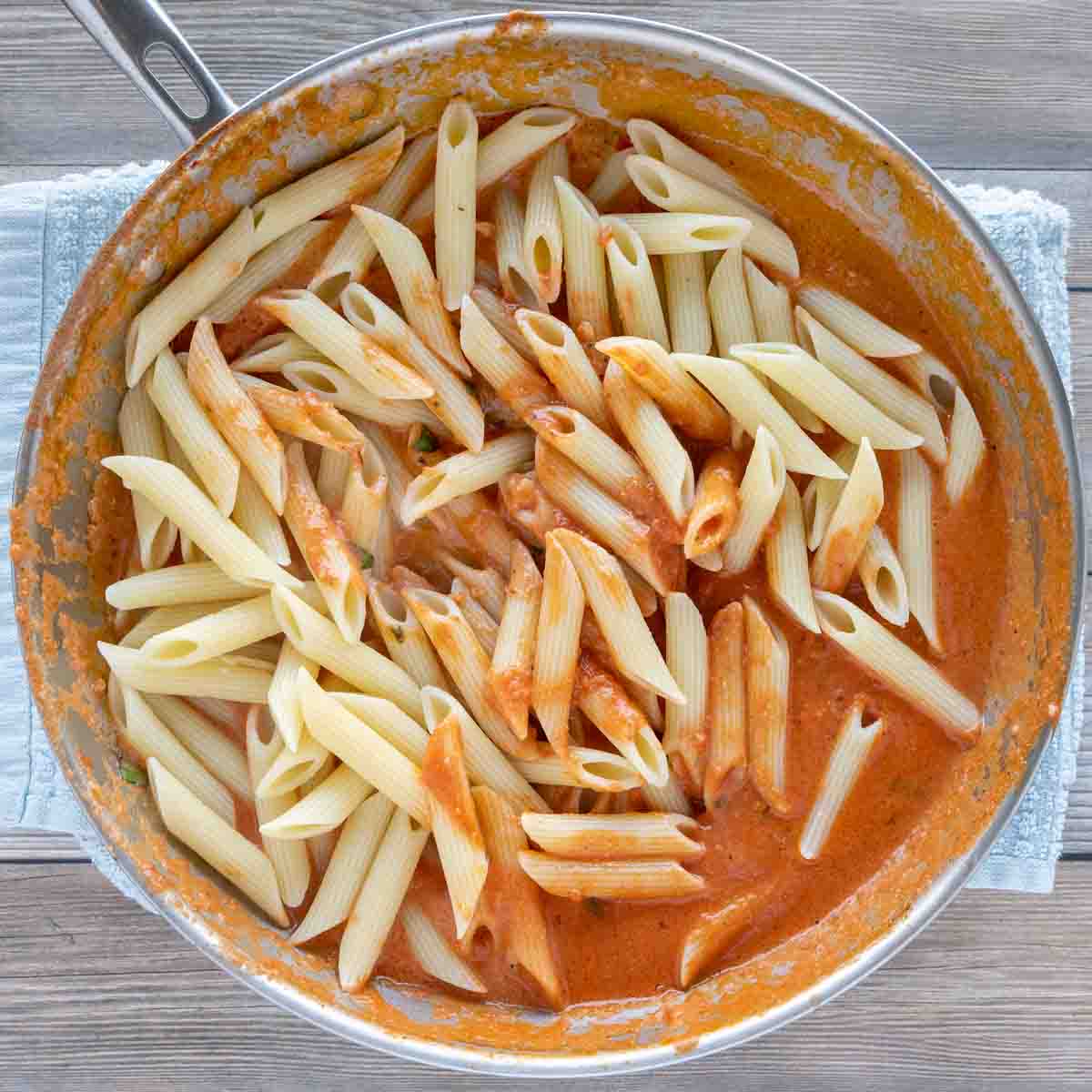 Using a slotted spoon, add the pasta to the sauce and add 1-2 tablespoons of the reserved pasta water to the sauce. If the sauce is too thick, add more pasta water.
Chef Dennis Tip
To make a quick Vodka Sauce aka Rosa Sauce simply add cream, grated romano cheese, and fresh chopped basil to a tomato sauce. It can be homemade tomato sauce or store-bought. It's easy to put together and makes a delicious quick weeknight dinner.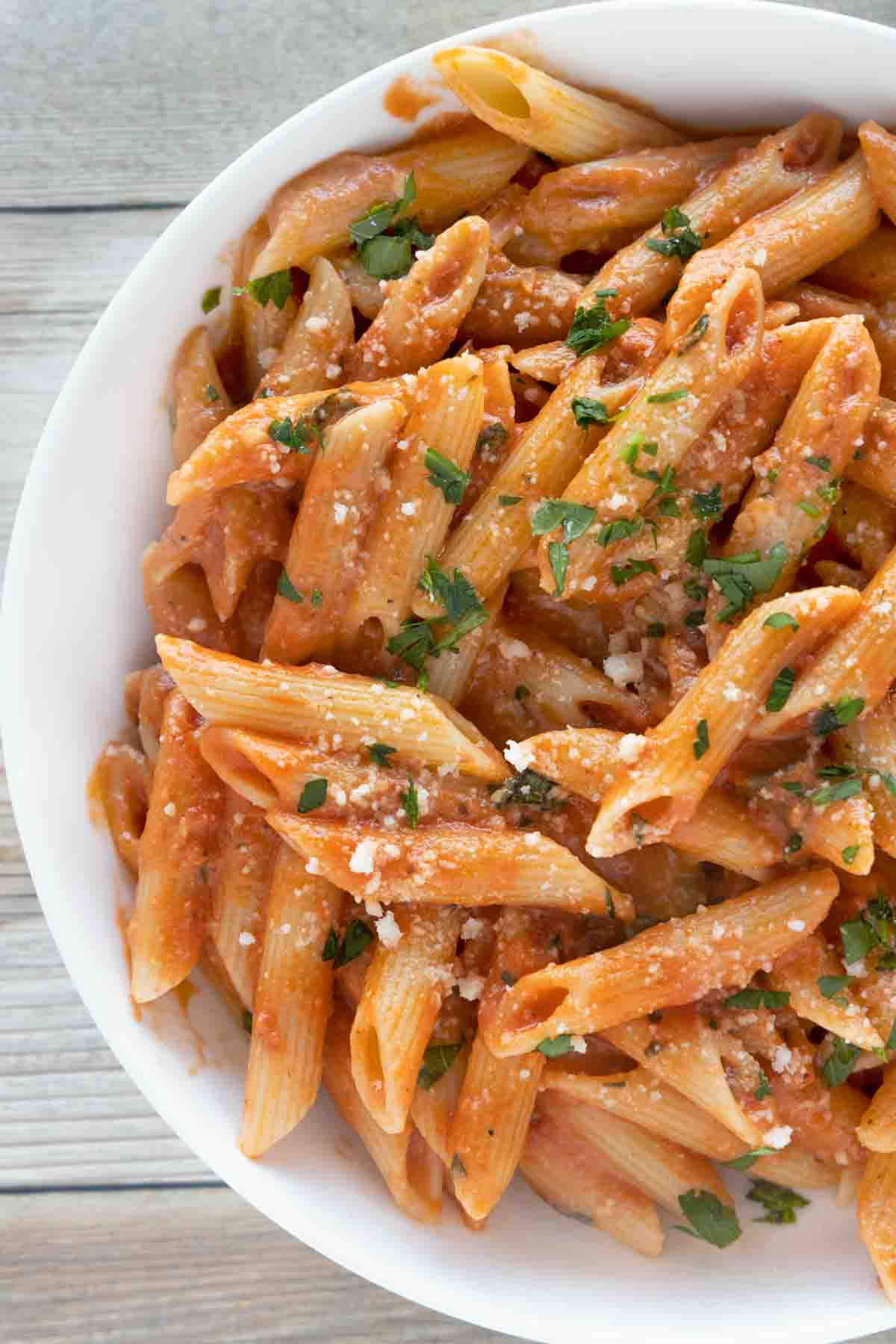 Serve the Penne alla Vodka, garnishing the dish with fresh chopped parsley and additional grated cheese. Remember that people eat with their eyes first so make the plate pretty.
I like to serve garlic bread and Ceasar salad with this classic pasta dish.
*Store leftover pasta and sauce in an airtight container in the refrigerator once they have cooled to room temperature.
Chef Dennis Tip
If you'd like to kick up this dish, add chicken tenders, shrimp (grilled, baked, or sauteed), or your favorite veggies to the sauce. To ensure you have enough sauce, you may need to build it out a little to make up for the added ingredients, but that's easy enough to do with a little more cream or crushed tomatoes.
Recipe FAQ's
Why do I use Vodka in Penne alla Vodka?
Allegedly it helps maintain a cohesive texture allowing the sauce to emulsify properly. But as all the alcohol burns off, you're not really left with much to help with emulsification. White wine would also work with the same results. Vodka is also supposed to enhance the tomato flavor, but I've never noticed it. So if you want to leave the vodka out, it's really going to make a difference in the saute.
Do Italians eat Penne alla Vodka?
Some might, but for the most part, a simple Rosa Sauce is what you'll see gracing the tables in Italy if you see any type of creamy tomato sauce. A Rosa Sauce is exactly the same, it just doesn't include vodka.
Is pink sauce the same as vodka sauce?
It is basically the same. Some say a pink sauce is mixing tomato sauce with an Alfredo sauce, but since a real Alfredo sauce doesn't include cream, I don't think that is the case. A pink sauce is also referred to as a rosa sauce, which in essence is a vodka sauce without the vodka.
What does penne alla vodka taste like?
Penne alla vodka is a creamy sauce that has a bright tomato flavor with herbaceousness from the basil. The shallots and cloves of fresh garlic add layers of flavor, too.
More Pasta Recipes You'll Love!