You're going to love my Cacio e Pepe Recipe! It only takes five ingredients to make this deliciously cheesy, creamy, classic Italian pasta dish. And the best part is it only takes 10 minutes to prepare, making the perfect easy recipe for a weeknight meal.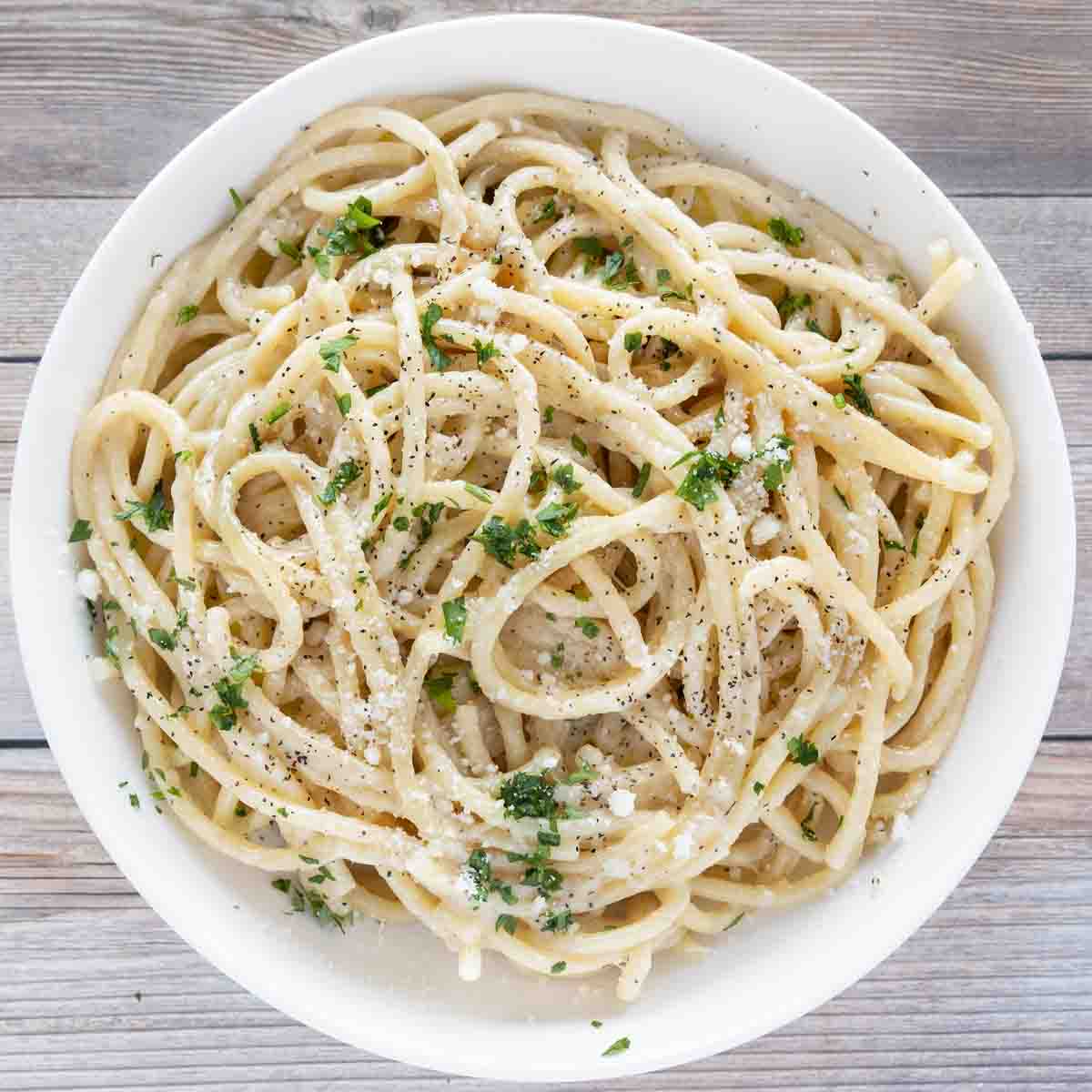 Using a combination of two classic Italian cheeses, Parmigiano Reggiano and Pecorino Romano cheese, is the classic way to make this dish. But in all honesty, I prefer to use all Romano cheese.
I would make it with both types of cheese the first time you try this dish and decide for yourself.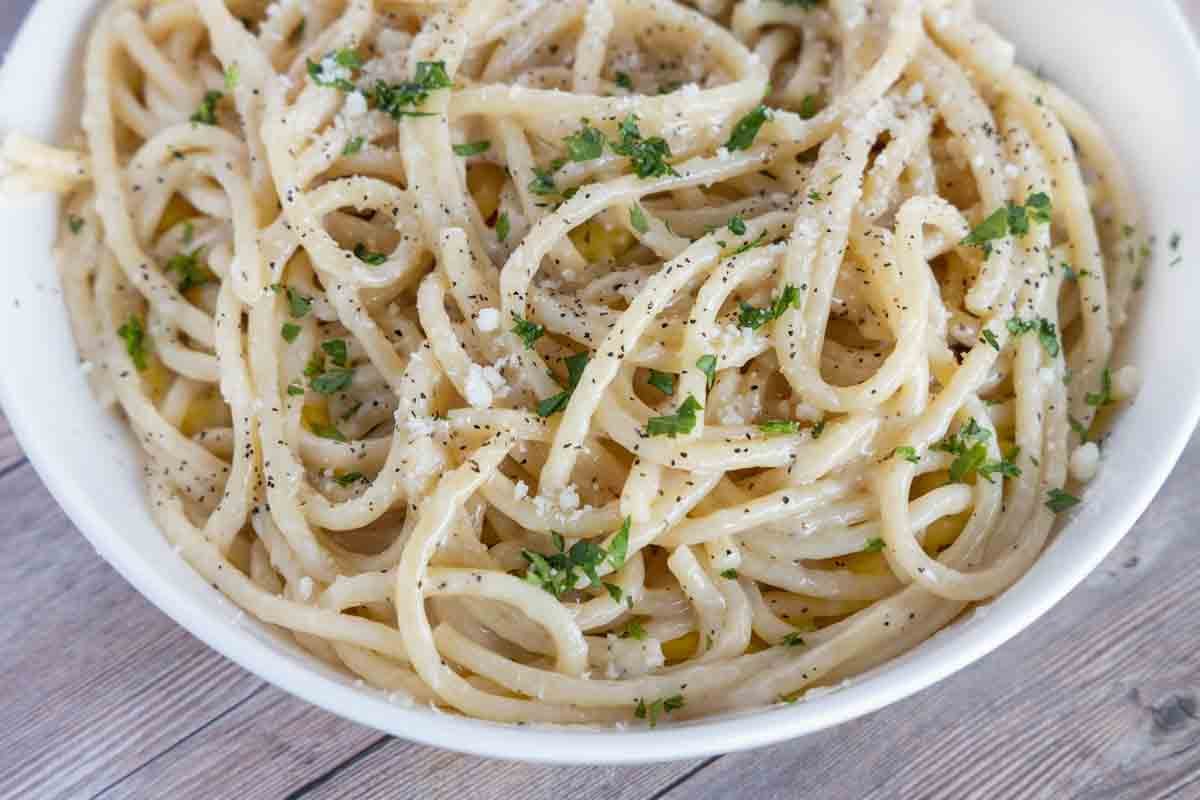 The sharp flavors of the salty cheese blended with butter, black pepper, and starchy pasta water blend into a creamy, simple sauce that will tantalize your taste buds! You can serve it all on its own or with a side of garlic bread, a simple salad, or a glass of dry white wine.
This isn't a dish you often find on restaurant menus, but I'm sure it will become your go-to pasta recipe at home — it's amazingly delicious and easy to make.
What Ingredients do I need to make Cacio e Pepe?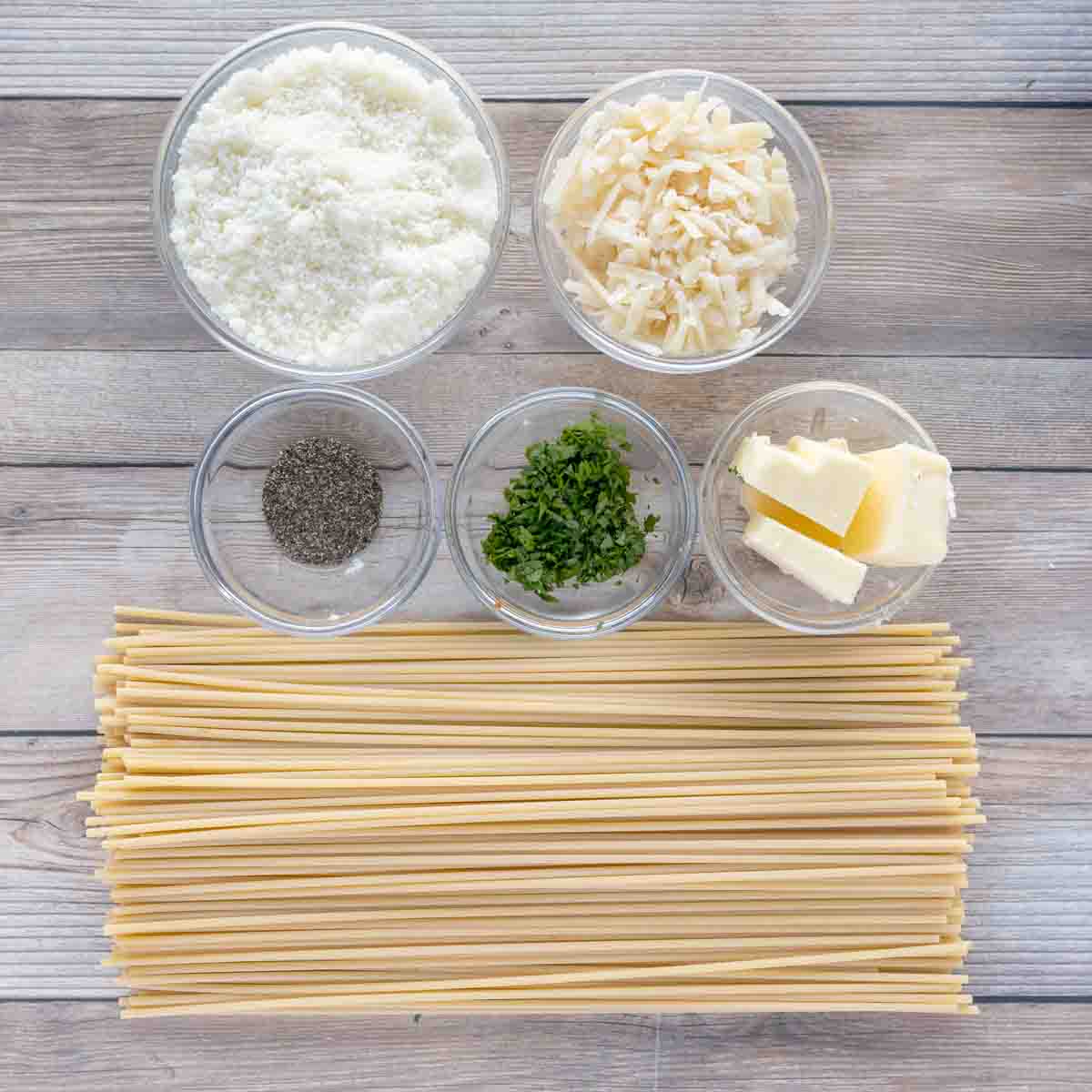 Let's start by gathering the ingredients we need to make for my Authentic Cacio e Pepe Recipe. In Chef Speak this is called the "Mise en Place" which translates to "Everything in its Place".
Not only does setting your ingredients up ahead of time speed up the cooking process, it also helps ensure you have everything you need to make the dish.
Note that for the freshest, sharp flavor, it's preferable to grate your cheese off the block rather than using store-bought pre-grated cheese.
Parmigiano Reggiano (be sure to get this variety and not simply "parmesan cheese")
Pecorino Romano Cheese
Black Pepper
Unsalted butter
Bucatini Pasta (you can use other pasta shapes, but using a long noodle will keep the dish closest to the traditional recipe)
I used chopped Italian parsley as a garnish to add some color to the dish, but that's an optional ingredient. Please take note that there is no olive oil or heavy cream used in making this dish.
What is Cacio e Pepe?
Cacio e Pepe (pronounced cach-io eh pepe) is a Classic Roman pasta dish that literally translates to "cheese and pepper." The simple dish consists of bucatini (or spaghetti), black pepper, butter, Romano cheese, and Parmigiano Reggiano cheese.
How to make Cacio e Pepe
Fill a large pot with water over high heat, adding one teaspoon of salt to the water. Bring the water to a rolling boil.
Cook the pasta, per instructions on the package for al dente pasta.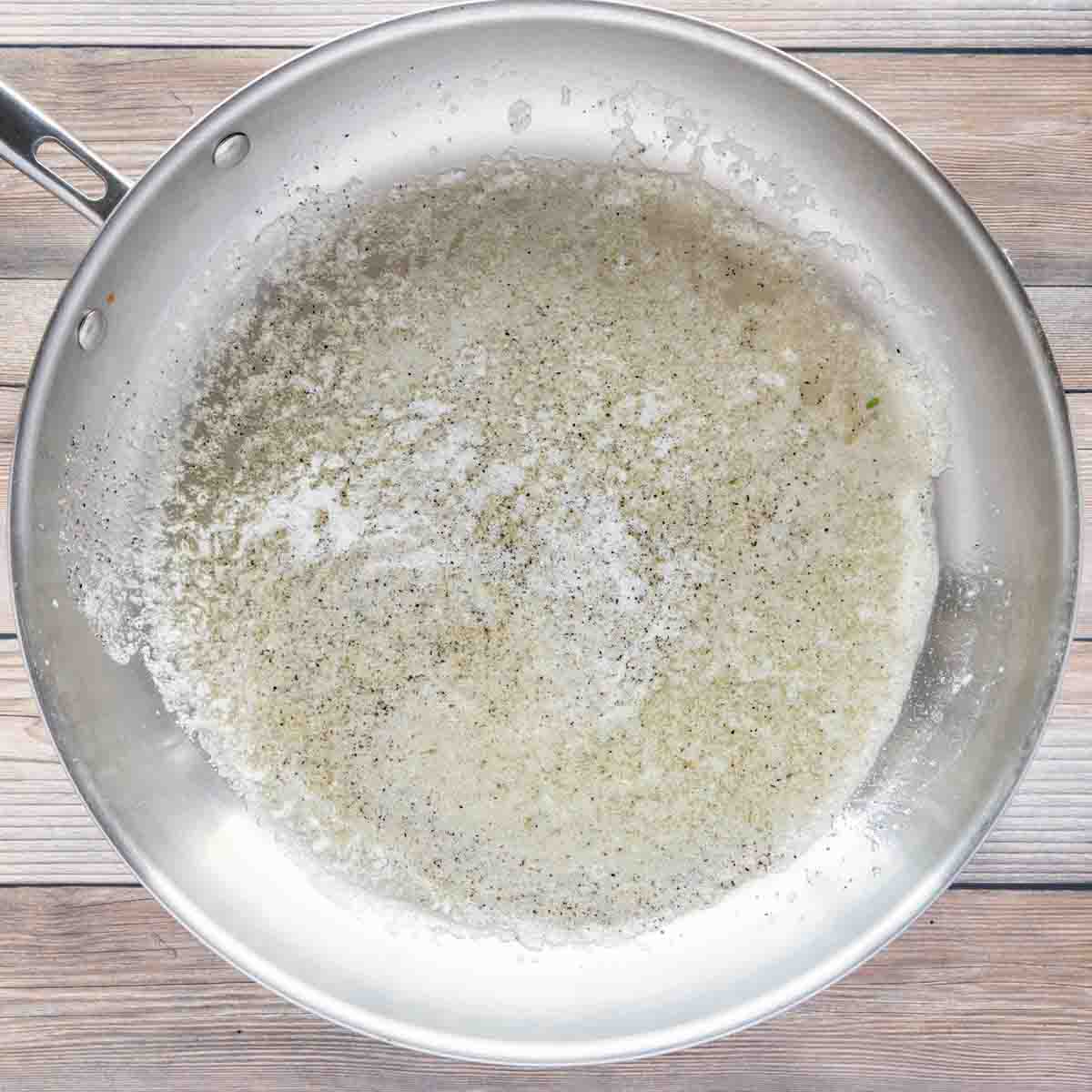 While the pasta water is boiling, add the butter to a large skillet over medium-high heat to melt the butter.
When the butter has fully melted, remove the pan from the heat and add the black pepper to the butter.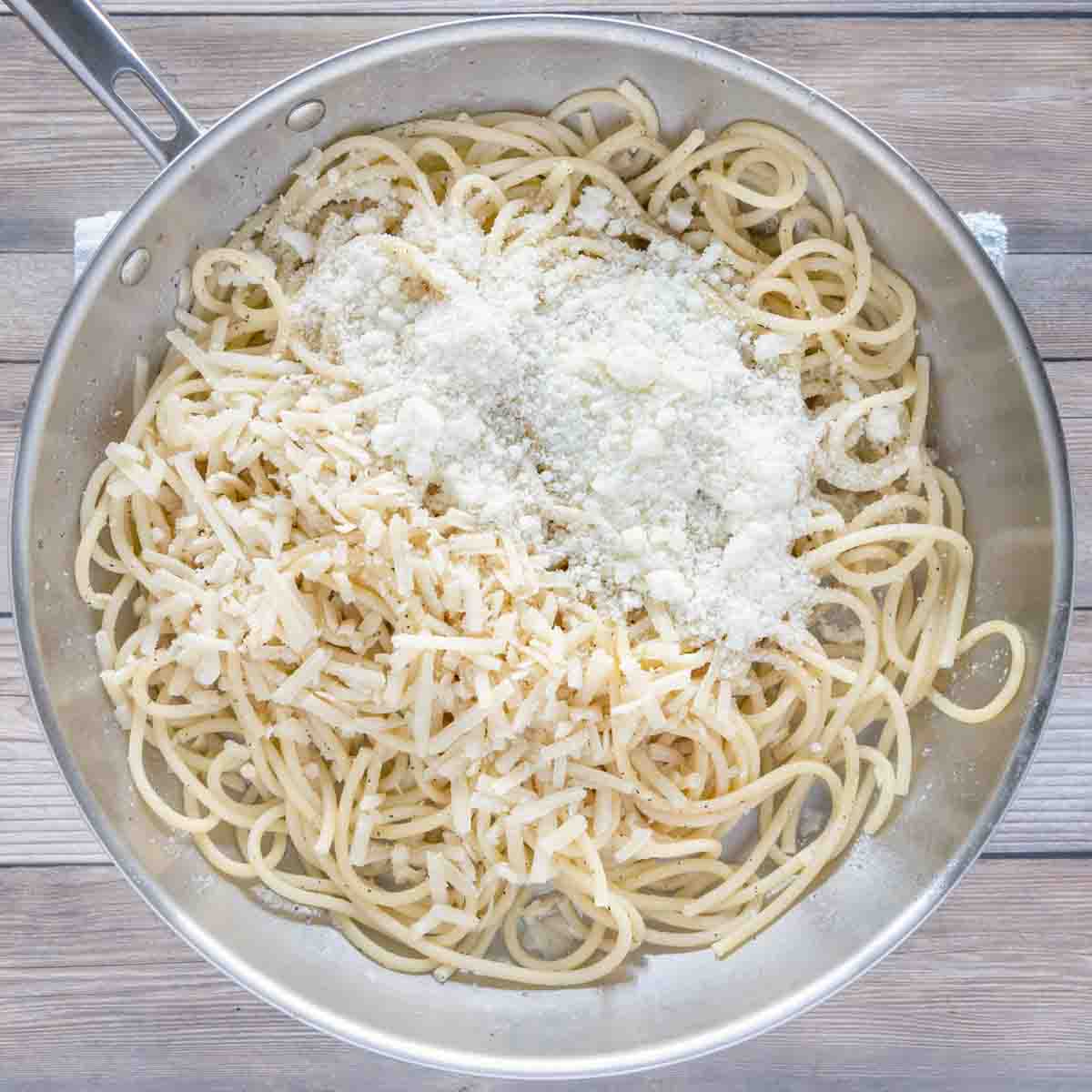 Drain the pasta in a colander, reserving 1 cup of the pasta water. You shouldn't need all the water, but having more reserved pasta water than you need is okay.
Place the drained cooked pasta into the large skillet over low heat.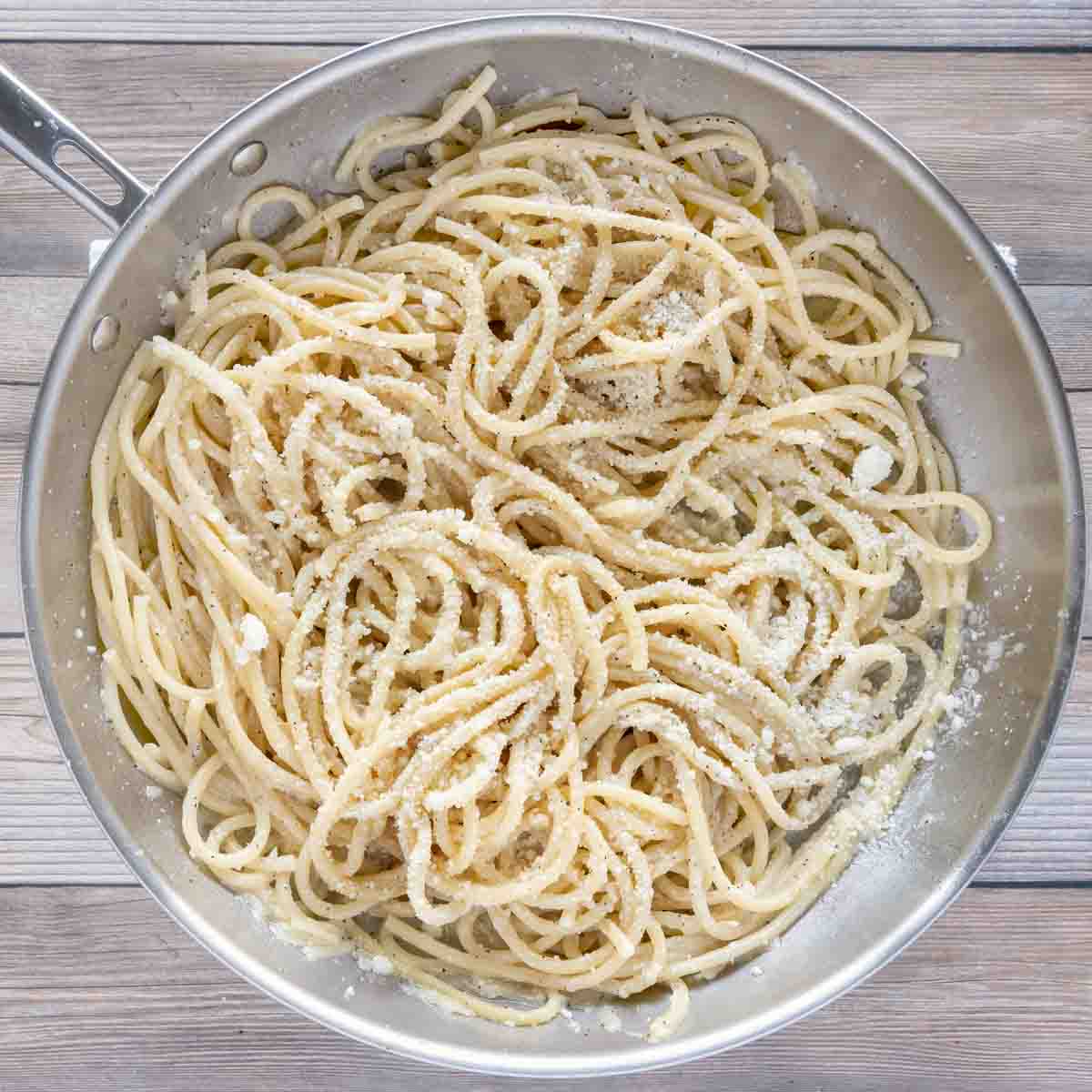 Add ½ cup of the pasta water along with the Romano cheese and Parmigiano Reggiano to the pasta and toss until the cheese melts and creates a creamy sauce.
Then, add an additional splash of water if the mixture isn't creamy.
Be careful not to take too long to mix the pasta together as the cheese will start to get gooey instead of creamy.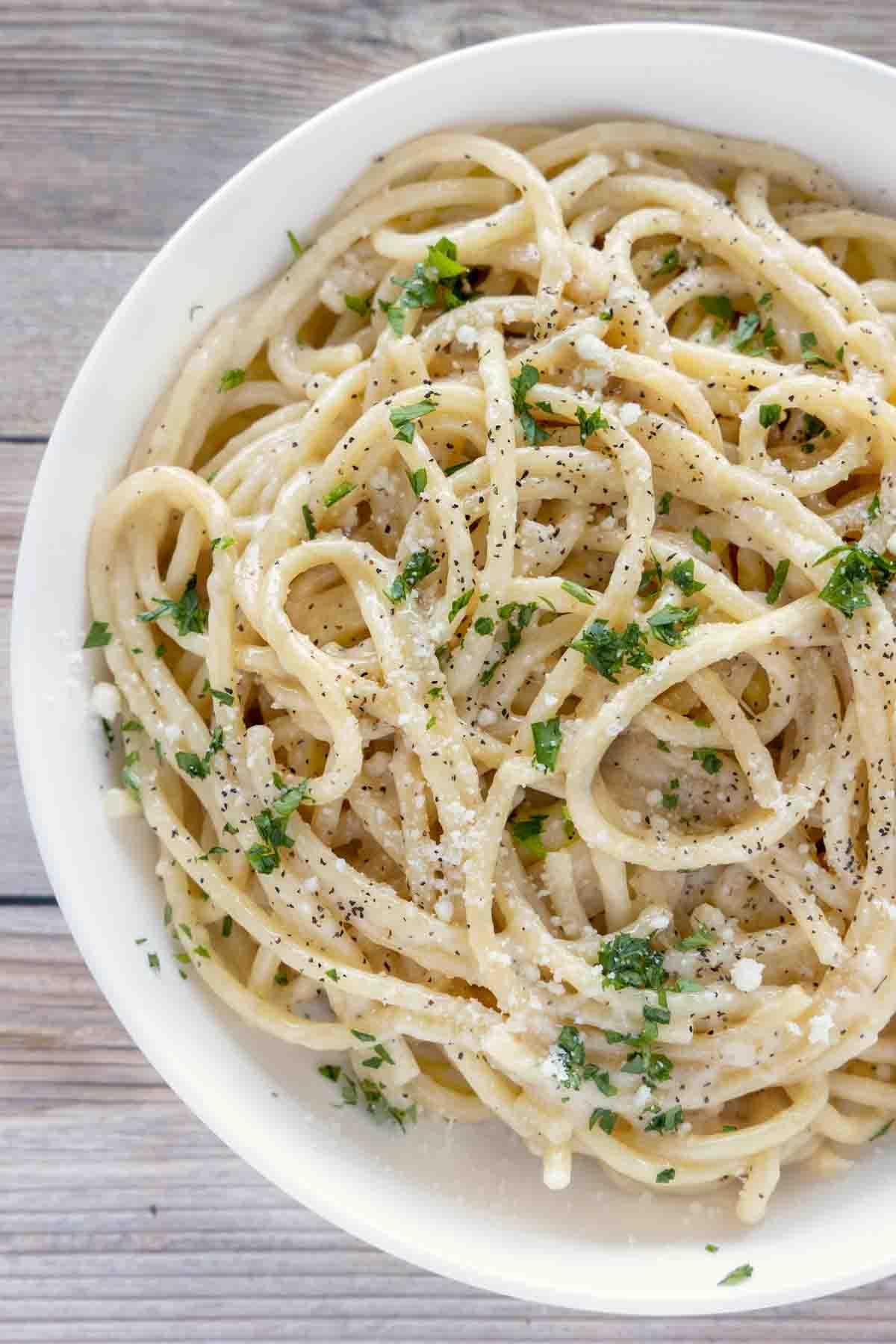 When it comes to Italian pasta dishes, this simple recipe is one of my favorites. Cacio e Pepe, with its buttery, cheesy, creamy pepper sauce will soon become a family favorite!
Recipe FAQ's
What's the difference between Parmesan and Parmigiano Reggiano?
For cheese to be classified as Parmigiano Reggiano, it must come from particular regions of Italy and contain only approved ingredients. Parmigiano Reggiano is also aged longer (1-3 years). Parmesan is not regulated and may be aged as little as 10 months.
Can you reheat Cacio e Pepe?
Although Cacio e Pepe will be at its best when served immediately, you can reheat it. Leftover cacio e pepe can be stored in an airtight container for up to 5 days once it has cooled to room temperature. Take note that the sauce will thicken in the fridge, and you will need to add a splash or two of water to the pan as you reheat the pasta.
Is Cacio e pepe spicy?
Cacio e Pepe is peppery, so it is slightly spicy, so it does have a little kick, but it is not overpowering. You can adjust the amount of pepper to your own taste preference.
More Pasta Recipes You'll Love!