My Pasta Aglio e Olio with Broccoli Rabe is a delicious way to enjoy pasta and my favorite bitter green broccoli rabe.
I'm not always in the mood for red sauce and this light aioli sauce made with extra virgin olive oil, chopped garlic cloves, red pepper flakes, sea salt and black pepper couldn't be easier to make and is ah-mazingly delicious!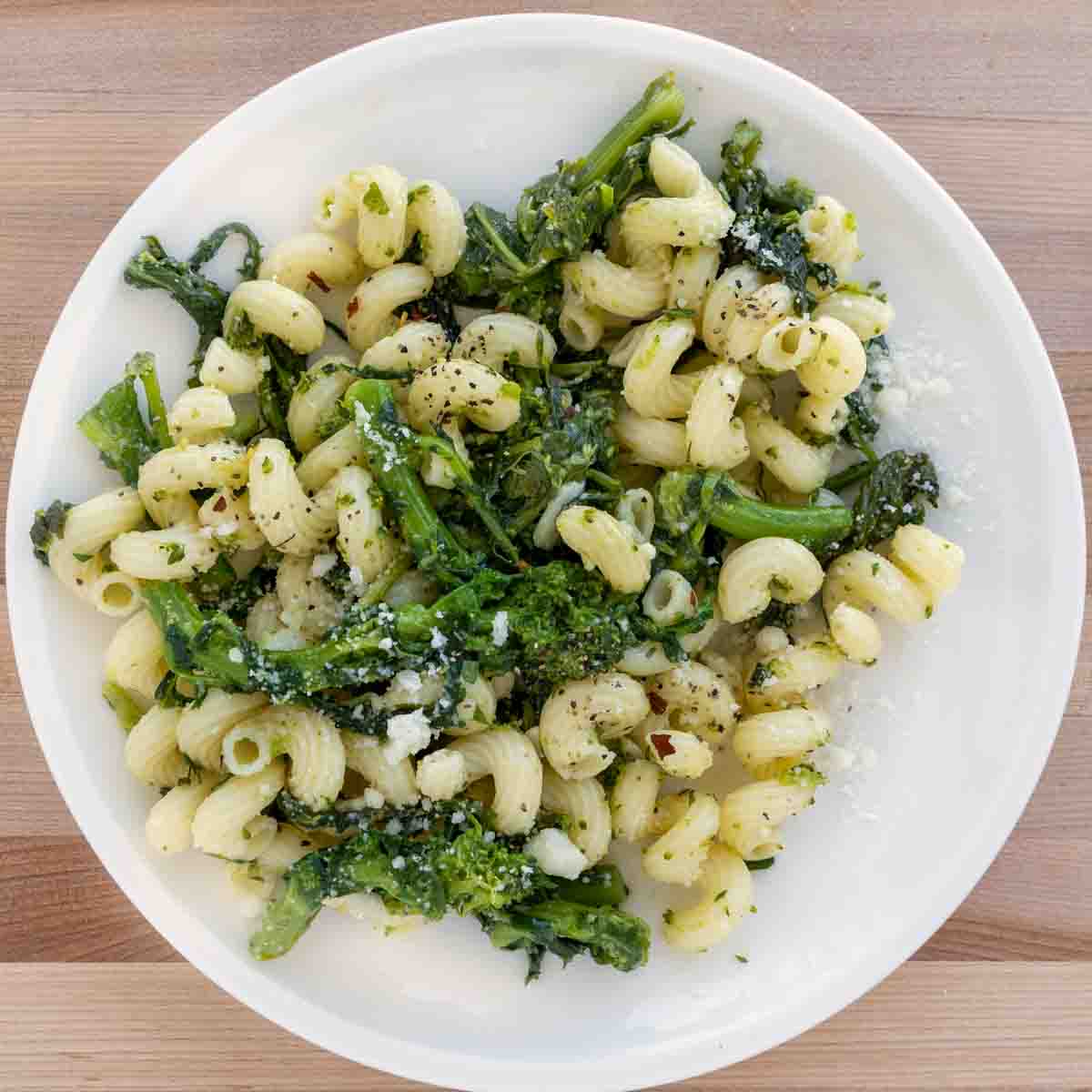 Made with simple ingredients this dish known was known as Pasta Aioli in the Philadelphia region. Served over your favorite aldente pasta with a sprinkle of Romano or parmesan cheese this classic Italian dish can be on your dinner table in less than 30 minutes.
To take the deliciousness to a whole new level add in broccoli rabe. I promise it won't disappoint.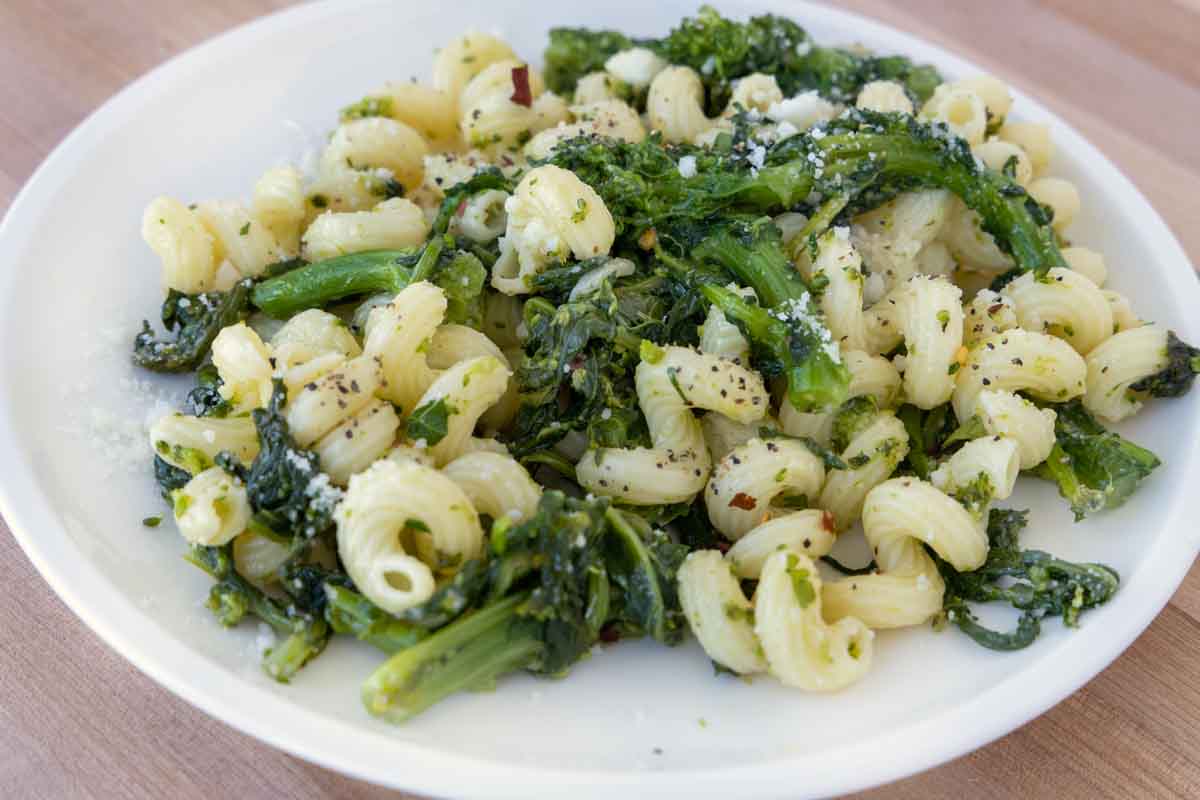 It's a delicious combination of flavors, the bitter greens go so well with this garlic and oil pasta dish. Some Italians may tell you not to add cheese but I love it with this pasta dish. If you'd like to keep this dish dairy-free, try adding a squeeze of lemon juice or lemon zest to perk up the flavor. And fresh basil is always a nice touch.
What ingredients do I need to make Pasta Aglio e Olio with Broccoli Rabe?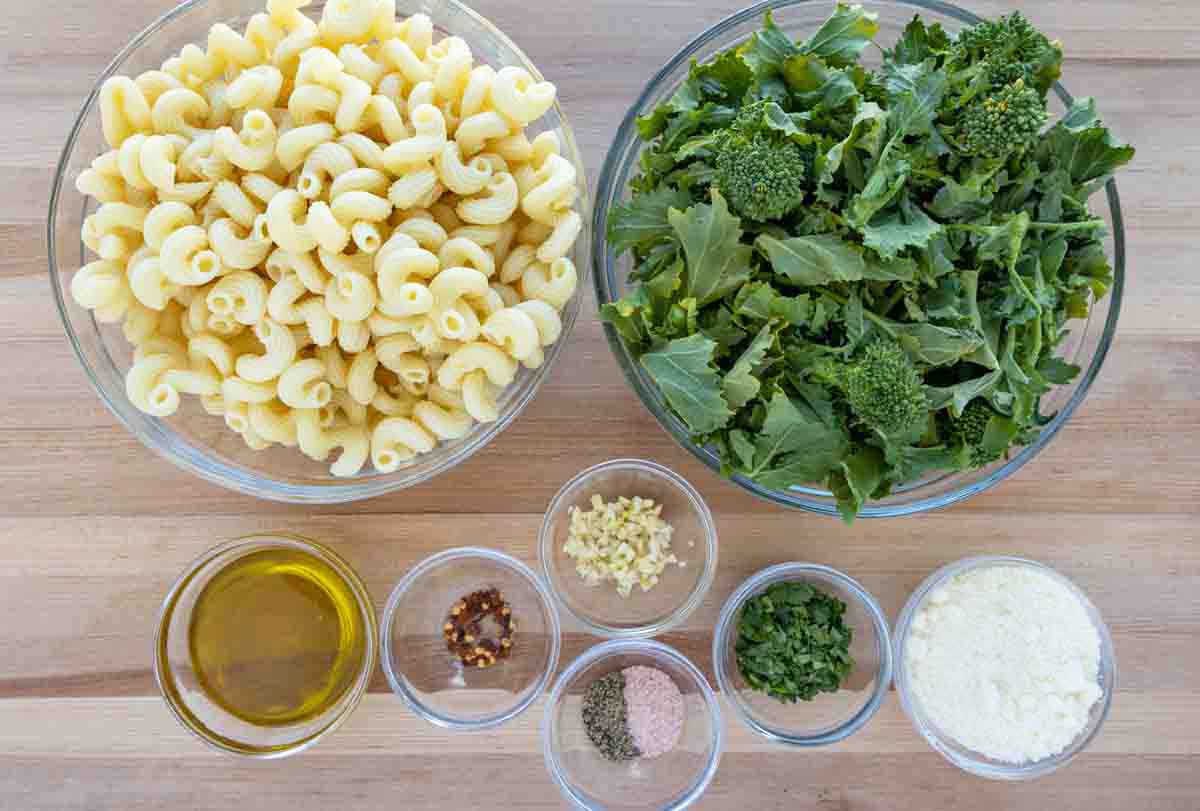 Let's start by gathering the ingredients we need to make Pasta Aglio e Olio with Broccoli Rabe. In Chef Speak this is called the "Mise en Place" which translates to "Everything in its Place".
Not only does setting your ingredients up ahead of time speed up the cooking process, it also helps ensure you have everything you need to make the dish.
I used Cavatappi to make this dish but it can be made with your favorite pasta shape. The addition of the broccoli rabe, calls for a heavier pasta, one that will hold up and compliment the greens. Other good choices would be gemelli, penne, or ziti.
Do I have to use Broccoli Rabe to make this dish?
No, you don't. You can use your spinach, kale, or your favorite green. You could also substitute oven-roasted broccoli or sliced zucchini in this dish. Just about any vegetable, you like can be added, or it could be served just as an aioli sauce tossed with pasta.
How do I make Pasta Aglio e Olio with Broccoli Rabe?
Start by cooking the pasta for this dish. If you can time it right, ideally the pasta would be done right about the time you need to add it to the pan. But don't stress over it, either the pasta or cooked broccoli rabe can wait a few minutes.
Chef Dennis Tip:
When you cook pasta, never rinse it, if you do the starchy surface from cooking is washed off and the sauce won't cling as well. Here's the big tip, save a little of the cooking water to add to this dish if it appears to dry. The starchy pasta water will really bring this sauce together.
Place the broccoli rabe in a large saute pan (or skillet) with about a cup of water over medium-high heat, as the water begins to boil reduce to simmer and allow water to cook-off. This process will take about 10 minutes or until the stems of the broccoli rabe are fairly tender. *if all the water cooks off and the broccoli rabe is still not tender add additional water and continue cooking
When the broccoli rabe is cooked remove it from the pan, and set aside until needed.
Add 3 tablespoons of olive oil into the hot pan along with the chopped garlic and saute over low heat until garlic just begins to get fragrant.
Add the broccoli rabe back into the pan, along with the red pepper flakes. Mix the ingredients together with the aioli sauce.
Add the cooked pasta to the pan, season with sea salt, black pepper, chopped parsley and grated Romano cheese.
*If the pasta is dry add more olive oil or some of the pasta water to the dish.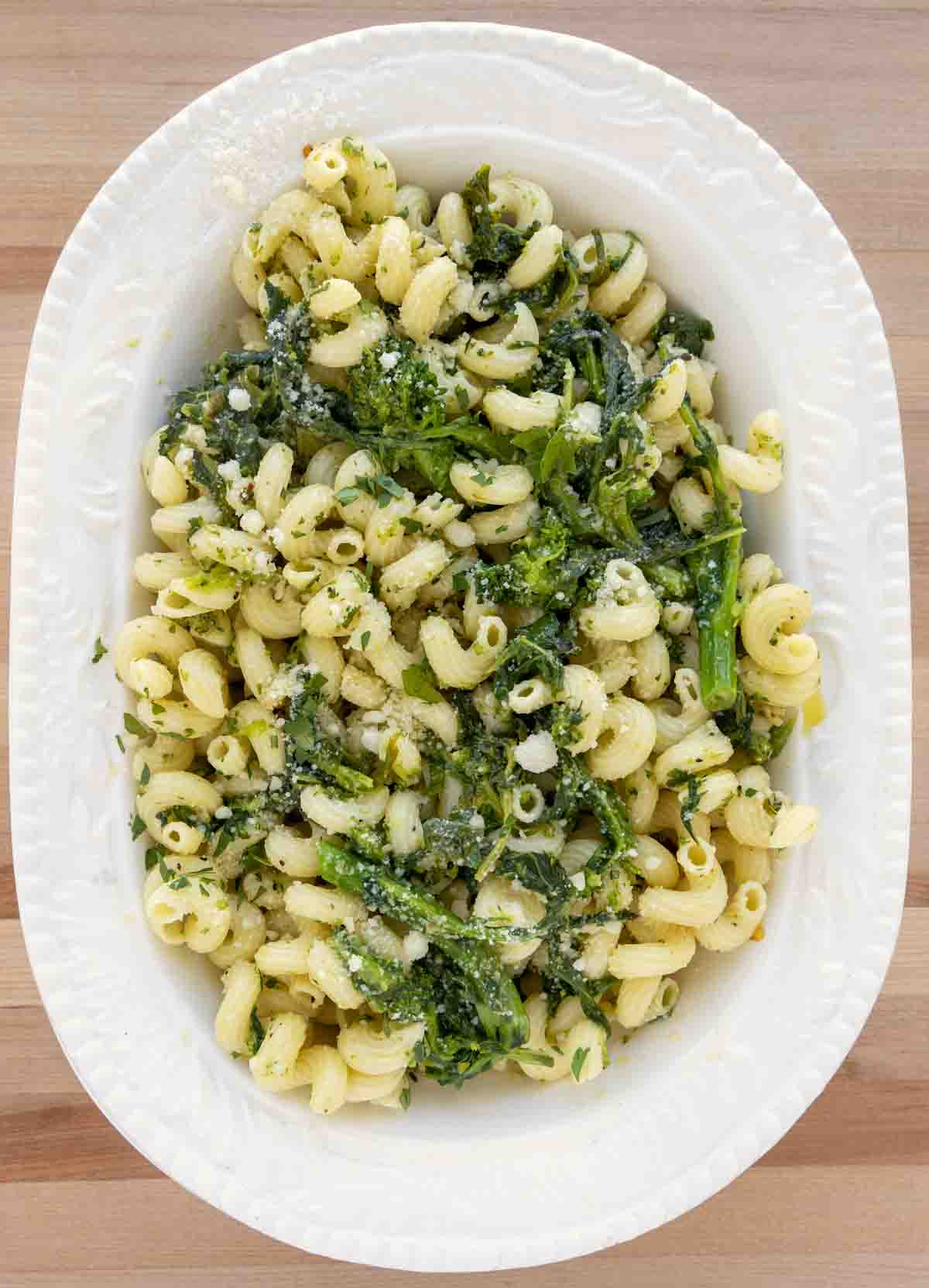 Whether you serve Pasta Aglio e Olio with Broccoli Rabe as a main course or side dish, it will be a welcome addition to your table. Add a loaf of crusty bread and a salad and you've got a meal you'll not soon forget…..just don't forget the grated cheese!
What else can I add to Pasta Aglio e Olio:
chicken (add any leftover chicken meat you may have on hand or saute boneless breast or thigh meat to add)
seafood (shrimp, salmon pieces or any other type of seafood you like)
pesto (any type of pesto would make a great addition)
Any of your favorite vegetables
Recipe FAQ's:
What type of olive oil should I use to make Pasta Aglio e Olio?
Extra Virgin Olive is the best choice of oils for this simple Italian pasta dish. If you have a really good EEOV use that as a final step to add the exceptional flavor of an artisan olive oil and use your regular olive oil to begin the dish with. You always want to finish a dish with the best olive oil you can get.
Is Aglio e Olio the same as an Aioli Sauce?
In some parts of the United States, an Aglio e Olio sauce is referred to as an Aioli sauce. In Mediterranean cooking an Aioli sauce is an emulsion of olive oil and garlic, looking more like mayonnaise. It's even pronounced differently. When referring to the emulsion it's pronounced: "ay·ow·lee". In the Philadelphia region it's pronounced "ay·oye"
How do I make Pasta Aglio e Olio taste better?
To make the best tasting aglio e olio make sure to use fresh garlic and chop it into a fine mince. If you can let it sit in the olive oil you're going to use for a few hours to let the natural flavors of the garlic build in the oil.
Season the pasta water with sea salt and reserve some of the water from the cooked pasta to add to the sauce.
Add fresh black pepper and grated Romano cheese to the finished pasta dish.
More Pasta Recipes You'll Love!