If you love Mussels, then my Tuscan Mussel recipe is perfect for you!
I'm not quite sure when it happened or exactly how it happened, but one day my wife decided she like mussels. This was, of course, the same woman who didn't think she liked them for the last 12 years I have been asking about them….hmmm.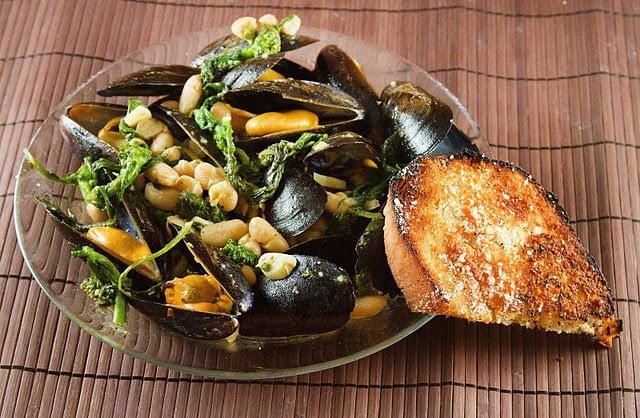 Now I'm not complaining mind you, I do enjoy a good plate full of steaming mussels with a loaf of crusty bread and lately, my sauce of choice has been aioli. One of the restaurants we had gone to a while ago served their mussels with white beans in the sauce, and they were absolutely delicious!
Now once again, my wife who normally won't even look at a bean, had no problems eating the mussels, beans and all! Not being one to miss an opportunity to use my beloved cannellini beans in a dish, I decided to replicate the mussels we had out at home!
To say they were nothing special with the beans would have been an understatement.
Somewhere along the line I had missed a crucial step to making the beans and the mussels one with the universe….sigh
I think you know me well enough by now to know that I don't give up too easily, especially with food, so when I bought my seafood last week I picked up a bag of mussels too. As busy as the week was the mussels almost didn't make it on the menu, and oh how I hate losing mussels!
Here's a tip too, if you do need to cook them, after cooking they freeze pretty good, but unlike clams, they do not freeze well raw, the meat kind of explodes. So steam them take the meat out of the shell and freeze it on a cookie tray and then place them in a ziplock bag until you need them!
So let's get back to the mussels! I mentioned the bag of mussels waiting for me patiently in the refrigerator, and right next to it was a head of broccoli rabe that had been beckoning to me every time I opened the door ( I have been on a broccoli rabe kick lately, its always on hand, right next to the pineapple) I thought why not, it has to improve the flavor of the beans doesn't it?
Well my friends, let me tell you, It went beyond my expectations, the blending of the flavors was truly a match made in heaven! The bitter broccoli rabe helped enhance the flavor of the cannellini beans, and the mussels just danced across the plate so happy to be a part of this meal!!
I now have a new go-to mussel recipe, and I hope you enjoy it as much as we did.
If you enjoyed this recipe you may also like these: