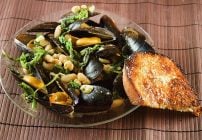 For a taste of Italy try my mussels with broccoli rabe and cannellini beans. Its a perfect blend of flavors! Just make sure to have enough crusty bread to dip into the sauce.
This post includes affiliate links. As an Amazon Associate I earn from qualifying purchases.
If you love Mussels, then my Tuscan Mussel recipe is perfect for you!
I'm not quite sure when it happened or exactly how it happened, but one day my wife decided she like mussels. This was, of course, the same woman who didn't think she liked them for the last 12 years I have been asking about them….hmmm.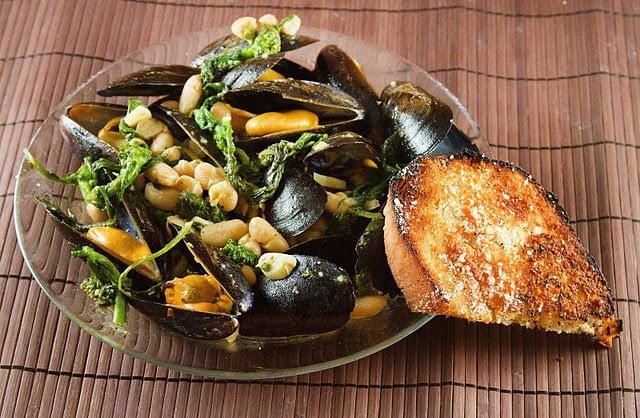 Now I'm not complaining mind you, I do enjoy a good plate full of steaming mussels with a loaf of crusty bread and lately, my sauce of choice has been aioli. One of the restaurants we had gone to a while ago served their mussels with white beans in the sauce, and they were absolutely delicious!
Now once again, my wife who normally won't even look at a bean, had no problems eating the mussels, beans and all! Not being one to miss an opportunity to use my beloved cannellini beans in a dish, I decided to replicate the mussels we had out at home!
To say they were nothing special with the beans would have been an understatement.
Somewhere along the line I had missed a crucial step to making the beans and the mussels one with the universe….sigh
I think you know me well enough by now to know that I don't give up too easily, especially with food, so when I bought my seafood last week I picked up a bag of mussels too. As busy as the week was the mussels almost didn't make it on the menu, and oh how I hate losing mussels!
Here's a tip too, if you do need to cook them, after cooking they freeze pretty good, but unlike clams, they do not freeze well raw, the meat kind of explodes. So steam them take the meat out of the shell and freeze it on a cookie tray and then place them in a ziplock bag until you need them!
So let's get back to the mussels! I mentioned the bag of mussels waiting for me patiently in the refrigerator, and right next to it was a head of broccoli rabe that had been beckoning to me every time I opened the door ( I have been on a broccoli rabe kick lately, its always on hand, right next to the pineapple) I thought why not, it has to improve the flavor of the beans doesn't it?
Well my friends, let me tell you, It went beyond my expectations, the blending of the flavors was truly a match made in heaven! The bitter broccoli rabe helped enhance the flavor of the cannellini beans, and the mussels just danced across the plate so happy to be a part of this meal!!
I now have a new go-to mussel recipe, and I hope you enjoy it as much as we did.
Print Recipe
Tuscan Mussels
For a taste of Italy try my mussels with broccoli rabe and cannellini beans. Its a perfect blend of flavors! Just make sure to have enough crusty bread to dip into the sauce.
Ingredients
1

bag

cultivated mussels

about 2 pounds

1

head

broccoli rabe

1

can

cannellini beans

approx. 15 ounces

4

cloves

of garlic

6

tbsp

Olive Oil

2

ounces

white wine

optional

pinch

of crushed red pepper

sea salt and pepper to taste

2

tbsp

grated Romano cheese

1/2

lb.

linguine or spaghetti cooked aldente
Instructions
Begin heating your pasta water, cook pasta per instructions on the box.

While the pasta is getting ready, clean your mussels.  Remove any seaweed or debris from the shell and discard any mussels that are open!  If they won't close when your tap them, they are dead.  Never eat dead shellfish! Rinse your mussels in cold water thoroughly, then allow them to drain in a colander.

Wash the head of broccoli rabe, and cut it into small strips about 3/4 of an inch.

Slice 2 cloves of garlic and place in a large saute pan with 2 tablespoons of olive oil, as the garlic starts to cook, add the broccoli rabe and continue to saute for 7-10 minutes until the broccoli rabe is tender.

Open a small can of cannellini beans and rinse them in cold water.  Add the beans to the broccoli rabe, season with sea salt, pepper, and grated Romano cheese.  Add a little water to the pan from the pasta pot.   Set this aside until serving.

At this point you should begin cooking your pasta, de cecco is my pasta of choice and it calls for 11 minutes which is just enough time to cook the mussels.

In another saute pan add 2 tablespoons of olive oil, 2 cloves of sliced garlic, and a pinch of crushed red pepper.  Allow the garlic to begin cooking then add the mussels, the white wine and cover to let them steam open, after about 5 minutes the mussels will open, allow them to cook for another 2-3 minutes to fully cook the meat.   Remove from the heat but leave covered.

While the pasta is draining, place the broccoli rabe mixture and the mussels back on the heat for just a few minutes.

Place your cooked pasta into two bowl, or one large bowl for family style, if this is an appetizer,  top with the mussels and then the broccoli rabe mixture.
Nutrition
Calories:
760
kcal
|
Carbohydrates:
71
g
|
Protein:
20
g
|
Fat:
44
g
|
Saturated Fat:
6
g
|
Cholesterol:
5
mg
|
Sodium:
537
mg
|
Potassium:
94
mg
|
Fiber:
12
g
|
Sugar:
1
g
|
Vitamin C:
1.9
mg
|
Calcium:
204
mg
|
Iron:
6.5
mg