Have you ever tried Biscoff wafers or spread? If not, trust when I tell you my No-Bake Biscoff Swirl Cheesecake will introduce you to a whole new world of deliciousness!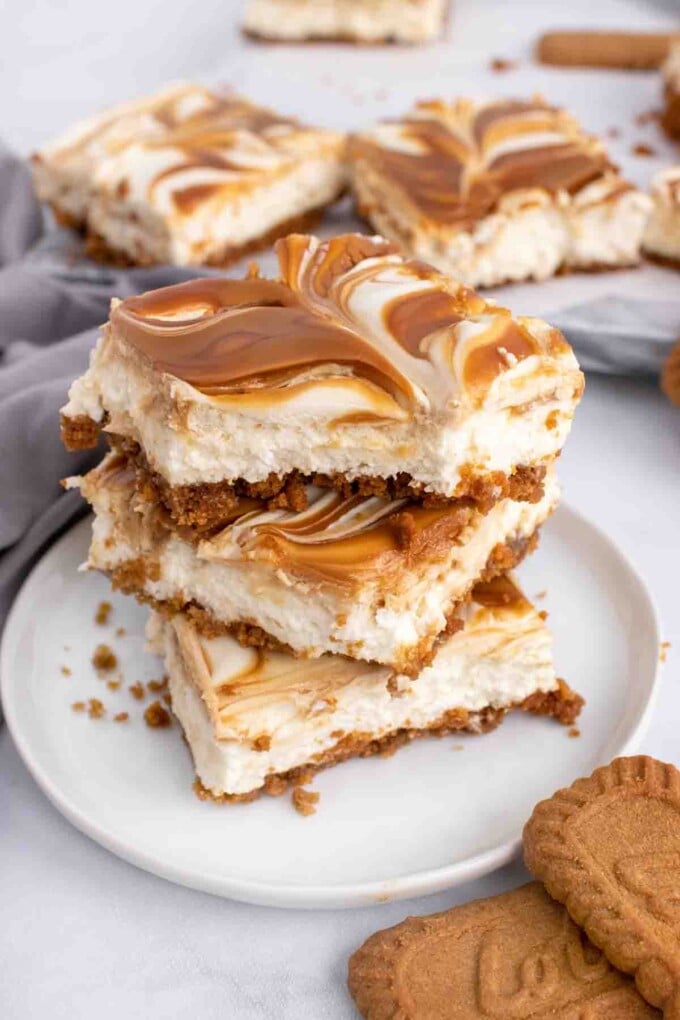 I love all types of cheesecakes, but lately, I've been enjoying the no-bake variety. Partly from the summer heat but also because of how easy they are to make.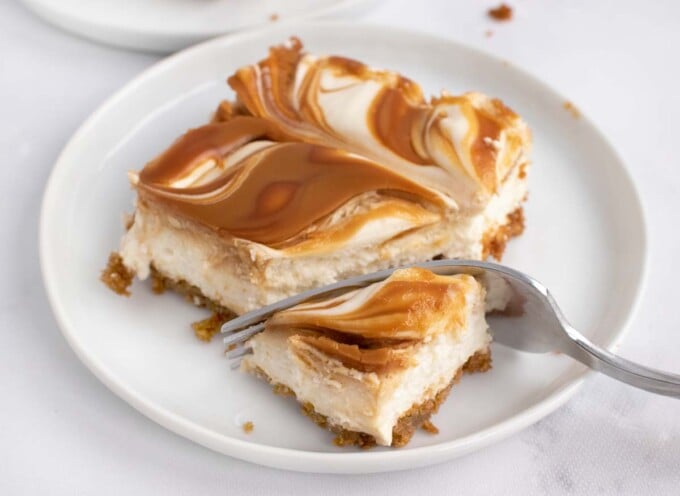 Wouldn't you love to sit down to a slice or two of this delicious cheesecake? I'm not ashamed to say I enjoyed for breakfast with my coffee….sigh.
What Ingredients do I need to make a No-Bake Biscoff Swirl Cheesecake?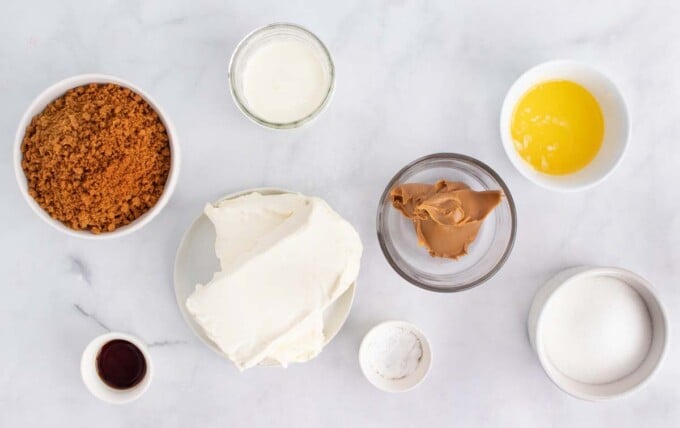 Let's start by gathering the ingredients we need to make no-bake Biscoff swirl cheesecake bars. In Chef Speak this is called the "Mise en Place" which translates to "Everything in its Place".
Not only does setting your ingredients up ahead of time speed up the cooking process, it also helps ensure you have everything you need to make the dish.
How do I make a No-Bake Biscoff Swirl Cheesecake?
Mix together the cookie crumbs and butter. Press into the bottom of a 9×9 pan. Refrigerate while you prepare the batter.
Do I have to use Biscoff cookies for the crust?
No, you don't. You can use graham crackers, digestive biscuits or shortbread cookies.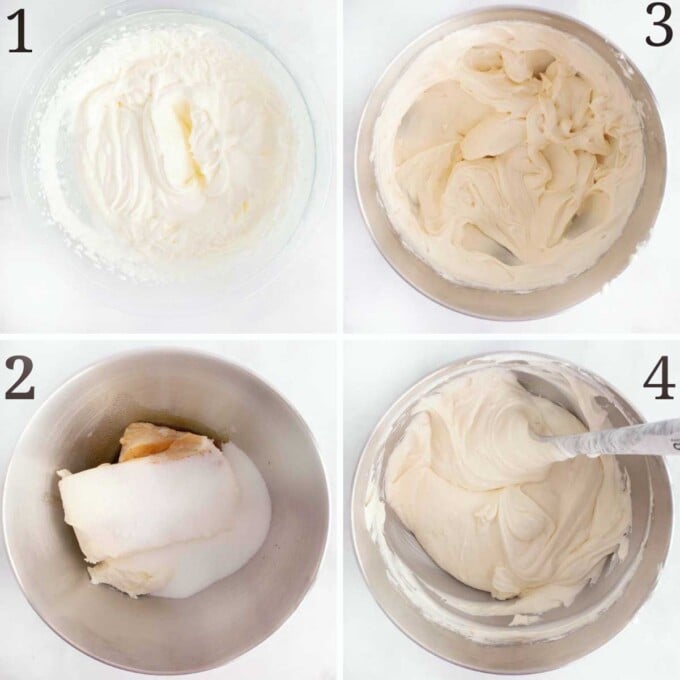 In a medium bowl, beat the cream until it thickens. Slowly add the powdered sugar then beat until stiff peaks form (pull beaters straight up and the peaks should not fall). Set aside.
In a large bowl, beat together the sugar, cream cheese, and vanilla. Fold in the whipped cream.
Spread the mixture evenly into the prepared pan.
In a small microwavable bowl, microwave the Biscoff spread until slightly softened (10-15 seconds).
Drop by spoonfuls on top of the cheesecake batter then swirl with a knife.
Refrigerate for at least 4 hours before serving (overnight is best).
Can I use Nutella instead of Biscoff spread?
Yes, you can. You could also make your own peanut butter or other nut butter spread to use instead of Biscoff spread.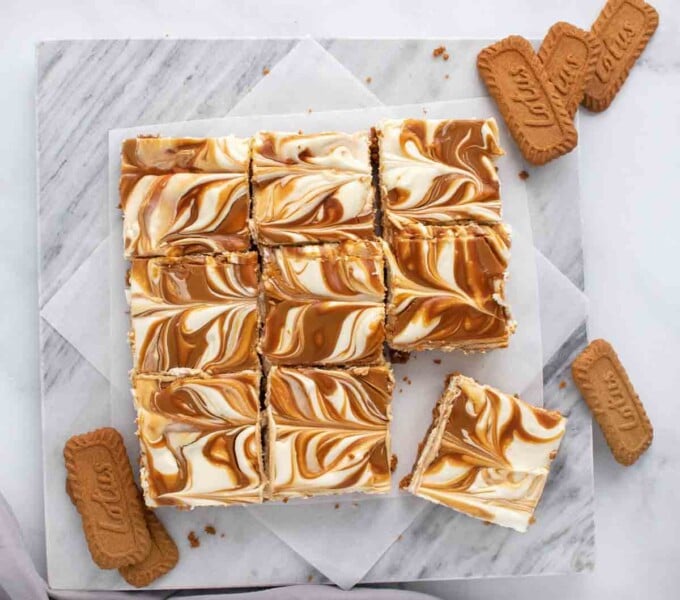 Once the cheesecake has set up, slice it into squares and get ready for deliciousness!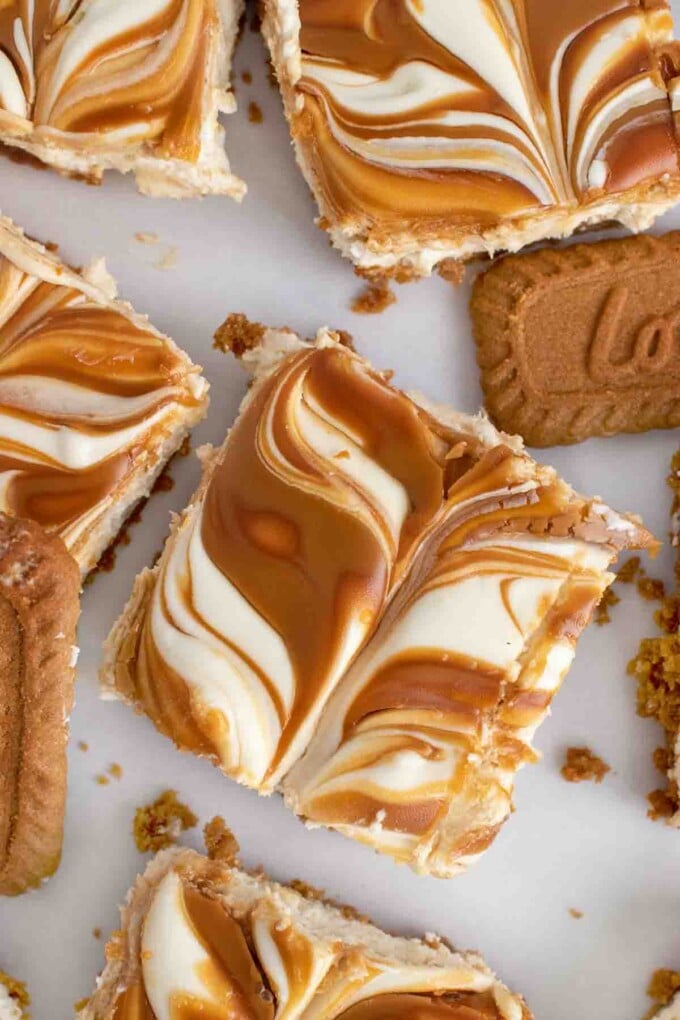 Who wants to grab a fork and join me?
More No-Bake Dessert Recipes You'll Love!